Lifted Trucks for Sale in Alabama
Ultimate Rides Offers Lifted Trucks

Like No Other
Are you searching for an excellent lifted truck for sale in Alabama? It might sound counter-intuitive at first, but you may just want to look a few states away in Illinois. Here at Ultimate Rides, we are one of the nation's premier lifted truck shops and dealerships. We have a stunning selection of vehicles, each of which are completely and entirely free of rust. Additionally, we offer simple delivery that will ensure you get your vehicle as quickly as possible, and for a great price.
While you could always visit any old dealership around the block, that isn't always enough. Lifted trucks can be difficult to find, and even more difficult if you're looking for one in excellent shape. By shopping at Ultimate Rides, you won't have to be left with lingering questions about the quality of your new truck. With our high standard of quality, you'll have all the assurance needed. Still not convinced? Check out the rest of this article for more on why you should choose Ultimate Rides!
---
Timely and Affordable

Vehicle Delivery
For those in need of lifted trucks for sale in Alabama, the first thing you'll want to hear all about is our delivery process. It's simply, really. Just give us a call after taking a look at the inventory here on our website. We'll be able to fill you in with more details, as well as more photos of the truck. You'll also be able to let us know if you'd like any additional work done in our lift center before we send it over (but more on that later!). Once you've decided on a lifted truck, we'll get to financing, which we can accomplish over the phone. You'll also have the ability to include the cost of delivery in your vehicle financing, making this an easy and reasonable process for everyone!
All that's left after that is simply to wait. We'll get the vehicle cleaned up and ready to go, and before long we'll have it sent right over to you! The delivery time can vary depending on where you live and other factors, so please be sure to ask us over the phone if you'd like additional details!
---
Custom Lifted Trucks

for Sale in Alabama
One of the other elements that sets Ultimate Rides apart is our lift center. It's brand new, having been upgraded in 2017 with the latest tools and tech. We also have an in-house team of expert technicians, all of which are ASE-certified. You couldn't ask for a more reliable team, and we're proud to have them. If you buy a vehicle from us, you'll see first-hand the craftsmanship in their work. Without it, Ultimate Rides would not be what it is today.
If you have specific tastes when it comes to your vehicles, it may be hard to find the right lifted trucks for sale in Alabama. When you use Ultimate Rides, you'll be able to specify exactly what you'd like done to the vehicle before we ship it out to you. From adjust the lift kit, to changing to a different sent of custom tires, and more, there's a lot we can accomplish for you. Give us a call today if you would like to hear more about the options available in the Ultimate Rides lift center.
---
Customer Service with an

Emphasis on Customer
Ultimate Rides is family owned and operated, and we think that has had a very important influence on our business. We offer a more personal touch that other dealerships. We believe that's something you'll find right away, whether you step into our office or call us. We've worked hard for years to build up a relationship with our customers. That is why we have so many who return again and again. When you buy from us, you won't even feel pressured, like you're being given the run-around, or that you're getting ripped off.
Instead, you'll find that Ultimate Rides puts the customer first. If you let us know exactly what it is you're looking for, it's our job to find it for you. Whether that means altering one of the vehicles in our inventory, or tracking down a specific vehicle for you, it's all possible. Finding lifted trucks for sale in Alabama just because easier. You'll even be able to ensure it's exactly what you want instead of settling for whatever is nearby! Just get in touch with us and let us know what you're looking for. We'll do whatever is in our power to find it and get it to you.
---
Closing Thoughts
We hope with all this in mind that you'll consider Ultimate Rides the next time you're in need of a vehicle. Despite being located states away, we believe we still have a lot to offer Alabama drivers. Our delivery is smooth and affordable, allowing you to get the perfect truck delivered straight to your driveway. If you'd like to speak to one of our team members to hear more, give us a call at 815-634-3900. If you happen to be in the Chicago area and you'd like to stop by, you can find us at 38 W. Division St., Coal City, IL 60416.
---
Two Brothers With a Dream

,

Building The Best Ultimate Rides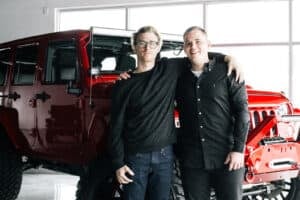 Ultimate Rides consists of two brothers who have been buying and selling custom vehicles for over ten years. Selling lifted trucks by day and writing these awesome reviews by night! They started their Ultimate Rides journey with a third brother Jake, who was a big part of building the business they have today. In 2016 Jake passed away and losing their brother was the hardest thing they ever had to deal with. Even though they had a tragic loss they plan to continue to set a new trend for the auto industry, keeping customers number one. Pushing the envelope on the lifted truck market, these guys love researching and learning about everything in the auto industry!
 — Nick and Alex Bulanda, Founders of Ultimate Rides