Ultimate Rides Offers Lifted Trucks for Sale in Colorado
Colorado: A
Beautiful State
There's no better state to take a long drive through in a truck than Colorado. It is absolutely one of the most scenic locations to visit, and those who live there are lucky indeed. You'll find all sorts of different terrains to traverse in Colorado, from mountain passes to dense forests to rolling plains. There's wildlife everywhere you turn, and the state has some of the most exciting camping spots in the United States.
If you live in Colorado, a pickup truck is one of the best vehicles you can own. It'll be able to safely and effectively get you wherever you need to go, whether that's on the road or not. If you stick more to the cities, there are plenty of trucks that will work for you. Additionally, if you need something that will be able to tackle the great outdoors, we can help.
The Best Lifted Trucks for Sale

in Colorado
Though we are located a few states over in Illinois, Ultimate Rides is still one of the best places to buy a truck in Colorado. That's because we offer a level of quality that's difficult to find, and our vehicle delivery makes our rides accessible anywhere. Best of all, that delivery is affordable and our vehicles and service are both fairly priced. In our service center, we build breathtaking and eye-catching custom vehicles of all shapes and sizes. Yes, that includes plenty of trucks.
Take a look through this guide to get an idea of what we have to offer at Ultimate Rides. Then you'll be able to make a decision on if we're the right dealership for you. One thing we can promise is that you won't find anyone else quite like us around. Our team is always happy to speak to anyone about their vehicle needs, so don't be shy about giving us a call if you wish to learn more!
Ultimate Rides Vehicle Delivery –

Available Now!
Despite our location outside of Chicago, we are proud to provide vehicles to drivers from all over the United States and beyond. Custom trucks are becoming more and more popular with every passing year. However, not all people have access to a custom service center in their own region. If they do, it might not be one they feel they can rely on. That's where we come in. Just give our office a call and we can complete the financing and delivery process over the phone.
Our delivery allows us to provide the best lifted trucks for sale in Colorado to people just like yourself. Take a look at our inventory to see what vehicles we currently have in stock. You'll have the ability to customize any one of them before we send it out, or you can take it as-is. Additionally, if there's a certain vehicle you want and you don't see it, we can locate it for you! All it takes is a small deposit and our team will do the work.
Build a Custom Truck in Our

Lift Center
We've told you a little bit about our service center, but now it's time to offer more details. While we've always placed an emphasis on our custom vehicles, that was taken to a new level when we finished construction on our new service center in 2017. This shop features state of the art equipment and technology. Additionally, we have an expert team of ASE-certified technicians who staff it. As you can tell from our inventory, our team works on many of the vehicles that we sell. You'll also be able to customize any one of our vehicles when you buy it. We even offer the option to finance the cost of this work, allowing you to simply add it on to your vehicle financing plan.
Our team offers a huge range of services and installations for any vehicle. That includes suspension lifts, custom lighting setups, stereo installation, running boards, performance chips, and of course custom wheels and tires. That's not all we can offer, either. Be sure to give us a call to get a full breakdown of everything you can find at Ultimate Rides. We are confident we can bring to life whatever vision you have in your head on lifted trucks for sale in Colorado. Count on us to get the job done!
A Better Kind of

Customer Service
When you buy from Ultimate Rides, you can expect to find a different experience than you might expect from an auto dealer. We are very aware that our industry has a negative reputation for customer service. That is something that we've been out to change since we began more than 15 years ago. Ultimate Rides is a family business, and we believe we can do business the right way by making our customers happy. That is one of our core tenets, and something we stand by.
Our overall goal is to set our customers up with their ideal vehicle. While other dealerships may try to offload unwanted inventory on anyone who walks through the doors, we see ourselves more as a specialty dealer. Our customers want quality, and that's exactly what we aim to provide. Plus, you will be treated with the respect that you deserve when you choose us. Just take a look at our reviews online to see what we mean! Feel free to give us a call any time we're open and we can provide you with a great vehicle.
Rust-Free Custom Trucks

Waiting for You
None of this other stuff would matter if our vehicles didn't meet a certain standard of quality. That is another key aspect of Ultimate Rides. Here you will find an inventory full of used vehicles that are free of rust. Rust can be one of the major indicators on how well a vehicle has been maintained over its life. While rust is more common in some areas than others, there are ways to prevent it no matter what kind of climate you're in. When buying a used vehicle, looking for rust should be one of your most important steps. With our vehicles, that won't be a problem. It's just another reason to choose us to find lifted trucks for sale in Colorado.
We work hard to provide this rust-free inventory despite being located in the heart of the snowy Midwest. Our process consists of sending our buyers out to warmer parts of the country, where rust isn't as pervasive a problem. They bring back the best vehicles for our inventory, and our team gets to work right away. Each vehicle receives an inspection, and then our team often installs some custom modifications like a suspension lift. Our vehicles are truly what makes us special, and we're always eager to share our inventory with you.
Contact Ultimate Rides for

Further Details
We hope by now that you've learned Ultimate Rides is not your standard used auto dealership. We provide high-quality custom trucks, SUVs and cars. There's a vehicle here for just about everyone, and if not, we can always locate one for you. We even offer the public access to our lift center if you want us to work on your current vehicle! Whatever your needs are, we can meet them.
If you'd like to give Ultimate Rides a call, you can reach us today at 815-634-3900. To come and visit our office in person, make the drive over to 38 W. Division St., Coal City, IL 60416. That is about one hour south of Chicago!
---
Two Brothers With a Dream

,

Building The Best Ultimate Rides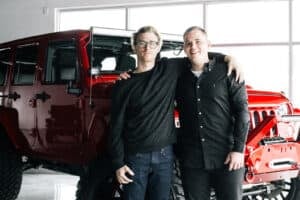 Ultimate Rides consists of two brothers who have been buying and selling custom vehicles for over ten years. Selling lifted trucks by day and writing these awesome reviews by night! They started their Ultimate Rides journey with a third brother Jake, who was a big part of building the business they have today. In 2016 Jake passed away and losing their brother was the hardest thing they ever had to deal with. Even though they had a tragic loss they plan to continue to set a new trend for the auto industry, keeping customers number one. Pushing the envelope on the lifted truck market, these guys love researching and learning about everything in the auto industry!
 — Nick and Alex Bulanda, Founders of Ultimate Rides