Lifted Trucks for Sale in Kansas from Ultimate Rides
The Best Lifted Trucks for Sale

in Kansas
Have you been searching for the right dealership to supply you with a quality custom truck, but had no luck? The solution to the best lifted trucks for sale in Kansas may actually lie outside the state. Ultimate Rides is located over in Illinois, about one hour south of Chicago. However, through our vehicle delivery (as well as customers that make the drive over to us), we're able to supply amazing custom trucks to people from all over.
We are a family business, and one of our main goals has been to make custom trucks accessible for people everywhere. You'll find high-quality rust-free trucks here, with a variety of custom modifications like lift kits, running boards and more. On top of that, our customer service philosophy is to treat every customer like a VIP.
Read through this guide to learn a little bit more about us. That way you can decide for yourself if we are the right option for you. One thing that's for sure is that you won't find vehicles like this anywhere else.
A Closer Look at

Your State
Before we move forward, we'd like to take a little bit of time to tell you what we love about Kansas. It's centrally located in the heartland of the United States, and we all know that it is a major agricultural provider for our country. However, your great state has so much more to offer than just that. Kansas has quite a storied history, and played a key part in the build-up to the American Civil War. While it might not have the same reputation for state and national parks as nearby states, Kansas certainly has its fair share of beautiful places to visit, such as the canyons of Kanopolis State Park.
If you are looking to experience the beauty of your state, there's no better way to tackle it than in a lifted truck. Throughout the rest of this guide, we'll give you reasons why we think Ultimate Rides is the place to buy lifted trucks for sale in Kansas. Just like how your state is a unique and special place, so are our vehicles.
Rust-Free Custom Vehicles

Waiting for You
One of the many things that sets our inventory apart from what you might expect is that all of our vehicles are free of rust. Most of the time, when you visit an auto dealer, you'll find a mix in terms of vehicle quality. At Ultimate Rides, though, we sell only the best. It's important to us that our vehicles reach a certain standard of quality, and we inspect each one before it's listed on our website.
We're able to offer such a high caliber of vehicle by sending our buyers out to warmer areas of the country. Rust is not as prominent in these areas. We bring back the best rust-free vehicles we can find to our HQ outside of Chicago. From there, we prepare our vehicles for you by upgrading them with suspension lifts, custom wheels and more. You won't find an inventory quite like this anywhere else.
Vehicle Delivery

Accessible to Everyone
When setting out as a business, one of the things we wanted to do was to provide high-quality custom vehicles to as many people as possible. Not everyone has a reliable custom shop in their area, but that doesn't mean they shouldn't be able to buy one of these vehicles. If you are looking for lifted trucks for sale in Kansas, we can absolutely help you out.
Ultimate Rides offer simple vehicle delivery that can get you a custom truck in a short period of time. Take a look at the inventory here on our website, and you'll be able to look for the ride that is best for you. From there, you can give our office a call and a member of our team will take you through the rest of the process. We can get you further details on any of our vehicles, as well as provide you with more photographs. We'll handle financing and shipping over the phone as well. You'll even be able to decide if you'd like to pay for shipping now, or finance it along with your vehicle. The choice is yours at Ultimate Rides!
Everything to Know about the

Ultimate Rides Lift Center
Another element that sets Ultimate Rides apart from your everyday auto dealer is our lift/service center. While we certainly aren't the only dealership to have a service center, ours holds a special place. Most of the vehicles we sell are customized by our team there. Our staff is made up of some truly talented individuals, and our team is ASE-certified.
Along with the already-existing customizations on our inventory, buyers will be able to decide to add any additional work when they choose a vehicle here. We'll send it right over to our lift center and get to work. Ultimate Rides offers a huge range of services. Give us a call and someone from our office will fill you in on everything we have to offer. From performance chips to custom stereo setups, we do it all.
Additionally, our service center is open to the public. If you need a trusted team to work on your vehicle, you can count on us. All of the same services available for our vehicles are open to you. Just let us know what you're looking for!
Where Customer Service

Still Matters
Being a family business is and always will be important to us. One of our biggest priorities is customer service, which we believe has fallen to the wayside in our industry. At Ultimate Rides, we hope to offer something different than the typical experience you'd expect from an auto dealer. Instead of trying to push our inventory onto you, our goal is instead to help you find the exact vehicle you're searching for. Whether that's something we already have in our inventory, or something we have to build or find, the goal remains the same.
It starts as soon as you walk through our doors or give us a call. You'll be greeted by a friendly member of our team, who will be here to help you out with anything you need. Let us know what we can do for you and we'll get started right away. You can expect honesty, respect, and fair pricing from Ultimate Rides. We're hoping to change our industry for the better, offering a better way for customers to shop for their next vehicle.
We'll even go the extra mile to help you out. If there is a certain vehicle you are searching for but cannot find, go ahead and tell us. When you leave a small deposit with us, our buyers will start searching for the vehicle right away. As soon as we track it down, we'll let you know and we can arrange for pickup or delivery!
Check Out the Inventory at

Ultimate Rides Today
Do you like the sound of shopping at Ultimate Rides? There's no better location to buy lifted trucks for sale in Kansas. You can build your perfect vehicle, or find one that's already waiting for you. No matter what you're looking for, we're confident we can help. Give us a call today at 815-634-3900 to speak with a member of the Ultimate Rides team. If you feel like making the drive over to our headquarters, you can visit us at 38 W. Division St., Coal City, IL 60416.
---
Two Brothers With a Dream

,

Building The Best Ultimate Rides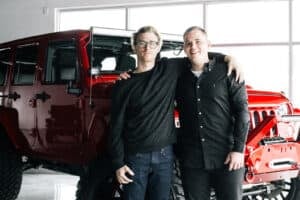 Ultimate Rides consists of two brothers who have been buying and selling custom vehicles for over ten years. Selling lifted trucks by day and writing these awesome reviews by night! They started their Ultimate Rides journey with a third brother Jake, who was a big part of building the business they have today. In 2016 Jake passed away and losing their brother was the hardest thing they ever had to deal with. Even though they had a tragic loss they plan to continue to set a new trend for the auto industry, keeping customers number one. Pushing the envelope on the lifted truck market, these guys love researching and learning about everything in the auto industry!
 — Nick and Alex Bulanda, Founders of Ultimate Rides