Lifted Trucks for Sale in Montana
Montana: Natural Beauty

Everywhere You Look
The United States of America is full of gorgeous natural locations. However, few states are able to hold a candle to Montana in this regard. The great state of Montana has magnificent mountain ranges, the picturesque badlands, and so much more. Even part of the world-renowned Yellowstone National Park stretches into your borders.
There's so much to do in Montana if you're a nature lover. However, you'll need a reliable vehicle to get you across this terrain. Custom lifted pickup trucks are always a great option. With one of these vehicles, you'll be ready to leave the paved road and make your own trail. Additionally, you'll look great while doing it. If you've been unable to find lifted trucks for sale in Montana that you can rely on, we've got some excellent news for you. Ultimate Rides can offer shipping to you today.
Finding the Best Lifted Trucks for Sale

in Montana
The presence of custom trucks across the United States is still a growing trend. That means that not every area has a high-quality custom dealer or shop in their area yet. If you've been unable to find a place that offers custom vehicles that meet your standards, Ultimate Rides is here for you. We offer delivery all across the United States and even beyond. You'll have access to top-tier vehicles here, free of rust and featuring upgrades like suspension lifts and custom wheels. Additionally, we have an excellent reputation for customer service. That's not always common with auto dealers, and it's something we're quite proud of. You can check out our Google reviews and find that we have near-unanimous support from our customers!
There's a lot to love about Ultimate Rides. We may be a bit biased, but we're confident that you'll agree when you get through reading this guide. In it, you'll read more details on our business, from where we source our inventory to the sterling reputation of our lift center. Go ahead and check this out, and then feel free to give us a call if you have any questions or wish to get started!
Customer Service

Looking Out for You
The reputation of most auto dealers when it comes to how they treat their customers isn't great. However, at Ultimate Rides, we work hard to be on the same side as our customers. Our goal is to help you find your perfect vehicle. Whether that's something we already have in stock, we have to find it for you, or we have to build it, we're determined to help.
Our customer service is one of the most important elements of our business. Whenever you call us, or visit in-person, a member of our team will be here to help. We're professional yet friendly, and we offer every one of our customers the respect that they deserve. If you have any questions, someone from our office will be happy to help. We can offer details on any of our vehicles or services, and we can even help you buy lifted trucks for sale in Montana right over the phone.
If there is a specific model you want to get your hands on, Ultimate Rides can assist you there too. If it's not already available in our inventory, our team can track it down for you. Just leave a small deposit with us and our buyers will start looking. We search for vehicles all across the country, so it shouldn't be long before we're able to locate it. We'll let you know as soon as we have it ready for you!
High-Quality Vehicles and Certified Technicians

Waiting for You
The Ultimate Rides lift center isn't like your standard dealership service center. Instead, we have a focus on lifting and customizing our inventory, as well as vehicles for the public. Take a look at our inventory and you'll see that most of our trucks already feature suspension lifts, as well as custom tires, running boards and more. In addition to that, you'll have the opportunity to customize our vehicles any time you decide to buy. Just let us know you'd like some work done in the lift center, and we'll send it over there before we ship the vehicle out to you (or before you pick it up).
You'll also be able to decide if you want to finance the cost of this work, or pay for it now. By financing, you'll be able to just add on a little extra to your monthly vehicle payment, allowing most people to afford our services without a problem. Whichever way you prefer to pay works for us!
We offer a huge range of services and installation for a vehicle. Some of the most popular are: suspension lifts, custom lighting, running boards, stereo installation, and of course new wheels and tires. If you'd like a full list of everything we offer at Ultimate Rides, start by giving our team a phone call!
Ultimate Rides Trucks are Rust-Free and

Ready to Drive
The quality of our inventory is incredibly important to us. Because of that, we go out of our way to bring in an inventory of rust-free vehicles. Each of our vehicles has undergone an inspection to ensure it meets our high standards. As long as a vehicle passes that inspection, it will make its way into our inventory. You'll find only the best preowned vehicles waiting here for you.
Rust is often a big indicator of how well a vehicle has been taken care of. If there's a lot of rust build-up, not only is it unattractive, but it likely means there are other problems with the vehicle. Our vehicles are all free of rust, and completely clean inside and out. You may find that the vehicles at Ultimate Rides are a bit more expensive that at your local dealership. However, you'll be getting a level of quality that can't be guaranteed at standard auto dealers.
We send our buyers out to areas of the US with a warmer climate. The vehicles in these regions are easier to maintain, and you'll often find them rust-free. Our team finds the vehicles that match our inventory, and we bring them back to our HQ to get ready. These are the lifted trucks for sale in Montana that you'll find in our inventory!
Simple and Straightforward

Vehicle Shipping
Our lifted trucks for sale in Montana aren't actually located in your state. We're actually about an hour south of Chicago in Coal City, IL. However, more than half of our business is done with customers from out of our area. Not everyone has access to quality custom trucks from a local source. That doesn't mean you shouldn't be able to buy one at all, though. At Ultimate Rides, we offer shipping that is both simple and fast. Once you feel ready, start by taking a look at our inventory on the website. Pick out some options that you like, and then go ahead and call our office. You'll be able to speak with a member of our team who can provide more details on our vehicles. When you make your final decision, we can complete the buying process right there over the phone.
You can choose whether to pay for shipping costs now, or finance it along with your truck. Either way, we'll get to work on your vehicle right away. If there are any adjustments or modifications from our lift center that you'd like, we'll make it happen. If not, the vehicle will be sent out as soon as possible! We'll have more details for you over the phone, so get in touch soon.
Ultimate Rides is the #1 Destination for

Custom Trucks
Do you like what you've read about Ultimate Rides? We've been going for 15 years, and we don't have plans of stopping anytime soon. Contact us today if you have any questions, or if you're ready to buy your next lifted truck! Ultimate Rides is available over the phone today at 815-634-3900. If you find yourself in Illinois and wish to stop by and see us, you can visit at 38 W. Division St., Coal City, IL 60416.
---
Two Brothers With a Dream

,

Building The Best Ultimate Rides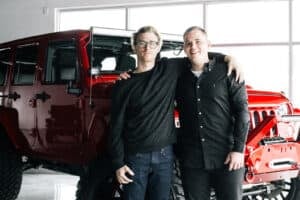 Ultimate Rides consists of two brothers who have been buying and selling custom vehicles for over ten years. Selling lifted trucks by day and writing these awesome reviews by night! They started their Ultimate Rides journey with a third brother Jake, who was a big part of building the business they have today. In 2016 Jake passed away and losing their brother was the hardest thing they ever had to deal with. Even though they had a tragic loss they plan to continue to set a new trend for the auto industry, keeping customers number one. Pushing the envelope on the lifted truck market, these guys love researching and learning about everything in the auto industry!
 — Nick and Alex Bulanda, Founders of Ultimate Rides