Finding Lifted Trucks for Sale in Nebraska
Navigating Nebraska in a

Lifted Truck
Nebraska is a state known for the Great Plains and loads of corn, but we all know that it has much more to offer than that. The state has a very rich if complicated history, from its Native American roots to the unique organization of its state government. Additionally, there is plenty to do across Nebraska both for travelers and natives of the state. Did you know that Nebraska features the world's largest trainyard, known as Bailey Yard?
On top of that, there are many historic and beautiful trails to explore. That includes the Lewis and Clarke National Historic Trail, as well as the classic Oregon Trail. If you are a lover of the outdoors, there's little doubt that you'll enjoy spending time in this great state. One of the best ways to explore Nebraska is in a lifted truck. In this guide, we want to tell you how to get ahold of some amazing lifted trucks for sale in Nebraska.
Ultimate Rides Offers the Best Lifted Trucks

for Sale in Nebraska
Many times, it actually pays off to look outside of your own area of quality vehicles. If you've been shopping around at dealers and are tired of seeing the same old vehicles, Ultimate Rides is the place for you. Though we are located a few states over in Illinois, we offer easy shipping that can get you a high-quality vehicle fast and at a fair price. Many people even decide to make the drive over so they can get a good look at the vehicle before they buy. The choice is yours, and at Ultimate Rides we work hard to make either option work great for you.
People choose us over their local dealerships for a few simple reasons. For one, we offer a high level of quality on every vehicle in our inventory. You won't find rust or grime, dirt or dust. We also have our own lift center on-site that's staffed with a team of highly experienced technicians. They're able to customize any vehicle just the way you want it. To learn more about Ultimate Rides and what we have in store for you, take a look through this guide!
Vehicles Delivered Straight to

Your Driveway
One of the most appealing aspects of our business for many people is the delivery option. No matter where you are located, we can get a vehicle to you. Our entire buying process can be completed over the phone, and it's all safe and secure. To get started, take a look at the inventory here on our website. You'll find a wide selection of vehicles featuring many different features, shapes, sizes and designs.
Find one or a few that you're interested in, then give us a call. Someone from our office will be able to answer questions you may have, as well as provide more details on the vehicle in general. When you're ready, we can get into financing and shipping. You can choose if you want to finance the cost of delivery or take care of it now. If you decide to finance, you'll be able to just add a little bit onto your monthly vehicle payments, making this an affordable option for just about anyone.
From there, it won't be long before we send your vehicle out. We will outfit it with any modifications you'd like, if any, and then it'll be on the way! It will be delivered to your home, or wherever you'd like us to drop it off.
Where Customer Service is

Still a Priority
At Ultimate Rides, it has always been very important for us to treat our customers with respect. We are a family business, and we feel our industry has earned too negative of a reputation. We're trying to make that right by offering an excellent customer service experience. Give us a call and we'll treat you like a member of our own family. You won't have to worry about us trying to unload a vehicle you don't want onto you. Instead, it's our mission to help you find the perfect vehicle for your needs. We'll do whatever we can to make that happen.
If you're shopping for lifted trucks for sale in Nebraska, you may not have expected to do it over the phone. We will do everything in our power to make you comfortable, and we can always provide you with additional photos and more on our vehicles. If you have any questions, please don't hesitate to give us a call!
Along those same lines, we can also help our customers find vehicles we may not have in our inventory. If there's a specific make and model you want, just let us know. With a small deposit, our buyers can go out and find it for you. As soon as we have it, we'll let you know and get it ready to ship out!
Create Your Ideal Truck in Our

Lift Center
In our opinion, our lift center is the greatest asset at our disposal. With it, we're able to offer unique vehicles that you cannot find anywhere else. We have a staff of incredible technicians, who work hard to provide our customers with the best. We offer a wide range of services for our vehicles, and you can always send one of our rides over to the lift center before we send it out to you.
Simply let us know what kind of modifications you're looking for, and our team will handle it. You'll even be able to finance the cost of this work, once again letting you pay it off bit-by-bit over time. Not everyone has a quality custom shop in their area, but through Ultimate Rides you can still have access to high-quality lifted trucks for sale in Nebraska. If you have any questions about our lift center, you can get in touch with us over the phone today!
Rust-Free Custom Trucks

Available Now
It's not just our custom work that makes the inventory at Ultimate Rides special. We also go out of our way to bring the best vehicles we can find back here. Our buyers head out to warmer areas of the United States in search of rust-free trucks, SUVs and cars. They bring back the options that best suit our inventory, and from there we get them ready for you. This important step allows us to keep our standards of quality very high. Our goal has always been to provide top-notch vehicles to everyone, and this is the way to do it.
Rust is often a good indicator of how well a vehicle has been maintained, but in some areas it can be hard to avoid. By heading out to these warmer climates, we're able to find vehicles that haven't undergone so much wear and tear. This means that as long as you take care of your ride, it should continue running for a long time to come! Our lifted trucks for sale in Nebraska are rust-free, and that's something special.
Ultimate Rides is

Ready to Help
Do you feel like you might find what you're looking for in our inventory? Feel free to continue checking out this website. When you're ready, you can give Ultimate Rides a call at 815-634-3900. For those who want to make the drive over to our office, you can visit us at 38 W. Division St., Coal City, IL 60416. We hope to speak with you soon! The right vehicle is waiting here for you, so check out what we have to share.
---
Two Brothers With a Dream

,

Building The Best Ultimate Rides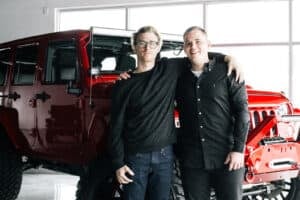 Ultimate Rides consists of two brothers who have been buying and selling custom vehicles for over ten years. Selling lifted trucks by day and writing these awesome reviews by night! They started their Ultimate Rides journey with a third brother Jake, who was a big part of building the business they have today. In 2016 Jake passed away and losing their brother was the hardest thing they ever had to deal with. Even though they had a tragic loss they plan to continue to set a new trend for the auto industry, keeping customers number one. Pushing the envelope on the lifted truck market, these guys love researching and learning about everything in the auto industry!
 — Nick and Alex Bulanda, Founders of Ultimate Rides