Shop These Lifted Trucks For Sale North Carolina
Look for Lifted Trucks for Sale in North Carolina | Raleigh, NC and Beyond
A Long Drive through North Carolina -

 Raleigh and Beyond
From Raleigh to Charlotte and everywhere in between, North Carolina is one of America's first states, and as you might expect has a long and storied history. Additionally, the state of NC offers unparalleled natural beauty as well as many rich cultural experiences and locations. Whether you were born and raised there, or a late-life transplant, it's a place that will welcome you with open arms. It's the place where mankind took flight for the very first time. Additionally, it features the tallest point this side of the Mississippi, Mount Mitchell.
While there are many different ways to navigate North Carolina, a lifted truck has got to be one of the best. If you're an outdoor lover, you will appreciate having easy off-road access. Along with that, these trucks are great to drive in everyday situations such as on the highway or through the city. Versatility is always important in a vehicle, and that's exactly what a good lifted truck has to offer. Take on everything that North Carolina has to offer in one of these bad boys. You won't regret it.
Buying Your Next
Custom Truck in NC
Custom pickup trucks are more popular than ever these days. However, they aren't always easy to find depending on where you live across NC. If you live in a city, such as Raleigh or Charlotte, you might have access to some high-quality dealerships. Still, even then they may not have solid trucks to choose from. Thankfully, we are here to tell you that with the advancement of the internet, it's easier than ever to order a custom vehicle to be shipped to your home at a fair price. We hope you'll spend some time today learning about our business and the models we have for sale. By the end, we're confident that you will feel comfortable choosing us to supply your next lifted vehicle. Take some time to learn what you can expect from Ultimate Rides. As soon as you're ready, our team will be here to help out. Remember that you can also call us to ask any questions you might have!
Lifted Trucks for Sale in North Carolina at

Ultimate Rides
Despite the fact that custom trucks are more popular now than ever, reliable custom shops and dealerships still aren't very common. Thankfully, there's a solution to that problem. If you're in need of a lifted pickup truck, Ultimate Rides can assist you. Though our HQ is over in Illinois, our awesome delivery service lets us offer our custom lifted vehicles to customers no matter where they're from. At Ultimate Rides, you'll find some of the best custom trucks available today. We have our own lift center, and it is staffed by some of the most talented vehicle technicians out there. All of our vehicles are available without rust damage, and each one has been inspected to ensure it's in good shape. That means all of our trucks are ready for you to drive for years to come.
We also work hard to differentiate ourselves from other auto dealers when it comes to customer service. Our job is to help you find your perfect vehicle, no matter what it is. Though we specialize in lifted vehicles, that's not all we have for sale. We can even help build a vehicle for you, or search for rare models. With our delivery, you'll get your lifted truck in a timely manner and it'll be time to hit the road. We even have custom cars available as well as SUVs, both new and used, across all price ranges. Read through this brief guide to learn more about Ultimate Rides, our service center, and all the lifted trucks for sale in North Carolina we have to offer. When you're ready, go ahead and reach out over the phone to get started.
Custom Trucks Built in Our State of the Art

Lift Center
The Ultimate Rides lift center is where the magic happens. Many of the lifted vehicles you see in our inventory have been worked on by our team here. We finished construction on our new service center in 2017, and it features all the best tools and equipment needed for this kind of work. Plus, we have an expert staff of ASE-certified technicians that work here. They are able to achieve some truly great looks as well as top-tier performance, and it's all available to you.
Any time you buy a vehicle from us, you'll be able to alter it in our lift center. Whether you want a different lift kit size, a new set of tires, or something else entirely, we can handle it. We can change the color of our cars and trucks, offering different shades of black or any other option you can think of. You'll even be able to decide if you'd rather pay for this work now, or finance it with your vehicle. This would simply raise the amount of your monthly auto payment by a small amount, letting you pay it off over time. This helps make our trucks available to more drivers, and that is something we're very proud of.
Our custom service center is even open to members of the public. If you feel like making the drive over to our HQ, we'd be happy to work on your vehicle. All of the same services and upgrades that are available for our own inventory can be applied to your trucks or cars as well. You'll find a fair price for our work, and we'll get your vehicle back to you in a timely manner. Just give us a call and we can talk details!
Ultimate Rides would not exist if it weren't for the passion of our team. We love bringing new life to used trucks, upgrading them with features that will enhance your daily experience behind the wheel. While we place a greater emphasis on our inventory of trucks, we're more than happy to customize regular cars and SUVs as well. Just let us know how you think we can help and we're sure we can find the right option for you.
Customer Service with an Emphasis on the

Customer
It's no secret that the auto sales industry has developed a negative reputation with customers. This is due to years of bad faith dealerships trying to take advantage of people, whether they're offering standard cars or custom trucks. However, at Ultimate Rides, we've set out to change this reputation through our actions. When you shop with us, you can expect a sales professional who actually listens to you and your needs. Our goal is to set you up with your ideal vehicle, even if we have to build it for you. Just give us a call and we'll hear you out, offering suggestions or providing you with answers whenever you need it. We're passionate about trucks, and we want to share that love with our customers however we can.
At Ultimate Rides, we'll even go above and beyond to get you the right vehicle, even if it's not one of our current trucks for sale. If there's a certain model you need, let us know. With a small deposit, our buyers will be able to seek out the vehicle. They comb through places all over the country to find our trucks, so it shouldn't be long before we're able to find it for you. As soon as it's ready, we'll let you know and have it sent out! It's just another way to find the best lifted trucks for sale in North Carolina.
Simple and Accessible Delivery Options for

Your Next Lifted Truck
One of the most important aspects of Ultimate Rides is our delivery service. Around half of all of our trucks, SUVs and cars are sold to customers outside of our area. That wouldn't be possible unless we had top-notch delivery available to everyone. The process is very easy, allowing us to provide plenty of lifted vehicles for sale in North Carolina, as well as custom used and new cars. We recommend you start by browsing our inventory. From there, you can give us a call as soon as you find a model that you like. Someone from our office will help you with financing and shipping details, as well as offering more information on features and price.
As always, you'll still be able to customize the vehicle to your liking. Additionally, you can decide once again if you'd like to cover shipping upfront, or finance the cost. It's important to us to make our delivery available to as many people as possible. When you order a vehicle from us, we'll get it ready and sent off to you in no time. Our trucks arrive quickly as well. You have our word that the vehicle will arrive to your chosen destination within a week of the time that it's ready. That's just another way we set out to offer the best experience possible for our customers.
Rust-Free Lifted Trucks for Sale in

North Carolina
All of the used trucks and cars you will find for sale here at Ultimate Rides are free of rust, and clean as can be. That's something that's very important to us, and a big reason why we're able to build such a loyal following of customers. We send our vehicle buyers out to warmer parts of the country, where the vehicles don't undergo as much wear and tear from the weather. Snow and salt are a leading cause of rust, so the best place to look is in areas like California, New Mexico and Arizona. Once we find the best vehicles, our team brings them back to our lift center and we get them ready for you! We offer trucks from Ford, Chevrolet, Ram and more. Plus, each and every used vehicle gets a thorough inspection to ensure it meets our standards. As long as it does, you'll be able to get your hands on it very soon!
When you visit other dealers of cars and trucks, it won't be uncommon to find a number of models featuring rust. We feel it's important that when you buy a vehicle, it should feel like new, regardless of whether or not it is used. That's why we go out of our way to provide the best vehicles possible, and we are confident that it makes a big difference.
Maintenance, Repairs and Detailing
Available Now
Though we might not be located in the North Carolina area specifically, we are happy to help customers from all across the country with their needs. Are you having trouble finding a team of mechanics that you can trust to work on your used lifted vehicle? Here at Ultimate Rides, that is exactly what we specialize in. Our team is ASE-certified, with a ton of experience working on custom vehicles. Whether your problem is huge or relatively minor, our team will definitely take a look. Our prices are fair, and the caliber of our work is unparalleled.
We go beyond offering simple repairs too! Do you need to get your vehicle looking like new for a special occasion? Choose Ultimate Rides for detailing and we will make it happen. Our crew is also more than capable of handling your standard maintenance procedures. Need a tire rotation, oil change, fluid check, or all of the above? Reach out to our office so we can schedule a good appointment time for you to bring your vehicle in.
Amazing Vehicles Waiting for You

Here
If you've been searching for a custom pickup truck in your area but haven't found the right thing, Ultimate Rides is here for you. We offer trucks to drivers from all across the United States and even beyond, including high-end custom Ford and Chevrolet trucks. You'll find unique new and used vehicles that simply aren't available anywhere else. To find out more about our inventory of new and used models, you can feel free to browse our website. When you're ready, give our office a call at 815-634-3900. Someone from Ultimate Rides will be able to get you set up with the right truck. If you're ever in Illinois and want to come by our headquarters to take a look at our trucks, you can find us at 38 W. Division St., Coal City, IL 60416.
Frequently Asked Questions
You have made it to the end of our guide on lifted used trucks for sale in North Carolina! Before you leave, we wanted to offer up some answers to the most common questions we hear from our readers and customers. If there is anything you're still wondering about lift kits, installation, buying trucks from us, or something else, take a look below to see if we're able to cover it. If not, we are confident we can still help. You'll just need to keep browsing our website, or get in touch with our team for a more direct solution!
Q: Can I buy and install my own lift kit?
A: While it is theoretically possible to do this, we don't recommend for anyone except those experienced in working on vehicles. Some more basic lift kits are not too hard to install with the right equipment and knowledge, so if you're buying one of these it may be worth looking into. However, we would not suggest trying to install a suspension lift kit on your own. They require specific equipment to install correctly, and attempting to do it at home without all the right knowledge could cause you major safety issues with your vehicle in the future. It's better to bite the bullet and opt for professional installation.
Q: Are lifted trucks safe for me to drive?
A: Definitely! Like with any other vehicle, new or used, there is a certain risk associated with driving on the road. It's no secret that there are things that can go wrong. That's why it's so important to drive safely, and this is even more true with lifted trucks. While these vehicles are safe, you should practice caution any time driving. With a higher center of gravity, taking turns too fast in a lifted truck can cause it to tip over. Additionally, you'll want to watch closely any time the vehicle gets right up near something, as it can be harder to see due to the raised height of the truck. If you have any further questions or are seeking advice about driving a lifted vehicle, don't hesitate to reach out to Ultimate Rides. We're experts in the field and are always happy to share our knowledge, especially when it comes to safety.
Q: How much does it cost to install a lift kit?
A: This all depends on the model you drive, as well as the lift kit you've chosen. There are some more affordable varieties out there that only cost a few hundred dollars. However, you should not expect these budget kits to offer the same level of quality as a more expensive suspension lift, which can cost $1,000 or even more. You'll also want to think about the added cost of installation. It will pay off to take your time and save up for this kind of work, especially if you don't want to have to opt for budget parts to install on your truck. Contact Ultimate Rides for more detailed information based on your specific situation and needs.
---
Two Brothers With a Dream

,

Building The Best Ultimate Rides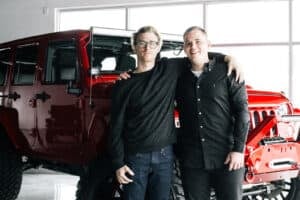 Ultimate Rides consists of two brothers who have been buying and selling custom vehicles for over ten years. Selling lifted trucks by day and writing these awesome reviews by night! They started their Ultimate Rides journey with a third brother Jake, who was a big part of building the business they have today. In 2016 Jake passed away and losing their brother was the hardest thing they ever had to deal with. Even though they had a tragic loss they plan to continue to set a new trend for the auto industry, keeping customers number one. Pushing the envelope on the lifted truck market, these guys love researching and learning about everything in the auto industry!
 — Nick and Alex Bulanda, Founders of Ultimate Rides