Lifted Trucks for Sale in Ohio
Ultimate Rides New and Used Lifted Trucks for Sale in Ohio
Here at Ultimate Rides, we take pride in being the very best lifted truck dealer in the Midwest. No matter what kind of truck brand you want, we guarantee our selection has just what you need. Also, our talented team of ASE mechanics and certified lift kit installers are productive and professional. As a result, customers should look no further for the best lifted trucks for sale in Ohio.
Lifted trucks are a huge trend that many truck enthusiasts are buying into. Now, lifted vehicles are not for everyone. So we encourage customers to do some research on this style of truck and more. Then, if this is something you want, reach out to our team. We provide customers with a great customer service experience. Plus, we have some really awesome lifted trucks for sale in Ohio as well!
Customers should take time to check our inventory today. Read some more information below about lifted models, lift kits, and everything in between. It is always important to make sure you are informed before buying a product. Then, contact our team for the best truck buying experience possible.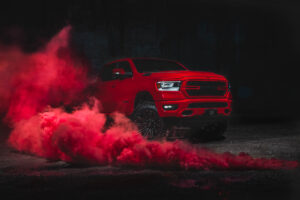 All The Facts On Lift Kits & Lifted Trucks for Sale in Ohio
Lift kits are widely popular amongst truck drivers but this is not new. As a matter of fact, lift kits have been used for quite some time now. Now, it is important to note the difference between body kits and lift kits. A suspension lift is used to improve off-road driving. Therefore, off-road drivers are looking for lifted models that can take on any type of terrain. However, we offer other kinds of suspension lifts here at Ultimate Rides as well.
A body lift is usually implemented on a truck to increase the ride height of a truck. Spacers are installed in between a truck's body and a truck's chassis to create this enhanced ride height. Many truck enthusiasts look for life trucks for sale in Ohio to increase their tire size. That way, they can enjoy a muscular looking truck out on the open road.
Here at Ultimate Rides, we are able to recommend the best suspension products on the market. This includes products from premier companies and brands like Rough Country and BDS. So customers can enjoy only the best recommendations and trucks from our dealership. Plus, we even offer body kit installations for customers as well!
Benefits of Buying Lifted Trucks for Sale in Ohio
First and foremost, the best benefit of buying lifted trucks for sale in Ohio involves the installation process. As previously mentioned, we recommend suspension lifts from the cream of the crop. Therefore, customers that want high-quality recommendations should contact our team. However, anyone that wants a body lift kit installation is in luck. We have great lifted trucks and can offer a body lift kit installation as well! After all, this is a difficult installation process that customers should not be bogged down by.
A suspension lift is one type of a body lift. Drivers that want to enjoy the best suspension kits need to come to Ultimate Rides. We have talented mechanics and certified lift kit installation experts. Lift kits feature rare products that are hard to come by on the automotive market. As a result, the installation process is complex and difficult.
While some people may be mechanics that work on cars as a hobby, others are clueless. You should be able to enjoy lifted trucks for sale in Ohio regardless of car knowledge. Let our talented team work on a lifted truck for you today! We have the best lift kit installation in Chicago and we offer some of the best lifted trucks in the Midwest. As a result, customers do not need to do any work to enjoy our and more. So let us do all of the hard work while you sit back and relax.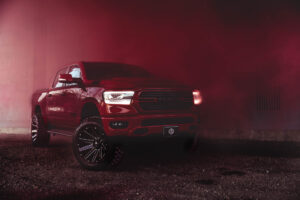 Off-Road Driving, Lift Kits, & More
Lifted pickups are so popular because people love off-road driving. As a result, we highly recommend our lift kit installation and pickups for off-road drivers. Expert lift kit installation is a huge deal for off-road driving. The lift kit installation process requires modifying the steering wheel and axle, the brakes, and braking as well. Therefore, customers should let the pro's do it so that their truck performs best out on the open road and off-road as well.
An active suspension system involves so many details. Force acts on wheels and a spring helps absorb the energy. As a result, a vehicle's wheels are able to take on the road and all of the bumps. While many people prefer a normal suspension system, other drivers want something a little different. Due to this reason, lifted pickups are incredibly popular. Contact our team for more information on some great lifted vehicles and more!
Trucks from Ford, Chevrolet, GMC and Many More
Whatever kind of ride you're looking for, you can count on Ultimate Rides to hook you up. We have an inventory made up of vehicles from Jeep, Ram, GMC, Chevrolet, Ford, and so many more. Our trucks are all inspected for quality, and whether new or used, you will have the ability to make any kind of customizations you'd like before we ship it out. GMC trucks are just some of what we have to share, but they can be a particularly good choice for those looking to get the most bang for their buck. Check out our inventory today and see if we have any models waiting for you as we speak.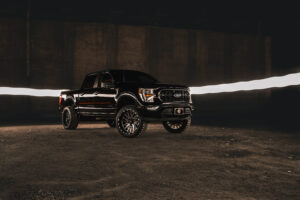 Shipping with Ultimate Rides
When you choose us for your new or used vehicle, you'll have the benefit of having the vehicle delivered straight to your home. The process is as easy as can be. Just view the options ready in our inventory until something catches your eye. If you don't see anything you like, get in touch with us and we'll be able to track down a specific model for you. Over the phone, our team will be able to provide more details on any of our trucks, including what kind of upgrades are installed, the amount of miles it's traveled, and features that are included. You'll also have the opportunity to make changes to any trucks, including altering the color to a shimmering black, installing additional accessories, or even changing the lift height. The cost of those upgrades, along with the added cost of delivery, can both be included in your financing deal to help keep the price reasonable for you. We'll get right to work on preparing the ride for you, and as soon as it's ready it'll be a week or less before it arrives at your door. We ship our trucks out anywhere and everywhere, from Ohio to South America. If you think we can please you with our pickup delivery, just get in touch today.
Last Words On Lifted Trucks for Sale in Ohio
Here at Ultimate Rides, we take great pride in helping customers find vehicles that fit their needs. Therefore, customers that want some of the best lifted vehicles should come to our automotive center. We have a great inventory of vehicles and a capable team of workers. Customers will enjoy great wheel, great deals, and a pleasant customer service experience as well! Each and every model we have in stock can be sent over to Ohio, so just let us know how we can get started and you'll be driving something new in a matter of days.
We highly encourage customers to take time to read more about lift kits, trucks, and everything in between. Information helps customers make better purchases and decisions when looking for a certain type of product. Therefore, customers can enjoy a better experience buying lifted vehicles. Ultimate Rides wants customers to get what they believe is the best possible vehicle for their lifestyle. If you want to learn more then visit our website to check out our inventory. Customers can also reach us by phone at 815-634-3900. However, anyone that wants a personal visit can find our automotive center located at 38 West Division Street, Coal City, Illinois, 60416.