Lifted Trucks for Sale Online
Ultimate Rides Offers High-Quality Lifted Trucks
for Sale Online
Buying a truck doesn't have to be a difficult process. In fact, when you choose Ultimate Rides as your next auto dealer, you won't even have to leave the comfort of your own home. At the same time, you'll have access to a huge inventory of custom vehicles ready and waiting for us to ship out to you. Take a look and see if any models catch your eye. We have a feeling there's something waiting for you here that you'll absolutely love.
We have more to offer than just top-notch vehicles. Our custom service center means that you can design your perfect vehicle and our technicians will build it. We also deliver amazing customer service along with rust-free vehicles that you can rely on. Read through our guide to learn about Ultimate Rides as well as what it's like owning a lifted truck. At the end, give us a call if you're ready to buy or if you have any questions for the Ultimate Rides staff.
Customize Any Vehicle in
Our Inventory
There are a number of different things that set the vehicles at Ultimate Rides apart from your standard auto dealer. One of the most important is the wide variety of custom upgrades you can find. Many of the vehicles listed in our inventory already feature a suspension lift from our team. However, things don't have to stop there.
Any time you buy one of our vehicles, you'll have the chance to send it over to our lift center for some work. The possibilities there are endless. We can offer major upgrades and changes, as well as installing accessories and just about anything else you can think of. Contact our team today and we'll tell you about some of those options, like a new paint job, running board installation, a fresh interior, custom headlights, and so much more.
All of these upgrades can either be paid for up front, or you can decide to include the work in your financing deal. That means that you can simply pay a little bit more on your auto payment every month, and you'll have access to all the vehicle upgrades you can dream of. Our lift center is open to the public as well. If you aren't ready to buy your next vehicle, make an appointment with us and we can offer all these same modifications and accessories to your current ride.
Easy and Affordable Shipping for
All Customers
Wherever you live, Ultimate Rides believes that you deserve access to amazing custom vehicles. That is why we've put so much work into fleshing out our delivery service. We are proud to offer custom vehicles to drivers all over the United States and even beyond. We even make it affordable for just about anyone through the ability to finance the cost of delivery, just like with our custom service center upgrades.
Start out the process by browsing the inventory section on our website. You'll be able to give our team members a call, where we'll provide more details and pictures for any vehicle you are interested in. You'll have all the time you want to decide, and we'll be here to help when you do make that final decision. We'll be able to take care of financing right over the phone, and you'll have the opportunity to ask for any custom upgrades you want. As soon as everything is set, our team will get to work! The vehicle should arrive to you within a week of the time it's ready.
Rust-Free Trucks
Waiting for You Now
The lifted trucks for sale online from Ultimate Rides aren't just any old models off the street. We put an incredible amount of work into finding and bringing back the highest quality vehicles we can. Our team of buyers heads out to warmer areas of the country, where it's easier to keep a vehicle in good shape. They find the options that suit our inventory, and we bring the rides back to our HQ for inspection.
We take a close, hard look at every vehicle. We're looking for any signs of damage or trouble to come. As long as we don't find anything concerning, our team outfits the vehicle with some upgrades and we list it in our inventory for you to see. Take a look for yourself and you'll see we're serious. Rust damage can be a huge indicator of a vehicle's quality, and we put in the hard work to make sure our customers don't have to deal with it.
Stand-Out
Customer Service Experience
Ultimate Rides believes that our customers deserve the best. We know that the auto sales industry has a bad reputation for treating customers right. We are out to change that reputation through our actions. While other auto dealers might just be trying to unload as much inventory as possible, we have a different goal in mind. We want to match every customer up with their perfect vehicle. You'll be able to drive away with a smile on your face. Check out our lifted trucks for sale online and let us know how we can help.
It all starts from the moment you call or walk through our doors. Our customer service team will be available to answer any questions, as well as actually listen to all that you have to say. We'll be able to share our inventory with you, pointing you towards any models that match your needs. On top of that, though, we can even help you find models we don't have in our inventory. If there is something special you're searching for, let us know. If you leave a small deposit with us, our team will track down the vehicle and buy it. We'll be able to get it to you as-is, or outfit it with any upgrades you can think of.
Repairs, Maintenance and Detailing from
Ultimate Rides
Does your current vehicle need some work? Whether you bought it from Ultimate Rides or not, we can help you out. Our service does a whole lot more than just offering lift kits and other upgrades. Our ASE-certified technicians are here to help with your other major vehicle needs. We take care of basic maintenance, complex repairs, and everything in between. If you're in the Chicago area, give us a call today. We'll set you up with an appointment to bring in your vehicle, and we'll hear what you need done. You'll be able to count on the work provided by your friends here at Ultimate Rides.
What It's Like to Drive a
Custom Pickup
Driving a lifted truck is quite different from any standard vehicle. For a lot of people, it can be hard to ever go back. You'll notice right away you're lifted up higher in the air, giving you the ability to see over most of the other vehicles around you. This has some safety benefits, providing excellent road visibility. However, you don't have to be more aware of things that are up close to your vehicle, as they can be harder to spot. Most drivers upgrade to lifted trucks for a few reasons. They perform great on and off-road, and they look amazing wherever you go. What's not to love?
Lifted Trucks for Sale Online –
Right Here!
Does it sound like Ultimate Rides might have what you need? Wherever you live in the United States, we believe we can help. Our team will help you find whatever vehicle you're looking for, and you will have an opportunity to customize it any way you want. There's nothing better than that, especially with our shipping and the caliber of our vehicles. Finding the best lifted trucks for sale online has never been easier than when you shop at Ultimate Rides.
Once you've had a chance to browse our inventory online, go ahead and give our office a call today at 815-634-3900. If you live in the Chicago area, we also encourage you to visit us. You'll find the Ultimate Rides office an hour south of Chicago, at 38 W. Division St., Coal City, IL 60416. We'll show off our vehicles and help you find the perfect option for your situation.
---
Two Brothers With a Dream

,

Building The Best Ultimate Rides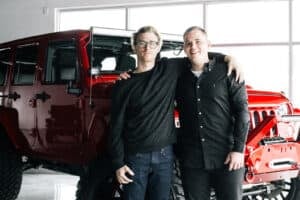 Ultimate Rides consists of two brothers who have been buying and selling custom vehicles for over ten years. Selling lifted trucks by day and writing these awesome reviews by night! They started their Ultimate Rides journey with a third brother Jake, who was a big part of building the business they have today. In 2016 Jake passed away and losing their brother was the hardest thing they ever had to deal with. Even though they had a tragic loss they plan to continue to set a new trend for the auto industry, keeping customers number one. Pushing the envelope on the lifted truck market, these guys love researching and learning about everything in the auto industry!
 — Nick and Alex Bulanda, Founders of Ultimate Rides