Lifted Trucks for Sale Wisconsin
Rust Free Lifted Trucks for Sale
Wisconsin
Driving around the Midwest can do quite the number on a vehicle over even just a single winter. Rust from moisture and salt immediately get to work and start making a difference in the performance of a truck. Living in Wisconsin, it can sometimes be quite difficult finding a vehicle that doesn't have any rust already on it. That's where we come in. At Ultimate Rides, we shop for preowned vehicles from all around the United States, looking only for the best rust free vehicles we can find. From there, we take them back to our lift center for whatever work needs to be done, and to get them ready to sell to you. After all, why buy rust when you can buy from us?
Finding lifted trucks for sale Wisconsin used to be a difficult process, but now that you can order your vehicle from us to be delivered straight to you, it's as easy as can be. Ultimate Rides is based about an hour south of Chicago in Coal City, Illinois but we sell lifted trucks to individuals from all around the globe. We founded Ultimate Rides ten years ago based on our passion for lifted trucks and the noticeable lack of friendly customer service in the automotive selling industry, and ever since we have been on a mission to change the game. We stock loads of awesome lifted trucks for sale Wisconsin, and they are just waiting to be delivered and driven off by yourself, whether you're headed to a Packers game or getting ready to head up to Summerfest.
Lifted Trucks for Sale Wisconsin
Customized In Our Lift Center
One of the most defining features of shopping with us is your ability to have your vehicle sent to our lift center for additional customization. Although we have plenty of lifted trucks for sale Wisconsin, we know how exciting it can be to outfit your vehicle the way that you want it to look, and we are able to help. Simply let us know you're interested, either over the phone or if you are able to come and see us, and we'll explain everything that is available in our shop. From there, once you have already selected the vehicle you want to buy, you can just let us know everything you would like done on the truck and we'll make it happen. We even have the ability to include the cost of your truck's work as a part of the financing deal. Anything we can do to make buying a lifted truck easier and more appealing for you, we are willing to do.
Our mechanics are very used to working on these kinds of trucks, which is incredibly important when it comes to installations such as full suspension lift kits. Mistakes during this can be extremely costly and hard to fix, so you want to make sure you can trust whoever is working on your vehicle. Our ASE certified technicians are experts in the field, and we recently built our own cutting edge service center in 2017 to handle our growing workload. The cars we work on are all already in great shape, so that makes maintenance, repairs and custom installations a breeze to work through.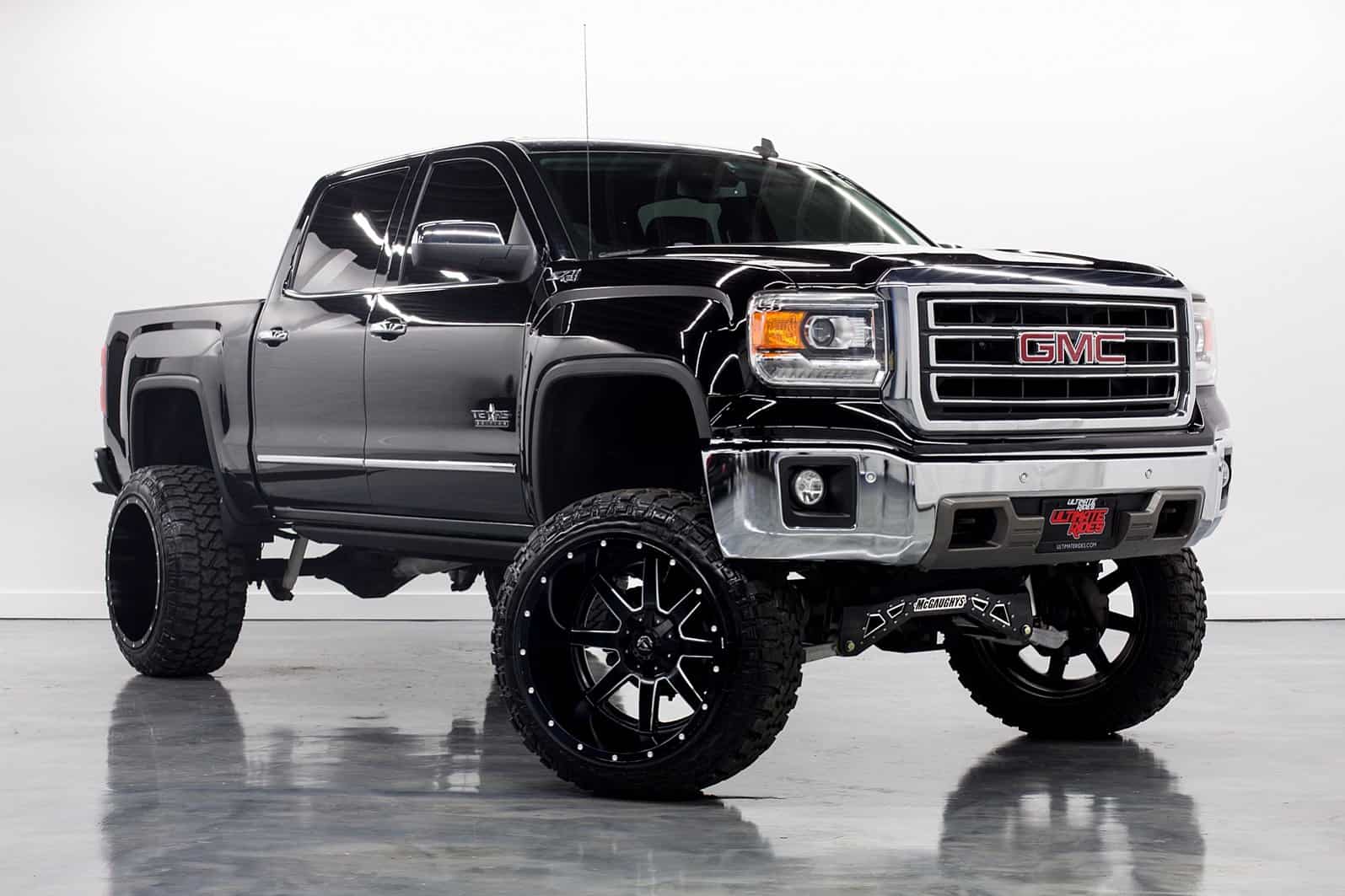 Impress Your Friends and Family with an
Awesome Lifted Truck
It's undeniable that it is hard to match the experience of riding in a rebellious lifted truck, forgoing the norms and expectations of the road in favor of your own taste. We believe we're the single best lifted truck shop in the whole Midwest, so if you buy from us, you and your new ride could soon be the talk of the town. If you're gonna drive a truck, we recommend going all in and customizing your baby as you see fit. There's a certain sense of pride and satisfaction that comes with driving in your custom lifted truck, and it's an experience we want everybody to be able to share in.
One of the big advantages of buying from us at Ultimate Rides is that we specifically avoid the cliches that have built up over the years about used auto dealers. We don't want to try to wring every last dime out of you, or sell you a cheap rust bucket. We want to provide high quality service and trucks to our customers so that they might spread the word about us, or even come back the next time they need work done or a new vehicle. We believe we've found a better way to sell trucks, and we hope you give it a shot.
In Person or Over the Phone, Come Get a
Rust Free Truck
It might surprise you that well over half of our business is done with customers from out of town. We have a number of accommodations we can make to support you either way. If you'd like to order one of our lifted trucks for sale Wisconsin over the phone, just give us a call and we can begin the process. We'll provide you extensive information and send you high quality photos of the trucks you're interested in, and we can even keep our eye out for a specific vehicle you are searching for if you leave a deposit with us. From there, we'll have our buyers stay constantly vigilant for the truck model you need, and as soon as we get our hands on it we will begin getting it ready for you.
Whether you want to make the drive down to pick up your truck or have it shipped, we can help you out. Just reach out to find out more information on our inventory, and soon you could be driving off in the lifted truck of your dreams.