New Lifted Ram Trucks for Sale at Ultimate Rides
Tracking Down the Best New

Lifted Ram Trucks

for Sale
Are you hoping to buy a new Ram truck, but don't want to confine yourself to the same old factory model everyone else gets? There are options out there just for you! Here at Ultimate Rides, we're well-known for being one of the top custom truck shops around. It may be common knowledge that you can find custom used vehicles out there, but it's true that we also modify new options!
Ultimate Rides is located in Coal City, which is just about an hour south of Chicago. However, if you don't live in our area, have no fear. We offer simple and affordable vehicle delivery that will ensure no matter where you are, you can get an awesome custom truck from us. In today's guide, we want to tell you all about Ultimate Rides, and why you should go with us the next time you're looking for new lifted Ram trucks for sale. Stick around to find out about our custom service center, our top-notch customer service and more!
New Trucks Customized in the

Ultimate Rides Lift Center
There's little doubt that our state of the art service center is one of the main things that sets us apart from the competition. We finished construction on the shop back in 2017, so you already know that it contains the latest advancements in technology. On top of that, our service center is staffed by the finest team of mechanics around. They're ASE-certified, and highly experienced.
Most of the vehicles you see for sale in our inventory have been altered in some way, either major or minor. Whether it's something as simple as a new paint job, or a complete overhaul, we usually just can't help ourselves. Plus, our custom work is usually what our customers come to us for! If you buy a vehicle from us, you'll also have the opportunity to ask for any other adjustments to be made. If you'd like a different lift kit, we can make it happen. New paint job? Done. Replacing the current sound system? Not a problem. Simply let us know how to make the truck of your dreams, and we can turn it into a reality.
On top of that, you'll also have the option of either paying for the cost of this service up front, or having it financed right alongside your vehicle. The choice is yours! At Ultimate Rides, we always try to let the customer choose what's best for them.
Ultimate Rides Offers the

Best Vehicles Around
We have a very high standard of quality for our vehicles. While this mostly applies to preowned models, it's worth saying even when discussing new vehicles. Every car, truck and SUV sold at Ultimate Rides is free of rust and corrosion. This isn't always easy to accomplish considering we're located in the Midwest, but we strongly believe it's worth the effort. We're able to do this by purchasing our vehicles from warmer states, like California. From there, the vehicles are taken back here to our headquarters to get inspected, cleaned up, and often customized.
It's no secret that finding lifted trucks in good quality is not always easy. These vehicles usually get snatched up quite fast, because they are so hard to find. We fix that problem by having our very own lift center, so any truck can become a lifted truck. If you're on the hunt for new lifted Ram trucks for sale, let Ultimate Rides help you find exactly what you need.
What a Lifted Truck Can Accomplish

for You
There are plenty of reasons why you may want to opt for a lifted vehicle as your next choice. For one, they look stunning, especially with a good quality setup. They offer your truck a distinct style that simply can't be matched by standard trucks. On top of that, they improve off-road performance. One of the main reasons buyers choose pickup trucks is so they can take their vehicle off the main road. With a lift kit installed, you'll have greater ground clearance, protecting your truck's body from rocks, bushes and other obstacles that may scratch or damage it. A lift kit will also provide you with a higher vantage point, allowing you greater visibility over the terrain.
We Treat Every Customer Like They're a

VIP
At Ultimate Rides, our vehicles are the star. However, we don't stop there to ensure that our customers had a positive experience with us. We pride ourselves on offering top of the line customer service, which can be a rarity in our business. Our customer service team is staffed by friendly and knowledgeable representatives who will do everything in their power to line you up with the perfect vehicle. If you have a question, we have no shortage of answers for you. Plus, our pricing is transparent and makes sense.
The excellence doesn't stop there, though. We will go above and beyond to ensure you're happy. In the past, we've picked some customers up from the airport and brought them to our shop. Additionally, we'll even track down rare vehicles for you! All you have to do is leave a small deposit with us to ensure we don't get stuck with a vehicle you don't want later. Then, our buyers will track it down, whatever it is. Once they find it, the vehicle is taken back here to our shop to get cleaned up (and to make any modifications that you may ask for). Then you'll be able to buy the vehicle that you've had your eye on!
New Lifted Ram Trucks for Sale and

Delivered
We mentioned it briefly before, but now we'd like to get into the details of our vehicle delivery service. For many of our customers, it's the premier way to purchase a vehicle, especially in these uncertain times. All you have to do is take a look at the inventory here on our website. Whether you spot lifted new Ram trucks for sale or another model, the next step is to give us a call. One of our team members will provide you with further details and more pictures of the vehicle you're interested in. Then, once you're ready, we can take care of financing and delivery details right over the phone! You'll even be able to choose whether you want to pay for delivery now or finance it with your vehicle.
Get Your Vehicle

Repair and Maintained

with Us
We do more than just offer new and used vehicles at Ultimate Rides. You can also bring your vehicle to us for repair or maintenance. We know that our shop is one of the most reliable ones around, mainly due to our team of experts. If you're having difficulty finding a repair shop that you can trust, let us help you out. You'll find transparent and fair pricing, along with a quality of care that will be hard to find anywhere else. We hope it's clear that at Ultimate Rides, we truly care about our customers. Whether you need a major repair or a minor maintenance service, we handle it all. Just give us a call today if you'd like to learn more!
The Best Place for

Ram Trucks
Do you like what you've read about Ultimate Rides? If so, we hope that you'll think about us the next time you're searching for new lifted Ram trucks for sale. We have a fantastic inventory of custom vehicles, and we truly believe there's something for everybody here. If you want to find out more about our vehicles or service, give us a call today at 815-634-3900. For those who want to stop by our office or have an appointment to bring in their vehicle, you will find Ultimate Rides at 38 W. Division St., Coal City, IL 60416.
---
Two Brothers With a Dream

,

Building The Best Ultimate Rides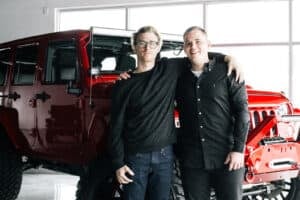 Ultimate Rides consists of two brothers who have been buying and selling custom vehicles for over ten years. Selling lifted trucks by day and writing these awesome reviews by night! They started their Ultimate Rides journey with a third brother Jake, who was a big part of building the business they have today. In 2016 Jake passed away and losing their brother was the hardest thing they ever had to deal with. Even though they had a tragic loss they plan to continue to set a new trend for the auto industry, keeping customers number one. Pushing the envelope on the lifted truck market, these guys love researching and learning about everything in the auto industry!
 — Nick and Alex Bulanda, Founders of Ultimate Rides