New Lifted Trucks for Sale at Ultimate Rides
Find Your Next Truck at

Ultimate Rides
In the market for a new truck? You have more options available than just your local dealer. At Ultimate Rides, we have a huge inventory of new and used custom vehicles. If you're in search of new lifted trucks for sale, you're in the right place. Ultimate Rides has a custom service center on-site where we upgrade our vehicles with tons of accessories and modifications. Additionally, when you buy one of our vehicles, you'll have a chance to customize it even further.
With delivery available across the nation, there's no reason not to consider Ultimate Rides for your next custom truck. Our staff consists of some of the best technicians out there, and our work is top-notch. Additionally, all of our vehicles undergo a thorough inspection before we list them on our site. Read through the rest of this guide to learn more about what we can offer. When you're ready, we'll be here to help you in-person or over the phone.
Get Access to Brand New

Custom Vehicles
If you decide to shop at your local new dealership, you won't have access to the same kind of inventory we can offer. That may be okay for some folks. However, if you want new lifted trucks for sale, you'll need to look for a specialty dealer. We want to be the go-to dealer for drivers around the country who want reliable and exciting custom trucks. While you'll find plenty of used vehicles in our inventory, we are also happy to offer new options. To find out what we currently have available, feel free to browse through our inventory section, or give our office a call. Over the phone, a member of our team will be able to really dig into details and help you find the vehicle you're looking for.
Our inventory can move quickly, so act soon if you'd like to get access to the latest custom trucks. We also offer SUVs and cars, so no matter what you're looking for we think we can help. Call us to learn more about our inventory of new lifted trucks for sale, with options like the Jeep Gladiator, Ram 1500 and more potentially waiting for you.
New Lifted Trucks for Sale with
Nationwide Delivery
Perhaps the biggest thing that sets us apart from other dealerships is our simple vehicle delivery. Instead of only being limited to the auto dealers in your area, you can now rely on Ultimate Rides to find new lifted trucks for sale. If you find a vehicle you like from us, we'll be able to take care of financing over the phone. You'll still be able to customize the vehicle if you'd like as well. From there, we'll get it ready to ship out to you. It should arrive before too long at all, in excellent condition.
If you'd like to learn more about this process, give our office a call. A member of the Ultimate Rides staff will be able to give you more details on any one of our vehicles. If you decide you'd like to buy one, we'll take care of financing and get your shipping details over the phone. You'll be able to choose to cover the cost of shipping now, or you may finance the cost and pay it off as part of your vehicle payment. Either way, we'll be happy to get your vehicle out to you just as soon as humanly possible.
Build Your Dream Vehicle in the Ultimate Rides

Lift Center
The Ultimate Rides lift center is responsible for the many incredible custom vehicles in our inventory. We have a team of expert technicians who put in hard work to create next-level rides for our customers. You can see a clear passion for custom vehicles in our work, and we're proud to offer up these rides to folks from across the United States.
Any time you buy one of these vehicles, you'll have a chance to customize it even further. Want to change the height of the lift kit? We can do that. Additionally, we offer new paint jobs, LED headlight upgrades, stereo installation, custom tires and wheels, performance chips and so much more. Give our office a call to find out what we can offer in terms of customization. If you decide to customize your next vehicle, you'll once again be able to choose if you'd like to cover the cost now or finance it. Choosing to finance the cost of this work can make it much more affordable for some, and may be an option to consider.
Our lift center is open to the public as well. If you'd like us to customize your current vehicle, we'll be happy to do it. You can get your truck lifted, add new lighting, or have us install any combination of upgrades you can think. Just reach out today to set up a good time for you to bring your vehicle by. We're about one hour south of Chicago, so plan accordingly!
At Ultimate Rides,

Quality Comes First
Whether we're talking about our customer service or our vehicles themselves, quality is very important to us at Ultimate Rides. No matter whether one of our vehicles is new or used, you can expect it to be in fantastic shape. Additionally, we work hard to take fine care of everyone who calls our office or walks through our doors. It's no secret that the auto sales industry doesn't have the best reputation for taking care of customers. At Ultimate Rides, we've long been working to put that reputation to rest.
Over the phone or in person, you can always expect to get treated with respect and kindness here. Our staff is knowledgeable as well, and should hopefully be able to answer any of your questions or put you in touch with someone who can. If there is a specific vehicle you're looking for and we don't have it in stock, we'll even search for it if you're able to leave a small deposit with us. We always want you to be satisfied at the end of your experience with us.
Repairs and Maintenance in the

Chicago Area
Finding a team of mechanics you can trust isn't always as easy as it should be. If you live near Ultimate Rides, you can count on us to take care of your vehicle. Whether you need simple maintenance, major repairs or something in between, we can assist you. We've got our team standing by ready to help, so all you have to do is reach out to us to set up an appointment. We're able to take care of problems big and small. Additionally, we'll help you diagnose your vehicle's problems if you're not sure what's wrong quite yet. We'll do all we can to get your vehicle back to you as quickly as possible, because we know how difficult it can be to have your ride taken away for even a short time.
Contact Ultimate Rides to Find an Incredible

Custom Truck Today
Do you like the sound of shopping with Ultimate Rides? If you're ready to buy your next vehicle, or if you need to find out some more details, feel free to call our office at 815-634-3900. If you ever find yourself around the Chicago area, or if you live in the region, you can visit us today at 38 W. Division St., Coal City, IL 60416. Ultimate Rides offers reliable custom vehicles with fair pricing, and delivery for drivers around the country! We are confident we can match you up with your perfect vehicle, so don't hesitate to contact us soon.
---
Two Brothers With a Dream

,

Building The Best Ultimate Rides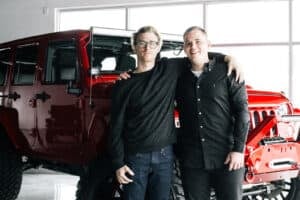 Ultimate Rides consists of two brothers who have been buying and selling custom vehicles for over ten years. Selling lifted trucks by day and writing these awesome reviews by night! They started their Ultimate Rides journey with a third brother Jake, who was a big part of building the business they have today. In 2016 Jake passed away and losing their brother was the hardest thing they ever had to deal with. Even though they had a tragic loss they plan to continue to set a new trend for the auto industry, keeping customers number one. Pushing the envelope on the lifted truck market, these guys love researching and learning about everything in the auto industry!
 — Nick and Alex Bulanda, Founders of Ultimate Rides