Quietest All Terrain Tires | Find Your New Tires
Picking Out the Quietest All Terrain Tires
When looking for the right set of tires for your vehicle, there are a number of factors that could play an important role in your search. It all depends on the kind of action you expect your tires to see. If you stick mostly to paved roads and highways, but want to be ready should an off-road situation arise, we recommend going with a quality set of all-terrain tires. However, if you don't choose the right set of all-terrain tires, you could find your vehicle with way too much road noise. In this guide, we want to help you select the quietest all-terrain tires available today.Below you will find a list that features a few of our favorite quiet all terrain tire options. Take a look at each, making sure to pay close attention to the specs to ensure they fit your vehicle. We'll give you a brief rundown of each tire, as well as a link to where you can buy it. After our list, we've put together a buying guide that offers some extra information when it comes to the quietest all-terrain tires. Take a look, and be sure to contact Ultimate Rides if you have any questions. We offer installation of new tires and so much more.
---
1. BFGoodrich All Terrain T/A KO2
Specs: LT265/75R16/E 123/120R
The first tire that we would like to recommend to our readers is the All Terrain T/A KO2 from BFGoodrich. This tire offers an excellent combination of performance, stability and of course minimal road noise. The tire features groundbreaking design that took lots of work and testing from the manufacturer to perfect their tread pattern. You'll find that the tire offers excellent traction and handling, functioning as well as possible in rough weather conditions. Additionally, there's barely any road noise, and customers can back that up in their reviews. For all these reasons, this is our pick for the quietest all-terrain tires money can buy today.
Take a look and you should see everything we mean. The vast majority of reviews are from customers who are highly pleased with their purchase. Whatever the road conditions may be, or when you decide to leave the roads and carve your own path, these tires will perform. Just make sure to double checks the specs to ensure they fit your vehicle before buying!
---
2. MICHELIN LTX A/T2 All-Terrain, All-Season
Specs: 265/65R17 112S
We're willing to bet our readers have heard of Michelin tires before, at the very least due to the famous Michelin Man mascot. However, it's worth noting that they offer excellent tires for all manner of vehicles. If you need something to get your ride prepared for off-road situations as well as inclement weather on streets and highways, this tire is an excellent choice. They are quiet tires that will still get the job done in difficult situations, with an aggressive tread pattern that provides strong traction both off-road and on. It's not quite up to the level of a mud-terrain tire, but it'll serve you across a wider range of situations. These all-terrain tires should be under consideration for anyone looking to add an excellent degree of versatility to a car, truck or SUV. While there are cheaper tires out there, those won't meet the expectations set by these specific tires.
---
3. Falken WILDPEAK A/T TRAIL All-Terrain
Specs: 245/55R19 103V
These next tires from Falken are another option we would encourage you to consider for your vehicle. They are quiet, do well in the mud as well as on the road, and work great in the winter as well as the summer. While they aren't the absolute quietest off-road tire, they offer a good range of versatility, just like our last set. The tread makes your vehicle suited to off-road situations, and they'll also serve you well during your daily commute. The tires are designed for smaller SUVs and crossovers, so if you need something for a truck or car we'd suggest picking from elsewhere on our list. However, if that sounds like the right option for you, and you're certain these tires fit your vehicle, you could do much, much worse. These all-terrain tires last a long time, provide great traction wherever you go, and are quiet enough not to notice while you're on the highway. For all of these reasons, the tires have earned a high spot on our list.
---
4. Continental TerrainContact A/T All Season
Specs: 275/60R20 115S
Another tire that has excellent reviews when it comes to road noise (and everything else) is the TerrainContact from Continental. With it, you'll have access to a long tread life, ensuring you won't have to prematurely change your tires. It will also function great on a daily basis, keeping noise to a minimum while providing strong performance no matter where you are. Just double check that the tire fits your setup. If it does, you can feel free picking up a set of these to last you for quite a while to come.
This tire may not come from one of the top brands out there, but that's definitely not always a bad thing. In this case, it just means you could get your hands on an excellent tire for a great price. There may not be a ton of ratings out there for this tire, but the reviews it does have are absolutely top-notch. Try these tires out and make sure to let us know how they work for you.
---
5. Hankook Dynapro AT2 RF11 all_ Terrain
Specs: 275/65R18 116T
Here we have a set from Hankook that are definitely contenders for the quietest all-terrain tires out there. These tires are available at a great price, especially considering the level of quality they bring to the table. The treads are deep and feature a design suited for a variety of different situations. They perform even in rain and snow, and many customers have commented on being surprised at just how little noise they make out on the highway. For these reasons, recommending this tire is a no-brainer.
That's not all they have to offer, though. With this kind of versatility, you should be able to take your truck or SUV into just about any terrain without issue. The tires are well-balanced, ensuring they'll offer the best performance possible no matter where you go. In the product reviews, customers are especially happy with all that this tire has to offer for such a fantastic price. Try it for yourself to see what they mean!
---
6. Cooper Discoverer AT3 XLT All-Season
Specs: LT285/75R16 126/123R
Cooper should be recognizable as one of the top tire manufacturers today, and this option is a great pick for drivers concerned about noise. The tire features an aggressive tread design that allows it to perform admirably in tough situations. However, it manages to maintain great performance during regular highway driving as well. The tires feature a "whisper groove" which is designed to reduce road noise. It's a great all-purpose tire, and one that we'd recommend for any vehicle that it fits on.
There are a wide variety of sizes available, so you should certainly be able to find a tire here that suits your vehicle. Once you get it installed, the Cooper Discovered AT3 XLT should provide you with strong performance that's most importantly quiet. We all know how annoying overly loud tires can be, and that won't be a worry for you with this product.
---
7. Kumho Road Venture AT51 All-Terrain
Specs: 275/60R20 114T
While Kumho may not have the same brand recognition as some of the other tires on our list, that doesn't mean it offers anything less than excellent quality. In addition to providing strong performance in rain and snow, you'll also find this tire is very quiet in standard driving scenarios. It has great tread depth, and should last for quite a while for you. You'll also find that the tire features great heat dissipation, which is always a positive when it comes to longevity.
There are so many advantages to this tire that they can be hard to sum up all in one place. Fuel efficiency should be better than average when you choose these tires, and you'll also be able to get around in style. Feel free to do some more research and decide if these are the right option for your vehicle, whatever it may be.
---
8. Firestone Destination X/T All Terrain
Specs: LT285/65R20 127T
Up next, we have a tire for you from manufacturer Firestone. That's most likely a brand name that you'll recognize right away, making them a trusted choice for drivers today and in the past. This specific tire was designed with noise-reduction technology, making it one of the least-noisy all terrain tires on the market. If you're tired of annoying road noise anytime you start moving fast, this tire should help you take care of that problem. Additionally, you'll find powerful performance in a variety of road situations, making this a great choice for most drivers.
As always, make sure you pay close attention to size specifications. Otherwise you could end buying a tire, or even a whole set of tires, that doesn't fit your vehicle. As long as you buy the right size, we're confident you'll get strong, quiet performance here. If you install them on your vehicle, feel free to let us know how they work out for you!
---
9. Nexen Roadian AT Pro RA8 All- Season
Specs: 275/55R20 117T
Another strong choice we'd like to recommend is this tire from Nexen. Like all the options on our list, it's definitely quiet. However, there are a number of other reasons why you may want to consider this tire for your ride. It has a five-star rating on Amazon as of this writing, showing that customers are happy enough with it to come back and leave a positive review.
Some reviews note that the tire performs exceptionally well in the tough road conditions of the Midwest, and it's especially appealing for the price it's at. We encourage you to take a look at this tire and decide if it could be the right one for you. Of course, be sure to pay attention to specs as always. If it's a good fit, it has the backing of our experts at Ultimate Rides, so you know it'll offer a high-quality driving experience.
---
10. General Grabber AT/X All-Terrain
Specs: 275/55R20 115T
Finally, we have one last tire we'd like to share with you. This time, it comes from General Grabber, a high-quality manufacturer of reliable tires. Their latest generation of all-terrain tires are very quiet, and they offer very strong handling and performance at the same time. The company has many different tires to offer, including different sizes, so it's all just a matter of finding an all-terrain option that will work for your truck or SUV. This tire will work for you across a wide variety of road situations, keeping quiet on the highway so as not to be annoying for you and your passengers. Take a look at the options and decide if this tire could be the best option out there for your vehicle. If so, we'll be happy to help you get it installed!
---
Quietest All-Terrain Tires Buying Guide
Did our list offer up a tire that you think might be a good fit? If not, don't give up your search just yet. Here in our buying guide, we'll provide some more details that could be useful when shopping for the exceptionally quiet all terrain tires you can find. Below you'll read about some of the most important factors to remember as you shop. In other words, what are the most important elements that make up a quiet set of all terrain tires? Additionally, we'll provide you with some tips when it comes to getting these tires installed on your vehicle. Finally, we'll leave you off with some more information about our work here at Ultimate Rides. By the time you're through reading, hopefully you've learned a thing or two about tires!
Factors of Focus: Choosing the Right Quiet Tires
The biggest factor that affects road noise on tires is tread patterns. Different tread patterns are designed for different purposes. We often find that patterns designed for tough off-road action are louder on the road. However, there are options out there that offer excellent performance while still keeping quiet on the road. We recommend reading through product descriptions, which will often tell you what the manufacturer designed the tires to excel at. Customer reviews can also be very useful. Here people will tell you what their experience with the tires have been like. Make sure to keep an eye out for verified reviews, as you'll know that these words are actually coming from someone who has used the tires.
Other important factors you should remember when shopping for tires is stability and lifespan. You want a tire that's going to allow you to handle your vehicle effectively. Make sure as you shop to read what customers have to say about handling with these tires, and you'll want to hear lots of positives. Additionally, no one wants to have to re-buy new tires before their time should be up. Keep an eye out for high-quality tires that will last a long time. Tread life should always be a major factor as you shop around for your next set of tires, no matter what kind you want.
Tire Installation Tips
When it comes time to change out your tires, you'll have to mount each tire on your wheel before installing it back onto your vehicle. This process can be a real pain, and will sometimes require tools you may not have at home. This is why we recommend heading to a professional for installation. It may cost you a bit more money, but it'll save you a lot of time and hassle. Additionally, you'll be able to know that each of your tires was safely installed by a professional. If you do decide to install at home, make sure to set a few hours aside, get all your tools ready beforehand, and have a solid flat space to work in.
Ultimate Rides is the Destination for Custom Vehicles and Quieter Tires
Whether you need new tire installation, want to install a suspension lift kit on your ride, or need to buy something new, Ultimate Rides is here to help. We are an auto dealership with a wide range of custom vehicles ready right now. Start browsing our inventory to see if there's anything that catches your eye. Each of our vehicles will feature some custom upgrades, and you're always able to make any additional changes in our lift center before you start driving.
We make it easy to customize your next ride, as we offer financing for these upgrades. Additionally, you can count on our expert team to handle just about anything you're looking for. We specialize in suspension lifts, but there's no limit to the ways we can make your vehicle unique.
You'll also be able to rely on us to find just about any kind of vehicle you could ask for. If we don't already have in stock, with a small deposit we can have our team start searching for this vehicle. As soon as we locate it we'll let you know, and you can decide if you want to buy as-is or go for some optional upgrades.
We even work on vehicles for the public. If you decide to keep your truck but want to make a few changes, you can bring it to us and our team will make it happen. Just call our office to set an appointment and we can discuss further details.
Nationwide Shipping Available
If you don't live in the greater Chicago area, have no fear. One of the best things that sets us apart from our competition is our ability to ship our vehicles across the country. Whether you live on the east coast, the west coast, or somewhere in between, we can provide you with an awesome car, truck or SUV.
Get in touch with someone from the Ultimate Rides team when you're ready to buy. We'll talk with you on the phone and go over the options you'll find on our website. When you make your final decision, we'll be able to take care of financing right then and there. You can even decide to cover the cost of shipping within that financing deal if that works better for you. Just give us a call today to get started!
Car, Truck and SUV Repairs and Maintenance
Whether you need help installing new tires, or there is another problem plaguing your vehicle, you can count on Ultimate Rides to help. We're located in the Chicago area, and offer a wide range of services to customers in our region. In addition to major repairs, we'll handle regular maintenance needs for your vehicle. We can take a look at the tread of your tires and let you know if it's time to make a change. We can also rotate tires, as well as provide oil changes, fluid checks and so much more. If you found that our list didn't provide you with what you need, our team can help you find a quieter set of tires as well. Just let us know what you need and our ASE-certified staff will handle all of it. We work quickly, and you can count on us to take excellent care of your vehicle. Call us today to schedule an appointment or to learn more.
Closing Thoughts
Did our guide help you find a set of quiet all-terrain tires for your vehicle? There are many options out there, and we hope that we at least armed you with the knowledge you need to make an informed decision. If you are in the Chicago area and are looking for a team to install your tires, consider Ultimate Rides. We have an expert team of technicians ready to get to work today, and our prices are fair as can be. You can visit us at 38 W. Division St., Coal City, IL 60416. Also feel free to call us today at 815-634-3900.
---
Two Brothers With a Dream, Building The Best Ultimate Rides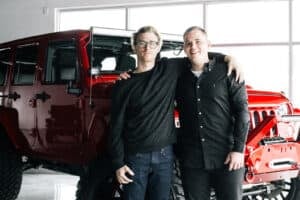 Ultimate Rides consists of two brothers who have been buying and selling custom vehicles for over ten years. Selling lifted trucks by day and writing these awesome reviews by night! They started their Ultimate Rides journey with a third brother Jake, who was a big part of building the business they have today. In 2016 Jake passed away and losing their brother was the hardest thing they ever had to deal with. Even though they had a tragic loss they plan to continue to set a new trend for the auto industry, keeping customers number one. Pushing the envelope on the lifted truck market, these guys love researching and learning about everything in the auto industry!
 — Nick and Alex Bulanda, Founders of Ultimate Rides