The Best Ratchet Straps for Trucks (Review & Buying Guide)
Choosing a Set of Ratchet Straps

for Trucks
Need to haul some important cargo in your truck? It's important to make sure to it's secured. We've all seen that person driving down the highway with a piece of furniture barely held down by some loose string. No one wants to be that person. That's why it's so important to invest in a set of ratchet straps for trucks.
If you own a pickup truck, you might as well get some good use out of it. Whether you're transporting furniture for a big move, taking home a Christmas tree, or moving some heavy equipment for work, you've got to stay safe. That applies both for yourself and for everyone else on the road. Plus, nobody wants to lose whatever it is that they're hauling.
Use this guide to find some ratchet straps for trucks. We'll begin by going over some of our favorite options that you can buy online right now. Go through our list and see if any of these products work for you. Pay special attention to the break strength, as this will tell you how much you're able to safely transport.
After our list, go ahead and read through our buying guide for additional details. We'll tell you what factors go into our decision on which ratchet straps are the best. We'll also offer up some tips for safe operation, as well as tell you more about what we do at Ultimate Rides. Good luck, and don't be afraid to reach out if you have any questions!
---
1. RHINO USA Ratchet Straps Tie Down Kit (ASIN – B07JJ1H5R7)
Break Strength: 5,208 lbs.
Out of all the companies selling ratchet straps for trucks, we trust RHINO USA the most. Their products get fantastic reviews, and their customer service gets a fantastic reputation. Of course, the most important thing is the straps themselves. Thankfully, they not only meet but exceed expectations. You'll find several varieties available, and this is the middle-duty option. With a break strength of 5,208 lbs., you'll be able to transport some really heavy cargo. There are stronger options out there, but most drivers won't need them. This set is the best of both worlds when it comes to strength and price, and the company offers a five-year money-back guarantee if you're not happy. With all that in mind, it's gonna be hard to pass up these ratchet straps.
RHINO USA Ratchet Straps Tie Down Kit, 5,208 Break Strength – Includes (4) Heavy Duty 1.6″ x 8′ Rachet Tiedowns with Padded Handles & Coated Chromoly S Hooks + (4) Soft Loop Tie-Downs (Orange)
---
2. AUGO 4-Pack Ratchet Tie Down Straps (ASIN – B01F7KSAGI)
Break Strength: 1,500 lbs.
If you don't plan on hauling anything too heavy, it may be beneficial to go with a lighter set of straps. This set from AUGO could be for you. It's available at a great price, and will handle all your basic ratchet straps need. The pack also includes two bungee straps, which can always be useful. For drivers looking for nothing more than a basic set of ratchet straps, this should be exactly what you need.
Ratchet Tie Down Straps – 4 Pk – 15 Ft- 500 Lbs Load Cap- 1500 Lb Break Strength- Cambuckle Alternative- Cargo Straps for Moving Appliances, Lawn Equipment, Motorcycle – Includes 2 Bungee Cord
---
3.
RHINO USA Heavy Duty Vehicle Tie Down Kit (ASIN – B07M7G3MBM)
Break Strength: 11,128 lbs.
For those who feel that they'll need some real heavy-duty straps, this set from RHINO USA should work. They offer a formidable break strength, and all the quality construction that you'd expect from this company. Like Ultimate Rides, RHINO USA is a family business, and they're commended for their customer service. If you run into any issues with these straps, which we doubt, you'll have plenty of options available for a replacement or refund. However, we're very confident that these will work wonders for you.
RHINO USA Heavy Duty Vehicle Tie Down Kit – 11,128lb Guaranteed Break Strength – Use for Car, Truck, UTV – (4) Premium 2″ x 8′ Ratchet Straps with Padded T-Handles + (4) Axle Strap Tie Downs
---
4.
RHINO USA Light Duty Ratchet Tie Down Straps (ASIN – B01N7P7EOX)
Break Strength: 1,823 lbs.
Like the RHINO USA brand but want to stick with a lighter set of ratchet straps for trucks? This is the kit we'd recommend. They offer a still respectable 1,823 lb. break weight. Despite that lower tensile strength, the products are just as high-quality as their more-formidable counterparts. Go with this option if you only need a basic set but still want to go with the best company out there.
RHINO USA Ratchet Tie Down Straps (4PK) – 1,823lb Guaranteed Max Break Strength, Includes (4) Premium 1″ x 15′ Rachet Tie Downs with Padded Handles. Best for Moving, Securing Cargo (Black 4-Pack)
---
5. JACO Ratchet Tie Down Straps 4 Pack (ASIN – B07ST9V2YX)
Break Strength: 1,823 lbs.
Our final option has fantastic reviews from customers. If you want to stay away from RHINO USA for whatever reason, these are a great option to consider. They're lightweight, so don't expect to be hauling anything too massive. However, for your basic needs, these will have you covered. They're very easy to use and safe, which is important for any kind of straps like these. With military-grade polyester webbing, you can count on these for light duty hauling.
JACO Ratchet Tie Down Straps (4 Pack) – 1 in x 15 ft | AAR Certified Break Strength (1,823 lbs) | Cargo Tie Down Set with (4) Utility Ratchet Straps, (4) Bundling Straps, and Accessories (Black)
---
Ratchet Straps for Trucks

Buying Guide
Does one of the ratchet strap sets on our list suit your needs? There's no problem if you need to keep searching. With countless options out there, it can take some time to find the perfect set. The important thing is that you keep looking until you do.
If you need to keep up the search, the next section may be of some help. We'll tell you what factors we look out for when shopping for a set of ratchet straps. What qualities make the best ratchet straps for trucks? You'll find out. After that, we'll go over some important safety tips before wrapping up with further details on Ultimate Rides. The next time you're in need of a vehicle, or want a fresh feel for your current one, we hope that you'll think of us.
Factors of Focus: What Ratchet Straps

Do You Need?
The most important thing to consider when shopping for ratchet straps is what you'll be transporting. If you plan to use the straps to move some seriously heavy objects, you'll need the strongest straps possible. However, you'll also have to balance this with your budget. If you only plan on moving regular everyday objects, such as light furniture, you won't need to go for the most expensive straps.
One thing that they should all have in common is durability. Nobody wants a set of straps that's going to start fraying after only a few uses. Look for high-quality materials made from trusted manufacturers. Customer reviews can be very helpful at this point. Read through some of them to get a sense of what to expect before you buy.
Safety Tips for

Ratchet Strap Use
When using a set of ratchet straps, it is always important to remember their break weight. Never exceed this number, and do your best to stay as far under it as you can. Nobody wants their straps to break while out on the road, so it's incredibly important to keep this number in your head. Heck, you may even want to write it down somewhere to keep in your truck.
Additionally, drivers should always make sure to double check all straps are secured before moving the vehicle. This last safety check can help ensure you don't lose anything on the road, and will keep you and everyone around you safer. It's easy to let this kind of stuff go, but we truly encourage you to perform this check each time you use the straps. Eventually you may find a mistake, and you'll be glad you did.
Custom Trucks and SUVs Ready at

Ultimate Rides
The next time you feel ready to buy a vehicle, we hope you'll check out Ultimate Rides. We have a huge stock of custom vehicles ready, and each one can be delivered across the United States. With our custom service center, you'll even be able to make as many modifications you'd like before we send the vehicle out to you. Just give us a call at 815-634-3900 to learn more about how this works. If you ever find yourself in the Chicago area, you can come visit us an hour south of the city at 38 W. Division St., Coal City, IL 60416.
---
Two Brothers With a Dream

,

Building The Best Ultimate Rides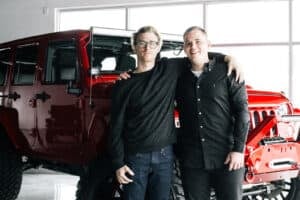 Ultimate Rides consists of two brothers who have been buying and selling custom vehicles for over ten years. Selling lifted trucks by day and writing these awesome reviews by night! They started their Ultimate Rides journey with a third brother Jake, who was a big part of building the business they have today. In 2016 Jake passed away and losing their brother was the hardest thing they ever had to deal with. Even though they had a tragic loss they plan to continue to set a new trend for the auto industry, keeping customers number one. Pushing the envelope on the lifted truck market, these guys love researching and learning about everything in the auto industry!
 — Nick and Alex Bulanda, Founders of Ultimate Rides