Ratchet Tie Down Straps How to Use (Tips & Tricks)
Ratchet Tie Down Straps

How to Use
If you own a pickup truck, it offers plenty of benefit to your everyday life. For instance, you'll be able to transport all kinds of cargo, from furniture to heavy-duty machinery. A good set of ratchet straps can be an extremely useful tool for this process. However, if you've never used them before, it may take a few minutes to get the hang of how they work. Do you need some assistance with this process? If so, this guide is for you!
Below we'll go over the basics of ratchet tie down straps how to use, as well as get into some of the deeper details. How much do you know about break weight? It's a very important part of using these tools. Read through this short guide and by the end you should be ready to use your ratchet tie down straps. After that, let us know if you think we can offer any additional help!
The

Basics
The easiest way to learn how to use a ratchet strap is by watching. We've included a video below that will show you how it's done. However, not everyone learns best that way. Because of that, we'll add in some details here that can be helpful if the video moves a little too quickly or you prefer to see the steps written down.
To begin, completely pull the strap out of the ratchet, if it is already in there. Once your strap and the ratchet are completely separate, put the ratchet in the closed position, and then thread the strap through the slot. From there, secure the item where you want it to be, and get the hooked ends of the ratchet strap into a good position. You want it to be tight, so there's no room to give.
Once you finish that, secure the other side of the strap (the one coming out of the ratchet) over your cargo and pull through as much of the strap as you can without using the ratchet. After you do that, then use the clip to tighten up the straps as much as possible. Do this for each strap until your cargo is as secure as can be!
Break Weight:

What You Should Know
One important thing to remember as you're securing cargo is the break weight of your straps. Every set of straps is going to offer a maximum weight that they can secure. If you go past this, there's a strong chance that your straps will break, letting your cargo loose. Because of this, it's important to know the weight of what you're hauling in addition to the break weight of your straps. As long as you stay well under the break weight, you should be safe.
Knowing which set of straps is best for your situation can sometimes be difficult. Ultimate Rides is here to help. Use our guide to find the best ratchet straps for trucks available today. If you have any questions about the right set for your vehicle, you can also get in touch with our team at Ultimate Rides and we'll be able to answer your questions.
Tips for

Safe Operation
Any time you secure something to your truck with ratchet tie down straps how to use, it's important to check your work. Go along each strap and make sure that it's properly secured. If you ignore this step, you may be fine 99% of the time. However, that 1% of the time is all it takes for something major to go wrong. It only takes a minute or two to go through every step to make sure it feels right, and it can save you a major headache down the road.
Additionally, be sure to carefully follow the recommend weight limitations. If you don't, your straps could tear or give in at any moment. That's why it's so important to pick the rest set for your needs. Some ratchet straps only handle a limited weight, while other straps are made to withstand massive cargo. Do your research to pick out the options that are best for your truck and your items.
Lastly, it's important to know how these things work before diving in. It's good that you're here reading this, but we encourage you to continue your research. There are plenty of great videos that show it's done, and we hope you'll watch them before trying this on your own. With that in mind, good luck and stay safe out there!
How Ultimate Rides Can

Assist You
The next time you're thinking about shopping for a vehicle, or need an upgrade for your current one, remember Ultimate Rides. We're a custom auto dealer that offers delivery across the United States. Additionally, we have our own custom service center, where we can create the vehicle of your dreams. No matter what kind of upgrades you're looking for, we're confident that we can help. On top of that, you'll be able to finance it all, including shipping and customization. To learn more about how this whole process works, give Ultimate Rides a call today at 815-634-3900. If you ever find yourself in the Chicago area, you can visit our office an hour south of the city. We're located at 38 W. Division St., Coal City, IL 60416. Someone from our team will be happy to sit down with you and go over everything we have to offer, whether you do it in-person or over the phone. Get started today!
---
Two Brothers With a Dream

,

Building The Best Ultimate Rides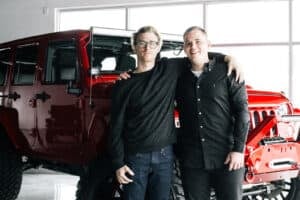 Ultimate Rides consists of two brothers who have been buying and selling custom vehicles for over ten years. Selling lifted trucks by day and writing these awesome reviews by night! They started their Ultimate Rides journey with a third brother Jake, who was a big part of building the business they have today. In 2016 Jake passed away and losing their brother was the hardest thing they ever had to deal with. Even though they had a tragic loss they plan to continue to set a new trend for the auto industry, keeping customers number one. Pushing the envelope on the lifted truck market, these guys love researching and learning about everything in the auto industry!
 — Nick and Alex Bulanda, Founders of Ultimate Rides