Searching for Cheap Off Road Vehicles
Cheap Off Road Vehicles –

Quality vs. Budget
If you're looking for an off road vehicle on a budget, we'll be up front and say that you're going to need to be quite lucky if you want one in good shape. Realistically, you're going to be trading off quality any time you go for a budget vehicle. Generally the more you pay for an off road vehicle like a lifted pickup truck, the more quality you'll get. It's all just a matter of how much you can afford.
Today we want to give you some tips that may help you out in your search. After that, we're going to tell you some more about what you'll find at Ultimate Rides. Hopefully when we're through you'll have a better idea of what you need to watch out for. If you have any questions for Ultimate Rides, feel free to give our office a call at 815-634-3900! If not, go ahead and check out the rest of our guide to learn more.
The Best Off Road Models to

Seek Out
At Ultimate Rides, it's safe to say we're off road vehicle experts. We sell all kinds of vehicles, but most of what you'll find is geared towards off and on road use. We have our own custom shop onsite where we upgrade our vehicles (more on that later). With that in mind, we think we're qualified to offer advice on what to look for in cheap off road vehicles. Once again, it truly depends on your budget. If you're trying to stay really cheap, you may want to look for an SUV. However, if you can afford it, we'd really recommend getting a pick up truck for off road use.
There are three excellent options we'd recommend if you can find them. They are the Ford F-150, the Ram 1500 and the Chevy Silverado 1500. These are the three most popular trucks in America, and you'll find plenty of them available out there. That helps keep the price down a little bit, but these things can still get quite expensive depending on quality, model year and trim level. You're either going to need a lot of luck, or a lot of patience as you spend time searching for an affordable model. Keep an eye on local dealerships, as well as dealerships that ship vehicles and other places online. We have faith you'll eventually find what you need.
What to Expect at

Ultimate Rides
At Ultimate Rides, we put more of an emphasis on vehicle quality compared to your standard auto dealership. That could mean you won't find as many cheap off road vehicles, but that all depends on your definition of cheap. If you have the room in your budget for a high-quality vehicle, you will find that our prices are very fair. We're always more than happy to tell you how we arrived at the price we did, which is not something that can be said for many other dealerships.
The vehicles we sell at Ultimate Rides are all free of rust, and run great. Unlike with most used vehicle purchases, you don't have to wonder what kind of quality you're getting. That's what we specialize in here at Ultimate Rides. On top of that, we also offer a wide variety of other services and reasons to shop with us. Let us tell you some more about why you should choose Ultimate Rides for your next vehicle and more!
Custom Vehicles

Built In-House
Our lift center is one of our defining features, and one of the reasons customers from all over come to Ultimate Rides. We finished constructing our new lift center back in 2017, and our team has been hard at work inside ever since. We've got it stocked with the latest technology, tools and equipment. On top of that, you won't find a better team than our technicians at Ultimate Rides, especially when it comes to custom installation. We're ASE-certified, and any time you buy a vehicle from us you can choose to make a few modifications before you pick it up.
We offer installation on lift and leveling kits, running boards, custom tire and wheel packages, stereo systems, performance chips and more. Plus, when you decide to make some upgrades on a vehicle you're buying, you can choose to either pay the cost upfront or finance it with your vehicle. You have more choice at Ultimate Rides, both when it comes to your vehicle and how you pay for it. Start by checking out our available inventory here on our website. Then you can let us know if you're interested in one of our vehicles.
Upgrade and Fix Cheap Off Road Vehicles

Right Here
Our custom shop is also open to the public. That means if you find cheap off road vehicles but they need a bit of a step up, you can come to us! All of the same services offered to the vehicles bought from Ultimate Rides are also available to you. Our team is great at what they do, and we're always excited to work on a new vehicle. We know that it can be hard to find a reliable team of mechanics that you can trust to charge a fair price. We're here to fill that role, and offer you excellent vehicle service along the way.
Additionally, our shop offers maintenance, repair and detailing for your vehicle. Want to make sure it's up and running as good as possible? Bring it to our team for an oil change, tire rotation and detailing. We can make your vehicle look as good as can be, and we'll do it at a reasonable price. Go ahead and give our office a call today if you'd like to schedule an appointment. We can get your vehicle back to you in a short time so you're not without a vehicle for too long. Just get in touch to find out current timeframes!
The Ultimate Rides

Difference
There are still more reasons why customers seem to love Ultimate Rides. A big part of it is our customer service philosophy. We are well aware that customers are often treated poorly by auto dealers, and we're out to change that reputation through our actions. When you call or visit Ultimate Rides, you'll be met by a team that actually listens and cares about what you have to say. Our goal is not to unload whatever vehicle we can on you. Instead, we want to match you up with the perfect vehicle for your needs.
On top of that, we also offer delivery for our vehicles. If you're tired of not having access to quality cheap off road vehicles in your area, take a look at what we have to offer. Our delivery rates are very affordable, and you can choose to either pay now or finance the cost alongside your new vehicle. More than half of all our business is done with people living outside our area. That just goes to show you how appealing our vehicle delivery is. You could have the off road vehicle of your dreams arriving right at your door soon.
Your One-Stop Shop for

All Vehicle Needs
Are you convinced that Ultimate Rides is the place to find your next vehicle? Depending on your budget, we may not carry many cheap off road vehicles. However, we can assure you that you'll find quality here unlike anywhere else. Get in touch with our team to find out if we have anything that suits your needs, or take a look at our vehicle inventory online. We're happy to help you find your next off road vehicle. You can find us at 38 W. Division St., Coal City, IL 60416 if you want to pay our office a visit. If not, you can always give us a call at 815-634-3900.
---
Two Brothers With a Dream

,

Building The Best Ultimate Rides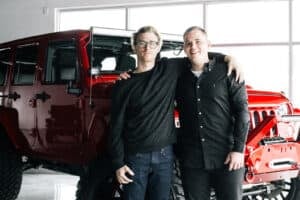 Ultimate Rides consists of two brothers who have been buying and selling custom vehicles for over ten years. Selling lifted trucks by day and writing these awesome reviews by night! They started their Ultimate Rides journey with a third brother Jake, who was a big part of building the business they have today. In 2016 Jake passed away and losing their brother was the hardest thing they ever had to deal with. Even though they had a tragic loss they plan to continue to set a new trend for the auto industry, keeping customers number one. Pushing the envelope on the lifted truck market, these guys love researching and learning about everything in the auto industry!
 — Nick and Alex Bulanda, Founders of Ultimate Rides