Choosing the Best Toyota Tonneau Cover (Review & Buying Guide)
Finding a Toyota
Tonneau Cover
Ultimate Rides is your destination for everything related to vehicles. We are a custom auto dealer with an inventory full of exciting trucks, but the fun doesn't end there. We have our own custom service center on-site, staffed with an expert team of ASE-certified technicians. We install custom upgrades as well as accessories, and one of the most common offerings we provide is a truck bed cover.
These useful accessories can protect the items in your cargo bed, as well as the bed itself. These areas see a lot of damage over time, and they'll get dinged up, rusty or stained if you don't protect them. On top of that, a good bed cover will ensure your cargo isn't stolen or damaged.
The best bed covers aren't always easy to find, especially with more options available than ever. In our list below, we'll share with you some of our favorite options for Toyota trucks. Make sure to check out the compatibility notes not only to see what truck the cover is for, but also what model year and bed length.
After the list, keep reading to find our buying guide. In this section, we'll share with you more information on choosing the best truck bed cover, as well as further details on Ultimate Rides.
---
1. BAK BAKFlip MX4 Hard Folding Truck Bed Tonneau Cover
Compatibility: 2016-2022 Toyota Tacoma 5′ Bed with OE Track System
The first Toyota tonneau cover we would recommend comes from BAK. It's a hard folding bed cover, designed for the latest generation of the Toyota Tacoma. If your truck has the OE track system installed and the smaller bed length, this is the setup for you. We are a big fan of this bed cover. While there are cheaper options out there, the MX4 from BAK is the most reliable in our experience. It also has excellent customer reviews. It's easy to access your items, and the cover will protect from the elements along with other people. While it's no replacement for taking your valuables with you when you're not in the vehicle, it can get the job done against casual spur-of-the-moment thieves and more.
BAK BAKFlip MX4 Hard Folding Truck Bed Tonneau Cover | 448426 | Fits 2016 – 2022 Toyota Tacoma w/ OE track system 5′ 1″ Bed (60.5″)
---
2. Tyger Auto T3 Soft Tri-Fold Truck Bed Tonneau Cover
Compatibility: 2014-2021 Toyota Tundra with 5.5′ Bed (No Storage Boxes)
If you aren't as concerned with security, a soft cover can be a great option. This one in particular is designed for Toyota Tundra trucks over the last decade, give or take a couple of years. It's very affordable, and is easy to install. While this option is for the smaller truck bed, you can find plenty of variety out there from Tyger Auto even within the T3 model. We're confident they have a Toyota tonneau cover for you. Additionally, while this is a folding soft cover, they also have roll-up covers for you to consider and more. Take some time to think about this affordable pick from Tyger Auto.
Tyger Auto T3 Soft Tri-Fold Truck Bed Tonneau Cover Compatible with 2014-2021 Toyota Tundra (Does Not Fit Trail Special Edition with Storage Boxes) | Fleetside 5.5′ Bed (66″) | TG-BC3T1432 , Black
---
3. Gator ETX Soft Tri-Fold Truck Bed Tonneau Cover
Compatibility: 2016-2022 Toyota Tacoma 5′ Bed
Along with Tyger Auto, one of the best choices of manufacturer when it comes to a soft cover is Gator. Their ETX soft tri-fold bed cover has great reviews and can be found at a reassuring price. The installation process should be a piece of cake, allowing you to get the accessory on and hit the road in no time. It has a basic no-nonsense appearance, and will reliably protect your truck bed and cargo from water, leaves, rocks, wandering eyes and more. If all that's what you're looking for, look no further.
Gator ETX Soft Tri-Fold Truck Bed Tonneau Cover | 59409 | Fits 2016 – 2022 Toyota Tacoma, will not work with Trail Edition models 5′ 1″ Bed (60.5″)
---
4. Kikito Professional FRP Hard Tri-Fold Truck Bed Tonneau
Compatibility: 2007-2021 Toyota Tundra 5.5′ Bed
Those of you looking for an affordable hard cover, check out this product from Kikito. While we do prefer the BAK G4, this is a budget alternative that we can also get behind. It's still a hard tri-fold design, and it's made for the Toyota Tundra through a wide range of model years. The installation process is fairly simple, and by now you know what to expect from this type of cover. The only small issue we've heard of is a little bit of leaking in the corners. If you can weather that, the budget option shouldn't pose a problem.
Kikito Professional FRP Hard Tri-Fold Truck Bed Tonneau Cover for 2007-2021 Tundra 5.5ft (66.7in) Bed
---
5. Roll N Lock A-Series Retractable Truck Bed Tonneau Cover
Compatibility: 2007-2020 Toyota Tundra 6.5′ Bed
Next up, we have a retractable hard cover for the Toyota Tundra, particularly models with the longer 6.5-foot truck bed. This cover is not cheap, but it offers heavy-duty protection with a retractable design that makes it easy to get items in and out of the bed when you need to. It's sleek, offers incredible protection, and was made right in the United States. You'll also have access to a three-year warranty with your purchase. For all those reasons, we consider this one of the top picks for a Toyota tonneau cover.
Roll N Lock A-Series Retractable Truck Bed Tonneau Cover | BT571A | Fits 2007 – 2020 Toyota Tundra 6′ 7″ Bed (78.7″)
---
6. Syneticusa Electric Powered Remote Automatic Retract Hard Tonneau Cover
Compatibility: 2016-2022 Toyota Tacoma with 5′ Bed
Last but not least, we have a newer option for you to think about. It features remote power that can retract on your command with the touch of a button. Sure, it's not cheap. It's also not the most expensive option on our list, however. Syneticusa is a brand that can be trusted, and while this doesn't offer quite the same level of security as the last pick we shared, it is still head and shoulders above 95% of the other products available. Take some time to consider this for your Toyota Tacoma pickup truck.
Syneticusa Electric Powered Remote Automatic Retract Hard Tonneau Cover Fits Fits 2016-2022 Toyota Tacoma 5′ Bed Aluminum Matte Black Low Profile Waterproof Off Road Rack Ready Retractable
---
Toyota Tonneau Cover
Buying Guide
Were any of the options on our list suitable for you? We hope so, but if you're still unsure there's more we can do to help. Here in our buying guide, we want to provide you with all the knowledge needed to make an informed decision on your next bed cover. There are more available products for a Toyota tonneau cover than ever before, so we can understand being a little overwhelmed. Check out our Factors of Focus section for some guidance. After that, we'll be able to tell you more about what we do at Ultimate Rides, and how we may be able to help find your next vehicle or upgrade your current one.
Factors of Focus: Finding the Right
Tonneau Cover
If you're having a difficult time choosing the tonneau cover for your truck, it's understandable. With the advancement of internet commerce, customers can find more options than in previous years. This is both a blessing and a curse. On the surface, who wouldn't love having access to more products with the click of a finger? However, it becomes a problem when you're trying to decipher the good from the bad.
Our advice is to first narrow down your options to those that fit your truck. That means paying attention to the model, model year, and length of the truck bed. From there, think about what kind of bed cover you want, as well as your budget. There's something out there for everyone, so it's just a matter of choosing the best category. Finally, you'll want to think about the actual quality of your Toyota tonneau cover. What is it made out of? Will it stand the test of time, protect against water, and everything else you need defense from? Find the answers to these questions and you'll have a better idea of what to shop for.
Contact Ultimate Rides for
Assistance with Your Vehicle
Do you live in driving distance of the Chicago area? Ultimate Rides is located an hour south of the city, and (along with selling custom trucks and SUVs) we're happy to provide drivers in our area with repairs, maintenance, and upgrades to their vehicle. That includes installing accessories like bed covers and so much more. Get in touch with our team at 815-634-3900 to set an appointment or to learn more information. Those of you in our area can also come and visit our office at 38 W. Division St., Coal City, IL 60416 to speak with someone about this and more.
---
Two Brothers With a Dream

,

Building The Best Ultimate Rides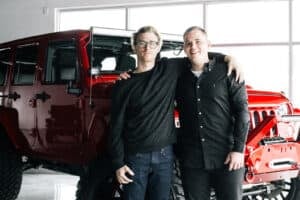 Ultimate Rides consists of two brothers who have been buying and selling custom vehicles for over ten years. Selling lifted trucks by day and writing these awesome reviews by night! They started their Ultimate Rides journey with a third brother Jake, who was a big part of building the business they have today. In 2016 Jake passed away and losing their brother was the hardest thing they ever had to deal with. Even though they had a tragic loss they plan to continue to set a new trend for the auto industry, keeping customers number one. Pushing the envelope on the lifted truck market, these guys love researching and learning about everything in the auto industry!
 — Nick and Alex Bulanda, Founders of Ultimate Rides