Ultimate Rides: King of Custom Truck Suspension Shops
No Custom Truck Suspension Shops in Your Area?
Use Ultimate Rides
Ultimate Rides offers service to truck drivers from all over the country, specializing in building and working on lifted trucks and SUVs. If you don't have any good custom truck suspension shops in your area and need somebody to take care of modifications and the maintenance of your vehicle, we are the place to go. We've been in operation for more than 10 years, and in that time we've established ourselves as bonafide experts when it comes to customized trucks. We have an experienced team of service technicians on hand to work on your vehicle, and if you'd like some examples of their work all you have to do is take a look at our inventory.
We take a lot of pride in our work, and we think our customers will agree that we get the job done timely and with great care. Though many might know us primarily as a specialty used auto dealer, our service center provides a full range of service from standard maintenance to intensive repairs. Whether you need to have your synthetic oil changed or you need work done on your transmission, we'll be able to take care of your truck. We're centrally located about an hour south of Chicago in Coal City, Illinois, making us a great place for travelers to take their vehicle as well as Chicagoland locals. For those who simply want to take their vehicle to the best mechanics and don't care about geographic location, we'll be here to help whenever you need it.
Custom Truck Suspension Shops
Service Information
Whether you're buying a vehicle from us or hoping to upgrade your existing ride, there's a lot we can do for your truck. Our most popular option is the installation of a lift kit. While there are two types of lift kits available, suspension lift kits and leveling lift kits, it's suspension lift kits that you're likely going to be more interested in. A leveling lift kit is intended to even out vehicles with uneven suspension. Many times vehicles are built with a little bit of a tilt towards the front, and a leveling lift kit will make sure everything is even. A suspension lift kit is the type of lift that most people think of; in addition to raising your cab higher off the ground, it allows you to add on larger tires and rims to give your vehicle some extra flair.
If you're interested in having a suspension lift kit installed on your vehicle, you'll have some options to choose from when it comes to which brand kit you'd like to go with and how high you'd like to go. Price can vary pretty greatly here, and it all depends on the truck you're working with, the kind of lift kit you want and how high you want to go. If you're interested in finding out more about pricing for lift kit installation from custom truck suspension shops, we suggest getting in touch with us so we can fill in some of the details and get you a quote.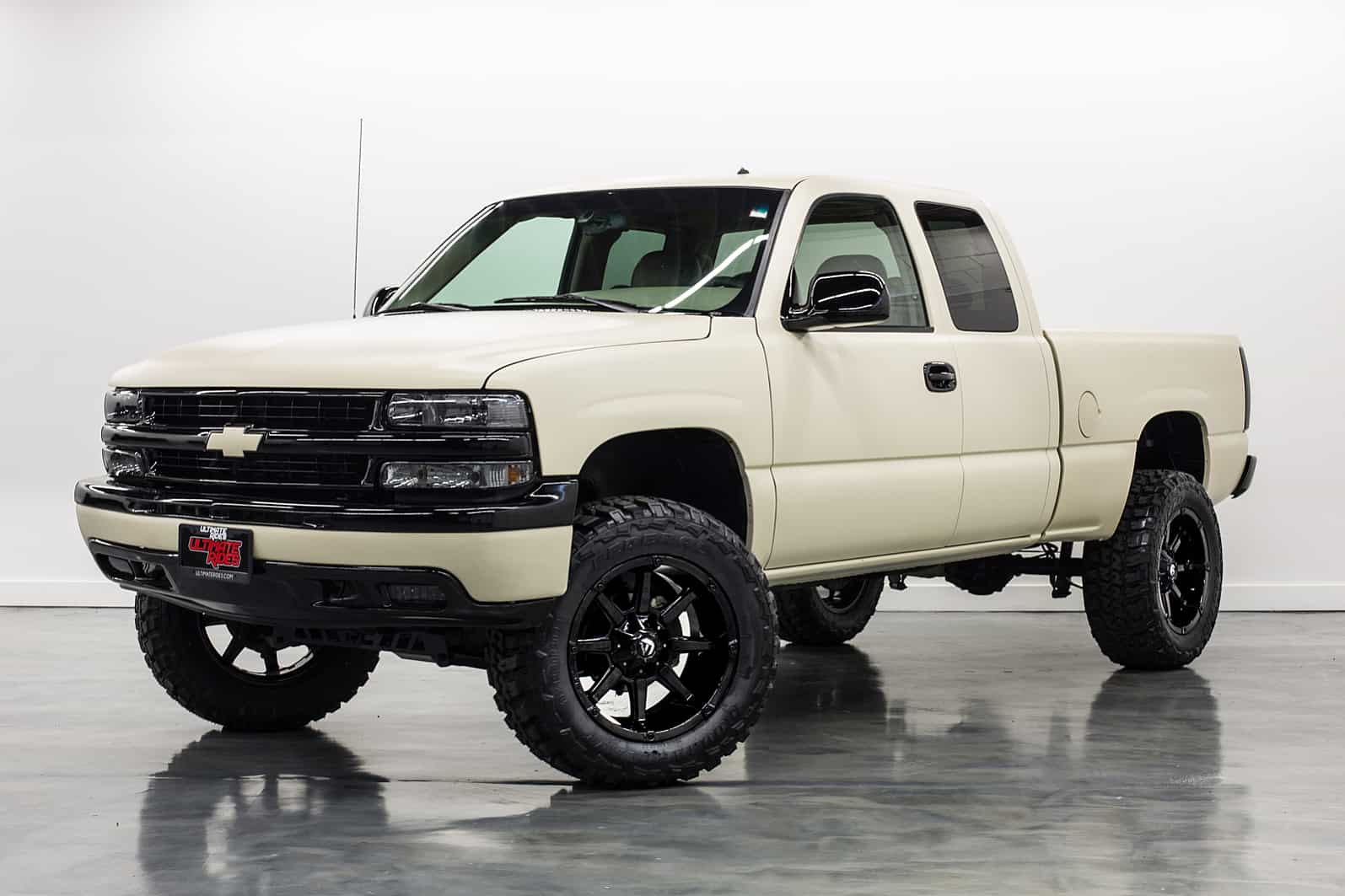 Ultimate Rides Provides a
Different Kind of Buying Experience
Buying a car can be a frustrating experience, and all too often that's because it can be hard to know if you're getting worked around or not. At Ultimate Rides, we try to conduct ourselves in a different manner than what many people are used to from used auto dealers. You'll get straightforward, friendly service from our team members, and you don't have to worry about us trying to push something on you that you don't want or need. We're here to give you options and match you up with your ideal vehicle. We are a specialty used dealer in addition to our status as one of the best custom truck suspension shops around. You can expect the same high caliber of customer service from our sales team as our service team.
In addition to serving customers around Chicago, we also have some great options available for buyers who live elsewhere. Once you take a look at our inventory online, you can give us a call to get some more details on how we can get this vehicle transported to you. It's a common and affordable process, and we can include the associated fees within your vehicle financing deal, making it easy to pay for over time. If you're a buyer who is looking for a used vehicle that's still in good shape, sometimes it's worth it to pay a little extra so you know exactly what you're getting. Similarly, we have many customers who come to us looking for a specific model and year of a vehicle, and with a small deposit we can track the vehicle down for you.
Finally, for those who want to fly in to take a look at the vehicle in person before buying, let us know your flight arrangements and we can pick you up at the airport. We'll even drive in the vehicle you're looking at purchasing, allowing you to see how it feels on the road as we drive back to our office or to your hotel.
At Ultimate Rides, we'll do whatever we can to make sure you're happy with your purchase and service. It's our goal to become your favorite of all the custom truck suspension shops you have at your disposal. We think our level of service and customer support as well as our high quality inventory sets us apart from the competition. If you'd like to take a closer look at our inventory in person, you can visit us at 38 W. Division St. Coal City, IL 60416. You can also reach us over the phone at 815-634-3900. We can't wait to hear from you!