Your Next Custom Truck for Sale at Ultimate Rides
Your Perfect Custom Truck for Sale at

Ultimate Rides
These days, shopping for a vehicle has become overly complicated. This is especially true if you have high standards of quality. Most likely, your local auto dealer won't be able to cut it if you want a top-of-the-line custom truck. Ultimate Rides is here to pick up that slack.
We're a custom auto dealer based out of the Chicago area. We have our own lift center on-site where we customize our vehicles, and we offer shipping to drivers nationwide. You can even count on us to help build your dream truck. We can even offer a simple and straightforward approach to the whole transaction.
Read through this guide and you'll learn a whole lot about Ultimate Rides. From there, you're free to continue browsing our website or you can give us a call. We'll be able to handle the entire process of buying your next vehicle right there over the phone. Before you know it, you're incredible new ride will be arriving in front of your home. Keep reading to learn more, or call us to find out about a custom truck for sale right now!
Take Advantage of the Ultimate Rides

Lift Center
One of the things that makes Ultimate Rides different from your average auto dealer is our custom service center, which we call the lift center. That's because we specialize in offering lifted trucks, SUVs and even cars. Take even just a brief look at our inventory and you should see what we mean. A great deal of our vehicles have been customized right here in our shop. While we may specialize in lift services, that's just a small part of what we have to offer. You'll have access to everything from custom paint jobs to surround sound stereo setups to LED lighting to running boards. You name it, we can install it.
The Lift Center is

Here for Everyone
Best of all, this service is available to any and all. When you buy a vehicle from us, you'll have a chance to tell us how you want to customize it before we send it out to you. You can decide if you'd rather pay for these upgrades now or include them in your vehicle's financing. This allows you to pay off the work over time, making it affordable for just about anyone.
Additionally, our lift center is open to the public. If you decide you're not ready to buy your next vehicle but still want a new look or feel, we'd be happy to assist you. Call us today and we'll be able to get into the detail of the services we offer, and even set you up with an appointment to bring in your ride.
Quick and Easy Vehicle Delivery

Available to All
Without the ability to deliver our vehicles across the United States, our business would be limited to just a small area. However, we knew that there is a market out there for high-quality custom rides, and we want to be the ones to fill it. No matter where you live, we're confident that we can provide you with high-quality custom truck for sale.
Start by taking a look at the inventory on our website, and giving us a call. Someone from our team will provide more information on our vehicles, as well as tell you the latest updates that may not have made it to the website yet. We'll be able to provide more pictures, as well as details on features and much more.
When you've made a final decision, we can also take care of financing over the phone. Our process is safe and secure, and should only take a few minutes of your time. After that, we'll gather shipping details from you. You can decide if you would like to cover the cost of shipping now, or package it with your vehicle financing just like our custom work. This can make nationwide vehicle delivery possible for drivers regardless of financial status. If this sounds exciting to you, go ahead and call Ultimate Rides today and we can begin the process.
Build Your Next Truck

Right Here
Sometimes it is not enough to just customize a few things on a truck you find. If you need a lot of work done to get the vehicle of your dreams, we're the team to do it. As we talked about before, Ultimate Rides can offer a huge range of services and installation for any vehicle. If there is a specific vision in your head that you want to bring to life, share it with us. Our team has helped many drivers find their perfect custom truck for sale. We have full confidence in our ability to make it happen.
We have a team of buyers that are able to find very specific models, so just tell us what you'd like us to start with. From there, we can work together to add on features until you think it's just right. The process may be costly, but at the end you'll be able to drive off in your dream truck. We've done it before, and there's nothing stopping us from making it happen for you. Just give us the word, and our team will get right to work!
Customer Service That

Prioritizes You
At the top of this page, we wrote a little bit about the modern process of buying a vehicle. In our opinion, at most places it has become way too complicated. Financing deals should be straightforward and easy to understand, but that's definitely not always the case. On top of that, many auto dealers can act shady and shouldn't be trusted. That's a reputation that has come to really harm the auto sales industry.
We are out to change all of that. Ultimate Rides is a family business, and that is important to us. To us, it means that we treat every customer who calls or comes through our door like they're our own family. You should never feel pressured or like you're being sold something you don't want with us. Instead, it is our goal to match you up with your own dream vehicle.
Ultimate Rides has helped countless customers with this in the past. Just take a look at our reviews online to see what we mean. If you have any questions or doubts, we encourage you to give our office a call. We'll be happy to speak with you more today about your next custom truck for sale.
A Look at the Ultimate Rides

Inventory
There aren't just any old trucks available at Ultimate Rides. Instead you'll find high-quality rust-free vehicles, no matter how old they are. And it is true that we offer vehicles both new and old. You never know exactly what you're going to find in our inventory, but you can always trust that it will be in excellent shape.
You may be wondering how this is possible considering we're based in the heart of the snowy Midwest. We do it by sending our vehicle buyers out to the warmer parts of the United States, where it's easier to maintain a vehicle in great condition. They buy the best options they find that suit our inventory needs. From there, we bring them back to our HQ and inspect them. If the vehicle is not up to our standards, we won't sell it to you. It's that simple.
Each car, truck and SUV at Ultimate Rides should be free of rust. Additionally, while it impossible to say for certainty how long any used vehicle will run without issues, we do all of our due diligence to ensure the quality of vehicle performance. We'll be happy to answer questions about this process if you have any. It's important to us that you trust in the vehicles you get from Ultimate Rides.
We Can Track Down

Any Vehicle for You
When you shop with us, you won't just be limited to what we have to offer in our inventory. It's important to know that we also have the ability to track down specific vehicles for you. Are you searching for a 2016 Ram 3500 with a certain engine configuration, or a retro 1990's Chevy Silverado pickup truck? We are happy to help you get behind the wheel of one, and we can still customize it any way you want.
Start this process by telling us what you're looking for. If you're really lucky, we might already have something in stock, or know where we can find it. If not, leave a deposit with us and our buyers will begin searching. As soon as we find the vehicle we'll buy it and bring it back to our shop (this is what the deposit is for). If you'd like to customize it, we'll do that at this stage. If not, the vehicle will be ready to send out to you! Once again you can come pick the vehicle up or we'll have the ability to ship it to your home. Just let us know what works best for you!
What You Should Know about Driving with a

Suspension Lift
There are a number of advantages to driving with a suspension lift. The first thing you'll notice is that you can see much better over the other vehicles around you. This can be great, but it does come with a slight drawback that you should be aware of. It can make it more difficult to see objects up close to your truck, especially smaller objects. A surround vision monitor, available on many newer trucks, can be very useful to help with this.
Additionally, getting behind the wheel of a lifted truck is better for off-road driving. You can avoid obstacles like rocks, and it'll give you a better angle of approach for uneven terrain. Plus, installing a lift will allow you to put on larger wheels and tires, many of which are suited for the off-road.
Along with all of that, there is of course the new look it provides. This is actually the reason why many drivers to decide to upgrade. There's nothing out there that looks quite like a truck with an awesome suspension lift. These are just a few of the many benefits you'll find from spending your time in a lifted truck.
Important Lift Kit

Maintenance
If you install a lift kit at home, there's something important you need to do shortly after installation. Take your vehicle in for a steering alignment. This is a safety issue, and trouble could arise if you don't take care of the problem. If you instead opt for professional installation, we recommend just double checking to make sure that they took that step after installing the lift.
Apart from that, there's not many maintenance tips we can offer that don't apply to standard vehicles as well. In other words, adding on a suspension or body lift to your truck shouldn't require too much more to take care of than you're already used to. You may need to change out your shock absorbers more often, which is something to be aware of. Keep your ears open for any unusual noises, but if nothing like that pops off you should be all set! Many drivers are happy to hear that a lift doesn't require more work, and we're always happy to share it with you.
Take Care of Both Maintenance and Repairs

Right Here
In addition to everything else, the Ultimate Rides service center is also open to the public for repairs and vehicle maintenance. As we mentioned before, our team is made up of some of the industry's very best technicians. That means you can count on us from everything to a basic oil change to major engine work. If you're not even sure what the problem is with your ride, bring it in to us and we can figure it out.
It can be difficult to find a team of mechanics that you can trust. That's exactly what we aim to be at Ultimate Rides. Our prices are fair, and our work is as good as can be. You can also expect us to get your vehicle back to you in a timely manner. Many customers have had fantastic experiences with our service center, and you could be the next in line.
Give us a call today if you'd like to schedule an appointment for your ride, or if you've got questions. You may even decide that you want to get some custom upgrades while you have your truck in the shop. Who knows? Either way, we are here to assist you.
Contact Ultimate Rides Today for

More Details
After all that, there's still plenty more for you to discover about Ultimate Rides, starting with our inventory. Feel free to check out what we have to offer here, and then give us a call if you're ready to find out more. Whether you know exactly what make, model, model year and trim level vehicle you want, or you don't have any idea yet, we'll be here to help you find what you need.
If you find yourself in the greater Chicago area, you can find us about an hour south of the city at 38 W. Division St., Coal City, IL 60416. You can also call our office any time during business hours at 815-634-3900. A member of our team will be sure to take care of you. We hope you found this useful, and good luck on the search for your next custom truck for sale!
Frequently Asked

Questions
There are a few common questions we hear from our customers time and time again. In an effort to save your time, we'll share some of them with you here. Check them out, and be sure to let us know if you have anything that isn't covered here!
Q: How will a suspension lift affect my truck's gas mileage?
A: This answer can vary depending on a number of factors. Your tires will play an important factor, as will the height of your lift and your specific truck model. In general terms, a suspension or body lift will increase your truck's fuel consumption. However, many drivers find that it's a negligible increase in costs. Over time, you'll end up spending more at the pump, but most people find that the lift is worth it.
Q: How long before my vehicle arrives?
A: That all depends on a few factors. If you live in the United States and order a vehicle from us without any custom modification, you can expect your ride to arrive in a week or less. Adding on customization may increase the waiting time, but you shouldn't expect it to take too long. We work hard at Ultimate Rides, and we always try to keep vehicles moving in and out as quickly as we can while still being precise. If you need a more specific answer depending on where you live, feel free to give us a call.
Q: What's the difference between a suspension lift and a body lift?
A: In basic terms it is self-explanatory. A suspension lift raises your truck via suspension while a body lift utilizes blocks or something else to raise up your actual body.
Body lift kits are cheaper and won't offer the same level of quality as a suspension lift. You can often buy them yourself and install at home, though the process can be frustrating for beginners.
A suspension lift is more in-depth. It requires different equipment and expertise. That means it's also more costly. However, you'll find the best results with this type of lift.
---
Two Brothers With a Dream

,

Building The Best Ultimate Rides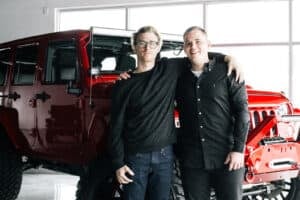 Ultimate Rides consists of two brothers who have been buying and selling custom vehicles for over ten years. Selling lifted trucks by day and writing these awesome reviews by night! They started their Ultimate Rides journey with a third brother Jake, who was a big part of building the business they have today. In 2016 Jake passed away and losing their brother was the hardest thing they ever had to deal with. Even though they had a tragic loss they plan to continue to set a new trend for the auto industry, keeping customers number one. Pushing the envelope on the lifted truck market, these guys love researching and learning about everything in the auto industry!
 — Nick and Alex Bulanda, Founders of Ultimate Rides