Thickest Truck Bed Mat (Review & Buying Guide)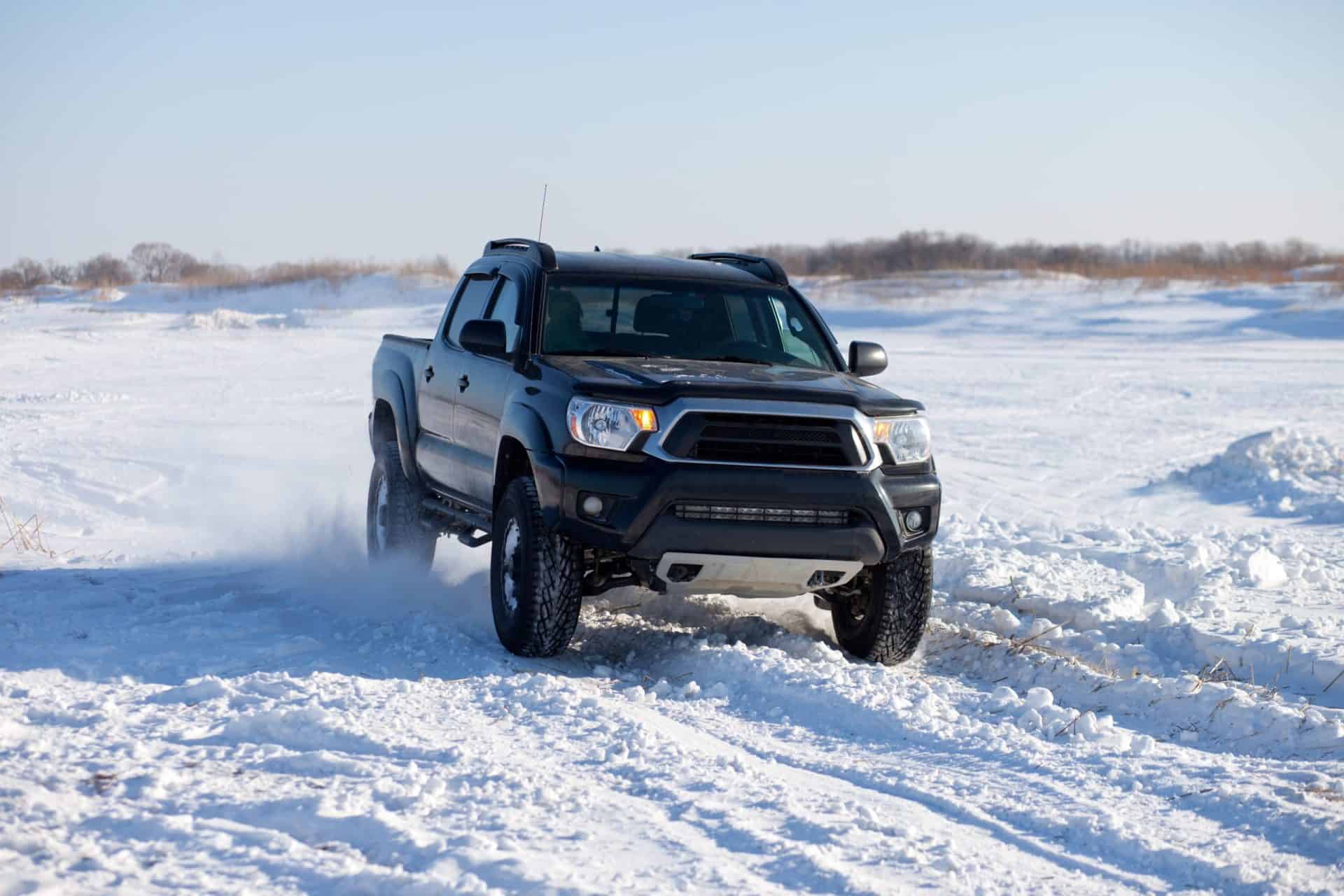 How to Find the

Thickest Truck Bed Mat

Money Can Buy
When you purchase a new vehicle, especially a truck, it's important to take a few extra steps to make sure it's completely and totally protected from wear and tear. After all, nobody wants a banged up truck with dings and scratches all over. That's why it's important to make sure you invest in the thickest truck bed mat you can find, especially if you think you're going to be doing any heavy-duty hauling. At Ultimate Rides, we know quite a bit about truck maintenance and how to properly take care of your vehicle, and with that in mind we've put together this handy guide to help you pick out the perfect bed mat for your truck.
In this guide, first we'll provide you with a list of some of our favorite truck bed products to give you an idea of the kinds of items to look for. Following that, our guide should tell you everything you need to know to make an informed buying decision. Whether your truck is brand new or goes back quite a few years, it's never too late to make sure it has the right gear needed for protection. Let's get started.
---
1. BedRug Bed Mat BMY07SBD fits 2007-2019 Toyota Tundra 5'6″ (ASIN – B0016I0GGI)
Picking out the best mat for your truck bed all comes down to a few important factors. Most important of all? Durability. With this mat courtesy of BedRug, you'll find that it is quite durable, and it one of the thickest truck bed mat options you'll find out there. This bed liner fits right over your standard plastic liner, and you won't even have to worry about drilling into your truck bed as this uses plastic plugs that drill into the plastic cover. This bed mat is made with slip- and skid-resistant materials, and even features a little bit of cushion to help you avoid sore knees and the like. It is waterproof, as well as both chemical and stain resistant, making this one hell of a durable choice for anyone looking for the thickest truck bed mat.
BedRug Bed Mat BMY07SBD fits 07+ TUNDRA 5'6″ BED for trucks with a drop-in style bedliner
---
2. Westin 50-6365 Black Rubber Truck Bed Mat (ASIN – B00Y4JCUA6)
Up next, we have a product that comes to us from Westin, a very popular manufacturer of truck bed mats of all different sizes. Browsing online, you may notice a ton of these mats from Westin, but it is important to note that each one is slightly different. The product listed here measures out at 64 inches long, so be careful to only buy a mat that fits your truck bed. This is the first of several Westin products featured on our list, and they are for the most part very similar. We're offering a few different size options, but the most important thing is to get the right size for you. Check out the company's website and put in your truck's info to find out which of their mats is the right fit for what you have.
Westin's bed mats are made from heavy-duty rubber, and it could not really be any easier to install. They all feature a non-slip surface that will make it easy to haul just about anything without too much worry. Customers have excellent things to say about these bed mats, and we're very sure that you're going to love it.
Westin 50-6365 Black Rubber Truck Bed Mat
---
3. Rough Country Rubber Bed Mat 2003-2018 RAM Truck 6.4 FT (ASIN – B07551FYGS)
If you're a fan of Rough Country, this bed mat is for you. Made with high quality durable materials, this truck bed mat will help reduce or even eliminate load shifting. It's strong enough to avoid abrasions, and will stand the test of time against natural elements. It features a lifetime warranty from Rough Country, so you can be confident you're getting a product that truly gets the job done. The customer reviews for this mat are excellent, so this is a product that you're going to want to investigate.
Rough Country Rubber Bed Mat (fits) 2003-2018 RAM Truck 6.4 FT Bed RCM600
---
4. Westin 50-6355 Black Rubber Truck Bed Mat (ASIN – B00Y4JCOGQ)
Here is another excellent Westin product for you, this one universally sized. Westin's thick rubber truck mats are an excellent addition that will make sure your bed goes without damage. You'll be able to haul cargo without having to worry about it moving around on you and damaging your truck. These mats are made with a thick and durable rubber, and are very simple to install on your truck. If you want an inexpensive way to protect your truck, this is a great way to go.
Westin 50-6355 Black Rubber Truck Bed Mat
---
5. Bedrug BMC07LBD Truck Bed Mat (ASIN – B003CSP5B6)
Bedrug makes the thickest truck bed mat options out there, and their material is somehow both comfortable and tough. Using tough fiber instead of rubber, this brand of truck mats will serve just about any purpose. It's easy on the knees, even easier to install, and will last you for a very long time. You'll be able to easily wash away dirt, oil and more, making it simple to keep your truck clean at all times. While it may not have as many customer reviews as some of the other products we've recommended, the reviews it does have are absolutely top notch, giving us confidence that this will do you well.
---
6. Westin 50-6315 Black Rubber Truck Bed Mat (ASIN – B00F6XA1IM)
Here we have our third and final Westin product, and this model will fit great on trucks with a short bed. It has all the same great features as the other Westin products we shared with you, such as a strong rubber material and simple installation. While it may not be the absolute thickest truck bed mat you'll find, it certainly is thicker than most. The products made by this manufacturer are made from 100% recycled rubber, so not only are they strong but great for the environment as well. In addition, Westin's mats are all made in the United States, which is a very big bonus to some. All in all, we think that these mats will do a lot to increase the durability of your truck bed.
Westin 50-6315 Black Rubber Truck Bed Mat
---
7. Rough Country Rubber Bed Mat 2019 RAM Truck 5.7 FT (ASIN – B07SNWHRHF)
Need a shorter Rough Country bed mat? This is the perfect option for you. Rough Country are known all around the world for their truck accessories, and while they can be controversial, we think that they offer a quality product for their price point. You'll always be able to spend top dollar and get a premium choice, but for those who want to stay on the somewhat cheaper end of the spectrum, you can do a lot worse than Rough Country, who are one of the best budget brands around. With that in mind, we think this rubber bed mat is one of the thickest truck bed mat option and a strong choice all around.
Rough Country Rubber Bed Mat (fits) 2019 RAM Truck 5.7 FT Bed Premium Bed Liner RCM661
---
How to Choose the Best

Thickest Truck Bed Mat
When choosing the right mat for your truck bed, the two main key points we think you should keep in mind are compatibility and durability. First, with compatibility, you need to make sure that the mat you're buying will fit your truck. That means it is important to do some measurements beforehand and make sure you know exactly what you're working with. From there, you can compare the length of your truck bed to the size of the mats you're shopping for.
After compatibility, we've got to talk about durability. The quality of materials that you're purchasing should be a very important element in your decision making process. You want something that is going to last, that won't lower the value of your truck, and that will get the job done no matter the situation.
---
Final Thoughts
If you're looking for the thickest truck bed mat, we hope that we've helped you find what you need. It's always smart to look out for the future, and that's exactly what you've done by protecting your truck bed. You never know if you're going to want to sell your truck in the future or keep it for as long as it runs, but either way you'll want it to last as long as possible. A good truck bed will let you do the things you bought a truck for without having to worry about damage, and that peace of mind is worth something.
If you have trouble with installation, have any questions, or want to find out about other ways you can customize your truck, get in touch with us at Ultimate Rides. You can reach us by calling 815-634-3900, or visit us at 38 W. Division St. Coal City, IL 60416. We perform all manner of repairs, maintenance and modification services, as well as sell vehicles and accessories. We ship all across the globe, so don't be too shy and feel free to get in touch today.