Best All Terrain Tires for Fuel Economy (Review & Buying Guide)
Choosing the Best All Terrain Tires for

Fuel Economy
Has the time come to look for a new set of tires? With so many options available these day, the process of narrowing down your picks can take a long time. If you are looking for the best all terrain tires for fuel economy, we've put together this guide just for you.
The kind of tread patterns and design found in all terrain tires can almost always have a strong effect on fuel efficiency. Unfortunately, many tires out there will have you spending more at the pump. However, it does not have to be this way. We've found some of our favorite all terrain tires that shouldn't strongly affect your fuel consumption.
Take a look at the list of our favorites below to see if any are a good match for your vehicle. Make sure to pay close attention to specs, as not all tires are going to fit your wheels. If you are unsure on how to read tire codes, be sure to take a look at our buying guide near the bottom of the page. You'll also find some tips on finding the best all-terrain tires for fuel efficiency, and more on Ultimate Rides! For now, start with our list and see if any options seem like the right fit.
---
1. Continental TerrainContact A/T all_ Season Radial Truck Tires
Specs: 275/60R20 115S
One tire that has great reviews from customers and professionals alike is the Continental TerrainContact. The tire offers a variety of advantages over other all-terrain tires, including fuel economy, tread life and more. Among the many praises customers have for the vehicle, you'll even learn that the tire offers virtually no extra road noise compared to standard highway tires. The tires are made with reliable construction as well, ensuring they'll hold up not only as long as the treads do but much longer. If we had to go with a single pick, we believe these are the best all-terrain tires for getting the most out of your fuel.
---
2. Nexen Roadian All Terrain Tires Pro RA8 All-Season Radial
Specs: LT275/55R20 120/117S
Our next tire is another option for folks wanting to keep an eye on their vehicle's energy efficiency. It's an all-terrain all-season tire from Nexen, and it's ready to install on your vehicle today. Additionally, the tire has a number of other benefits you can take advantage of. In fact, if you take a look at customer reviews for this tire, you'll see multiple people compliment the product on its lack of road noise as well as its ability to function off-road. While Nexen might not be one of the top name brands out there, you should still find that this tire does an excellent job saving you on gas, as well as offering exciting versatility to your vehicle.
---
3. Pirelli Scorpion ATR All Terrain Tires
Specs: 275/55R20 111S
The next tire that we'd like to suggest comes from Pirelli, and it offers highly functional performance, in addition to impressive fuel consumption. The compound that the tire is made out of also helps reduce your vehicle's CO2 emissions, making it a great choice for the environment as well. This is an all-around fantastic tire, with a quiet ride, stable handling and much more. The tire is a little bit pricey, but that's to be expected with everything it has to offer. It's a highly durable tire, and should last you plenty of time if you decide to upgrade to these.
---
4. Kumho Road Venture AT51 All-Terrain Radial Tire
Specs: 255/70R18 113T
Looking to spend less than $200 per tire while still finding great fuel economy? Your options might be somewhat limited, but this tire from Kumho is the product we would recommend. Sure, there may be overall better tires out there, but if you're on a budget this is a great choice. It offers strong traction, stability and handling in all conditions. Additionally, the design of the tire allows for better fuel efficiency than many other all-terrain options you'll find available out there.
---
5. Hankook Dynapro AT2 RF11 All Terrain Tires
Specs: 275/55R20 113T
The next tire that we have to share with you on this list comes from Hankook, and it's another tire you can find available for just under $200. Despite the lower price, it offers great design qualities, including strong energy savings, low road noise, and stable tread design. The tire performs well both on the road and away from it, which is exactly what you want out of a set of all-terrain tires. These tires will definitely get the job done, and help you out in the fuel department at the same time.
---
6. MICHELIN LTX A/T2 Tires
Specs: LT275/70R18/E 125/122S
Most American drivers have heard of Michelin before, and it's not just because they also have a reputation for offering star ratings on fancy restaurants. First and foremost, they make tires, and if you're concerned about good fuel economy and need a set of all-terrain tires, this is a great option to consider. With minimal rolling resistance, you'll be able to get the most out of your tank with these tires, with quiet performance both on the road and off-road. The tires feature a six-year standard warranty, as well as a treadwear limited warranty that goes up to 60,000 miles, ensuring you'll be able to rely on them for a long time to come. Finding the right all-terrain set of tires isn't always easy, but we're confident these will work out great as long as you find the right size for your vehicle.
---
7. Bridgestone Dueler A/T Revo 3 All-Terrain
Specs: LT285/75R16 126R
Another company with a very good reputation for manufacturing reliable tires is Bridgestone. If gas mileage is near the top of your list of priorities, these tires will work out for you. They feature a number of good upgrades over the A/T Revo 2, including better performance off-road as well as in the snow, even if they're not quite up to the level of a full set of snow tires. This all-terrain option offers great performance anywhere you go, with little rolling resistance to help achieve better gas mileage. If you need a good option to take off-road while still spending much of your time on the pavement, these tires will work for you. Shop around until you find the size that fits your truck or SUV, and then start thinking about the installation process.
---
8. Firestone Destination A/T2
Specs: P255/75R17 113S
Last but not least, we have the Firestone Destination A/T2 tires. These tires are affordable, versatile, and fuel-efficient, helping you as an all-terrain set that doesn't demolish your gas mileage. They have earned a spot on our list as some of the best all-terrain tires available today, with an emphasis on longevity and performance. Whether you're driving on the highway or off-road in mud, these tires will provide good performance. That's the benefit of going with an all-terrain set, and these SUV and truck tires are among the best you can buy. The tires even work well in rain and snow conditions. They come in at a fair price, so you won't have to over-pay to make sure you're getting a set that does everything you need. Over the years, Firestone has built up their reputation as one of the top suppliers of tires around, and it's because of excellent products like this. Try them out on your vehicle and let us know what kind of performance you find waiting for you.
---
Best All Terrain Tires for Fuel Economy

Buying Guide
In our list, we provided you with a selection of our favorite all terrain tires that will help you out with fuel economy. However, we know that we can't cover every size out there, and you may want to continue searching on your own. You can use some of the information presented here in our buying guide to help you find what you're looking for.
Factors of Focus: What Makes Quality All Terrain Tires?
The main thing that differentiates all-terrain tires from other kinds is tread pattern. You'll find deep treads here, which is one of the major factors that can affect how much gas you consume. The tires included on our list were all designed to counteract this in various ways. It can be difficult to tell which options are better for fuel efficiency at a glance. With many products, the manufacturers have no problem telling you about this. Read through the product description online and see what the company has to say. You can also use customer reviews to verify that this information is true.
In addition to finding the best all-terrain tires for gas consumption, you'll also want to take into account things like road noise, stability and handling. If you plan on using the tires off-road, that aspect of the tire will definitely be pretty important to you as well. Finding the best tire is all about assessing your own needs, and then weighing the pros and cons of each tire.
Understanding Tire Codes
When looking at the specs for tires online, or on the side of the tire itself, you have probably noticed a code made up of letters and numbers. If you're familiar with these codes, you can feel free to skip through this section. For those of you who don't know tire codes, we've got you covered. One thing to be aware of is that product pages sometimes supply incomplete tire codes. While this can be annoying, it's just a matter of deciphering what they mean and picking out the important information.
Most tire codes start with a P or an LT. P stands for passenger while LT stands for light truck. If you've got a heavier vehicle, looking for an LT is a good idea. After this, you'll find the measurement of the tire in millimeters. There should be a slash after this first number, and then another number. This number is a percentage, and represents the aspect ratio of the height of the tire compared to the width.  There will probably be an R after this, standing for radial.
After that is a number telling you what size wheel fits with the tire. Following this are one more number and then letter. The first represents the load index of the tire, letting you know how much weight each tire can support. Finally there is a letter representing the speed rating of the tire, letting you know how fast you can safely take it.
Closing Words
If you are in the Chicago area and think you need professional assistance getting your tires installed, contact us at Ultimate Rides. We can also offer a wide variety of other services for your vehicle, in addition to selling plenty of custom rides. To learn more about what we have to offer, give us a call today at 815-634-3900. You can also visit our office at 38 W. Division St., Coal City, IL 60416.
---
Two Brothers With a Dream

,

Building The Best Ultimate Rides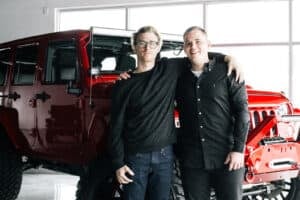 Ultimate Rides consists of two brothers who have been buying and selling custom vehicles for over ten years. Selling lifted trucks by day and writing these awesome reviews by night! They started their Ultimate Rides journey with a third brother Jake, who was a big part of building the business they have today. In 2016 Jake passed away and losing their brother was the hardest thing they ever had to deal with. Even though they had a tragic loss they plan to continue to set a new trend for the auto industry, keeping customers number one. Pushing the envelope on the lifted truck market, these guys love researching and learning about everything in the auto industry!
 — Nick and Alex Bulanda, Founders of Ultimate Rides