Jeep Wrangler Unlimited Lift Kit Reviews
Useful Jeep Wrangler Unlimited Lift Kit Reviews
One of the best modifications you can make to a Wrangler Unlimited is installing a lift kit. It's become a popular practice, and here at Ultimate Rides we are big fans. If you're looking to install a lift kit on your Jeep Wrangler Unlimited, you may have noticed there are tons of options available. In today's guide, we're going to provide you with a list that features some of our favorites, along with a short review of each. Following that, you will find our buying guide. There we'll dive into some of the details on what makes a good lift, as well as installation tips and more.
By the time you reach the end, you may not be an expert on lift kits, but you will hopefully come out on the other side more informed. If this is your first major vehicle modification, you may want to do some extra research on your own with regards to installation. It can be quite a process, especially depending on which kit you choose. If you're looking for help, we're always ready to assist you here at Ultimate Rides! If you're set on installing yourself, let's get you set up with the perfect kit with these Jeep Wrangler Unlimited lift kit reviews.
---
1. Teraflex 1251000 Lift Kit (ASIN – B006D9W95G)
Compatibility: JKU
The first (and our personal favorite) lift kit on the list comes from manufacturer Teraflex. Altogether, this kit includes 2.5″ coil springs, rear sway bar links and a track bar bracket, bump stop extensions, a set of four shocks, and all the hardware required for installation. With this kit installed, you'll be able to fit tires on your JKU as large as 35 inches. We are big fans of this kit, as it is both reliable and fairly affordable. It's not the biggest option out there, but if you want to start with a modest lift, this is an excellent bet. It's important to note that models from 2012-2018 will have to also install a set of exhaust spacers, so that's worth considering before you buy. Otherwise, you should be in the clear with this set!
---
2. Zone Offroad 4″ Full Suspension Lift Kit (ASIN – B018TBGXVQ)
Compatibility: JKU
The second of our Jeep Wrangler Unlimited lift kit reviews centers on this four-inch full suspension kit from Zone Offroad. This is more extensive kit than our first recommendation, and if you want to go with a larger lift this may be for you. It has excellent customer ratings online, and you'll certainly get your money's worth once it's installed. This kit is only worth investing in if you're also replacing your factory wheels right away however. Due to rear sway bar interference, the factory wheels will not work with this kit. Most times that it completely okay, as you're probably going to want to get larger wheels on there anyways. All the same, it's important to know before you buy.
Jeep 4″ JK Wrangler Unlimited Full Suspension Lift kit Zone Offroad 4 Door w/Black Nitro Shocks
---
3. MotoFab 3″ Shock Extender Lift Kit (ASIN – B07KN97ZMC)
Compatibility: JKU
In our number three slot, we're sharing a three inch lift spacer kit from MotoFab. This type of lift kit consists of a set of spacers rather than coil springs. These will replace your old spacers if there are any, and should raise the vehicle up by three inches. This is a good budget option for folks who don't want to spend upwards of $1,000 on a lift kit. You'll be able to dip your toes in the water and decide if you like it before investing tons of money. Best of all, this kit features a lifetime warranty from MotoFab and is made right here in the USA.
MotoFab Lifts 3 inch Front 3 inch Rear Full Lift Kit with Shock Extenders compatible with Jeep Wrangler JK
---
4. Rugged Ridge 18415.50 ORV 2.5″ Suspension Lift Kit with Shocks (ASIN – B003E7RCM0)
Compatibility: JKU
Our next lift kit is once again more extensive. This time, it's from a manufacturer called Rugged Ridge, and will reliably raise your suspension by 2.5 inches. While this product also fits two-door Wranglers, it offers a different lift height for those models. Along with the lift kit itself, you'll also get a set of ORV shocks to put on the vehicle. Though it's not the most advanced lift kit out on the market, it's a great option for the price you're gonna pay. It's a mid-range lift kit that is good as a first step for someone trying something new.
Rugged Ridge 18415.50 ORV 2.5″ – 3.5″ Suspension Lift Kit with Shocks
---
5. Daystar 3″ Lift Kit with Shocks, Bump Stop Extensions and Track Bar Bracket (ASIN – B003X1VDIQ)
Compatibility: JKU
One of today's most popular lift kit manufacturers is Daystar, and the final two items on our list come from them. The first of those is a three inch kit that includes shocks, a track bar bracket and bump stop extensions. It's a trustworthy at-home kit that's great for beginners installing for the first time. While we still recommend doing plenty of research before starting, the install process should be easier than most. While it's not the most advanced lift kit out there, it's a choice that you won't regret, and you can always upgrade later on down the line.
Daystar, Jeep JK Wrangler 3″ Lift Kit with bump stop extensions, track bar bracket, and front and rear shocks, fits 2007 to 2017 2/4WD, all transmissions, KJ09153BK, Made in America
---
6. Daystar 2″ Lift Kit (ASIN – B07CJM9GZP)
Compatibility: JLU
Finally, if you own a Wrangler JLU (2018 or newer Wranglers), this kit will fit on your vehicle! It's another option from Daystar, but only two inches of lift this time around. However, it's a very high quality kit. Installation is definitely do-able at home, though we recommend checking out some videos online if you've never done it before. If you're looking for an affordable spacer lift kit for your newer Wrangler Unlimited, this is probably one of the options we'd most often recommend. If you're in need of something with a higher lift, check out our buying guide below for tips on what you're looking for.
Daystar 2.0″ Jeep Jl Front and Rear Lift Kit
---
Jeep Wrangler Unlimited Lift Kit Reviews and Buying Guide
Now that you've seen some of the best Wrangler Unlimited lift kits available, it's time to talk about what makes a good lift kit. As you probably guessed, and as it goes with many vehicle accessories and modifications, you often get what you put into it. In other words, the more advanced and effective kits are going to cost more money. If you're looking to outfit your Jeep with the absolute best, we suggest getting in touch with your mechanic. You'll find an excellent lift kit and installation waiting for you with their help.
However, if you're sure you want to buy and install your own, it's important to know what you're looking for. First you should make sure you're buying a kit that will fit on your Wrangler. If you're driving an Unlimited, there are some models you'll find that will fit both yours and standard 2 door Wranglers. There are also some options that are specifically for the Unlimited, and others specifically for the classic setup. Along with that, you'll need to pay attention to the generation. Most of the items included on our list are for the JKU, but that may not be what you need.
After that, all that's left to consider is what kind of lift you need. We've included a variety of heights and types. It's mostly a matter of preference and individual needs, so this is the part where it comes down to you.
Installation Tips
If you have decided to install a lift kit on your own, we wanted to share a few tips with you. These are especially important if this is your first time through. If you are more experienced, you should have it covered on your own. These tips along with our Jeep Wrangler Unlimited lift kit reviews should help you feel confident with installation.
Watch a video tutorial before you start. There are plenty that should be available online. You may even be able to find a video specifically for the kit you bought. However, you should be fine if you're able to find something that's similar.
After installing, be sure to get your steering column aligned. Altering the suspension of a vehicle can shift the steering column, and that can cause accidents and other major issues. Always make sure you get this taken care of after installing a lift kit!
If this is your first time, set aside an entire day to get this job done. It may not take the whole day, but it very well could. It's better to be ready to spend your whole day on it and get done early rather than not planning out enough time.
And there you have it! Hopefully this guide helps you out in the future with your installation. If you have any other questions, we hope you'll reach out to Ultimate Rides at 815-634-3900.
---
Two Brothers With a Dream

,

Building The Best Ultimate Rides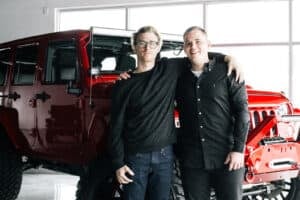 Ultimate Rides consists of two brothers who have been buying and selling custom vehicles for over ten years. Selling lifted trucks by day and writing these awesome reviews by night! They started their Ultimate Rides journey with a third brother Jake, who was a big part of building the business they have today. In 2016 Jake passed away and losing their brother was the hardest thing they ever had to deal with. Even though they had a tragic loss they plan to continue to set a new trend for the auto industry, keeping customers number one. Pushing the envelope on the lifted truck market, these guys love researching and learning about everything in the auto industry!
 — Nick and Alex Bulanda, Founders of Ultimate Rides