Best Lift Kits for Ford F250 (Review & Buying Guide)
Choosing the Best Lift Kits for
Ford F250
Are you thinking about installing a lift kit on your Ford F250 truck? You're certainly not alone there. A lift kit happens to be one of the most popular upgrades you can choose for your pickup truck. Now more than ever, countless drivers are deciding to raise up their truck for a different look and feel. However, if you've spent any time shopping for one of these kits, you know the process isn't easy. There are thousands and thousands of products out there, each one made for a different vehicle model and configuration. Combing through all the lift kits for Ford F250 models is something nobody has time for. That's why we've put together this guide.
Below you'll be able to read through our list of the best lift kits currently available for the Ford F250. Each entry features a short review along with a link to the product. Be sure to pay close attention to the compatibility for each to make sure it'll fit your truck. After our list, check out the buying guide for more information on choosing the right lift kit and installing it on your pickup truck. When you're done, remember that you can always contact Ultimate Rides for lift kit installation, custom trucks, vehicle repairs and so much more.
---
1. Rough Country Vertex 6″ Lift Kit
Compatibility: 2017-2022 Ford F250 Diesel with 4WD
When it comes to lift kits for pickup trucks, few companies do it like Rough Country. Their kits are high-quality, with the finished product providing drivers with a great feel for the vehicle. This kit in particular is not cheap, as it offers a whopping six inches of lift for you. Additionally, the product includes high-performance Vertex shocks, as well as a variety of other parts you'll need for a proper install. Though the kit is expensive, it's well-worth the cost. Just be sure you drive a diesel model before you opt for this kit. Otherwise, you're not going to be able to install it on your truck, making this a giant waste of money.
Rough Country Vertex 6″ Lift Kit for 17-22 Ford Super Duty 4WD | Diesel -51750
---
2. Rough Country 4.5″ Lift Kit
Compatibility: 2017-2022 Ford F250 Diesel with 4WD
We'll be sticking with Rough Country kits for a solid part of our list, with the next recommendation being this more modest kit that fits on the same set of vehicles. If six inches of lift seemed a little too much for you, this kit may offer a more favorable size. It utilizes N3 shocks instead of the Vertex set, which also helps keep the price down for the kit. That said, it's still not exactly cheap. That should be okay, though, because you'll find truly excellent performance once you have this option installed on your truck. With this kit, your truck should be more capable of handling a wide variety of terrains, and you'll get all the other benefits of driving with a lift kit.
Rough Country 4.5″ Lift Kit for 2017-2022 Ford Super Duty 4WD | Diesel – 55020
---
3. Rough Country 3″ Series II Lift Kit with N3 Shocks
Compatibility: 2011-2016 Ford F250 with 4WD
There's one last Rough Country kit we thought we'd share before moving on to other manufacturers. This option is for 2011 through 2016 Ford F250 models with 4WD, but without the diesel engine required by the previous two kits. Three inches of lift is a moderate choice, making it a great step for someone looking to dip their toes into suspension lifts. It'll offer great performance with N3 shocks as well as providing a three-year warranty courtesy of the manufacturer. Take a look at this kit and decide if these lift kits for Ford F250 models could be right for you.
Rough Country 3″ Lift Kit (fits) 2011-2016 Super Duty F250 4WD | Series II | N3 Shocks | Suspension System | 562.20
---
4. Supreme Suspensions 3″ Front 2″ Rear Leveling Lift Kit
Compatibility: 2017-2022 Ford F250 with 4WD
Next up, we'd like to share a leveling lift kit option with you, this time from Supreme Suspensions. A leveling lift kit raises up one end of the vehicle higher than the other in an attempt to even it out. If you do your measurements and find that your F250 is an inch higher in the rear than the front, one of these kits can help. They'll offset that difference and raise up your truck at the very same time. While the other kits on our list were suspension kits, this is a body lift it, meaning it is much more affordable. At that same time, though, you shouldn't expect to get the same level of ride quality as one of the more intensive kits. However, this is definitely one of the better body kits out there, and with the right installation you shouldn't expect any problems.
Supreme Suspensions – Full Lift Kit for 2017-2022 Ford F250 F350 Super Duty 3″ Front Lift Spring Spacers + 2″ Rear Lift Blocks + U-Bolts + Brake Line Brackets + Bump Stop Spacers (Black)
---
5. Supreme Suspensions 3″ Full Lift Kit
Compatibility: 2005-2016 Ford F250 with 4WD
Finally, we have a standard lift kit from Supreme Suspensions for you. It's designed for some slightly older models of the F250, from 2005 through 2016, and only those with 4WD. If your truck fits those parameters, you're in luck. The kit is affordable, and still provides all the pieces you'd want for a high-quality body lift kit. Take a look at the customer reviews and see if everything here matches up with your expectations. While this isn't one of the absolute best lift kits for Ford F250, it's one of the best options under a budget.
Supreme Suspensions – Full Lift Kit for 2005+ Ford F250 F350 Super Duty w/OVERLOADS 3″ Front Lift Spring Spacers + 3″ Rear Lift Blocks + UBolts + Brake Line Brackets + Bump Stop Spacers 4WD (Black)
---
Lift Kits for Ford F250
Buying Guide
Did our list provide you with a suitable lift kit for your truck? We sure hope so! But if you need to keep shopping, the information provided in our buying guide may help. Read on to learn about what to watch out for as you shop for a lift kit. Additionally, we will tell you a little bit more about what to expect when it comes time for installation.
Factors of Focus: Which Kit is
Best for You?
Choosing the right lift kit for your needs is not always easy. It's important to do plenty of research, which is exactly what our guide is meant to help with. When shopping for a lift kit, there are a number of factors that we encourage our readers to stay on the lookout for. These will help you decide if one of the lift kits for Ford F250 models is actually worth your time.
First, you'll want to pay attention to what models a kit fits on. If it doesn't fit on your truck, you can automatically toss it aside. After that, think about what size and style lift kit you want, as well as your budget. This will help you cut out the options that you don't want regardless of their quality. Once you do narrow down your choices to these specific kits, it'll be easier to pick from the good and the bad. Read product descriptions and customer reviews to keep an eye out for durability, ease of installation, and of course ride quality once installed.
Lift Kit Installation
Details and Tips
Once you've finally chosen your desired lift kit, the time comes to install it on your vehicle. However, we don't encourage most drivers to attempt to install on their own at home. Without the right equipment and experience, there's a very good chance of a botched install that can cause dangerous safety issues for you as well as others on the road. Instead, though it may cost you a little more, it's worth the effort to bring your kit and vehicle to professionals for installation. If you do decide to install at home, be sure to watch multiple video tutorials and carefully follow the instructions you find. Otherwise, you could end up destroying the lift kit you just purchased and putting yourself in harm's way.
Closing
Words
Do you feel like Ultimate Rides may be able to help you in some way, shape or form? We offer a ton of services and vehicles for our customers, with reliable shipping available all across the United States. Visit us today at 38 W. Division St., Coal City, IL 60416 if you're in the Chicago area. To get in touch with a member of the Ultimate Rides team over the phone, you can reach out to 815-634-3900.
---
Two Brothers With a Dream

,

Building The Best Ultimate Rides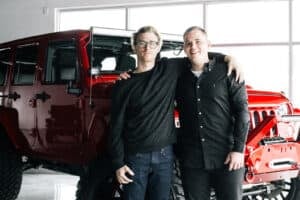 Ultimate Rides consists of two brothers who have been buying and selling custom vehicles for over ten years. Selling lifted trucks by day and writing these awesome reviews by night! They started their Ultimate Rides journey with a third brother Jake, who was a big part of building the business they have today. In 2016 Jake passed away and losing their brother was the hardest thing they ever had to deal with. Even though they had a tragic loss they plan to continue to set a new trend for the auto industry, keeping customers number one. Pushing the envelope on the lifted truck market, these guys love researching and learning about everything in the auto industry!
 — Nick and Alex Bulanda, Founders of Ultimate Rides