Old Lifted Chevy Trucks for Sale | Classic Chevrolet Pickup Trucks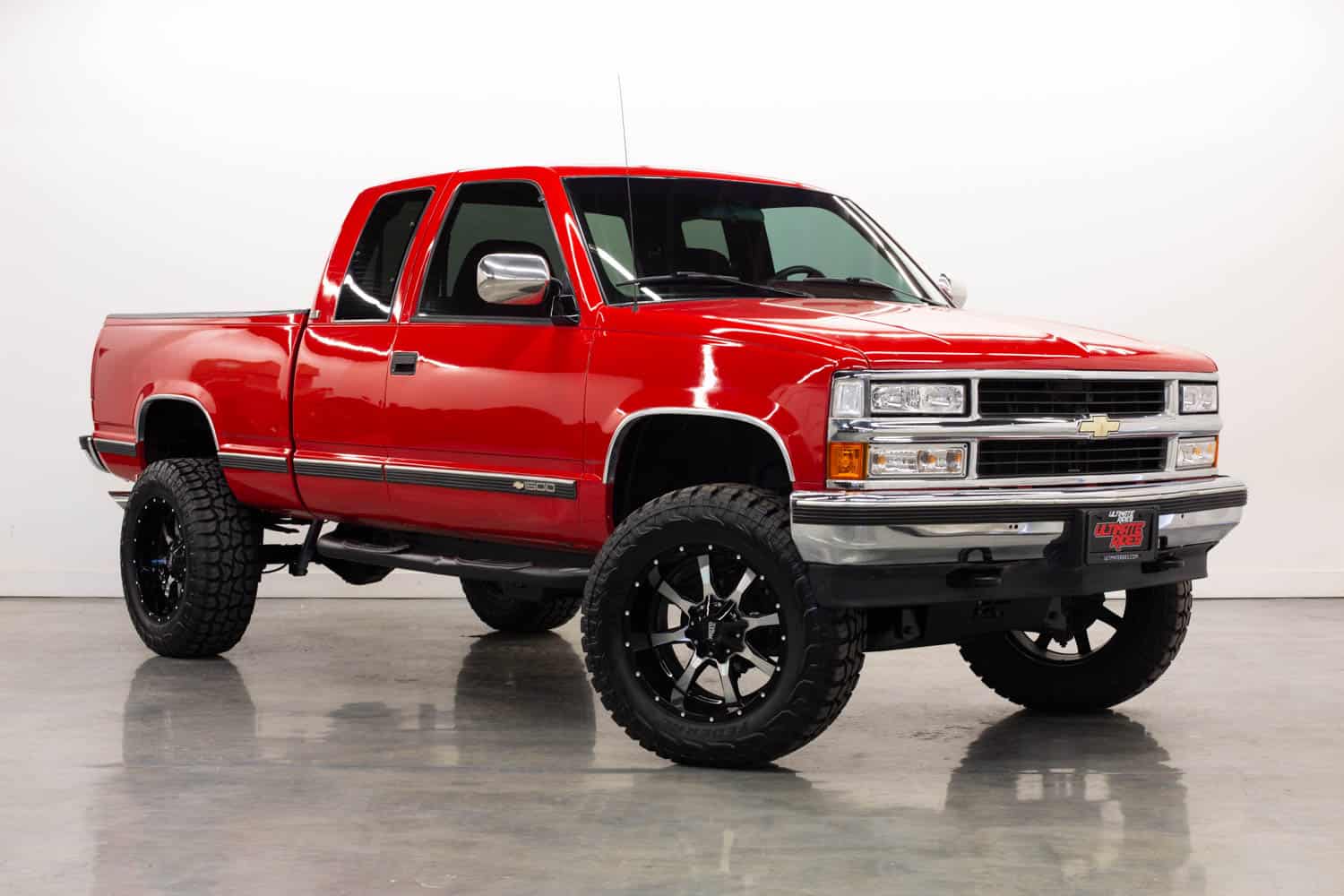 Old Lifted Chevy Inventory for Sale at

Ultimate Rides
Sometimes, you just can't beat a classic. If you're feeling this way about your next pickup truck, we hope you'll come check out Ultimate Rides. We offer a huge variety of custom vehicles, including a retro Chevy truck available for sale. We've got our very own lift center onsite where we do the heavy lifting so to speak. Additionally, Ultimate Rides has very high standards on what vehicles we bring into our inventory. You won't find any duds with us, and that includes our vintage trucks available from companies like Chevy.
If you like the sound of this, Ultimate Rides is the place for you. We are located one hour south of Chicago in Coal City, IL. However, thanks to our easy and reliable delivery services, we can get a vehicle to you no matter where you are. Our grand idea is to offer access to high-quality custom vehicles to folks all over the country and beyond. To learn more about what we're doing at Ultimate Rides, check out the rest of this guide!
Find a High-Quality Pickup Truck

Without Rust
When looking at a preowned vehicle you might buy, such as an older Chevy pickup, one of the first things you should look for are signs of rust. It's a common problem, but it can be a sign of greater issues with the vehicle. Additionally, simply put: nobody wants to look at a rusty old vehicle in their driveway. Here at Ultimate Rides, that won't have to be a concern for you. We specifically deal in vehicles that are free of rust, so you won't have to wonder about the quality you're getting. We've got high standards of quality that have to be met before we take a vehicle into our inventory.
Our buyers are sent out to warmer areas of the country. There they can find vehicles that haven't undergone as much wear and tear, even among older Chevy models they find for sale. If it's something that fits our inventory, we bring it back home and get it cleaned up. Our team also customizes the vast majority of vehicles that come through our doors. You'll have access to a great selection of custom cars, trucks and SUVs, all in excellent shape. Come and get a closer look by visiting Ultimate Rides, or start by taking a look at our vehicle inventory online!
Access to Simple and Secure

Vehicle Delivery
For a long time, it was nearly impossible for customers in many areas of the country to find custom Chevy vehicles for sale that were still in good shape. That's no longer the case, as we can deliver classic trucks for sale just about anywhere. No matter where you live, we encourage you to take a look at our website and call us when you want to buy. The entire delivery process is easy and safe for your information and the vehicle.
We recommend you begin by taking a look at our current inventory to see what catches your attention. Once you find one or a few options, from Chevy or other brands, give us a call and our team will help you move forward. You can even find new Chevy models ready for us to deliver at a moment's notice. We can provide more details and photos for you to check out. When you make your final decision, we'll be here to handle everything right over the phone. You'll still have a chance to customize your vehicle, and you can also choose whether to pay for shipping now or finance it and pay it off over time with your ride. Either way, it won't be long before your vehicles arrives at the destination!
Check Out the Ultimate Rides

Lift Center
One of the reasons we've been able to excel at customizing vehicles is through the hard work of our talented team. It all happens inside the Ultimate Rides lift center. We couldn't be more proud of the work they're able to accomplish, and we are confident you'll be happy with the end result too. Take a look at our inventory and you'll see many vehicles including old lifted Chevy trucks for sale. Lifting suspension is our team's specialty. We wholeheartedly believe we're the best around when it comes to custom trucks and SUVs. Our technicians are ASE-certified, with plenty of experience and know-how.
In addition to customizing our inventory, you can also have us make any changes you'd like to a new or old Chevy when you buy. Let us know and we'll send the vehicle over to our lift center and get it ready for you. We offer a wide range of modifications for your vehicle. That includes suspension lifts, running boards, LED lighting, custom stereo setups, performance chips and so much more. We can even work on your current Chevy vehicle! Contact our office and we'd be happy to set up an appointment for you to bring it in.
Maintenance, Detailing and Repair for New and Used

 Lifted Vehicles
On top of delivering top quality custom services, our team is also readily capable to handle all your vehicle troubles. We'll work on your Chevy pickup, and have the ability to repair any other vehicle you bring to us. From standard everyday maintenance to major problems like engine or transmission repair, Ultimate Rides can fix the problem. Our team is incredibly talented, and most importantly you can trust we have your back. We understand that finding a trustworthy mechanic can sometimes be difficult. At Ultimate Rides, we work hard to earn that trust.
If you're running into issues with a Silverado or any other vehicle, you know where to turn. Just give us a call and we'll schedule you in. We work hard to get your vehicle back to you in a timely manner, but without putting our accuracy at risk. If you want a team consisting of the best technicians to fix your ride, you won't regret bringing it in here. Don't believe us? Take a look at some of our customer reviews online to see what others think before you make a final decision! We do more than just offer high-quality Chevy vehicles for sale, and we'll work hard to please you!
Customer Care

Looking Out for You
It's safe to say that we're big on customer service at Ultimate Rides. In many ways, we feel we have to make up for the negative reputation of many other auto dealers. However, we are a family business. It's in our nature to treat people with respect and kindness, which we believe everyone deserves. By offering the best quality inventory possible and going about it the right way, we think it's a win-win situation for everyone.
If you have any questions about our vehicles, the financing process, delivery or anything else, don't hesitate to contact our office. You'll be met by a member of the Ultimate Rides team who is here to help. We'll do everything in our power to help you find the right vehicle. Whether you want to learn more about our old lifted Chevy trucks for sale, or one of the many other vehicles we have available, it's no problem. We can take care of the financing process via phone. A member of our team will just gather your personal information securely, and let you know what our system turns up. We're confident that we can find an amazing Chevy vehicle for you today.
Let us know and we can even help you find a specific vehicle model, Chevy or otherwise. If it's not in our inventory and you can't find it elsewhere, our team will watch out for it until we find one. All you have to do is leave a small deposit with us, and we'll work hard to track down the right vehicle. From there, we'll bring it back to our HQ to prepare for you! That's just one more way we go that extra mile to please our customers.
Driving a Custom Chevrolet Silverado for Sale
Today
Driving a truck from Chevrolet, such as the Silverado, can be an amazing experience. For a long time, they've been one of the top-selling pickups in America, and that's true for a number of reasons. A lot of what you'll find will depend upon the model year and trim level you choose. Each new year, Chevrolet releases a number of different trim levels for the truck, including a wide range of different features and giving drivers options when it comes to pricing. Shop around until you find a Chevrolet Silverado for sale that meets your budget and offers the right assortment of features for your needs, and then bring it over to Ultimate Rides to upgrade even further.
The truck, new or used, is known for offering reliable performance across just about any situation. Our team can help you take that level of performance up even further with a new performance chip upgrade, unlocking more potential from the engine. A lifted Chevy Silverado is never a bad choice, and you should know by now that our team can offer an amazing lift kit for a fair price. Get in touch with our helpful team today and tell us all about your Chevrolet pickup. We'll be able to offer suggestions on how to upgrade the vehicle even further, and from there all that's left to do is to set up an appointment to bring your Chevy in.
You can even contact us to let us know you're looking for an awesome new Chevy for sale, ready for us to upgrade, or an older model. From time to time, we'll even carry vehicles like the Chevy Camaro, so there's just no telling what you could find waiting for you.
Closing

Words
So there you have it! You now know about Ultimate Rides, meaning you're ready to buy your next custom vehicle. Whether it's one of our old lifted Chevy trucks for sale or something else completely, you can count on the quality being there. If you feel like you're ready to visit our office to look for a classic Chevrolet pickup, you can find us today at 38 W. Division St., Coal City, IL 60416. To give us a call instead, reach out to 815-634-3900 and someone will be here to assist you. Either way you choose, we can't wait to share our vehicles with you!
---
Two Brothers With a Dream

,

Building The Best Ultimate Rides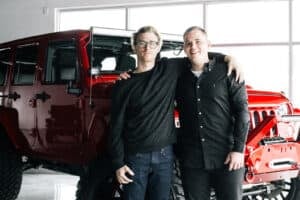 Ultimate Rides consists of two brothers who have been buying and selling custom vehicles for over ten years. Selling lifted trucks by day and writing these awesome reviews by night! They started their Ultimate Rides journey with a third brother Jake, who was a big part of building the business they have today. In 2016 Jake passed away and losing their brother was the hardest thing they ever had to deal with. Even though they had a tragic loss they plan to continue to set a new trend for the auto industry, keeping customers number one. Pushing the envelope on the lifted truck market, these guys love researching and learning about everything in the auto industry!
 — Nick and Alex Bulanda, Founders of Ultimate Rides