Best 4Runner Lift Kit (Review & Buying Guide)
Choosing the Best 4Runner Lift Kit

Available Today
The Toyota 4Runner has been around since the early 1980's, and the vehicle has undergone many changes over the years. One thing that stays the same is strong performance. Whether on-road or off-road, you'll be able to count on the 4Runner to get you where you need to go in one piece. However, the vehicle can do a lot more if you outfit it with the right accessories and equipment. A lift kit is one of the most exciting and impactful changes you can make. A quality lift kit will increase performance as well as offer you a new look and feel for your 4Runner.
If you want to find the best 4Runner lift kit, you'll see a lot of options out there. It can take quite a bit of time combing through product descriptions to find what you need. That's why we've put together this list, featuring some of our favorite lift kit options for the Toyota 4Runner. Check it out, as well as our buying guide that follows the list. When you're through, you should have everything you need to be an informed shopper!
---
1. Rough Country 3″ Series II Lift Kit Suspension System 761RED (ASIN – B07HJJF7MD)
Compatibility: 2003-2009 Toyota 4-Runner 4WD
Rough Country is a name brand that you're going to see pop up on this list quite a bit. They're one of the most popular manufacturers of aftermarket auto accessories, especially ones that tend towards off-road performance. With this lift kit, as long as you have a vehicle that fits, will offer excellent performance as well as a great new look for your 4Runner. Rough Country products are always high quality, and this lift kit is certainly not an exception. It features both coil springs and spacers, and is backed by the company's lifetime warranty policy. If there's only one lift kit that you choose, let it be this one courtesy of Rough Country.
Rough Country 3″ Lift Kit (fits) 2003-2009 4-Runner 4WD | Series II | Suspension System | 761RED
---
2. Supreme Suspensions 3″ Spacer Lift Kit (ASIN – B00VKR6RA4)
Compatibility: 1996-2002 Toyota 4Runner 2WD/4WD with SR5 Suspensions
Another brand that we trust is Supreme Suspensions. This three-inch kit is compatible with older 4Runner models that feature SR5 suspension. This was a great era for the vehicle, and one that we'd be excited to find out there in good shape. If you have your hands on one, you're definitely one lucky driver. With this kit, you can upgrade that experience to the next level. While spacers won't offer quite the same quality as a full suspension lift kit (ask Ultimate Rides if you'd like more info!), this is one of the best options out there for an affordable aftermarket kit. It's a great first step towards lifting your vehicle, and we recommend trying it out.
Supreme Suspensions – Full Lift Kit for 4Runner SR5 3″ Front Billet Spacers + 3″ Rear Heavy Duty Polyurethane Spacers Suspension Lift Kit 2WD 4WD PRO
---
3. Daystar 2.5″ Spacer Lift Kit KT09134BK (ASIN – B006ZWOCZ6)
Compatibility: 2010-2017 Toyota 4Runner
Next up, we finally have a lift kit that fits more modern 4Runner models. This kit from manufacturer Daystar can raise your vehicle's body by 2.5 inches, allowing you to upgrade your wheels and much more. Once again you'll find a set of spacers here, but these are made out of a reinforced polyurethane material that holds up against the metal of the vehicle. That ensures this kit is long-lasting, and you should not need to replace it anytime soon. That is, unless you want to go bigger. That's always an option to consider! However, if you're just getting started, it's not a bad idea to try things out with a modest lift like the one offered by this kit. Pick it up if you're interested and let us know if you need help with installation!
Daystar, Toyota 4Runner 2.5″ Lift Kit, fits 2010 to 2017 2/4WD, all transmissions, all cabs KT09134BK, Made in America
---
4. Supreme Suspensions 3″ Front 2″ Rear Leveling Lift Kit + Differential Drop Kit (ASIN – B00VKWX5C2)
Compatibility: 2003-2019 Toyota 4Runner 4WD (Not Including 4Runner 2018+ TRD PRO Model or Limited models featuring X-REAS hydraulic struts)
We're back to Supreme Suspension with our next kit. It covers a wide range of 4Runner vehicles, but it does have a few exceptions so make sure to take a close look at compatibility. If this is a good fit with your 4Runner, you'll be able to fix nagging uneven suspension while also raising the height of your ride. Many drivers love this, as there are few things more annoying than a sagging front end. This is quite a reliable choice as far as lift kits at this price point. While you won't actually be altering the suspension of your vehicle, you will be able to even it out and raise the body without any negative performance issues. As always, consider professional installation if you want to ensure quality, as it's quite common to make mistakes at home.
Supreme Suspensions – Full Lift Kit for Toyota 4Runner and FJ Cruiser 4WD 3″ Front Lift Strut Spacers + 2″ Rear Lift Spring Spacers + Differential Drop Kit (Black)
---
5. Skyjacker T4330STBB Suspension Lift Kit w/Shocks (ASIN – B01N2B7YQ4)
Compatibility: 2003-2019 Toyota 4Runner
Here we have another candidate as best lift kit for 4Runner models. It comes to us from manufacturer Skyjacker, and is one of the more pricey kits on our list. However, it has quality to back up the higher price tag. It features high-quality parts, a differential drop kit, and all the hardware that you'll need for installation. It's a bit of a process, and may be quite difficult for those attempting to install at home. Once again, though, the quality should be worth it. You'll have a mighty 4Runner at your fingertips with this lift kit installed. It'll be ready for off-road action as well as anything else life might throw at you.
Skyjacker T4330STBB Suspension Lift Kit w/Shock
---
6. Rough Country 3″ Suspension System Lift Kit with N3 Shocks 77130 (ASIN – B00C0W9XU4)
Compatibility: 1996-2002 Toyota 4Runner with 4WD
Our final few lift kits all come from Rough Country, but they're each made for different 4Runner models. This one is meant for models manufactured around the turn of the century, and feature 4WD. With it, you'll get a solid three-inch lift for your vehicle. This will allow you to install larger tires/wheels, as well as find better off-road performance. As always, you'll have access to a lifetime replacement warranty on this product. That should be reassuring with regards to the quality of the product. Check it out today and let us know how your vehicle turns out!
Rough Country 3″ Lift Kit (fits) 1996-2002 4-Runner 4WD | N3 Shocks | Suspension System | 77130
---
7. Rough Country 2″ Spacer Lift Kit 764RED (ASIN – B079X5WBNP)
Compatibility: 2010-2020 Toyota 4Runner with 4WD
Next up is another Rough Country kit. This time, it's smaller than most of the other options available on our list. That being said, it still offers great quality and relatively simple installation. It's a simple set of spacers and the necessary hardware that comes with it, and you won't find all the same extras as you might on other kits. If you're just looking for the basics, though, this is exactly what you need. As always, you'll have access to a useful lifetime warranty if you find any manufacturer problems. Otherwise, you should be smooth sailing after installation!
Rough Country 2″ Lift Kit (fits) 2010-2020 4-Runner 4WD | Suspension System | 764RED
---
8. Rough Country 4-5″ Lift Kit with N3 Shocks 736.20 (ASIN – B00B2B5UKQ)
Compatibility: 1990-1995 Toyota 4Runner with 4WD
Finally, we wanted to share one last lift kit with you. If you're the owner of a retro 4Runner, check out this awesome lift kit. It's pretty similar to most of the other Rough Country kits here on our list. Of course there are some differences based on the model year of the vehicle. You may have a more difficult time finding information on installing this kit online, as it won't be as popular. However, once you have it fully installed, you'll have an awesome 4Runner working for you.
Rough Country 4-5″ Lift Kit (fits) 1990-1995 4-Runner 4WD | N3 Shocks | Suspension System | 736.20
---
Best 4Runner Lift Kit

Buying Guide
Now that you've had a chance to look over some of the most impressive options, we'd like to offer up some more details. When shopping around for a lift kit, there are a number of important things to consider. As you saw from our list, it can be a little bit confusing finding the right compatibility for a given product. In our opinion, the best way to begin is by figuring out exactly what kind of 4Runner you have. That means model year, trim level, perhaps what kind of suspension it uses, and whether it's 2WD or 4WD. Once you have this info, you'll be able to find a kit that fits your ride.
Additionally, you'll want to consider height while shopping. If you're looking to add a new set of tires and/or wheels, figure out what size they are and determine how much of a lift you'll need. If you don't have any specifics yet, it's just a matter of choosing the best 4Runner lift kit for you. Do some measuring on your own at home with a tape measure. This will allow you to get a more physical idea of what your vehicle will look like with a lift. When you know what size you want, you'll be ready to proceed!
Lift Kit Installation

Details and Tips
Once you pick out the lift kit you want, it's important to decide if you're going to go with professional installation or try it out yourself at home. Be wary of attempting home installation unless you're totally sure you know what you're doing. One wrong move during installation and you could have some major safety problems on your hands. Additionally, using professional installation will save you a whole lot of time and uncertainty. If you live in the Chicago area, you're right in Ultimate Rides' backyard. Come to us and we can offer excellent professional installation at a fair price. Our team is the best around, and we're proud to share our work with you.
If you do decide to opt for home installation, it pays off to do your research. Take a look at video tutorials online and you'll find plenty of help. There are content producers out there who will walk you through the installation process step-by-step. It still won't be easy, and you'll need to make sure you have the right equipment on-hand. If you do, you can help yourself out by doing plenty of studying before your kit arrives.
In

Conclusion
So there you have it! At Ultimate Rides, we're experts when it comes to vehicle suspension. We hope that our expertise was useful for you finding the best 4Runner lift kit money can buy. If you have any further questions for us, or you'd like to inquire about our lift kit installation, go ahead and reach out to the Ultimate Rides office. You can contact us over the phone today at 815-634-3900. If you're in the Chicago area, feel free to pay us a visit soon at 38 W. Division St., Coal City, IL 60416. We can't wait to show off what makes Ultimate Rides so special!
---
Frequently Asked

Questions
Q: Is there any important maintenance or auto care I need to know about after lift kit installation?
A: Once you install a lift kit on your vehicle, you'll need to have a steering alignment. Without it, you could be putting you and your vehicle's safety at risk. Any time a vehicle's suspension or body height is altered, it may have an effect on steering. Professional mechanics can take care of this issue easily. They may also be able to check your work at the same time if you did at-home installation. If you chose professional installation, make sure to ask if they performed a steering alignment before you pick up your vehicle.
---
Two Brothers With a Dream

,

Building The Best Ultimate Rides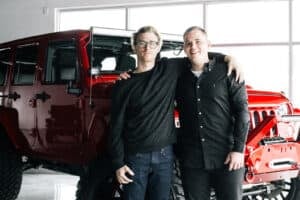 Ultimate Rides consists of two brothers who have been buying and selling custom vehicles for over ten years. Selling lifted trucks by day and writing these awesome reviews by night! They started their Ultimate Rides journey with a third brother Jake, who was a big part of building the business they have today. In 2016 Jake passed away and losing their brother was the hardest thing they ever had to deal with. Even though they had a tragic loss they plan to continue to set a new trend for the auto industry, keeping customers number one. Pushing the envelope on the lifted truck market, these guys love researching and learning about everything in the auto industry!
 — Nick and Alex Bulanda, Founders of Ultimate Rides