Highest Legal Lift on a Truck
Get the Highest Legal Lift on a Truck at
Ultimate Rides
Depending on which state you live in, you may find different laws surrounding lifted trucks. We've put together this useful guide to help you find out information on your state. What follows is a brief overview of the lift kit laws in all 50 states. Make sure to do a bit of additional research on your state for more specific details! Remember that Ultimate Rides has an inventory full of incredible custom trucks waiting for you now.
What is the Highest Legal Lift on a Truck in
Your State?
Every state is different, so we thought it would probably be useful to list out the regulations for each state in the United States. As you'll notice, some states have somewhat strict laws on the book while others have no limitations at all. Check out your state and be sure to keep the limits in mind if you ever find yourself crossing state lines in your custom ride. Remember that Ultimate Rides can deliver a custom truck to you wherever you live!
Alabama: As of writing, the state of Alabama has no regulations for how high you can lift your truck.
Alaska: While there aren't any restrictions on height, lift kits are allowed if the vehicle features fenders and mud flaps for each wheel.
Arizona: Once again, there are no limitations to height, but you must have fenders and mud flaps equipped.
Arkansas: Similar to Alabama, there are no state-mandated restrictions to lifts on trucks and SUVs.
California: In this state, drivers can only lift their vehicles up to 5 inches beyond the stock height.
Colorado: Aftermarket suspension parts are not allowed, so any customizations must be the same manufacturer as the factory suspension.
Connecticut: Fenders and mud flaps are required for every wheel, and the height can only be up to 4 inches higher than stock.
Delaware: Here you are restricted to only three inches above the stock height, and the bumper can't be higher than 30 inches off the ground.
Florida: This state allows a certain threshold of bumper heights depending on the weight of the vehicle. If you live in or are traveling through Florida, you'll have to do some specific research depending on your vehicle.
Georgia: The highest legal lift on a truck in Georgia is just two inches higher than the stock height.
Hawaii: Body lifts can only raise the vehicle by three inches, and there are additional limitations to bumper height based on weight, similar to Florida.
Idaho: If your vehicle has a gross weight of less than 10,000 lbs., your bumper can be no higher than 30 inches off the ground.
Illinois: The vehicle's bumper can't be raised or lowered by more than 3 inches, and there are additional restrictions in place depending on the gross weight of the vehicle.
Indiana: The only limitation here is that bumpers can't be higher than 30 inches off the ground.
Iowa: According to multiple sources, Iowa has a law pending that would place limitations on lift kit height, but nothing is on the books as of writing.
Kansas: This state features no official restrictions on lift kits.
Kentucky: Once again, you'll find no limitations in place here.
Louisiana: We're on a roll! No lift kit restrictions in Louisiana.
Maine: Here you'll find tight restrictions on the height of your vehicle based upon its weight.
Maryland: The height of the frame and bumper for SUVs and cars is up to 20 inches, while the limit is 28 inches instead for pickup trucks. Trucks between 10,000 and 18,000 lbs. can only get the frame up to 32 inches high.
Massachusetts: You'll only be able to raise the vehicle by 2 inches here unfortunately.
Michigan: You can't use lift blocks with front springs in Michigan, limiting your options on what kind of lift to install. Additionally, there are some height restrictions based on vehicle weight.
Minnesota: Here the highest legal lift on a truck is no more than 6 inches above the stock height. There are additional limitations in place on bumpers.
Mississippi: This state features no restrictions on vehicle lifts or raised suspension.
Missouri: You'll find a variety of restrictions on the vehicle based upon the bumper and gross weight value.
Montana: There are no limitations on the highest legal lift on a truck in Montana.
Nebraska: No restrictions here in Nebraska either!
Nevada: This state has a maximum height limit that scales up with the weight of the vehicle, so find out how much your vehicle weighs and take a look.
New Hampshire: The bumper can be no more than 30 inches off the ground. Other than that, no limitations on height in New Hampshire.
New Jersey: Safety inspections are required for lifted vehicles in New Jersey, so make sure to do plenty of research.
New Mexico: There aren't any restrictions in place here.
New York: In New York, you must have both a front and rear bumper, neither of which can be more than 30 inches off the ground.
North Carolina: This state doesn't have any limitations in place for lifted trucks.
North Dakota: The maximum height of your truck's body cannot exceed 42 inches, with the bumper no more than 27 inches off the ground. Additionally, suspension lifts are limited to only 4 inches.
Ohio: This state places limitations on bumper height from the ground based on your vehicle weight.
Oklahoma: You won't find any restrictions in place in OK.
Oregon: Once again, this state is without limitations on lift kits or suspension lifts.
Pennsylvania: With strict limitations like no front blocks and weight-based restrictions on bumper height, we recommend doing more in-depth research on this state.
Rhode Island: You can lift your vehicle up to 4 inches in Rhode Island.
South Carolina: There aren't any limitations in place on lift kits here.
South Dakota: No restrictions!
Tennessee: Like Michigan, no front rear blocks are allowed here. Additionally there are limitations on the maximum frame height based upon vehicle weight.
Texas: You won't find any restrictions on lift kits or suspension in the vast state of Texas.
Utah: Depending on your truck's weight, your maximum frame height will be somewhere between 24 to 28 inches.
Vermont: This state doesn't have any restrictions in place on suspension or lift kits.
Virginia: No front lift blocks, and bumper limitations based on gross vehicle weight.
Washington: Here cars and SUVs have a fixed maximum bumper height, while the limit for trucks is based on weight.
West Virginia: You can only lift your vehicle with a body lift up to 3 inches, and the maximum bumper height is 29 inches.
Wisconsin: Here your pickup must have a rear bumper. Beyond that, the only height restrictions are on cars and not trucks.
Wyoming: Finally, there are no restrictions in Wyoming.
Contact Ultimate Rides for
More Details
Ultimate Rides is a custom auto dealer specializing in lifted trucks. We ship our vehicles all across the country with financing available. To learn more about our inventory, reach out to 815-634-3900, or stop in and see us at 38 W. Division St., Coal City, IL 60416. We'd love to speak with you soon!
---
Two Brothers With a Dream

,

Building The Best Ultimate Rides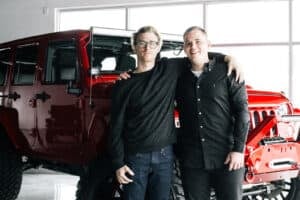 Ultimate Rides consists of two brothers who have been buying and selling custom vehicles for over ten years. Selling lifted trucks by day and writing these awesome reviews by night! They started their Ultimate Rides journey with a third brother Jake, who was a big part of building the business they have today. In 2016 Jake passed away and losing their brother was the hardest thing they ever had to deal with. Even though they had a tragic loss they plan to continue to set a new trend for the auto industry, keeping customers number one. Pushing the envelope on the lifted truck market, these guys love researching and learning about everything in the auto industry!
 — Nick and Alex Bulanda, Founders of Ultimate Rides