Best Budget Jeep LED Headlights (Review & Buying Guide)
Best Budget Jeep LED Headlights

Available Today
Few things can make an impactful difference on a vehicle like a set of LED headlights. Whether you need something brighter to shine on the road ahead, or you simply like the way they look compared to halogen headlights, there's nothing stopping you from upgrading your Jeep. However, you may have found that there are countless options out there. If you're on a budget, it could be difficult to find a set that's both affordable and reliable. That's where we come in.
At Ultimate Rides, we deal with accessories like LED headlights on a daily basis. We have our own shop on-site where we customize vehicles both for our inventory and for the public. We've used this expertise to put together a buying guide to help you find the best budget Jeep LED headlights. Take a look at our favorite options on the list below, and then stick around for some additional advice in our buying guide section.
---
1. LX-LIGHT 7" Round Black Cree LED Headlight High Low Beam (ASIN – B01B376YOE)
Compatibility: Jeep Wrangler 1976-2018 (Fits 2019+ with added bracket)
The first set of headlights we wanted to share with you is available now for under $100, and fits on any Jeep Wrangler you can find out there. With the most recent generation, you'll need to get a hold of a bracket that can adapt these seven-inch lights into the nine-inch slots, but other than that, you should be all set with these LED lights. Installation is easy as can be, and they offer a great level of brightness especially for the price. The lights even have a distinct look to them that can really add to your vehicle. We think it's safe to say that these are the best budget Jeep LED headlights for Wrangler drivers.
LX-LIGHT 7" Round Black Cree LED Headlight High Low Beam Compatible with Jeep Wrangler JK TJ LJ CJ Hummber H1 H2 (Pair)
---
2. FieryRed 9″ Low Beam High Beam LED Headlights (ASIN – B08P6X6HYW)
Compatibility: Jeep Wrangler JL (2018-2021)/Jeep Gladiator
If you want a set of LED headlights specifically made for the newest generation of Wrangler (as well as the Jeep Gladiator pickup truck), this the product for you. It fits right into the nine-inch slot, and features simple plug and play installation. These low beam/high beam headlights offer great visibility for the road, and feature a halo lighting design that offers the most efficient lighting out there. The price is a little bit higher on these, but they are definitely on the low range when it comes to this generation.
FieryRed 9 inch LED Headlights Compitable for Jeep Wrangler JL 2018-2021, High Low Beam Function Halo Angel Eyes Headlight
---
3. Afeax Osram Chip 110W 5×7″ LED Headlights (ASIN – B07BWBRDJ5)
Compatibility: Jeep Cherokee XJ (1984-2001), Jeep Wrangler YJ (1987-1995), Additional Models with Rectangular Headlights
If you drive an older Jeep with rectangular headlights, these are going to help you out. Vehicles from this period obviously didn't come equipped with LED headlights, but you can easily upgrade them on your own. Once again, there should be no issues with installation here, and the manufacturer offers customers a refund if they are not satisfied with the product. These headlights bring the price point back down, and you can get them for around $70 right now.
New Osram Chips 110W 5×7 Inch Led Headlights 7×6 Led Sealed Beam Headlamp with High Low Beam H6054 6054 Led Headlight Replacement for Jeep YJ Cherokee XJ H5054 H6054LL 6052 6053 2 Pcs
---
4. Zmoon 7″ Round LED Headlights for Jeep Wrangler (ASIN – B07RXXT2XJ)
Compatibility: Jeep Wrangler 1976-2018 (Fits 2019+ with added bracket)
Up next, we have another contender for best budget Jeep LED headlights with this set from Zmoon. They cover every model of the Jeep Wrangler, and they're available at the low low price of $60. They may not be the overall best option out there, but you really can't beat what they offer for this price. The lights feature high-quality LED chips providing excellent brightness. Additionally, you can again fit the lights on the newest generation's larger headlight slot with an added bracket.
Zmoon 7″ Round LED Headlights for Jeep Wrangler 2pcs 200W Halo Headlight Angel Eye Ring DRL & Amber Turn Signal Lights High/Low Beam for Jeep Wrangler JK LJ CJ Hummer H1 H2
---
5. SUPAREE 7″ LED Round Headlight with 9″ Headlight Bracket (ASIN – B08L51LJN9)
Compatibility: Jeep Wrangler and Jeep Gladiator
These next headlights are seven inch models, but they include the bracket that allows you to attach them to the newest Wrangler (and Gladiator). That means that for under $100, you can get a set of LED headlights that fits on any type of Jeep Wrangler. These lights also offer a distinct design that makes them stand out from the crowd. They'll still get the job done when it comes to safely lighting up the road as well. For all these reasons, they're a fantastic choice for any Wrangler driver.
SUPAREE 7 inch LED Headlight with 9inch Headlight Bracket with Daytime Running Light DRL High Low Beam Compatible with 2018-2020 Wrangler JL Jeep Gladiator JT
---
6. ACANII Black LED Tube Projector Headlights (ASIN – B07VC1VKYL)
Compatibility: 2005-2007 Jeep Grand Cherokee
Finally, we have a set here for drivers of the Jeep Grand Cherokee. These headlights fit on just a few model years of the vehicle, but they should get you on the right track of what to look for. They'll add a new sense of flair to your Jeep, as well as ensure you can safely see ahead of you even at night. The LEDs on the side really help add to the design of this set, and helped secure a place on our list.
ACANII – For 2005-2007 Jeep Grand Cherokee Black LED Tube Projector Headlights Headlamps Assembly Driver & Passenger
---
Best Budget Jeep LED Headlights

Buying Guide
Did you find a set of LED headlights on our list that works for you? If not, don't give up searching just yet. There are many options out there, and we're confident there's a set for you. In this buying guide, we'll leave you off with a little bit of advice on how to find the perfect headlights. There's also a little bit of information on installation once you've found what you're looking for. Lastly, we'll leave you off with some details on how to contact Ultimate Rides, where we can help you out with whatever vehicle needs you have.
Factors of Focus: Choosing the Right Set of LED Headlights
If we weren't able to include a set of headlights for you on our list, we still would like to help you track down something that works. In your search, the first thing you should do to narrow down your options is specifically stick to headlights that fit on your vehicle. Each product should have information on the page telling you what models it fits on. If you don't see anything, a quick search should bring up the page on the manufacturer's website, which should have more information.
When you've narrowed it down to products specific to your model (and model year), it should make the search much easier. The only issue left is determining quality and balancing it with budget. The best budget Jeep LED headlights will offer bright light, as well as durability, and won't break the bank. Make sure to read through customer reviews, and keep an eye out for higher lumens counts if you want brightness. Follow this advice and you shouldn't have trouble finding the right headlights.
Headlight Assembly Installation
Once you have the headlights you need, the next step is going to be getting them installed. Thankfully, headlights are usually very easy to install. You won't have to mess too much with wiring, as most headlights simply require you to plug them in to an easy-to-find cable. However, if you end up buying a set of headlights that requires you to do some wiring, we would encourage you to opt for professional installation unless you're confident in your wiring know-how. Mistakes here can cause major safety issues, which you want to obviously avoid. That's why recommend sticking to plug and play options for quick and safe installation.
Contact Ultimate Rides for Professional Installation and More
If you do need to go with professional installation, we hope you'll consider using Ultimate Rides. We're located about one hour south of Chicago, and we offer a wide range of services in addition to installing headlights. We sell custom vehicles, offer modification for vehicles belonging to the public, and provide repairs and maintenance. Those who reside in our area are encouraged to get in touch with our team to set up an appointment to come in today. You can reach out to us at 815-634-3900, and when you're ready to visit you can find Ultimate Rides at 38 W. Division St., Coal City, IL 60416.
---
Two Brothers With a Dream

,

Building The Best Ultimate Rides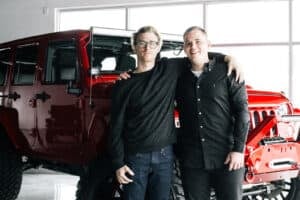 Ultimate Rides consists of two brothers who have been buying and selling custom vehicles for over ten years. Selling lifted trucks by day and writing these awesome reviews by night! They started their Ultimate Rides journey with a third brother Jake, who was a big part of building the business they have today. In 2016 Jake passed away and losing their brother was the hardest thing they ever had to deal with. Even though they had a tragic loss they plan to continue to set a new trend for the auto industry, keeping customers number one. Pushing the envelope on the lifted truck market, these guys love researching and learning about everything in the auto industry!
 — Nick and Alex Bulanda, Founders of Ultimate Rides