Best Cheap LED Light Bar for Your Vehicle (Review & Buying Guide)
How to Choose the Best Cheap LED Light Bar
Here at Ultimate Rides, we know vehicle accessories. In our opinion, one of the most useful additions you can make to your truck is adding an LED light bar. Whether you often find yourself driving out in rural areas or the wilderness at night, or you just want to have an extra light source in case of emergencies, these items can come in handy without a doubt. However, they can become quite expensive if you don't know what to look for. That's why we're here to help you pick out the best cheap LED light bar for your ride.
We'll begin by sharing a list consisting of our favorite options. We've included a variety of different sizes and styles, so we believe there's something for everyone here on our list. After that, you can find our buying guide. There we offer some additional advice that we think may be helpful for you during your shopping. Without any further delay, let's get into talking about finding the best cheap LED light bar for your money.
---
1. Rigidhorse 32″ Flood & Spot Beam Combo Light Bar (ASIN – B07MCNYXFT)
Our pick for the overall best cheap LED light bar comes from manufacturer Rigidhorse. It's a 32-inch wide flood/spot combo, offering excellent versatility and easy installation. This one-row light bar features Osram LED chips, 8D reflective cup lenses, and measures out to 30,000 lumens. The product also offers strong waterproof protection, and is impressively durable. Best of all, this bar is available for well under $100. While there are certainly more powerful options out there, we don't think you'll find anything that functions this great available for this price point.
Rigidhorse 32 Inch LED Light Bar Single Row Flood & Spot Beam Combo 30000LM Off Road LED Light Bar Driving Light for Pickup SUV ATV UTV Truck Roof Bumper
---
2. TURBO SII 9″ Light Bar 2-Piece Combo (ASIN – B06Y2BW4R4)
Next up, we bring you a pair of smaller nine inch LED light bars. Once again, like all the other options you'll find on our list, they are spot/flood combos. These light bars are incredibly inexpensive, but still are able to get quite a good job accomplished. Each light is 54W of power, and features strong heat dissipation to make sure everything stays safe. While they aren't the strongest options on the market, there's no doubt they are some of the best cheap LED light bar options available for such a great price.
LED Light Bar TURB0 SII 2Pcs 9 Inch LED Work Light LED Lights Led Bar Driving Fog Lights Led Pods Fit Jeep Trucks Atv Off Road Lights Boat Lighting Led Backup Light
---
3. HIMA 4X4 22″ Double Row Flood & Spot Combo Light Bar (ASIN – B07Z919TQH)
Our next recommendation is a double row spot/flood combo that measures out to 22 inches in length. At 24,000 lumens, it's not quite as bright as the first option we shared on our list. However, it is even cheaper to buy. Similar to that first model, this option also includes Osram LED chips and 8D reflective cup lenses, which helps boost the effectiveness of the lighting. You'll also find that the light is waterproof, easy to install, and the manufacturer is well known for their great customer service. You won't regret picking up this affordable light bar for your vehicle.
LED Light Bar HIMA4X4 22 Inch Double Row Flood Spot Combo 24000LM LED Bar Driving Lights Boat Lights LED Off Road Lights for Trucks ATV UTV Roof Bumper
---
4. BraveWAY 25″ Ultra-Thin Flood & Spot Combo Light Bar (ASIN – B07Q4JHP13)
If you're looking for something a little more sleek and refined, you can pick up this ultra-thin spot/flood combo for just under $100. The bar has excellent reviews from customers online, and can easily be installed on most trucks and SUVs. It's made to work great in all weather conditions, with protections such as dust-tight and shock-proof installation. Additionally, you'l find it is both very thin and bright, and it's hard to pass up a light bar like this for the price. This light is built to last, so you shouldn't run into any issues from overuse either.
Led Light Bar Ultra-thin 25 Inch Led Light Bar Spot Flood Combo Driving Light Ultra-thin Off Road Lights Single Row Light Bar Super Slim Led Bar for Truck ATV, UTV, SUV, Cars (9610A-25INCH-1PC)
---
5. Nilight 18026C-A 37″ Triple Row Flood & Spot Combo Light Bar (ASIN – B07VR9VM5R)
In our number five position, we have yet another exciting light bar to share with you. This time, it's 37 inches long and has three rows of LEDs, making it incredibly bright. In fact, it measures out to 78,000 lumens. If you want to ensure that you can light up even the darkest night trips, this is the option for you. It's well-constructed too, and is estimated to be able to provide over 30,000 hours of use. Customers have great things to say about it as well, citing the ease of installation and strong illumination for their vehicle. We can't think of any reason not to pick up this light bar for your ride today.
Nilight 18026C-A 37Inch 780W Triple Row Flood Spot Combo Bar 78000LM Driving Waterproof Led Work Light Off-Road Truck Car ATV SUV Jeep Cabin Boat, 2 Years Warranty, 37Inch Triple Row light bar
---
6. Nilight 18024C-A 20″ Triple Row Flood & Spot Combo Light Bar (ASIN – B081ZS94LH)
Next up, we have another pick from manufacturer Nilight. This time, it's a smaller triple row flood/spot combo, and available at a fraction of the price of the last option we shared. However, it still performs quite well, just in a smaller package. This product offers 420W of power, and features die-cast aluminum alloy housing, ensuring that your light is well-protected. If you're looking for the best cheap LED light bar that comes in a small package, this is certainly one of the better choices you will find.
Nilight 18024C-A 420W 20Inch Triple Row Flood Spot Combo 42000LM Bar Driving Boat Led Off Road Lights for Trucks,2 Years Warranty
---
7. Lumitek 12″ Flood & Spot Combo Light Bar (ASIN – B071KV5CZ9)
Are you in need of a simple 12 inch spot/flood combo? This next option from Lumitek may be just what you've been searching for. It's compact, able to fit in many different places on your vehicle, and offers 72W of power. It's waterproof, and made to last for the long haul. Additionally, you'll find that the color temperature is similar to most products available at this price range. Due to its small size, you can feel free to use this light for a variety of different purposes as well.
Lumitek 1PCS 12″ 72W Led Light Bar Off-road Led Lights Flood Spot Combo Light Bar Waterproof Driving Lights for Trucks, Off-road Vehicle, ATV, SUV, UTV, 4WD, Jeep, Boat ……
---
8. Auxbeam 7″ Spot Light Bar (ASIN – B00T9GBU14)
Lastly, we want to share with you a pair of lightweight LED spot lights. These can be found today at a truly impressive price point, and get a fair amount of performance as well. They are built with plenty of durability to last in the outdoor elements too. While you won't find these lights as bright as some of the more expensive options, there's little doubt that they perform as well as you'd expect from products this inexpensive. They also have plenty of safety involved, such as waterproofing, a durable shell and more.
Auxbeam 7" LED Light Bar 36W Spot Off Road Driving Light Waterproof for Trucks 4×4 Military Mining Boating Farming and Heavy Equipment
---
Best Cheap LED Light Bar Buying Guide
Now that you've had a look at our list, we hope you found something that suits your needs. However, we understand that there is a vast amount of options out there for LED light bars. If you think you want to keep looking, feel free to do so! Just make sure you take the following pieces of advice to heart while you shop.
Size
As you likely saw from our list, there is a wide assortment of different sizes for LED light bars. You'll want to determine which option you buy based on the space you have to install it on. Do some measurements on your truck to see what size options you have to work with. That should eliminate a lot of the options from contention, narrowing down your possible light bars to a more reasonable selection.
Strength
When looking at light bars, you'll often see a number referenced as the "lumens" of that particular item. This is a unit of measurement representing the amount of light emitted per second. Essentially, the higher the lumen count of a light bar, the brighter it's going to be. Take a look at the different options and read product reviews to determine which option is best suited for your needs.
Spot vs. Flood vs. Combo
You'll see a few different kinds of light bars available on the market. Some are known as spot lights, others as flood lights, and many can be found as a combination between the two. A spot light is more focused on a particular area, while flood lights cover a wide range of space. Combo spot/flood lights will help ensure the best of both worlds, and that is what we recommend for most drivers. However, if you have particular needs for your lighting set up, one of the two might suit you better. It's totally up to you, depending on what your needs are.
---
Two Brothers With a Dream

,

Building The Best Ultimate Rides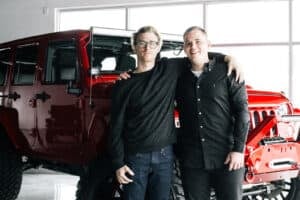 Ultimate Rides consists of two brothers who have been buying and selling custom vehicles for over ten years. Selling lifted trucks by day and writing these awesome reviews by night! They started their Ultimate Rides journey with a third brother Jake, who was a big part of building the business they have today. In 2016 Jake passed away and losing their brother was the hardest thing they ever had to deal with. Even though they had a tragic loss they plan to continue to set a new trend for the auto industry, keeping customers number one. Pushing the envelope on the lifted truck market, these guys love researching and learning about everything in the auto industry!
 — Nick and Alex Bulanda, Founders of Ultimate Rides