The Best Fender Flares for F150 Trucks (Review & Buying Guide)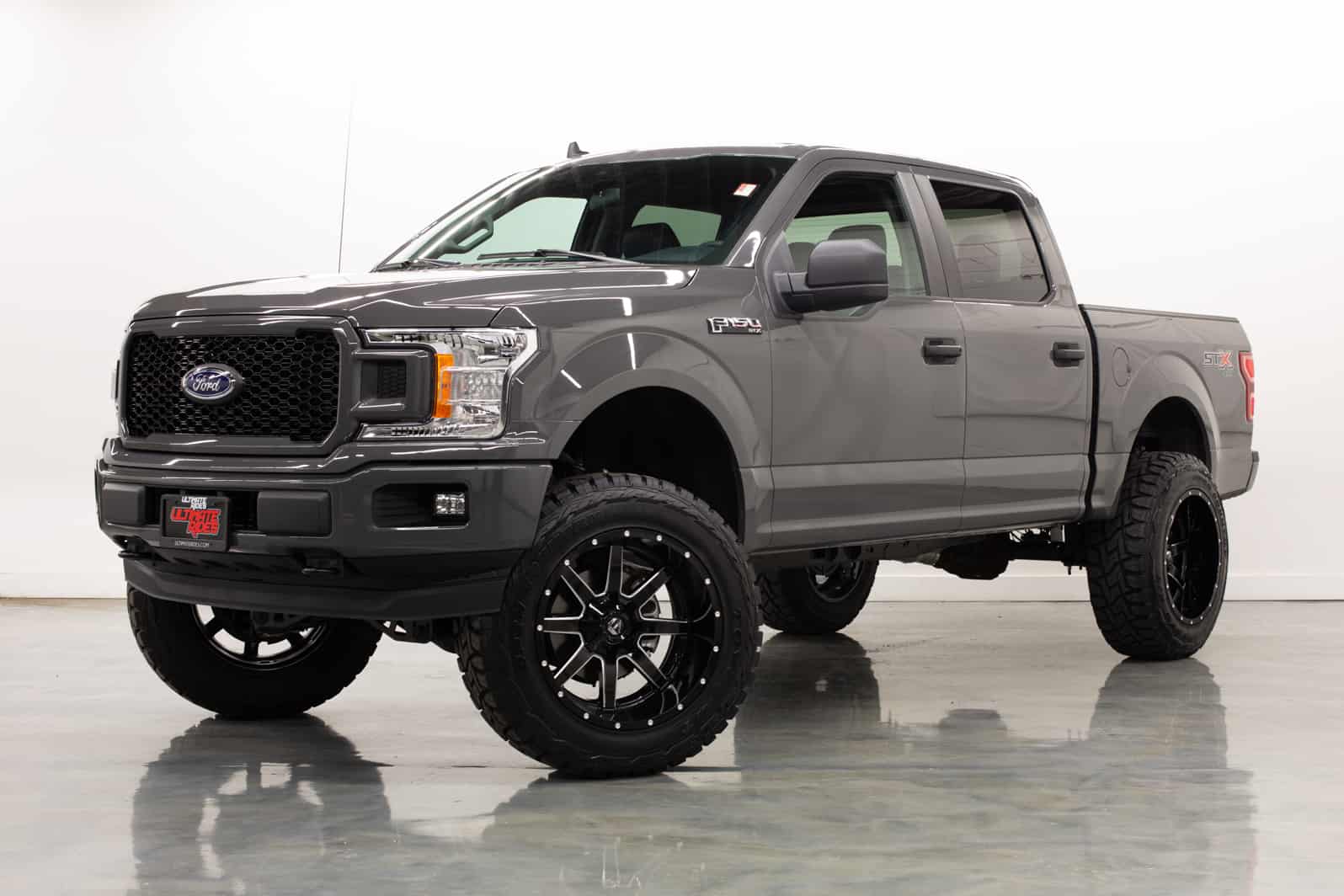 The Best Fender Flares for

F150 Models
Fender flares are important for pickup trucks, especially those with offset or larger wheels. These accessories block small rocks, dirt, snow and other debris from getting kicked around by your wheels. In some regard, they serve the same purpose as mud guards or mud flaps. However, they accomplish that goal in a different way.
While some pickup trucks come with fender flares already equipped, many do not. Even if your truck does already have a set, you may want to swap them out for one reason or another. In this guide, we want to help you track down the best fender flares for F150 trucks. Below you'll find a list featuring our favorite choices. After that, you can read through our buying guide for more advice on choosing the right set. If you have any questions, need to look for your next vehicle, or want us to upgrade your current truck, give Ultimate Rides a call soon!
---
1. RDJ Trucks HWY-PRO OE Style Rhino Skin Fender Flares (ASIN – B07H12H618)
Specs: 2018-2020 Ford F150 (Excluding Raptor)
The first set of fender flares that we want to share with you comes from RDJ trucks. It fits F150 models from 2018 through 2020. While it may fit the 2021 edition as well, we do not have confirmation of that quite yet, so proceed with caution there. However, as long as these fender flares fit on your truck, you'll be in for a treat. They are simple to install, provide excellent coverage protecting your vehicle, and look great. They're made with a rhino skin matte material that makes them both strong and easy to paint over. Plus, the product has a lifetime limited warranty if you find any pre-existing issues. Definitely check this out, as it's one of the best fender flares for F150 drivers today.
RDJ Trucks HWY-PRO OE Style Fender Flares – Fits/Compatible with Ford F150 2018-2020 – Set of 4 (Rhino Skin)
---
2. Rough Country Matte Black Pocket Fender Flares (ASIN – B00WAMWE9Q)
Specs: 2015-2017 Ford F150
Rough Country as well-known as one of the most popular manufacturers of truck accessories out there today. This set of pocket fender flares are styled with sort of a rugged off-road look, and they're great for oversized tires. The product includes a three-year warranty from Rough Country, as well as a UV-resistant coating that'll ensure the look doesn't fade. Of course you can also easily paint over this set to ensure it matches the look of your truck. These fender flares are simple to install, and should serve your truck very well in the years ahead.
Rough Country Pocket Fender Flares (fits) 2015-2017 F150 | Matte Black | Rivet Bolt-On Style | F-F11511
---
3. Spec-D Tuning Matte Black Fender Flares (ASIN – B01N3M0DQW)
Specs: 2015-2017 Ford F150
Next up, we have a heavy-duty style of fender flares for you to consider. They're quite affordable, making them one of the better options for drivers who are on a budget. However, that doesn't mean you should expect any lapses in quality. These fender flares do an excellent job of blocking water, rocks, snow and mud from getting especially in the hard-to-reach places of your truck. With these installed, you'll have another element protecting the longevity and value of your vehicle.
Spec-D Tuning FDF-F15015A-PK-MP Fender Flare (Matte  )
---
4. Rough Country Pocket Fender Flares Matte Black Newest Gen (ASIN – B078XJPH6B)
Specs: 2018-2020 Ford F150
Here's another option from Rough Country, this time for newer models of the F150. Included with this set, you'll find all the hardware you'll need for installation. Additionally, like the first set from this manufacturer, the style of these fender flares make them very easy to paint over (provided you have the right paint and equipment). The process of actually installing the flares is very easy, and should only take a matter of minutes. Once again you'll find a three-year warranty backing the product up, but we're willing to bet they'll last much longer than that without too much of an issue.
Rough Country Pocket Fender Flares (fits) 2018-2020 F150 | Rivet Bolt-On Style | Matte Black | F-F11811
---
5. EAG Black Textured Styleside Bed Pocket Fender Flares (ASIN – B00YGZWZXK)
Specs: 2009-2014 Ford F150 (Excluding Raptor)
If you drive a Ford F150 from 2009 through 2014, these fender flares should be the right fit for you. EAG is a popular manufacturer, and you'll be able to count on the quality of these fender flares. The flares are six inches wide, covering tire sizes larger than standard. They're also made from a highly durable material, so you should be able to rely on these fender flares to last through the rest of your truck's lifespan. Installation may not be as simple as some more modern fender flares, but most drivers should still be able to accomplish it at home.
EAG Fender Flares 4pcs Black Textured Styleside Bed Pocket Riveted Bolt on Style Fit for 09-14 F150 (Except Raptor)
---
6. Tyger Auto Paintable Matte Black Pocket Fender Flare Set (ASIN – B00S8ET47K)
Specs: 2004-2008 Ford F150
Finally, we have a set of pocket style fender flares for older F150 trucks, from 2004 through 2008. If you've got a truck from this timespan that still runs great, it means you know how to take care of your vehicles. These fender flares will help you accomplish that by protecting from the elements on the road. The product has a lifetime warranty against manufacturer defects, features a UV-resistant coating, and it won't be a problem for you to paint over. It's even available at a pretty appealing price!
Tyger Auto TG-FF8F4018 for 2004-2008 Ford F150 (ONLY Fit Styleside Models); 2006-2008 Lincoln Mark LT | Paintable Smooth Matte Black Pocket Bolt-Riveted Style Fender Flare Set, 4 Piece
---
Best Fender Flares for F150

Buying Guide
Did our guide provide you with a set of fender flares that's right for your truck? We focused on just a few of the best fender flares for F150 models, so don't give up if you didn't find the right fit yet. In our buying guide, we'll fill you in on how to select the right option for your needs. You'll also find a little bit of information on installing a set of fender flares. At the end, we'll leave you off with some details on Ultimate Rides. Check it out and good luck finding the right fender flares!
Factors of Focus: Finding the Right Accessories for You
The first thing you'll want to look for when shopping for fender flares is what models the products fit on. If you can, narrow down your search to only see options made for your vehicle. This will help cut down on the potential products by a massive number. From there on out, you'll be able to hone in and focus on quality. If you plan on painting your fender flares to be the same color as your truck, you'll want to get an option that's easily paintable. Most matte black options will work just fine for that. Make sure you get a product that matches the style you want to go for, and provides coverage for your tires. Finally, you'll want to see what materials the flares are made out of, and see what kind of experiences prior customers have had with the product.
Installing New Fender Flares
Once you've purchased the best fender flares for F150, it'll be time to get them installed on your truck. For most products, this process is surprisingly easy. As long as you bought a set that fits your truck, the fender flares should fit right into place. If you already have an pre-existing set of fender flares in there, you'll obviously need to remove those. If all is right, there will be a set of holes that align between the truck and your flares. Simply screw the fender flares into place and you should be ready to drive!
Contact Ultimate Rides for Custom Vehicles and More
At Ultimate Rides, we can install your fender flares if you need assistance. However, there's a lot more than just that to find here. We have a huge selection of custom vehicles that we can ship to drivers around the world. Additionally, you can bring your vehicle to us for upgrades today. If you're in the Chicago area, you can visit us today at 38 W. Division St., Coal City, IL 60416. If you'd like to give our office a call, reach out to 815-634-3900. We hope to speak with you soon!
---
Two Brothers With a Dream

,

Building The Best Ultimate Rides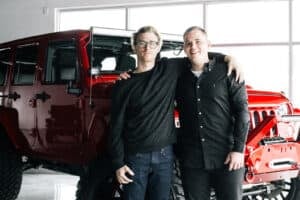 Ultimate Rides consists of two brothers who have been buying and selling custom vehicles for over ten years. Selling lifted trucks by day and writing these awesome reviews by night! They started their Ultimate Rides journey with a third brother Jake, who was a big part of building the business they have today. In 2016 Jake passed away and losing their brother was the hardest thing they ever had to deal with. Even though they had a tragic loss they plan to continue to set a new trend for the auto industry, keeping customers number one. Pushing the envelope on the lifted truck market, these guys love researching and learning about everything in the auto industry!
 — Nick and Alex Bulanda, Founders of Ultimate Rides