Best Tacoma Lift Kit (Review & Buying Guide)
Finding the Best

Tacoma Lift Kit
Are you tired of spending too much time combing through products looking for the right lift kit for your Toyota Tacoma truck? If so, you're in the right place. At Ultimate Rides, it's safe to say that we know pickup accessories, especially lift kits. We know what to look for to determine the quality of a kit, and that puts us in a position to help our customers and readers. You can check out this guide to find a list of our 10 favorite lift kits available to buy online. Each entry will offer details on the kit, as well as let you know what Tacoma models the kit works on. Pay close attention to that part and you'll ensure you don't accidentally buy a kit you can't use!
After you've looked over our list to find the best Tacoma lift kit, keep on reading! There you'll find a buying guide that provides some more advice on shopping for an aftermarket lift kit. Check it out and you should have an easier time combing through all the options out there to find the one that's right for you. Once you're done, if you'd like to learn more about Tacoma lift kits, including installation as well as more premium lift setups, Ultimate Rides can assist you. Give us a call or feel free to stop by our office!
---
1. Rough Country 6″ Lifted Knuckle Lift Kit with N3 Struts and V2 Shocks (ASIN – B07ZQPG1P3)
Compatibility: 2016-2020 Toyota Tacoma
We believe the best Tacoma lift kit to buy online is this lifted knuckle system from industry masters Rough Country. Yes, it is definitely a little bit pricey. If that feels out of your reach, don't worry, as there are plenty more affordable options onward through our list. However, if you have the extra money and want to go for something truly fantastic, this will be well worth it for you. The kit includes a lifetime replacement warranty, as well as all the hardware you'll need for installation. Don't get too ahead of yourself, though. If this is your first time installing a lift kit, this is a very extensive and difficult job to start with. We recommend going to a professional for installation help if you want to make sure it gets done right.
Rough Country 6″ Lift Kit (fits) 2016-2020 Tacoma | N3 Struts | V2 Shocks | Lifted Knuckles Suspension System | 75871
---
2. WULF 3″ Front 2″ Rear Leveling Lift Kit with Upper Control Arms and Shocks (ASIN – B07FF9R21F)
Compatibility: 2005-2020 Toyota Tacoma 6-Lug
The second kit we'd like to recommend is a leveling lift kit, raising up your front end by one inch higher than the rear. This is great for drivers whose vehicle has a suspension tilt towards the front end. With a kit such as this, you'll be able to raise the whole thing up and straighten your ride out at the same time. This option from WULF is a great pick, offering up high quality shocks along with upper control arm suspension. The kit is a bit easier to install than our first suggestion, but it could still be overwhelming for someone who isn't very experienced already. If this sounds like you and you want to continue with at-home installation, make sure to study up before you get started.
WULF 3″ Front 2″ Rear Leveling Lift Kit with Upper Control Arms and Shocks compatible with 2005-2020 Toyota Tacoma 6LUG 2WD 4X4
---
3. TORCH 3″ Strut Spacers and Rear Blocks Lift Kit (ASIN – B07NDNCHYJ)
Compatibility: 2005-2021 Toyota Tacoma 6-Lug with 4WD
Next up, we've got a three-inch lift kit from TORCH Off Road to share with you. It includes a pair of spacers for the front suspension and two blocks for the rear. Additionally, you'll find all that hardware that is required for a proper installation. The manufacturer offers a lifetime warranty for the product, which should be a strong reassurance for anyone who's concerned about durability and longevity. Delivery from TORCH is quick, and we've heard great things about their customer service team. Do yourself a favor and check this kit out. It might be the right pick for your Toyota Tacoma!
TORCH 3″ Full Lift Kit for 2005-2021 Toyota Tacoma 4X4 4WD w Differential Drop TRD SR5
---
4. Orion Motor Tech 3″ Front 2″ Rear Leveling Lift Kit (ASIN – B071HFKB5D)
Compatibility: 2005-2019 Toyota Tacoma 6-Lug (Does NOT Fit TRD Pro)
Here we have another leveling lift kit to share with you. Three inches in the front and two inches in the rear is the most common configuration you'll run into, and that's exactly what you'll find here. It fits on a wide range of Tacoma trucks, and offers relatively simple installation for home mechanics. One of the best aspects of this lift kit is the fact that it's available for under $100. While that low price might scare some off, the product seems to be a hit with consumers, making it a contender for the best Tacoma lift kit available today.
3″F + 2″R Full Leveling Suspension Lift Kit for Tacoma, 3 Inch Lift Front and 2 Inch Lift Rear Forged Strut Spacers Fit for 2WD/4WD 4×4 2005-2019 Toyota Tacoma Trucks
---
5. YITAMOTOR 3″ Front 2″ Rear Forged Strut Spacer Leveling Lift Kit (ASIN – B075WNTDV6)
Compatibility: 2005-2020 Toyota Tacoma 6-Lug, Does NOT Fit 2017 TRD Off-Road or 2018-2020 TRD PRO
Up next is another set of three-inch/two-inch spacers and blocks. This kit includes everything you'll need to install, as well as a stylish design that makes it a shame no one will get to see your spacers. The set is available for just under $100, and offers great reliability that you'll be able to count on in the years to come. It fits on most varieties of the Tacoma made since 2005, so there's a very good chance it'll be a great fit with your truck. Feel free to take a closer look at the product page and reviews to help you make a final decision!
YITAMOTOR Leveling Lift Kit Compatible for Tacoma, 3 inch Front and 2 inch Rear Forged Strut Spacers Compatible for 2005 – 2020 Toyota Tacoma 2WD 4WD 6 lugs
---
6. TORCH 3″ Front 2″ Rear Leveling Spacers and Blocks Lift Kit (ASIN – B07NDNW61V)
Compatibility: 1995-2004 Toyota Tacoma 6-Lug
Do you own an older Tacoma model and are searching for a kit that works for you? Check out this option from TORCH Off Road. It's a leveling lift kit that's made for older model trucks, from 1995 through 2004. With it, you'll be able to get a nice boost to your suspension as well as even things out. It's a fairly basic kit, but if this is the only thing you want to upgrade on your truck, you'll find everything you need. Check it out and remember to take a look at some tutorials online before installing on your own!
TORCH 3″ Front 2″ Rear Leveling Lift Kit for 1995-2004 Toyota Tacoma 2WD 4WD TRD SR5
---
7. ReadyLift 69-5510 Smart Suspension Technology 2.75″ Lift Kit (ASIN – B001F9H5YY)
Compatibility: 2005-2018 Toyota Tacoma SST 5-Lug
You may have noticed that all of the options on our list so far have been made for the Toyota Tacoma with six-lug wheels. While that is the most common type, there are models out there with five lugs. If you own one of those trucks, this might be the lift kit for you. It utilizes strut spacers for the front but a a rear lifting add-a-leaf for the back, which offers even more safety for your vehicle. If you're only looking for a modest lift for your truck, this kit will offer exactly what you need.
ReadyLift 69-5510 Smart Suspension Technology Lift Kit (Note: Not 4×4/4WD Compatible)
---
8. Supreme Suspensions 3″ Front Spacers and 2″ Rear Blocks with Square Bend U-Bolts (ASIN – B00HV2KH9E)
Compatibility: 2005-2020 Toyota Tacoma 6-Lug
Supreme Suspensions is one of the most popular manufacturers out there for aftermarket lift kits. Their kits are reliable, feature useful directions, and will last a long time. This leveling lift kit will fit on most Tacoma trucks, and offers that familiar uneven lift that you've got to know on our list. If you haven't been a fan of the products we've shared so far, perhaps this will be the one that changes your mind! It offers a new look and feel for your truck, and does it well.
Supreme Suspensions – Full Lift Kit for 2005-2020 Toyota Tacoma 3″ Front Lift Strut Spacers + 2″ Rear Lift Tapered Blocks + Square Bend U-Bolts 2WD 4WD (Black)
---
9. Rough Country 2″ Front Leveling Spacers (ASIN – B0143LHAW2)
Compatibility: 2005-2020 Toyota Tacoma 6-Lug
Now, let's take a look at another Rough Country lift kit. This time, it's a simple two-inch front leveling lift kit. If your front end sags to the ground and you want to fix it, this is exactly the type of kit you'll need. You can find it right now at a great price, and installation should not prove too difficult. Take a look and make sure this is the right solution for your vehicle. If it is, you can't go wrong with this product from Rough Country!
Rough Country 2″ Leveling Kit (fits) 2005-2020 Tacoma | Billet Suspension System | 744
---
10. Dynofit 2″ Front Leveling Spacers (ASIN – B078RM9YDB)
Compatibility: 2005-2020 Toyota Tacoma 6-Lug
Finally, we've got one more lift to share with you. This Dynofit lift kit is another two-inch front leveling, helping you get rid of that pesky uneven suspension. By now, you should know exactly what these kits can do, and why you'd want one. This is one of the options we'd go with. It is available at a great price and gets the job done well. What more could you ask for? Because of that, it is worthy of a place on our list as a contender for best Tacoma lift kit.
2″ Front Leveling Lift Kits for Tacoma 4WD 2WD 2005-2019-2020 (6 Lugs Only), 4 Runner 2003-2018 4WD 2WD, FJ Curise 07-15 4WD 2WD, Dynofit Raise 2 Inch Front Strut Spacer Suspension Lift Spacers
---
Best Tacoma Lift Kit

Buying Guide
Still having trouble choosing the right kit? Have no fear. You can use this guide to help focus your thoughts to determine which lift kit is the right option. There are a few factors that we consider any time we're shopping for lift kits. The best Tacoma lift kit is going to offer excellent performance, will last for a very long time, and is safe to drive. You'll also want to keep your budget in mind. As with many things, the more you're able to spend, the better your access will be to very high-quality lift kits. However, there are plenty of options out there that are affordable as well! It's just about finding the right balance for your wallet.
Factors of Focus
As for performance, it's important to check out customer reviews to see what others have to say. In some lift kits, it's definitely possible that you'll find a bit of a drag on vehicle performance, especially if there was an issue during installation. However, there are plenty of kits out there where that won't be a problem, and you may even enjoy better performance. Just make sure to do your research to find out what you're buying.
Durability should be pretty high up on your list of concerns, and customer reviews are once again a great resource to use. However, most reviews are written shortly after purchase. If you can find a review that was written months or years after buying, that could be a really great insight to take advantage of. Usually you'll be in good shape if you know to look for strong reliable construction materials, and know that you can trust the brand name.
Lastly, safety is something you'll want to think about while shopping for the best Tacoma lift kit. In order to be legally sold, these parts need to meet certain safety standards. The real thing to concern yourself with is installation. There can be definite issues if a lift kit is not installed properly. If you plan on trying this at home, make sure to do plenty of homework on the process, otherwise you could run into real safety concerns.
Visit Ultimate Rides for

Assistance and More!
Did you know that Ultimate Rides offers installation services for lift kits and other custom accessories? We can even order the parts for you! Give us a call today at 815-634-3900 and let us know you're interested in our services. A member of our team will be able to provide you with all the information you'll need. Our service team is the best around at what they do, and you can count on getting your vehicle back in a timely manner with an incredible upgrade. Give us a shot the next time you need something done for your truck! In the meantime, we hope that this guide proved useful to you in your search.
---
Two Brothers With a Dream

,

Building The Best Ultimate Rides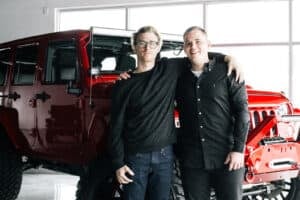 Ultimate Rides consists of two brothers who have been buying and selling custom vehicles for over ten years. Selling lifted trucks by day and writing these awesome reviews by night! They started their Ultimate Rides journey with a third brother Jake, who was a big part of building the business they have today. In 2016 Jake passed away and losing their brother was the hardest thing they ever had to deal with. Even though they had a tragic loss they plan to continue to set a new trend for the auto industry, keeping customers number one. Pushing the envelope on the lifted truck market, these guys love researching and learning about everything in the auto industry!
 — Nick and Alex Bulanda, Founders of Ultimate Rides