Best XJ Lift Kit Options (Review & Buying Guide)
Finding the Best XJ Lift Kit for Your Ride
The Jeep Cherokee XJ is a vehicle perfectly suited for off-road use. That makes it the number one choice for countless drivers over the years who want to experience true adventure. However, before you take your XJ off the roads and into the wild, you had better outfit it with all the proper equipment and accessories. If you plan on doing some heavy-duty off-road driving, it's a very good idea to invest into the best XJ lift kit you can find.
At Ultimate Rides, we've got you covered. Here you can find tons of guides and tips that will help you choose the right products for your vehicle. Today, we are going to share our picks for the best lift kit for your Jeep XJ. Here we will provide you with a list of our five favorite options, followed by a buying guide that will keep you informed on what you look for while you shop. Before you know it, your Jeep will be outfitted with some of the best accessories money can buy. Let's get started!
---
1. Rough Country 4.5″ Suspension Lift Kit w/ Premium N3 Shocks for Jeep 84-01 Cherokee XJ 4WD (ASIN – B01M4OKAWV)
Our pick for the best lift kit you'll find for the XJ comes from legendary accessory manufacturers Rough Country. For decades, Rough Country have been innovating and building the best add-ons you'll find for all kinds of different vehicles. This amazing kit includes tons of elements not found in other options on the market. You'll find a transfer case drop kit, premium N3 shocks, extended sway-bar links and more. Additionally, you'll have a difficult time finding a more reliable set you can buy.
Along with all of that, this kit offers excellent quality without breaking the bank. We believe this is the best XJ lift kit because it is the perfect blend of product excellence, affordability, and ease of use. While installation may not be easy for everyone to do at home, those with experience shouldn't have too much of a problem. Because of that, you should feel free to get in touch with a professional for installation help if you feel unsure. Finally, remember to check that this product is exactly what you need before you buy!
Rough Country – 623N2 – 4.5-inch Suspension Lift Kit w/ Premium N3 Shocks for Jeep: 84-01 Cherokee XJ 4WD
---
2. Supreme Suspensions Cherokee XJ Full Suspension Leveling Lift Kit – 3″ Front and Adjustable 1.5″ – 2″ Rear (ASIN – B00ISB8FJG)
In our opinion, another highly trusted brand to choose is Supreme Suspensions. With excellent construction and materials, you will be able to rely on this kit for years and years. It will level out the suspension of your XJ, as well as provide you with a small suspension boost. If your front end sits lower than your rear, it's time for you to invest in a leveling lift kit. It just so happens that this is one of the best around. Installation is easier with this kit, and you should be able to complete the job in just a couple of hours at home with the right tools and know-how. Otherwise, it may be worth your time to seek help from a professional mechanic.
Supreme Suspensions – Cherokee Lift Kit Full Suspension Lift 3″ Front Suspension Lift Cherokee Leveling Kit + Adjustable 1.5″ – 2″ Rear Suspension Lift (Black) Easy Install Jeep Cherokee XJ Lift Kit
---
3. Supreme Suspensions Pro Lift Kit for 1984-2001 Cherokee XJ 3″ Front Lift Spring Spacers, 2″ Rear Lift Add-A-Leafs and Transfer Case Drop Kit (ASIN – B00IYYIYSO)
Next up, we have another outstanding choice for Jeep Cherokee XJ drivers from Supreme Suspensions. It's a full suspension kit rather than a leveling kit this time, and this one is strong as they come. The kit includes high-density Delrin lift spring spacers, as well as heat-treated tempered steel Add-A-Leafs. You will find the same impressive design and construction here, but this kit is made to increase your height rather than level it out. Whether you want to add larger tires, or just want to ensure your underside is protected while off-roading, this will treat you right.
Supreme Suspensions – Full Lift Kit for 1984-2001 Cherokee XJ 3″ Front Lift Spring Spacers + 2″ Rear Lift Add-A-Leafs + Transfer Case Drop Kit PRO
---
4. Rough Country 3″ Lift Kit compatible w/ 1984-2001 Jeep Cherokee XJ w/ N3 Shocks and Leaf Series II Suspension (ASIN – B07L5YHMLP)
Moving on, we come back to one of our favorite manufacturers in Rough Country. This time, the company offers a smaller 3″ kit, but with all the same excellent features. Rough Country offers consumers a lifetime replacement warranty, so you should feel safe and confident driving with these equipped. It won't affect the quality of your factory ride, and installation shouldn't be too difficult for anyone with experience. This is a very strong choice for the best XJ lift kit money can buy.
Rough Country 3″ Lift Kit compatible w/ 1984-2001 Jeep Cherokee XJ w/ N3 Shocks Add Leaf Series II Suspension 670XN2
---
5. Daystar 1.75″ Front or Rear Lift Kit fits TJ, Cherokee XJ and ZJ 1984 to 2006 2/4WD (ASIN – B001GH5OCA)
Finally, the last item on our list is a simple set of lift spacers from Daystar. You can install these spacers either in the front or rear, allowing you to fix uneven suspension on your Jeep Cherokee. These are the cheapest option available, as their purpose is quite simple. For that matter, so is installation! If you have a basic suspension problem with your Jeep, this is likely the best XJ lift kit for you. Daystar constructs these spacers using high-density polyurethane, so you can count on them to last for many years.
Daystar, Jeep TJ Wrangler 1.75″ Front or Rear Lift Kit, fits TJ, Cherokee XJ and ZJ 1984 to 2006 2/4WD, all transmissions, KJ09100BK, Made in America,Black
---
Best XJ Lift Kit Buying Guide
Now that we've shared our favorite picks with you, we'd like to talk a bit about what you should know. It's important to know exactly what kind of kit you need when shopping. If you want to raise the overall suspension of your vehicle, you'll want to look for a full suspension lift kit, which can be more expensive. However, if you have uneven suspension towards the front or rear that needs to be fixed, you'll want a leveling lift kit. Choose whichever option best fits your situation.
Once you've decide on that, then you can start to look at specific measurements and construction. Make sure to buy only the right size you need for your vehicle. Additionally, you'll want to pay close attention to the quality of the materials used. You want something that will last you a very long time, so look out for high-strength materials. Once you have all that accounted for, you'll be ready to buy the best XJ lift kit for you ride! Be sure to contact us at Ultimate Rides if you have any questions or need help with installation! You can reach us at 815-634-3900.
---
Two Brothers With a Dream, 
Building The Best Ultimate Rides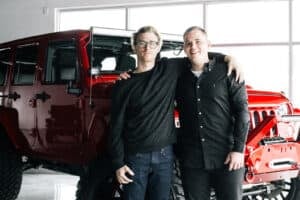 Ultimate Rides consists of two brothers who have been buying and selling vehicles for over ten years. Selling lifted trucks by day and writing these awesome reviews by night! They started their Ultimate Rides journey with a third brother Jake, who was a big part of building the business they have today. In 2016 Jake passed away and losing their brother was the hardest thing they ever had to deal with. Even though they had a tragic loss they plan to continue to set a new trend for the auto industry, keeping customers number one. Pushing the envelope on the lifted truck market, these guys love researching and learning about everything in the auto industry!
 — Nick and Alex Bulanda, Founders of Ultimate Rides