Denali vs LTZ: Choosing Your Next Truck
2021 Denali vs LTZ:

An Overview
When shopping for new pickup trucks, the amount of great options can sometimes feel overwhelming. It's a big purchase, and a lot must go into the decision. Many drivers have narrowed down their choice to either the 2021 Chevy Silverado 1500 LTZ or the 2021 GMC Sierra Denali. These vehicles are similar in a number of ways, especially because the Silverado and Sierra are sister trucks under the same corporate structure.
However, there are some very important differences as well. We'll go over what you can expect to find in the Denali vs LTZ, before we wrap up by telling you our overarching thoughts on both. After that, stick around and keep reading to learn about Ultimate Rides. We believe we can help you find or build your ideal truck for an affordable price, and with nationwide delivery.
Note: In this section, we'll be specifically talking about the standard and available features of the 2021 GMC Sierra 1500 Denali and the 2021 Chevy Silverado 1500 LTZ. For more details on the 2500 and 3500 models, consult the respective company websites.
2021 GMC Sierra Denali

Highlights
Overall, the 2021 GMC Sierra has a pretty good reputation, and the Denali is one of the best, if not the best, trim levels available this year. The standard engine available in this truck is a 5.3L EcoTec3 V8 that is capable of reaching up to 355 horsepower. However, there is also an available upgrade that gives you a 6.2L EcoTec3 V8 that can instead get up to 420 horsepower. Both options are paired with a 10-speed automatic transmission as well as a two-speed Autotrac transfer case.
The standard tires are fine but nothing to write home about. Ultimate Rides can help you upgrade that into something noteworthy. Some useful exterior features you can expect to find include a set of six-inch chrome rectangular full-length running boards, LED cargo bed lighting, and of course LED headlights. The interior also has plenty of features you can get excited about. You'll find a 120V power outlet, a premium sound system from Bose®, and dual-zone automatic climate control along with so much more.
A Closer Look at the 2021 Chevy

Silverado LTZ
According to many consumers, the newest GMC Sierra is favorable to the Chevy Silverado. However, does that include the Denali vs LTZ? Let's find out by taking a closer look at everything the new Silverado LTZ has to offer. This year's LTZ does come with the same standard engine and available upgrade as the Denali. However, instead of the standard 10-speed transmission you'll be utilizing an eight-speed unless you opt to upgrade.
The truck does come with LED reflector headlamps and LED lighting for the cargo bed, but you won't find the standard running boards that the Denali had to offer. The truck does come with power up and down tailgate controls, interior voice recognition for audio controls and more. The upgraded sound system doesn't come standard with the LTZ, but it is available once again as an upgrade. You will find front and rear park assist as a standard feature on this model, which can be especially useful if you decide to lift your truck.
Our Thoughts on the

Denali vs LTZ
Looking at these two models, it's easy to see which has more features and slightly better performance to offer. The question is: do you want to pay the $7,000 difference? That's how much more the Denali costs compared to the LTZ. If you can afford it, and you like the extra features it has, we'd say that it's worth it. However that is for you and you alone to decide. We hope we made it easier to choose between the Denali vs LTZ, but there's no denying it can be a tough choice.
Ultimate Rides Will Help You Find

Your Next Truck
Through the rest of this guide, we want to give you a brief rundown on what we do at Ultimate Rides. Whether you go with the Denali vs LTZ, we'll be here to help you find exactly what you need. We can even ship it straight to your driveway. Check us out and be sure to get in touch if you think we can help!
Custom Vehicles

Built Here
With our very own lift center, it makes it much easier to customize our vehicles. We have an expert staff of ASE-certified technicians who work hard upgrading our vehicles and those belonging to our customers. We offer a huge range of upgrades and installation, including suspension lifts, engine performance chips, custom paint jobs, new wheels and tires, an interior re-design and so much more. These upgrades are available both to the public and to those buying a vehicle from us. Any time you purchase one of our rides, you'll have a chance to customize it and include the costs as a part of your financing deal. Let us know if this sounds interesting to you!
Fast and Reliable Delivery

Available to You
No matter where you live, we're confident that we can get a vehicle to you as quickly as a week or less. Start by browsing through our website or by giving us a call. If there's a specific vehicle you want, we'll let you know if we have one in stock. If we do not, we'll be happy to search for one for you. With this process, you'll just have to leave a small deposit with us, and we'll let you know as soon as our team is able to find a vehicle that matches your parameters. We'll be able to customize it if you'd like, or send it out to you just the way it is. Our delivery is quick, reliable and affordable, so contact us to learn more and get started today!
Quality Customer Service is

Our Priority
It's no secret that our industry doesn't have the best reputation for customer service. That's why we go out of our way to make sure our customers feel taken care of. From the moment you call us or step through the doors to our office, we'll try to meet your every need. Whatever vehicle you're looking for, we believe we have it, can find it, or can build it. Additionally, you won't ever feel pressured into buying something you're not sure about. Our staff is here not to make a quick buck off of you, but to hopefully build a long relationship. We're a family business, and that still means something to us.
Rust-Free Cars, SUVs and

Pickup Trucks
At Ultimate Rides, we don't carry the same kind of inventory you'd expect to find at any local auto dealer. Instead you will find high-quality new and used rides, each one free of rust and inspected to make sure it's in excellent shape. While used vehicles are always going to be somewhat unpredictable, we do everything we can to ensure we only bring in the best vehicles. Our buyers head out to the warmest areas of the country, where it's easier to keep a vehicle in good shape. We get them back in our shop and inspect each one to ensure it meets our very high standards of quality.
Visit or Call Ultimate Rides

to Begin
Does it seem like we might be the right place for you to find your next vehicle? If you want something that's custom-built and unlike anything else out there, you're definitely in the right place. Visit our office at 38 W. Division St., Coal City, IL 60416 if you're ever in the Chicago area. That's about one hour south of the city. To speak with us over the phone, just call 815-634-3900. A member of our team will be able to go through every step of the buying process with you, and you'll be driving an amazing custom vehicle in no time.
---
Two Brothers With a Dream

,

Building The Best Ultimate Rides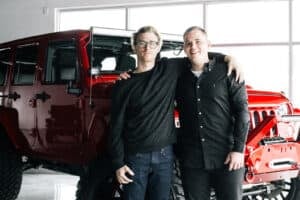 Ultimate Rides consists of two brothers who have been buying and selling custom vehicles for over ten years. Selling lifted trucks by day and writing these awesome reviews by night! They started their Ultimate Rides journey with a third brother Jake, who was a big part of building the business they have today. In 2016 Jake passed away and losing their brother was the hardest thing they ever had to deal with. Even though they had a tragic loss they plan to continue to set a new trend for the auto industry, keeping customers number one. Pushing the envelope on the lifted truck market, these guys love researching and learning about everything in the auto industry!
 — Nick and Alex Bulanda, Founders of Ultimate Rides