Does a Leveling Kit Affect Ride Quality and Other Frequently Asked Questions
Though it might seem straightforward on the surface, when you really dive in you will find there's a lot to learn in the world of lift kits. That's why we thought it would be useful for our readers to have a resource that shares some of the frequently asked questions on this topic. One of the most common questions we hear is: does a leveling kit affect ride quality? You'll find all that and more when you check out our guide below!
Frequently Asked Questions – Does a Leveling Kit Affect Ride Quality?
Q: What is the difference between a lift kit and a leveling kit?
A: Though most will know the answer to this, it can be tricky for beginners as the terms are sometimes used interchangeably. A lift kit is any aftermarket adjustment to a vehicle's suspension to increase the height. There are many different varieties to choose from. One of those varieties is a leveling kit. This is a specific type of lift kit that is meant to level out your suspension. The front end of a truck or SUV will often sag, and this kit will fix that issue.
Q: How can I find the right lift or leveling kit for my ride?
A: The first thing you'll need to do is determine what size you want. If you're looking for a standard lift kit, it's just a matter of how high you want to raise your suspension. If you're looking for a leveling kit to fix uneven suspension, you'll need to head out to your vehicle and measure it out. Measure the space from the ground to the rear area of the vehicle and then do the same for the front. The difference in height between those two measurements will determine the size of the leveling kit you'll need.
From there, it's a matter of choosing a leveling kit that matches your vehicle. There are a variety of options out there that vary based on model, model year and the configuration of the truck. You'll have to do some digging to find the right one. You'll also have a choice between an assortment of different brands. Check out customer reviews and websites like ours to find which one has the best word of mouth around it!
Q: Does a leveling kit affect ride quality?
A: Under most circumstances, as long as you get proper installation a leveling kit will not affect your ride quality. However, if you buy a cheap leveling kit and attempt to install at home, it could. If you're wondering does a leveling kit affect ride quality, it may with inexperienced installation. There are many small mistakes that can be made along the way. Though they may not seem like a big deal at the time, they may come back to bite you later. That's why it's always a good idea to seek a professional for help if you're aren't totally confident in your abilities.
Q: How long will installation take at home?
A: Once again, this depends on your level of experience. If this is your first time messing with a vehicle's suspension, it's going to take a lot longer than if it is your 10th or 20th time. For a beginner, it's a good idea to set aside an entire day, because you never truly know how long it may take with mistakes and getting stuck. For some, it could take as few as two hours or less. Others may need that entire day. However, if you've done this a few times before, you already know your way in and out and should be able to finish in just an hour or two.
Q: Do I need to do anything else after installing a lift kit?
A: It's highly recommended that you bring your vehicle into your mechanic for a steering alignment after altering your vehicle's suspension. A number of factors can shift around and affect your vehicle's steering, and that's something that needs to be taken seriously. Visit your regular mechanic and they should be able to perform this standard job in a short amount of time. It may not end up being a factor, but it is always better to be safe than to be sorry.
Final Thoughts
We hope this was able to answer some of your burning questions regarding lift and leveling kits. We can't tell you how many times we've been asked does a leveling kit affect ride quality, and now you know the answer! If you find yourself in the Midwest and are looking for a shop to install a lift or leveling kit for you, please consider us at Ultimate Rides! We specialize in doing just this kind of work, and we are some of the very best at it.
If you have any questions or would like to get a quote on some work for your vehicle, please feel free to reach out to us at 815-634-3900. If you'd like to come and pay us a visit, either to speak to a member of our service team or take a look at vehicles, you can find Ultimate Rides at 38 W. Division St., Coal City, IL 60416. We hope to meet you sometime soon!
---
Two Brothers With a Dream

,

Building The Best Ultimate Rides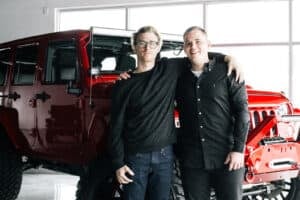 Ultimate Rides consists of two brothers who have been buying and selling custom vehicles for over ten years. Selling lifted trucks by day and writing these awesome reviews by night! They started their Ultimate Rides journey with a third brother Jake, who was a big part of building the business they have today. In 2016 Jake passed away and losing their brother was the hardest thing they ever had to deal with. Even though they had a tragic loss they plan to continue to set a new trend for the auto industry, keeping customers number one. Pushing the envelope on the lifted truck market, these guys love researching and learning about everything in the auto industry!
 — Nick and Alex Bulanda, Founders of Ultimate Rides