Finding the Right 4 Inch Lift Kit for Chevy Silverado 1500
Buying the Right 4 Inch Lift Kit for Chevy Silverado 1500
Drivers that want to equip their truck with bigger tires need to improve their lift kit situation. This means they need to find the right 4 Inch Lift Kit for Chevy Silverado 1500. Now, it is important to understand that this is no small feat. There are plenty of factors to consider when buying a lift kit and an abundance of lit kit options. So it is possible that buyers may have a rough time narrowing down their available options. 
Here at Ultimate Rides, we know it is not easy finding all the automotive parts that you need. As a result, we have worked hard to put together a list of four different lift kit options for a Chevrolet Silverado 1500. That way, you can get a great lift kit and then upgrade your tires to a bigger size. So take a look at our list of four great 4 Inch Lift Kit for Chevy Silverado 1500 options for more help. Now, without any further ado, here is our lift kit list.
Compatibility Notes: One last thing before you start browsing. It's important to know that each lift kit is designed for a specific range of vehicles. Always make sure to check and even double check that a kit will fit on your vehicle before buying. This means paying attention to the make, model, model year, trim level, driving configuration (2WD vs 4WD), cab size and more. Things like this are why our guides can be so useful to readers!
---
1. Readylift 69-3411 SST 4″ Lift Kit
The Readylift 69-3411 SST 4″ Lift Kit is first on our list of awesome 4-Inch Lift Kit for Chevy Silverado 1500. This option is the most expensive lift kit on our list. But this is because it provides a high amount of quality for your Chevrolet truck. A pair of tough heavy-duty tubular steel upper control arms are implemented into this lift kit. These are engineered to match the strength of your truck out on the open road.
No cutting is required and you will not have to modify this lift kit for your truck. Instead, a simple bolt-on installation process provides you with optimal convenience. So you can do not have to break out the tool bench and all of your tools for this installation process. Instead, you can spend more time choosing out tires for your lift kit! The Readylift 69-3411 SST 4″ Lift Kit offers space for 34-inch tires. So if you want some big wheels for your truck, this is the right fit for you. Check out this 4-Inch Lift Kit for Chevy Silverado 1500 to satisfy your lift kit needs!
Readylift 69-3411 SST 4″ Lift Kit for GM HD
---
2. ReadyLift 69-3485 4.0″ Front/1.75″ Rear SST Lift Kit
The ReadyLift 69-3485 4.0″ Front/1.75″ Rear SST Lift Kit is second on our list of great 4-Inch Lift Kit for Chevy Silverado 1500 options. Drivers that want to lift their vehicle with a reliable lift kit will love this option. This lift kit went through six months of product development and intense on and off-road testing. So it is going to help you take on the open road every single day. However, the best part is that it will raise your truck enough to throw on some gorgeous tires.
The tough trail-proven 4-inch powder coated steel strut extensions bolt right onto the top of the factory strut. Then, your Chevy Silverado 1500 will lift up higher. Thus, you can fit 33×12.50 sized tires at the max which is a 33-inch tire. This tire size is going to attract attention from other drivers on the open road and will put your confidence over the top. Drivers that want an easy installation process and great clearance for big tires will love this 4 Inch Lift Kit for Chevy Silverado 1500.
ReadyLift 69-3485 4.0″ Front/1.75″ Rear SST Lift Kit for Chevrolet Silverado/Sierra 1500, 2007-2010
---
3. Rough Country 4 Inch Lift Kit 
The Rough Country 4 Inch Lift Kit is third on our list of great 4 Inch Lift Kit for Chevy Silverado 1500 options. Drivers that want a simple installation process for their lift kit will surely love this choice. This lift kit has been completely redesigned to provide a simplified installation process. So if you want to spend more time riving and less time applying the lift kit, check out this option. That way, you do not have to spend hours upon hours working on your truck.
The Rough Country 4 Inch Lift Kit uses fabricated blocks for a longer lifespan. This lift kit boasts increased ground clearance for your Chevrolet Silverado 1500 truck. That way, you can go out and get some big and beautiful tires for your truck. There is enough ground clearance to get 33-inch rims for your truck. This particular tire size will help you dominate off-road conditions every single day in your Chevrolet Silverado 1500. Plus, you can impress other drivers out on the open road. Drivers that want excellent ground clearance will definitely want this 4 Inch Lift Kit for Chevy Silverado 1500.
4″ Lift Kit for Select 1988-1999 Chevy & GMC Pickups & SUV 4WD
---
4. Supreme Suspensions Lift Kit
The Supreme Suspensions Lift Kit is the next product to be found on our list of great 4 Inch Lift Kit for Chevy Silverado 1500 options. This kit is designed to lift the front end of your truck by 3.5" and the rear end by 3". The Supreme Suspension lift kit provides you with wonderful value for a very reasonable price. The set of front strut spacers and rear lift blocks can handle heavy loads when you hit the dirt road. Plus, there is a special coating that protects the lift kit from corrosion. So this will offer you a long-lasting lift kit that looks great on your Chevrolet Silverado 1500.
The installation process will take a few hours but the end result is definitely worth it. Attach this lift kit to your truck and then you can go and get those tires that have been on your mind. This will allow for you to slap on some 33-inch tires. These larger sized tires will give you supreme confidence in your truck. If this is what you want, then you will love this 4 Inch Lift Kit for Chevy Silverado 1500.
Supreme Suspensions – 2007 – 2018 Chevy Silverado Lift Kit 3.5″ Front Suspension Lift + 3″ Rear Suspension Lift + Rear Axle Shims Chevy Silverado 1500 Kit (Black) PRO
---
5. Superlift Suspension 4 Inch Block Lift Kit for Chevy Silverado 1500
Finally, there's one more kit we'd like to share with you today. It's made for older Silverado 1500 models, covering 4WD editions of the truck from 1999 through 2010. It's a block lift kit, so it won't offer quite the same level of performance as a full suspension kit. However, you'll be able to get it for a much more affordable price, and the process of installing the set should be a lot more manageable for most. This kit was manufactured here in the United States, so you'll be able to proudly know you're supporting a domestic company. At the same time, the kit offers very good quality for a block kit, especially one under $100. Just make sure it fits your vehicle before making any final decisions!
Superlift Suspension | 3849 | 4 inch Block Kit – 1999-2010 Chevy Silverado and GMC Sierra 1500 and 2500 4WD
---
4 Inch Lift Kit for Chevy Silverado 1500
Buying Guide
You have now had a chance to look over our list of recommendations. Did any of those lift kits stand out to you for one reason or another? If so, we encourage you to do a little further research. Make sure it's the right kit for your vehicle and your needs! As long as it is, feel free to pick it up for your vehicle and start thinking about installation. However, other readers may need to keep searching to find the perfect kit. Don't worry! The information here in our buying guide should prepare you. Check it out, and give us a call if you have any additional questions by the time we're finished.
Factors of Focus: Choose the
Best Kit
If you're not able to choose an option off our list, it's important to know what to look for in a lift kit. The first thing you'll want to do, as noted up above, is make sure the product is compatible with your vehicle. As long as you know that to be the case, you can start thinking about the actual quality of the kit. Another way to narrow down your options is to decide on a specific lift height. If you are here, the chances are very high you want the best 4 inch lift kit for Chevy Silverado 1500 trucks. We can help.
Once you know your kit will fit, take a look at the style and price. Is it a full suspension lift kit, something with blocks or spaces, or maybe a coil spring kit? There are different styles out there and they'll all perform differently. On top of that, they'll all cost you something different. If you can afford it, a full suspension lift kit will offer the best driving experience. Coil spring kits can be good, and there are even reliable block kits out there like some of the products on our list. Overall, it's just important to find a high-quality kit with positive reviews, ideally from a manufacturer you recognize and trust!
Lift Kit
Installation Tips
For most drivers, we don't recommend trying to install your lift kit at home. The process requires a lot of know-how, and many kits require some key equipment that most don't have. If you are experienced when it comes to working on vehicles, you know you have the right tools, and there's a good space for you to work, then you can think about trying your own installation. Even then, you must do a lot of research on your end if you want to get things right. One mistake could be catastrophic for your safety, so make sure to watch and read several guides and tutorials, specific to your vehicle model if possible. At the end of the day, consider if your safety is worth however much it costs to have professionals install your kit.
Final Thoughts On 4 Inch Lift Kit for Chevy Silverado 1500
Drivers that to add some big tires to their truck need to find a great lift kit. There are a bevy of lift kit options on the market but finding the right option is not easy. So, find out what tire size you want for your truck and then everything else will fall into place. Look back over our list of great 4 Inch Lift Kit for Chevy Silverado 1500 for additional help!
Ultimate Rides is readily able to help you find a vehicle over the phone. Go ahead and contact our office by calling 815-634-3900. If you are lucky enough to live in the Chicago area, you can also feel free to visit us. We are located an hour south of the city, at 38 W. Division St., Coal City, IL 60416. A member of our team should be able to help with any vehicle-related needs!
---
Two Brothers With a Dream

,

Building The Best Ultimate Rides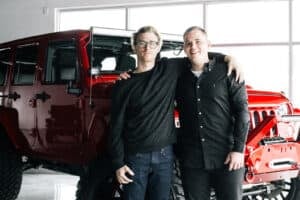 Ultimate Rides consists of two brothers who have been buying and selling custom vehicles for over ten years. Selling lifted trucks by day and writing these awesome reviews by night! They started their Ultimate Rides journey with a third brother Jake, who was a big part of building the business they have today. In 2016 Jake passed away and losing their brother was the hardest thing they ever had to deal with. Even though they had a tragic loss they plan to continue to set a new trend for the auto industry, keeping customers number one. Pushing the envelope on the lifted truck market, these guys love researching and learning about everything in the auto industry!
 — Nick and Alex Bulanda, Founders of Ultimate Rides