Best Level Kit For Silverado (Review & Buying Guide)
10 Best Level Kit
for Silverado
A leveling kit is one of the most popular entry level upgrades for a pickup truck. We all know how common suspension tilt is, with most trucks leaning towards the front end. It's a simple fix, and all you need to do is find the right leveling kit. Ultimate Rides is a custom auto dealership specializing in lifted vehicles. That's why you can count on us to recommend the best options. We've spent time working with them all, and we're sharing our expertise with you so you can make the right decision for your truck.
If you're just learning about leveling kits and what they can do for you, check out the information below. Otherwise you can feel free to skip right to our list and start looking over options. Those of you with questions about installation, be sure to read until the end. If we aren't able to cover your question, you can always get in touch with the Ultimate Rides office for further information.
---
What is a

Leveling Kit

and Why Would I Need One?
A leveling kit is actually just a type of lift kit, but it's a type with a specific purpose. If you have uneven suspension in your vehicle, the goal of a lift kit is to fix that. A leveling kit is only installed on either the front or rear of your vehicle to bring it level with the other. Most often, this is a small lift of two inches or somewhere around there. However, the exact amount you'll need depends on how uneven your suspension is. In this guide, we'll be providing you with a list of the best Silverado leveling kits out there. On top of that, you'll also find plenty of information on installation and more.
One specific type of kit that you might find appealing is a leveling lift kit. These kits will raise up the overall height of your vehicle, but will raise up one end more than the other to once again even your suspension out. You can opt for one of these, or feel free to stick with a standard leveling kit. Either way, by the time you're through with installation, your truck should have a completely new look to it, and we think you'll love it. Go ahead and check out our suggestions below to get a better idea of some awesome leveling kits for your Silverado!
---
1. Rough Country 1305 2.5-Inch Suspension Leveling Lift Kit
The Rough Country 1305 2.5-Inch Suspension Leveling Lift Kit is first on our list of the Best Level Kit For Silverado available for purchase. This leveling kit is built for Chevrolet Silverado models from the years of 2007 and 2018. So you can easily fit this onto your Chevy Silverado. That way, you can enjoy more time out on the open road and less time working on your truck!
The installation time for this product will last anywhere between 3 to 4 hours. Therefore, you can get this put on with relative ease compared to other car attachments. Also, the easy bolt-on installation does not require for a car mechanic to help you out. Instead, you can bolt this on for increased ground clearance. This will level out the front with the rear end of your Chevy Silverado! Check out one of these Best Level Kit For Silverado for more. Customers seem to really like this leveling kit, and Rough Country is one of the most reliable aftermarket manufacturers out there. We'd definitely feel comfortable opting for this choice.
Rough Country 1305 2.5″ Suspension Leveling Lift Kit (Factory Cast Steel Control Arm Models)
---
2. MotoFab Lifts CH-3F-1R Front and Rear Leveling Lift Kit For 2007-2018 Silverado
The MotoFab Lifts CH-3F-1R Front and Rear Leveling Lift Kit For 2007-2018 Silverado is the second choice on our list of the Best Level Kit For Silverado. As the name mentions, this leveling kit is best for Chevy Silverado models from 2007 to 2018. Therefore, this range will surely fit most Chevy Silverado truck models. This leveling kit will raise your truck 3" in the front and 1" in the rear. As a result, you can replace the factory rear block for enhanced style.
The Motofab Lifts are CNC machined out of high-end material and qualities. The billet aluminum is powder coated black so that it will match the color of a factory suspension. You can install this is less than 1 and a half hours and it does not require any strut or coil disassembly. Therefore, you can enjoy a hassle-free installation process! This is one of the Best Level Kit For Silverado available for purchase!
MotoFab Lifts CH-3F-1R 3″ Front and 1″ Rear Leveling lift kit for 2007-2018 Chevy Silverado Sierra GMC
---
3. YITAMOTOR 2″ Leveling Lift Kit for Silverado 1500 2007-2018 
Number three on our list is this two-inch leveling kit that comes to us courtesy of manufacturer YITAMOTOR. If you're currently dealing with uneven suspension on your Silverado truck and need a way to raise the front end up by a couple of inches, this is the way to do it. This product is made from 6061-T6 aircraft-grade aluminum billet, meaning you know it is strong as can be. It is resistant to corrosion, and is as strong as steel but even lighter. Installation is simple and easy, even for those who do not consider themselves to be truck experts. This leveling kit also features a two-year warranty, and YITAMOTOR has very friendly and helpful customer service representatives. Don't let uneven suspension become something you just have to live with. Instead, fix the problem with this awesome leveling kit.
YITAMOTOR Leveling Lift Kit 2″ for Silverado/Sierra, Forged Front Strut Spacers Compatible for 2007-2018 Chevy Silverado 1500, GMC Sierra 1500 2WD 4WD
---
4. Rough Country 1307 2-Inch Front End Leveling Kit 
The Rough Country 1307 2-Inch Front End Leveling Kit is last but certainly not least on our list of the Best Level Kit For Silverado. This is a great lower strut mount extension and hardware set. It will fit Chevy Silverado models produced between the years of 2007 and 2018. So if you have a Chevrolet Silverado truck from this span of years, you will love this leveling kit.
This product has an installation time that will last anywhere between 3 to 5 hours. Therefore, you may want some expert installation with this product. That way, you can guarantee the very best results for you and your truck! The simple bolt-on installation process is not complex but will take some time. So if you do not have the patience for this type of work, reach out to an auto shop for some help! However, you will definitely get good value with one of these Best Level Kit For Silverado.
Rough Country (1307) 2″ Front End Leveling Kit
---
5. MotoFab Lifts 3″ Front 2″ Rear Leveling Lift Kit 2007-2019 
Another leveling kit from MotoFab, this time we bring you a kit with three inches of lift in the front and two in the back, evening out your suspension while also providing a modest lift to your ride. Unlike some other leveling lift kits you will find out there, you won't have to disassemble your truck's strut/coil to get this installed, making it very easy to install. This kit was made in the United States, and features a lifetime warranty, so you know you can trust the quality! All it takes is a look at the photos posted by customers in the reviews section to see how much this kit can improve the look of your truck. This is a popular choice with consumers, and though it isn't at the top of our list, it is high among our recommended kits.
MotoFab Lifts CH-3F-2R 3 in Front and 2 in Rear Leveling lift kit that is compatible with 2007-2018 Chevy Silverado Sierra GMC
---
6. Dynofit 3″ Front Leveling Lift Kits for Chevrolet Silverado 1500 2WD/4WD 2007-2019
Dealing with a sagging front suspension and hate what it has done to the look of your truck? We've got just the thing to help. These three-inch strut spacers will help get your Silverado back into the shape it needs to be in. Strut spacers are easy to install, with no crazy workload. They are also incredibly strong, made from durable high-quality material that will last you a very long time. Dynofit offers those who purchase their products a two year warranty, so you'll have plenty of time to make sure everything is in good working order. We think this kit is going to be a great help to those with severely uneven suspension, so go ahead and give it a try today!
3″ Front Leveling Lift Kits for Chevrolet Silverado 1500 2WD/4WD 2007-2019, GMC Sierra 2WD/4WD 2007-2019, Dynofit 3 Inch Front Strut Spacer Suspension Lift Kits Lift Spacers
---
7. Rough Country 28330 1.5-2″ Suspension Leveling Lift Kit w/ Premium N3 Shocks
If you like the Rough Country products available on this list, but need a leveling kit with a little bit more versatility, check out this awesome kit for your Silverado. You'll have a little bit of flex room as you adjust the torsion key to perfectly level your Silverado's front end, and you'll have the ability to install the awesome N3 shocks that come along with the kit.
You'll find simple bolt-on installation here that can be done in just a few hours with the right toolkit, and you'll be able to provide your truck with a more aggressive stance that makes driving it even more enjoyable. Give this kit a chance and we have a feeling you'll be hooked on Rough Country products for many years to come.
Rough Country – 28330 – 1.5-2-inch Suspension Leveling Lift Kit w/ Premium N3 Shocks
---
8. MotoFab Lifts CH-2.5 2.5″ Front Leveling Lift Kit Chevy Silverado 2007-2019
We appreciate MotoFab Lifts due to their concise packaging (their kits never come with too much clutter), their ease of installation (straightforward and relatively simple even for newcomers), and just how well their products work. When you need a lift of about 2.5″ for the front end of your Silverado, we think you'll be quite happy if you purchase this front leveling lift kit for your truck. Installation should take not much longer than a single hour, and we have a feeling you will feel greatly impressed with the billet aluminum construction of the spacers. The product was manufactured in the United States and comes with a lifetime warranty from MotoFab Lifts, so we feel comfortable putting our word behind this kit.
MotoFab Lifts CH-2.5-2.5 in Front Leveling Lift Kit That is compatible with Chevy/Gmc Pickup
---
9. Supreme Suspensions 2″ Front Leveling Kit 2007-2020 Silverado 1500 
Supreme Suspensions is a manufacturer that we haven't yet covered on our list, but they are another one of our favorites. Using two high-crystalline Delrin front lift spacers, you'll be able to raise your front end by 2″ to bring it up even with your rear end. We're happy to tell you that these spacers are a breeze to install, which is certainly good news. With its high-density construction, you will be able to feel safe relying on these blocks to hold up the suspension of your truck.
It won't matter whether you find yourself more concerned about the way your truck looks or the way it drives, as you won't be forced to choose between one or the other here. With this leveling kit installed on your Silverado, you'll find your ride handles just as good as it ever did before, and in addition you'll be able to sport a new aggressive look for your truck. What's not to love about this selection?
Supreme Suspensions – Front Leveling Kit for 2007-2020 Chevrolet Silverado 1500 and GMC Sierra 1500 2″ Front Lift High-Density Delrin Bottom Strut Spacers 2WD 4WD
---
10. MotoFab Lifts 99CHTK 1-3″ Leveling Lift Kit for 1988-2006 Chevy Silverado 1500
If you own an older Silverado model and need to be able to adjust between 1 to 3 inches, we think you'll appreciate this torsion key leveling lift kit. Like the other torsion key kit available on our list, you'll have the ability to adjust the amount you raise your front end suspension by, allowing you to get the exact right leveling. Made from grade 50 plate steel, these torsion keys should leave you feeling assured and safe, as they'll stay stable and functional for quite a long time.
You'll likely find depending on the model year you own that these keys are the same size as your factory keys. This can be misleading, but they do still have value to you as their different shape allows you to adjust and set the level just right. Take a look at the many customer reviews available for this product and you'll quickly see how many people have used these torsion keys with great success.
MotoFab Lifts 99CHTK 1-3″ Leveling lift kit for 1988-2006 Chevy Silverado Sierra GMC 1500 4wd
---
Choosing the Best Leveling Kit
You've now had a chance to look at 10 of our favorite leveling kits, but how do you know which is best for you? Let us offer some more advice. Start by going out and parking your truck somewhere completely flat and even. Then measure how high off the ground your front and rear ends are. Compare the difference. If your front end is lower by two inches, you'll want a two-inch leveling kit, and so on.
After you figure out what size you need, it's time to start comparing brands. Everyone has their own favorite, with Rough Country being a particular option that our team likes. Some kits you'll find are more affordable yet also more basic. If you're on a tight budget and just want to dip your toe into the lift kit waters, they can be a good choice. Just be aware that they might not offer the greatest ride quality. A more expensive kit is going to require more difficult installation, but you shouldn't feel too much of a difference from your standard setup.
The Benefits Of Buying A Chevy Silverado Level Kit
Simply put, leveling kits even out the design of a truck. Usually, the stock design involves a truck being higher in the backend. Therefore, the level kit evens out the front end with the back. Plus, you can add spacers to the rear for even more tire room. This is the best way to slightly upgrade the tire size. Not to mention that installing a level kit is so much easier than ever before.
Leveling kits offer some distinct advantages over lifting kits. First and foremost, they are much cheaper than their lift kit counterparts. Therefore, you save yourself some money along the way. Furthermore, they are so much easier to install. So why not enjoy the best of both worlds with a new level kit for your Chevrolet Silverado truck? We have already given you the blueprint with all the best options and more!
If your Silverado truck has an unfortunate sag towards the front or rear end, a leveling kit will likely be exactly what you need to fix that right up. Depending on the exact type of leveling kit, whether it is torsion keys, spacer blocks or coil springs, you should expect to fix your suspension issues right up. They'll provide your truck with a new aggressive stance that will make you the envy of the entire neighborhood.
We've heard from customers all across the country talking about their suspension issues, and it's quite surprising how many of those problems can be solved with a simple leveling kit. Not only will these products be able to fix uneven suspension, but they can even improve the stability and handling of Silverado trucks.
Leveling Kit Installation Tips
Depending on your exact vehicle as well as the kit you choose, the installation process may be relatively simple or very in-depth and time-consuming. There's a lot of wiggle room there, so let's dig into the details.
More basic leveling kits aren't going to provide the same level of ride quality as a more expensive option. However, the benefit is that installation is usually pretty straightforward. It'll likely still take a couple of hours, plus some time spent beforehand researching. You'll also need to make sure you have a toolkit at your disposal. Check out some video tutorials specific to your kit and vehicle, and decide if you feel ready to handle the installation process.
If you opt for a more expensive leveling kit, your vehicle is particularly hard to work with, or you don't have a lot of technical skills in this field, you may want to consider professional installation. Those of you set on attempting your install at home, make sure to do a lot of research. Talk to a professional if you have access to one, and always make sure to take your vehicle in for an inspection after an at-home installation.
Driving with a Level Kit
Before you start driving, we think it's important to go over what you should expect. While a leveling kit isn't going to offer quite the same benefits as a full suspension lift, you will notice a difference once you get behind the wheel. Cheaper kits may cause your handling to feel different, sometimes less responsive. This should not affect you to a dangerous degree, and if it feels that extreme then we encourage you to take your vehicle in to professionals before driving it further. However, you will likely notice some kind of change, so be prepared for that.
More expensive and in-depth kits will make this less of a problem. They can become quite costly, but they'll fix all of your vehicles problems without creating any new ones. At the same time, you could have the ability to put some larger tires on your Silverado, depending on the size of the leveling kit. With the right setup, you may even find that your truck has a greater towing capacity. Contact our team to learn more details about how certain kits can affect your vehicle.
Frequently Asked Questions
Q: How Do Install The Level Kit?
A: Not all level kits are necessarily the same. Seek out help if you are not mechanically inclined. You do not want to make a mistake along the way. If you are knowledgable, then look to instructions online. There is plenty of help and assistance available!
Q: What Is The Difference Between A Leveling & Lift Kit?
A: As discussed before, the main difference comes with how they raise the truck. On one hand, lift kits are made to lift up the truck overall. Lift kits are best for big tires and big wheels. You need to clear the distance between your truck and the wheel. Thus, you put a lift kit onto the truck. On the other hand, level kits simply balance out the truck.
Q: What Other Additions Do You Recommend After The Leveling Kit?
A: Get some side steps or nerf bars. Any truck that is higher off the ground means it is harder to access. Give yourself and others assistance. After all, it will soon become the ire of yourself and all other passengers. No one wants to work hard to get in and out of their truck. So add something on the side for assistance. Likewise, add some bigger tires or wheels!
Q: Will A Leveling Kit Allow Me To Install Larger Tires?
A: Not unless you get a combination lift/leveling kit. In most cases, leveling kits are simply meant to even out your suspension, and won't provide a large enough lift to allow you to put larger tires on your truck. However, there are combination lift and leveling kits available, including on this very list. These will let you outfit your truck with larger tires in addition to fixing your suspension.
Q: Will Installing a Lift or Leveling Kit Void My Warranty?
It will not, unless there is damage to your vehicle that was caused by the lift kit equipment or installation. Basically, as long as you install everything correctly and nothing catastrophic happens, you should be good to go. If you have any further questions or doubts, contact the holder of your warranty to confirm.
---
Two Brothers With a Dream

,

Building The Best Ultimate Rides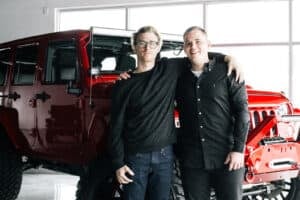 Ultimate Rides consists of two brothers who have been buying and selling custom vehicles for over ten years. Selling lifted trucks by day and writing these awesome reviews by night! They started their Ultimate Rides journey with a third brother Jake, who was a big part of building the business they have today. In 2016 Jake passed away and losing their brother was the hardest thing they ever had to deal with. Even though they had a tragic loss they plan to continue to set a new trend for the auto industry, keeping customers number one. Pushing the envelope on the lifted truck market, these guys love researching and learning about everything in the auto industry!
 — Nick and Alex Bulanda, Founders of Ultimate Rides