Lifted GMC Duramax for Sale
Find a Lifted GMC Duramax for Sale at
Ultimate Rides
Buying your next truck should be something that you look forward to. Instead, for many drivers, the process of buying a vehicle has become something to dread. At Ultimate Rides, we are looking to inject joy back into buying vehicles. We offer high-quality rust-free custom trucks with affordable delivery available all across the nation. Sound too good to be true? It's really not! With modern advancements in transport and the ease of the internet, ordering a custom vehicle has never been easier.
At Ultimate Rides, we have a huge inventory to share, full of lifted trucks, SUVs and more. All of that work is done in-house. We have our own lift center, staffed by a team of expert technicians. You'll be able to custom build your next truck, including a lifted GMC Duramax for sale, with our team. Learn more by reading through today's guide. After that, give us a call if you have any remaining questions or if you're ready to find your next vehicle!
Customize Your Next Truck
Right Here
With the help of the technicians in our lift center, you could soon start driving around in the truck of your dreams. You can take a lifted GMC Duramax for sale in our inventory and make whatever changes you'd like. That option is open to every one of our customers. Just let us know that it's something you're interested in and we can start the conversation. There are countless different options open to our vehicles, so we'll have to figure out which you'd like. That could include a new interior, accessories like running boards or a truck bed cover, new headlights, a fresh paint job, a performance chip, larger wheels and so much more.
All of that work is able to be included in your financing plan as well. That means you'll just raise your monthly payments by a small amount to cover the cost of all the work you opt for. On the other hand, you can also decide to pay for some or all of it up front. Just reach out and we'll figure out what works best for your situation.
We can even work on vehicles for the public! If the time isn't quite right for you to upgrade into something else, let our team offer our wide range of upgrades to your current truck. Call us to schedule an appointment and discuss options.
Access an Inventory of
Rust-Free Trucks
Ensuring our customers have access to high-quality vehicles is one of our first priorities, and it's about more than just installing upgrades. We only bring in the best trucks our team can find. That means our inventory is rust-free! It's not exactly easy, but we send our buyers out to warmer parts of the United States, where they can find vehicles that have been taken care of in favorable climates. We bring the best options back to our HQ and inspect them for quality. As long as it meets our standards, we send the vehicle over to our lift center to upgrade and list in our inventory.
When you shop at a standard auto dealer, you'll usually find a range of different quality vehicles. That can sometimes make it hard to know what to expect. Buying at Ultimate Rides means you're always getting the best quality option available. While it's impossible to predict the future of any vehicle, we do everything we can to ensure the health and quality of our rides. Come take a look and see for yourself, or ask us for more pictures if you wish to see more!
Customer Service
Looking Out for You
It's not a secret that the auto sales industry has developed a reputation for bad customer service. Don't expect to find this at Ultimate Rides. We place a huge emphasis on treating our customers right. It starts from the moment you call us or step through our doors, and goes beyond the time you actually buy a vehicle from us. Ultimate Rides is a family business, and we treat every single customer like the small business that we started out as. Our team members will actually listen to your wants and needs, and they'll put in the work to help you find the perfect vehicle, whether that's a lifted GMC Duramax for sale or something else.
If you don't see the vehicle you want in our inventory, just let us know. With a small deposit, our buyers will seek out the vehicle in question. They see a ton of models in the course of their search, so unless it's an exceptionally rare vehicle it should not take long. Once we find it, you can buy the vehicle as it is, or install some upgrades in our lift center. We'll be able to ship it out to you as soon as it's ready!
Shipping for Vehicles
Across the Country
No matter where you live in the United States, we can deliver a vehicle to you. Not only that, but it will also be affordable. That's because you'll have the option to include the cost of shipping in your auto financing deals. By doing this, you'll be increasing your monthly payment by a small amount to include that extra cost in there. You could also choose to pay for shipping separately. Whatever works best for you can work for us!
If you'd like to look into our vehicle delivery, we recommend starting by checking out our inventory. It's all available here on our website. Call us and we can provide you with more info and pictures on any vehicle you see, like a lifted GMC Duramax for sale. When you make a final decision, we can handle financing there over the phone! Before long, we'll have the vehicle out to you. You can still choose to have our team make any upgrades you'd like, and your new ride should arrive within a week from the time it's finished.
Chicago Area
Repairs and Maintenance
We know how hard it can be to find a team of mechanics you trust. If you are a resident of the Chicago area, or just within driving distance, give our technicians a shot. Our staff is ASE-certified, and has the knowledge and experience required to reliably fix your vehicle. We'll take care of jobs both big and small, and even standard maintenance procedures like oil changes, tire rotations, fluid checks and more.
If you have had a bad experience in the past getting ripped off, it's understand to be wary of auto repairs. While dealing with a broken down vehicle is never going to be enjoyable, Ultimate Rides works hard to make the process go as smoothly as possible. Let us know if you believe we can help solve your vehicle issues. Ultimate Rides can also offer detailing as a part of these services. Whether it's time for a fresh look or you have a special occasion coming up, our team can get your vehicle looking fantastic.
Contact Ultimate Rides for
Assistance Today
Well, you've now been able to read about what Ultimate Rides is able to offer. Do you think we can help you find what you're looking for? Wherever you live, we believe we can get you an amazing vehicle. On top of that, you'll get to choose the specifics instead of being stuck with what's in front of you. We love helping customers find their perfect vehicle, and you could be the next one in line. From a lifted GMC Duramax for sale to something completely different, we believe we can set you up with the right model.
To learn more about our business, you can reach us at 815-634-3900 today. We'll set you up with shipping and financing that works for you. Those of you living in the greater Chicago area should feel free to come visit us in person. Our office is located at 38 W. Division St., Coal City, IL 60416. We'll be happy to speak with you and offer more details on our inventory!
---
Two Brothers With a Dream

,

Building The Best Ultimate Rides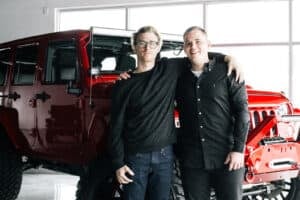 Ultimate Rides consists of two brothers who have been buying and selling custom vehicles for over ten years. Selling lifted trucks by day and writing these awesome reviews by night! They started their Ultimate Rides journey with a third brother Jake, who was a big part of building the business they have today. In 2016 Jake passed away and losing their brother was the hardest thing they ever had to deal with. Even though they had a tragic loss they plan to continue to set a new trend for the auto industry, keeping customers number one. Pushing the envelope on the lifted truck market, these guys love researching and learning about everything in the auto industry!
 — Nick and Alex Bulanda, Founders of Ultimate Rides