The Best Underglow Kit for Trucks (Review & Buying Guide)
How to Track Down the Best

Underglow Kit for Trucks
At Ultimate Rides, we know quite a lot about accessories for trucks. That's because we build and sell custom vehicles, and that includes installing plenty of different accessories for our customers. One popular way to customize your truck is with a set of underglow lights. However, if you've looked around online for these accessories, you have probably seen that there are simply tons of options available. How can you tell the difference between the good and the bad?
That is what we are here to help with. We encourage you to begin by checking out our list below. It features some options on the best underglow kit for trucks. Take a look and see if you can spot one that suits your needs.
After that, feel free to read through our buying guide. In this section, we'll get into the details of how to separate a good set of lights from the bad. We'll also be able to tell you a little more about Ultimate Rides, and how we believe we could be able to help you out today.
---
1. OPT7 Aura Aluminum Underglow LED Lighting Kit w/Wireless Remote (ASIN – B01GQQUG1E)
The first set we'd like to share is, in our opinion, a fantastic balance between price and quality. For just under $100, drivers will get four high-quality smart LED strips. The package includes a wireless remote that gives you full control over the lights, including 16 color choices with five different lighting modes. This product comes with a one-year warranty that should be useful if you discover any manufacturing problems. Additionally, it's very easy to install and power these lights, so you should run into no trouble there. These are absolutely some of the best underglow lights you can find for a pickup truck today, so we hope you'll enjoy them.
OPT7 Aura Aluminum Underglow LED Lighting Kit for Truck w/Wireless Remote, Exterior Neon Accent Underbody Strip, Multi-Color n Mode, Waterproof, Soundsync, Aluminum Casing, Door Assist, Smart LED, 4pc
---
2. Govee Smart Car Underglow Lights (ASIN – B088JZTWQN)
Are you on a tighter budget? Check out this lighting kit and see if it could be right for you. It includes four strips of lights (non-LED unfortunately) that can be controlled either via phone app or the included remote. There are modes that allow the lights and colors to change with your music, as well as 10 different scene modes to enjoy. While there may be other, brighter light strips out there, this set is highly affordable, and may be the right choice for a good number of drivers out there. They're basic but effective, and won't cause you to pay an arm and a leg.
Govee Smart Car Underglow Lights, RGBIC Exterior Car Lights with 16 Million Colors, 2 Music Modes, 10 Scene Modes, DIY Mode, App and Remote Control Underglow Kits for SUVs, Trucks, DC 12-24V
---
3. OPT7 Aura Pro Underglow LED Lighting Set (ASIN – B07NSPB9RQ)
If you liked the first kit on our list and would be interested in an upgraded version, this next product is for you. It features all the same advantages of the OPT7 Aura, but with some added extras to enjoy as well. This kit includes high-quality LED lighting with nearly endless color combinations. While the first set gave you all the basics, for an extra $20 this kit will also nab you the door assist system that lights up your way as soon as you open up your truck's doors. These lights are bright, and the housing is made from heavy-duty aluminum. They are an excellent choice for anyone who is serious about upgrading the look of their pickup truck.
OPT7 Aura Pro Underglow for Truck/SUV Aluminum, Bluetooth APP LED Exterior underbody Lighting Kit, Neon Accent Bar Strip,16 Million Color, Waterproof, Soundsync, Door Assist, iOS/Android Enable, 4pc
---
4. MICTUNING 2nd-Gen RGB LED Rock Lights 8-Piece Kit (ASIN – B01IP8W254)
In this next set, you'll have access to eight rock lights that you can attach to your vehicle anywhere you'd like. You'll be able to control the lights through an app on your smartphone, and that includes multiple music modes for you to play around with. As far as installing these rock lights, we don't foresee you running into any unusual problems. In just a matter of an hour or so, you'll be able to light up your truck in a huge range of different colors and configurations. These lights are LED too, so you know they'll be plenty bright.
MICTUNING 2nd-Gen RGB LED Rock Lights with Bluetooth Controller, Timing Function, Music Mode – 8 Pods Multicolor Neon LED Light Kit
---
5. Niwaker RGB Rock Lights 4-Piece Set (ASIN – B087R7S5PF)
If you want lighting on a smaller scaler, check out this four-piece kit of rock lights. They are LED, and of course can offer a huge range of color choices. The pods are also very sturdy and reliable, so you shouldn't have any issues with them breaking as you drive. As with most other modern underglow setups, you can control everything right from your phone. These rock lights are affordable because the set only includes four, but they are high-quality lights. They work great as a starting point for someone looking to dip their toes in.
RGB Rock Lights Kits, Niwaker 4 pods RGB LED Rock Lights with Bluetooth Control Multicolor Neon LED Lights Underglow Lights for Truck ATV UTV SUV Boat Off Road
---
6. JIMJOY RGB LED Rock Lights, 14 Pods (ASIN – B08SKXTNSK)
On the other end of the spectrum, this next set offers 14 separate LED pods for you to install. You'll find all the standard color options and music modes, as well as easy control from your phone. The wires included with this set are longer than normal, so that also makes them a good choice for large trucks. Other than that, you can expect all the same quality as the other entries on our list. Overall, these lights are among the best options available today, especially if you want a lot of lighting.
JIMJOY RGB LED Rock Lights,14 Pods Waterproof Multicolor Chasing Neon Underglow Music Lighting Kit with APP&RF Control for Car Truck ATV UTV SUV
---
Best Underglow Kit for Trucks

Buying Guide
There are few accessories out there that can change the way your truck looks like a set of underglow lights. When looking for the right set, you'll have tons of options, which can quickly feel overwhelming. While we hope our list provided you with a set of lights that works, we know it's possible you may want to keep looking. That's why we've also included this buying guide.
Use it to learn about what makes a set of these lights worth buying. That's exactly what we'll talk about in our factors of focus section. After that, you can learn more about Ultimate Rides, including how we can install the best underglow kit for trucks and much more for you. Good luck on your search, and be sure to tell us if you think we can assist you.
Factors of Focus: Which Set of Lights is the One for You?
When shopping for the best underglow kit for trucks, it's first important to decide what kind of lights you want. There are two primary kinds of kits you will find: rock lights or strip lights. Rock lights are individual attachments that go onto the vehicle separately, while strip lines are a long strip of multiple lights that attach to the vehicle.
Once you decide what style you want, you can start thinking about quality. Brightness and durability are likely going to be the two most important factors that play into your decision. Read through customer reviews as well as the product description and you should be able to find more information on both of these categories.
Visit or Call Ultimate Rides for Custom Upgrades, New Vehicles and More
If you need assistance installing lights on your truck, you can count on Ultimate Rides. We also handle a wide range of other custom upgrades in addition to selling vehicles to drivers all across the country. Our office is located about one hour south of Chicago, but we ship vehicles around the United States. Give us a call at 815-634-3900 to learn more about this process, or to schedule an appointment to bring in your vehicle if you live close enough. You will find us at 38 W. Division St., Coal City, IL 60416.
---
Two Brothers With a Dream

,

Building The Best Ultimate Rides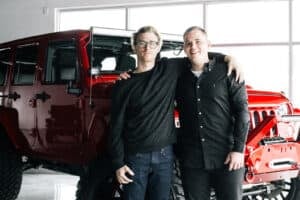 Ultimate Rides consists of two brothers who have been buying and selling custom vehicles for over ten years. Selling lifted trucks by day and writing these awesome reviews by night! They started their Ultimate Rides journey with a third brother Jake, who was a big part of building the business they have today. In 2016 Jake passed away and losing their brother was the hardest thing they ever had to deal with. Even though they had a tragic loss they plan to continue to set a new trend for the auto industry, keeping customers number one. Pushing the envelope on the lifted truck market, these guys love researching and learning about everything in the auto industry!
 — Nick and Alex Bulanda, Founders of Ultimate Rides