What is the Brightest Headlight Bulb That is Legal?
Upgrading Your

Headlights
There are a number of reasons why someone might decide it's time to upgrade their headlight situation. If you've noticed your headlamps have grown dim, or you're simply not happy with their standard brightness, a set of aftermarket headlamps can definitely help.
Halogen vs. LED vs. HID Xenon
First, you must decide what kind of headlights you want to upgrade to. The standard headlights you'll find, with a sort-of yellow hue, are halogen bulbs. While they'll get the job done, and are the cheapest option, they don't offer the best visibility.
LED and HID Xenon both offer greater brightness. HID Xenon lights are typically quite strong and give off a noticeable blue hue. You've probably seen them out on the road. LED lights can often vary in color, with some stay more towards white while others look blue as well. We prefer LED but either kind should offer plenty of visibility for you.
What is the Brightest Headlight Bulb that is Legal?
When you have decided what style of bulb you want to go with, it's time to figure out brightness. Are you wondering what is the brightest headlight bulb that is legal? It's quite a common question. There are federal standards when it comes to how bright your headlights can be. If you take a look, you'll see that it's a whole lot of technical writing to work through. What it boils down to is that different types of headlights can have different brightness ratings. There are also limitations placed upon angles at which headlights can be installed. It's important to note that none of this constitutes a law. Instead, it represents a standard that manufacturers have to meet to release their product.
That means you must look at your state and local laws to find out if they have any specific regulations on headlight brightness. You should find in most places that there's nothing on the books. However, safety should still be important to you. Make sure to install your headlights correctly to ensure they're working at the right angle. You don't want your lights shining into the eyes of a driver ahead of you, especially if they are brighter than normal.
A Look at State Headlight Regulations
Where you live is going to have a big effect on what kind of headlights you can install. If you're wondering what is the brightest headlight bulb that is legal in your state, it's going to require just a bit of research. On first glance, the state of Illinois (where we're located) doesn't have any specific limitations on brightness. However, the products you're going to be able to buy are almost certainly made within those federal-recommended limitations.
On the other hand, the state of California does have a law stating that headlight lamps are limited to 2513 lumens each. This is a hard limit, and it means you'll have to be careful to buy the right product when shopping for new headlights in this state. These laws vary from place to place, so it's important to do research on your home state before making a purchase.
Installing New Headlights
For aspiring at-home mechanics, replacing your headlights is one of the easier jobs you can tackle. However, it's very important to install them at the right angle. If the headlights are pointed too far upward, they'll be shining light into the eyes of drivers rather than onto the road way. If you're not 100% confident in your abilities, we recommend taking your headlights to professionals for installation. They'll make sure everything is fine-tuned to be in the right place. If you do feel as though you can handle it, feel free to take this on yourself. Just make sure to be very careful during the process! You can likely find tutorial videos online that will show you how to do it the right way.
Ultimate Rides Offers New Vehicles, Custom Upgrades and More
In need of a team to handle your headlight upgrade? Maybe it's finally time for you to start looking for your next vehicle. At Ultimate Rides, we can help with all of that and much more. We're a custom vehicle dealer that delivers rides all across the United States. Not only do our vehicles feature a number of upgrades, but you'll also have the opportunity to customize it yourself before we ship it out. If you live within driving distance of our shop, you can also feel free to bring us your current vehicle to work on. We can outfit it with some new headlights, plus a whole lot more.
We're even capable of helping you track down specific vehicle models if you need assistance. Simply give us a call and we'll do whatever we can to help. You can reach us today at 815-634-3900. Drivers who live in the greater Chicago area can come and visit us at 38 W. Division St., Coal City, IL 60416. We can't wait to meet with you and tell you more.
---
Two Brothers With a Dream

,

Building The Best Ultimate Rides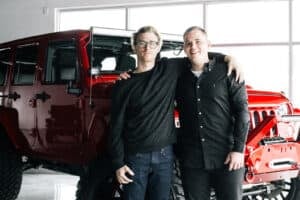 Ultimate Rides consists of two brothers who have been buying and selling custom vehicles for over ten years. Selling lifted trucks by day and writing these awesome reviews by night! They started their Ultimate Rides journey with a third brother Jake, who was a big part of building the business they have today. In 2016 Jake passed away and losing their brother was the hardest thing they ever had to deal with. Even though they had a tragic loss they plan to continue to set a new trend for the auto industry, keeping customers number one. Pushing the envelope on the lifted truck market, these guys love researching and learning about everything in the auto industry!
 — Nick and Alex Bulanda, Founders of Ultimate Rides