Best Wheel to Wheel Running Boards Ram 2500 (Review & Buying Guide)
Finding the Best Wheel to Wheel Running Boards

Ram 2500
Anyone who drives a pickup truck probably already knows how useful running boards can be. This is even more true if you often have passengers climbing in and out of your vehicle, as well as if it has a lift kit. Younger and older folks especially can have a difficult time making the climb. That's where these accessories come in. In this guide, we want to help you find the right set of running boards for your Ram 2500 truck.
However, any regular set of running boards doesn't always do the truck. If you're searching for some running boards that can help you climb into the truck bed as well, you'll need a pair that stretches from wheel to wheel. Below you'll find our 10 favorite wheel to wheel running boards Ram 2500 drivers can install today. Additionally, you'll find a buying guide that can offer additional advice on shopping around for the right product.
If you're feeling ready to buy your next vehicle or customize your current one, get in touch with us at Ultimate Rides! We have an assortment of custom vehicles and offer simple and affordable delivery. For now, good luck finding the right set of running boards for your pickup.
---
1. FAB D20100CC-6-TX Textured Black Nerf Steps (ASIN – B07T8VJ3VQ)
Compatibility: 2019-2021 Ram 2500/3500 Crew Cab
The first pair of wheel to wheel running boards Ram 2500 drivers will want to look out for is this set from FAB. They feature a drop step design that gives them a distinct style, and makes it easy to get in and out of your truck. Plus, they are made with a high-quality alloy steel with a powder-coated finish that makes it even stronger. There are multiple warranty options in play from the manufacturer, but we are pretty confident you'll never have to rely on them. These extra long running boards should be enough to check all your boxes, and we encourage trying them out if they're the right fit.
n-FAB | D20100CC-6-TX | Nerf Step, Bed Access , Textured Black, 19-21 Dodge RAM 2500 / 3500 (NEW BODY STYLE) Crew Cab 6.4′ Standard bed
---
2. FAB D10115CC-6-TX Bed Access Nerf Steps (ASIN – B0072UPCUE)
Compatibility: 2010-2018 Ram 2500/3500 Crew Cab
Up next, we have another variation on the exact same drop steps. This time, though, you'll find that the running boards fit on the previous generation of Ram pickup trucks. They share all the same positive elements, but they're here for you if the last set wasn't a good fit with your vehicle. These running boards may not be the most affordable options out there, but you'll be getting top-tier reliable quality with this set. We are confident that they'll last quite a long time on your truck, and make your exit and entry much easier.
n-FAB | D10115CC-6-TX | Nerf Step, Bed Access , Textured Black, 10-18 Dodge Ram 2500 / 3500 Crew Cab 8′ Long Bed
---
3. APS Wheel to Wheel 5-inch iBoard Running Boards (ASIN – B01N37MPVF)
Compatibility: 2010-2021 Ram 2500/3500 Crew Cab
If you're looking to spend just a little bit less but still want great quality, we'd recommend looking at this set from APS. The boards feature a simple design that is meant to evoke the modern and sleek look of smartphones from companies like Apple. Each side can support up to 300 lbs. of weight safely, and it will stretch from wheel well to wheel well. Customers have glowing things to say about this product, and we think it will live up to your expectations.
APS iBoard (Silver 5 inches Wheel to Wheel) Running Boards Nerf Bars Side Step Rails Compatible with Ram 1500 2009-2018 Crew Cab 6.5ft Bed & Ram 2500 3500 2010-2021
---
4. Westin 56-534345 HDX Drop Wheel to Wheel Nerf Steps (ASIN – B082FGKW3F)
Compatibility: 2019-2021 Ram 2500/3500 Crew Cab
Our next set of running boards sports perhaps our favorite design of any on our list. It may be a little pricey, but you can always count on Westin to deliver top-tier products for trucks. These powder-coated alloy steel drop steps will look great on any Ram 2500 model. They'll also undoubtedly get their job done. There is a third step down on the end of each side for easier bed access as well. What is not to love about these heavy-duty running boards for your pickup truck?
Westin 56-534345 HDX Drop Wheel to Wheel Fits 2019-2021 Ram 2500 3500 Crew Cab Textured Black Nerf Step Bars 1 Pair
---
5. Lund 244105008 Polished Stainless Steel 5″ Oval Wheel-to-Wheel Nerf Bars (ASIN – B00COYZS2K)
Compatibility: 2010-2018 Ram 2500/3500 Crew Cab
Want to go for a different style? Check out these polished stainless steel oval-shaped running boards. They feature non-slip pads on the top for safer entry and exit. Additionally, they run extra long so they'll cover the whole side of your truck. They are sort of in the middle of the price range, but they are still a customer favorite. That means you'll be able to get some great value out of these running boards. Feel free to pick them up as long as they fit your model and you're a fan of the style!
Lund 244105008 Polished Stainless Steel 5″ Oval Wheel-to-Wheel Nerf Bars for 2010-2018 Dodge Ram 2500/3500 Crew Cab
---
6. APS iBoard Running Boards for Mega Cab (ASIN – B07F79GRXJ)
Compatibility: 2010-2021 Ram 2500/3500 Mega Cab
Do you drive a Mega Cab Ram 2500? These running boards should be the ones for you. This configuration is not as common, so it may be harder to find the right set of side steps. However, there are certainly still options out there, including this set. It's a great choice, offering a solid price point with excellent construction and support. The look of these running boards also won't detract from your actual truck. There are many reasons to go with these iBoard side steps, and they should be a consideration for anyone with a Mega Cab.
APS iBoard Running Boards (Nerf Bars Side Steps Step Bars) Compatible with Ram 2500 3500 2010-2021 Mega Cab 5.5ft Bed (Silver 6 inches Wheel to Wheel)
---
Wheel to Wheel Running Boards Ram 2500

Buying Guide
Finding a set of running boards should be easier with our list, but there's no absolute guarantee you'll find what you need. If you went through our list without coming across an option that works for you, this next section should help. Here in our buying guide, we'll fill you in on what to look out for when shopping for the best wheel to wheel running boards Ram 2500. Additionally, you can find a little bit of advice about installation running boards, as well as some more information on getting in touch with Ultimate Rides.
Factors of Focus: What Makes a Quality Set of Running Boards?
If you're reading through this guide, you already know most of what you want out of your running boards. Wheel to wheel sets are harder to find, but there are definitely some great options out there. For those looking for high quality, the most important thing to keep an eye on is the material the running boards are made from. In general, the more you pay for a set of running boards, the greater you can expect the quality to be. We recommend doing your research on any product before buying to make sure it's up to your standards.
Installation Tips
Usually, the installation process for running boards isn't too difficult. However, it will take some tools and the proper space and time. If you don't feel like dealing with it, you can always opt for professional help. This is especially true if you go with a powered pair of running boards. You'd have to deal with electrical wiring and a more intensive installation there. However, we think most self-reliant folks won't have too many issues getting their next set of running boards installed on their own.
In Conclusion
Here at Ultimate Rides, we've set out to help our customers in as many ways as possible. In addition to offering stunning vehicles available for delivery, our custom service center is also open to the public. We'll upgrade and fix your current vehicle, and get you set up with an amazing option when you're ready for your next one. We even offer repairs and maintenance for vehicles. Ultimate Rides is located in the Chicago area, and we encourage you to come see us if you're around. We are located at 38 W. Division St., Coal City, IL 60416. You can also reach us over the phone today at 815-634-3900.
---
Two Brothers With a Dream

,

Building The Best Ultimate Rides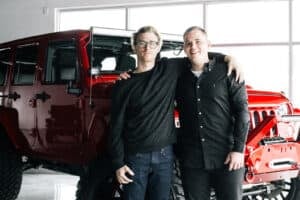 Ultimate Rides consists of two brothers who have been buying and selling custom vehicles for over ten years. Selling lifted trucks by day and writing these awesome reviews by night! They started their Ultimate Rides journey with a third brother Jake, who was a big part of building the business they have today. In 2016 Jake passed away and losing their brother was the hardest thing they ever had to deal with. Even though they had a tragic loss they plan to continue to set a new trend for the auto industry, keeping customers number one. Pushing the envelope on the lifted truck market, these guys love researching and learning about everything in the auto industry!
 — Nick and Alex Bulanda, Founders of Ultimate Rides