Lifted Chevy Silverado 1500 for Sale
Find a

Lifted Chevy Silverado 1500

Truck Right Now at Ultimate Rides
You almost can't go anywhere out on the roads these days without seeing someone driving around in a lifted truck. They've become hard to find at many used truck dealers because they simply can't keep them in stock as customers want to buy them so quickly. Ultimate Rides is one place you can always find lifted trucks. Since day one, over 10 years ago, we've been committed to delivering high-quality custom vehicles to our customers. We're located in the Chicago area, but most of our business is done with buyers who live outside the area. Wherever you are, if you're in need of an incredible truck, we've got just the thing for you.
One of the most popular pickup trucks out on America's roadways today is the Chevy Silverado 1500, and it isn't hard to figure out why. It's a powerful and economical vehicle, great for work and daily commutes. The Silverado offers a great deal of customization for those who like to modify their trucks, and that's something that is always appreciated here at Ultimate Rides.  Today we'd like to tell you a little bit about the services and vehicles offered at Ultimate Rides, as well as about the lifted Chevy Silverado 1500 truck itself.
What Sets Our Inventory

Apart from the Rest
One thing you won't find on any of our vehicles is rust damage, which is one of the main factors that us apart when it comes to quality. It can feel damn near impossible to avoid rust damage while owning a vehicle in the Midwest, but it is possible with the right precautions. We bring our vehicles in from warmer parts of the United States like New Mexico and California in order to find them as clean and free of rust as can be. Once we find a vehicle that we believe is the right fit for our inventory, such as a lifted Chevy Silverado 1500, we bring in back in to be cleaned up and modified.
Upon taking a look at our vehicles, you may notice right away that many of them feature modifications made by our team here. Whether it's a set of custom tires and rims, a full suspension lift kit, custom lights or something else entirely, we have all kinds of options available. Anybody who wants their next vehicle to stand out and fit their personality owes it to themselves to check out everything Ultimate Rides has to offer.
Customer Service

for a New Generation
In our opinion, the old way of used auto business tactics haven't held up to the test of time. It should no longer be socially acceptable for truck dealers to work you over and try to wring as much cash as possible from you. Here at Ultimate Rides, you won't have to deal with salespeople that over-promise and under-deliver. Our team will instead be helpful, friendly, and ready to walk you through everything you need to know before you buy. If you have any questions, we're just a phone call away, and always more than happy to help.
We even are known to go above and beyond normal expectations for our customers. If there's a vehicle you've been trying to track down but so far haven't had any luck, let us know! We'll have our buyers stay on the look out for the vehicle, and as soon as we find it we'll let you know! From there you can have it sent over to our lift center for modifications, or we'll set you up with a standard financing deal and get the vehicle to you. If there's ever anything we can to do be of greater service to you, please don't hesitate to let us know!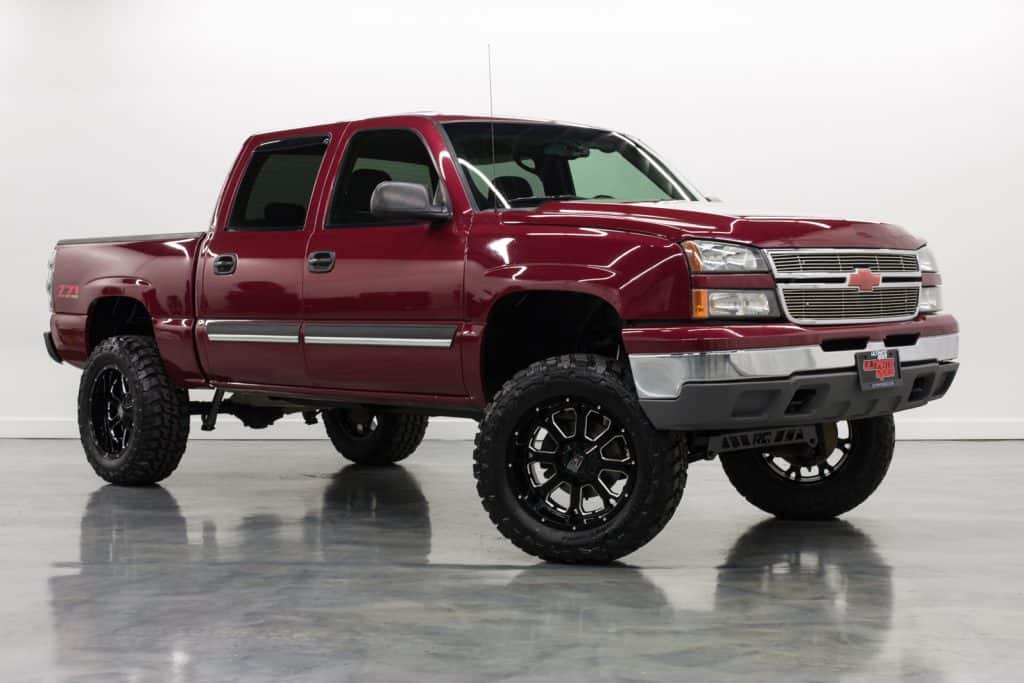 Our Service Center Offers

Next Level Customization

on Any Vehicle
As we briefly touched upon earlier, it is not always easy to find custom trucks in good shape out in the wild. Ultimate Rides is a reliable and trustworthy source of high-quality vehicles. Take a look at everything available in our inventory, and we think you'll like what you find. One more element that sets us apart from other auto dealers is that any time you buy one of our rides, you have the opportunity to send it over to our lift center to have it customized before you take it.
That means if you spot a truck you love but think it would look better with a different set of tires, we can do it for you no problem. That offer goes for any one of our vehicles, with just about any modification you can think of. If you want a lifted Chevy Silverado 1500 with a light bar attached to the top, we can make it a reality. We'll even allow you to finance the cost of your lift center modifications alongside your vehicle financing deal, allowing you to take care of them both with one simple payment.
History of the

Chevrolet Silverado

Truck
The Silverado, along with its mechanical counterpart the GMC Sierra, was first released as a part of the 1999 model lineup. The vehicle was in many ways a continuation of the classic Chevy C/K truck, but an attempt at a modernized version. There are both heavy-duty and light-duty variations of the Silverado available, with 1500 representing light-duty and 2500 and 3500 representing heavy-duty. Each year, the Silverado continues to be one of the best-selling trucks around, and it's for good reason. The truck is strong, reliable and can be customized to your liking.
Throughout its 20 year lifespan, the Silverado 1500 has undergone three re-designs, with the most recent taking effect with the 2018 model year. The first generation of the Silverado encompassed the years 1999 through 2007, and many of the used Silverado pickup trucks you'll find out there today are from this gen. Throughout that first generation, the Silverado 1500 could be found equipped with one of three different engines: the 4.3L Vortec 4300 V6, the 4.8L Vortec 4800 V6, or the 5.3L Vortec 5300 V6.
The second generation lasted from 2007 through 2014, and along with some exterior upgrades, the trucks received upgraded engine offerings. You could now find powerful V8 engines even in the light-duty 1500, giving drivers even more power and performance. Whenever you buy a truck, it's worth doing some research on your own to find out more about which engines are offered and which people tend to prefer. With the Silverado 1500, the general consensus is that bigger is better, so keep an eye out for one of those V8s whenever you can spot one.
What is it About

Lifted Chevy Silverado 1500 Trucks

That is So Special?
Pickup trucks are popular all over the United States for many different reasons. Some love to use them for work because of their storage space and ruggedness, while others simply like how they look and feel while driving. Whatever your reasoning for being a truck driver is, it's probably different from most other folks. One thing we can all agree on, however, is that the Chevy Silverado is one of the standout trucks of the past 20 years. You'll find excellent performance, incredible comfort and extensive utility all together in one truck.
It's easy to customize your lifted Chevy Silverado 1500 without taking away its distinct look, making it fit to your personality. If you're looking for a light-duty truck, there's really no better option out there. You can fit it with your preferred tire size, choose your desired lift kit, outfit it with more custom modifications, and before long you'll be the envy of your entire neighborhood.
Shipping is as

Easy as Can Be
One thing we often hear from first-time customers is that they've never made a major purchase like a vehicle over the phone or internet before. It's perfectly understandable to question the process, and we're more than happy to fill you in on how it works. We're very experienced in shipping and have the process down to a fine science, so if you have any questions on how it will work, please feel free to give us a call.
We suggest starting out by looking at the vehicles we have for sale on our website. There are plenty of different options available, from a lifted Chevy Silverado 1500 to SUVs and more. Once you've made a decision and you're ready to take the next steps towards purchase, go ahead and give us a call! We can provide with your more information and high-quality photos of the vehicle, as well as answer any of your questions about it. Whenever you're ready, we can start working out the details of financing and before you know it we'll have your vehicle ready to ship off! We can even include the cost of shipping within your financing deal if you desire.
We know that not everyone has easy access to high-quality custom used vehicles depending on where they live, and that's why we try to make our inventory open to as many different buyers as possible. Whether you live nearby or on the other side of the globe, we want to provide you with a safe and reliable vehicle built by a team of experienced professionals.
Ultimate Rides Also Offers

Repair and Maintenance Services
Once you've got your truck out on the road, it's important to take care of it to make sure it stays in great shape. That is where we come in. In addition to modifications, our service center provides a full range of repair and maintenance services. Whether you need someone to change your synthetic oil, or you seem to be having engine troubles, we can do it all. Our rates are fair and affordable, and we are a team that you can trust.
It's important to have the right mechanic on hand for those problems that always tend to crop up after years on the road. Let us be your number one go-to shop for mechanic and maintenance, and we'll show you why we're the best around at what we do. We can get it done fast, affordably, and with excellent precision and care. Give us a call to find out more about our repair and maintenance services at your convenience.
Ultimate Rides is the Best Source for

Custom Trucks and SUVs

 Around
We hope that we've kept you well-informed about the lifted Chevy Silverado 1500, as well as everything we do here at Ultimate Rides. Whether you're currently shopping for your next vehicle or looking for somewhere to get your current truck fixed, we're the place to go. We offer friendly service at fair prices, and we never shy away from going the extra mile for our customers. Don't believe us? Check out some of our hard-earned top notch online reviews today on your preferred search engine.
If you'd like to get in touch with Ultimate Rides, you can give us a call any time during business hours at 815-634-3900. To find our office and lot, you can always visit us at 38 W. Division St., Coal City, IL 60416. We can't wait to meet you!