Best All Terrain Tire for Daily Driving (Review & Buying Guide)
Finding the Best All Terrain Tire for Daily Driving Today
There are many reasons one might want to outfit their ride with all terrain tires. If you spend a lot of time off-road driving, it will pay off to have a set equipped. However, not every set of all terrain tires is going to be good for daily driving. Some get worn down quickly, while others just don't handle quite as well on the road. With today's guide, we've set out to share options for the best all terrain tire for daily driving. This should help you locate the right options for your truck if you use it for your daily commute as well as recreation.
Below you'll find a list that features some of our personal favorite options. After that, we have our buying guide that should provide you with useful tips you can remember while shopping. Finally, at the end, you'll have access to a quick breakdown on how to properly read tire names. You may be surprised at the amount of information you can gather from the model name alone! Now let's get started sharing some of the best all terrain tire for daily driving.
---
1. Falken Wildpeak AT3W All Terrain Radial Tire – P285/70R17 117T (ASIN – B01C53CMCS)
Our pick for the best all terrain tire for daily driving comes from Falken, and it's their Wildpeak AT3W tires. In addition to its excellent performance off-road and in variable weather conditions, this tire holds up admirably on pavement as well. They aren't super loud out on the road, which can be a problem with many all terrain tire models. Customers also say that these tires offer great handling both on the road and off, making it a great choice as an all purpose all terrain set. We'd say you will feel confident and comfortable driving on these tires no matter where you are. They offer plenty of off-road traction without taking anything away from your everyday performance.
Falken Wildpeak AT3W All Terrain Radial Tire – 285/70R17 117T
---
2. Bridgestone Dueler A/T Revo 3 All Terrain Tire P275/60R20 114 T (ASIN – B07DTJXXHN)
Bridgestone has long been one of the industry's most reliable tire manufacturers, and you can count on the Dueler all terrain Revo 3 as your next set of tires. They offer great performance in rain, snow and other harrowing weather conditions. On top of that, they're quiet compared to most other all terrain tires. Bridgestone offers a 60,000 mile limited tread wear warranty, hopefully giving you further confidence in the product. This is a truly adaptable set of tires, able to get you through tough situations as well as everyday ones. The Bridgestone Dueler A/T Revo 3 is an excellent modern tire that you should feel proud to install on your truck or SUV.
Bridgestone Dueler A/T Revo 3 All Terrain Tire P275/60R20 114 T
---
3. Kumho Road Venture AT51 All-Terrain Tire – LT285/70R17 10-ply (ASIN – B01A0R60G0)
Another set of acclaimed all terrain tires comes to us from Kumho. The Road Venture AT51 is a reliable tire that performs wherever you need it to. It offers excellent tread life using its dual silicon compound, also allowing for enhanced fuel efficiency. Along with that, you'll find it's a quiet ride, easy to handle and comfortable to drive. If you need something to rely on day in and day out, for both work during the week and adventures on the weekends, this may be the best all terrain tire for daily driving you can find. It's also available at an excellent price point, which is another added bonus to enjoy.
Kumho Road Venture AT51 All-Terrain Tire – LT285/70R17 10-ply
---
4. Patriot Tires MT All-Terrain Radial Tire – 35×12.50R20LT 121Q (ASIN – B0792KDVQC)
With Patriot Tires, you've got another brand that you can rely on for quality. This set is specifically one of our favorites, offering impressive performance, plenty of traction both on and off the road, and a durable tread that is resistant to chips and cuts. This is one sturdy tire and tread, and you should be able to tell just by the look of it how well it performs off road. However, that performance also caries over into regular driving conditions. Though it may not be as quiet as some of our first few offerings, this is certainly not a bad choice for your next set of tires.
Patriot Tires MT All-Terrain Radial Tire – 35×12.50R20LT 121Q
---
5. Toyo Open Country A/T II Performance Radial Tire P265/70R17 121S (ASIN – B008X0UWNE)
Next up, we've got a tire that comes to us from Toyo Tires. This is a highly-reviewed tire that should bring excellent performance to the table no matter where you're driving it. It has treads that are a little less deep than the other models we've included, which may slightly reduce its off road performance. However, that can be made up for on paved roads. This tire offers quiet and precise performance, making it a joy to drive in any situation. They offer plenty of torque for most drivers, and won't easily succumb to chips and tears in the road. We feel confident recommending these to our readers as one of the top choices out there.
Toyo Open Country A/T II Performance Radial Tire-265/70R17 121S, Model:352410
---
6. Federal Couragia A/T All-Terrain Radial Tire – P265/70R17 115S (ASIN – B00OMXE0R0)
Federal is one of our favorite manufacturers of tires here at Ultimate Rides, and we especially love the Couragia line. These tires are truly a fantastic choice for your truck or SUV. They're great at handling in off road situations as well as on the road, and they're quiet too. Whether you're concerned about road conditions, high speed handling, or safety, these tires have it all. This set features a slightly shorted tread depth, and can fit on 17 inch wheels. However, if that doesn't suit your needs, feel free to look at some of the other sizes they have available! We think you'll find something you like.
Federal Couragia A/T All-Terrain Radial Tire – 265/70R17 115S
---
Best All Terrain Tire for Daily Driving Buying Guide
There are two truly important things to consider when shopping for tires for your vehicle. First, you want to determine the compatibility of the tire. That means understanding what all the codes and sizes mean, and what exactly you need for your ride. We've got more help with that down below! The other major factor is quality. When determining the quality of a set of tires, a few things come to mind. First is handling, followed by longevity. In order to find the best all terrain tire for daily driving, we recommend doing a lot of research. Customer reviews can be helpful, as well as those from professionals. At the end of the day, however, it all comes down to what you think is right for your budget and situation. We hope some of the tires we shared here today will work out for you!
Understanding Tire Size Measurements
When you take a look at a tire, right away you should notice a variety of different codes and markings along the side. While these numbers can be confusing, it's not all gibberish! Today, we want to help you figure out what all these numbers mean and how they can help you find the right tire for your needs. Let's use the Falken Wildpeak as our example, in our opinion perhaps the best all terrain tire for daily driving.
The Wildpeak AT3W reads: P285/70R17 117T. In that code, the P just means that the tire is rated for passengers here in the United States. That next number, the 285, represents the width of the tire tread in millimetres. The 70 is a number that represents the height of the tread. However, instead of being the exact number, it's just a percentage of the width. So in this case, the width of the tread is 285 mm, and the height is 70% of that, which equals roughly 200 mm. The R describes what kind of tire it is, in this case a radial tire. The 17 after the R is the diameter of the wheel in inches. The 117 near the end is the tire's load index, and finally the T is the speed rating.
Closing Thoughts
If you have any other questions concerning all terrain tires for your vehicle, please give Ultimate Rides a call. We can help you order the correct tires, and if you're in our area we even have the ability to install them for you! You can get in touch with Ultimate Rides today by calling 815-634-3900. Additionally, if you're in the Chicago area, you can find our office by visiting 38 W. Division St., Coal City, IL 60416. We have one of the best teams of mechanics in the country, let alone Chicago. Come find out today!
---
Two Brothers With a Dream

,

Building The Best Ultimate Rides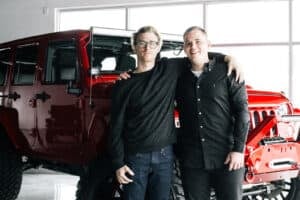 Ultimate Rides consists of two brothers who have been buying and selling custom vehicles for over ten years. Selling lifted trucks by day and writing these awesome reviews by night! They started their Ultimate Rides journey with a third brother Jake, who was a big part of building the business they have today. In 2016 Jake passed away and losing their brother was the hardest thing they ever had to deal with. Even though they had a tragic loss they plan to continue to set a new trend for the auto industry, keeping customers number one. Pushing the envelope on the lifted truck market, these guys love researching and learning about everything in the auto industry!
 — Nick and Alex Bulanda, Founders of Ultimate Rides