Custom Off Road Trucks for Sale
Find Custom Off Road Trucks for Sale at

Ultimate Rides
At Ultimate Rides, we know all too well that buying a custom vehicle can be a long and arduous process if you shop at traditional auto dealers. This is especially true for pickup trucks. Most times, buyers pick up these trucks almost as soon as dealers list them. The solution to this problem is to shop at the auto dealer that only sells high-quality custom vehicles: Ultimate Rides.
In this guide, we want to give you a breakdown of the many vehicles and services you'll find at Ultimate Rides. You'll learn about our lift center, the strong inventory we offer, and our customer service philosophy. If you have any questions, or you're ready to talk with us about a vehicle, you can give us a call at 815-634-3900! In the meantime, take a look at the info below.
Learn About Our

Custom Service Center
Most of the trucks in our inventory have been altered by our team at Ultimate Rides. Whether it's a lift kit, custom wheels or a new interior, there's a lot to see. Take some time to browse our inventory to get an idea of what we mean, or take a look at the trucks pictured on this page. Every time you buy a vehicle from us, you'll have the option to send it over to our lift center. There we can make any number of final adjustments on your vehicle. If you'd like a full list of all the custom services at Ultimate Rides, give us a call. A few examples include performance chips, light bars, running boards and of course lift kit installation.
When you choose one of these upgrades, you'll have the option to either pay for the cost upfront, or finance it along with your vehicle. Once you decide, we'll get to work on your vehicle. Our team will ensure you get the truck you want, down to every detail. We'll let you know as soon as it's ready, and you can come and get your new vehicle.
Our lift center is also open to members of the public for their own vehicles. If you're interested in getting some adjustments on your ride, be sure to get in touch with us! We have fair pricing with excellent quality installation. Just take a look at some of our customer reviews online if you don't believe us!
Vehicle Delivery Available

Right Now
No matter where you live, Ultimate Rides can get a vehicle to you. More than 50% of our business is done with customers who live outside our area. To us, that signals that we have something special to offer that you can't just find in your local area. We make it easy to order from us with our vehicle delivery service. Take a look at the inventory available here on our website. Once you've narrowed it down to a few vehicles, or even a single one, go ahead and give our office a call. We can take care of the entire buying process over the phone.
When you have made a final decision on your chosen vehicle, we'll gather all of your financing details and arrange the deal. Everything is taken care of easily and securely over the phone. You'll be able to choose between paying for the cost of delivery now, or financing it with your vehicle. We make it easy as can be to offer custom off road trucks for sale anywhere you are. Feel free to get in touch with our office if you have any questions, or if you're ready to order your next ride.
Ultimate Rides Offers a Different Kind of

Customer Service
Auto dealerships have not earned a good reputation among customers in recent years. Many people feel that it's become a chore to shop for a vehicle, and something that they'd rather avoid. At Ultimate Rides, we want to change that mentality. In addition to offering high-quality vehicles, we offer top-tier customer service. You'll be treated with respect by our team, and we won't push any unwanted vehicles or add-ons.
Instead, it's our goal to assist you in finding your perfect vehicle. We offer custom off road trucks for sale, along with a variety of other vehicles. If you already know what you're looking for, our team will be able to bring up exactly what you want. If you're not quite sure yet, we can help you pinpoint exactly what you need.
We'll even go above and beyond the norm to ensure you're satisfied. Are you in search of a specific vehicle but haven't had any luck in finding it? Let us know and, with a small deposit, we'll have our buyers seek out this vehicle. As soon as we find it, we'll bring it back to our HQ and get it ready for you. Let us know if there's anything you think we can do for you and we'll do our best to accommodate.
Our Vehicles Stand

Apart from the Pack
At your standard local dealership, you'll likely find a range of quality when it comes to vehicles. If you're very lucky, you might find a one or two custom off road trucks for sale, but their quality may vary. At Ultimate Rides, you should expect only the best vehicles. We specifically track down vehicles that are free of rust and other damage. From there, we bring them back to our shop and customize them with great upgrades! If you are tired of shopping for vehicles and not really knowing what you're going to get, come and visit us. We have a wide inventory of excellent vehicles, and we're happy to share them with you.
We are able to accomplish this by sending our buyers out to warmer regions of the USA. They find the best quality vehicles they can and bring them back to us. This helps us avoid the rust damage that is so common within the Midwest, and we're happy to pass that quality along to you.
Custom Off Road Trucks for Sale with

Lifted Suspension
Are you familiar with lifted suspension and what it can do on a vehicle? If you're not, we can help you out with the basics. Essentially, lifted suspension raises up the cab of a truck in the best way possible. It'll increase your truck's off road performance, as well as offer some advantages for standard driving. Much of it has to do with the different kind of drive it provides. It can be difficult to explain, but there's just a different feeling in driving a truck raised off the ground.
As for off road performance, you'll find that it increases your ground clearance. This will help avoid rocks, brush and other terrain that could damage or scratch up your truck. Additionally, you'll be seeing your surroundings from a higher vantage point. This can allow you to see over bushes and across terrain easier, but may make it more difficult to see things that are right up close to your vehicle.
Get Your Vehicle Fixed and Maintained

Right Here
Along with all of these other services we offer, we can also fix and maintain your vehicle. It doesn't matter if you bought the ride from us or not, we're here to help you get it and keep it in shape. We also offer vehicle detailing, allowing you to get your vehicle spotlessly cleaned. As with our custom modification services, our prices are very fair. Give us a call to hear everything that we have to offer. Our team is the best, and we're happy to share their talent with the world.
Ultimate Rides is Your Number One

Custom Vehicle Destination
If we've done a good job of convincing you, we encourage you to reach out the next time you're in need of a new vehicle. We have plenty of incredible custom off road trucks for sale, and we're always eager to show them off. You can find Ultimate Rides at 38 W. Division St., Coal City, IL 60416. If you'd like to give us a call, you can once again reach us at 815-634-3900.
---
Two Brothers With a Dream

,

Building The Best Ultimate Rides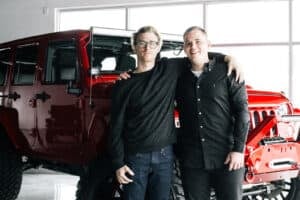 Ultimate Rides consists of two brothers who have been buying and selling custom vehicles for over ten years. Selling lifted trucks by day and writing these awesome reviews by night! They started their Ultimate Rides journey with a third brother Jake, who was a big part of building the business they have today. In 2016 Jake passed away and losing their brother was the hardest thing they ever had to deal with. Even though they had a tragic loss they plan to continue to set a new trend for the auto industry, keeping customers number one. Pushing the envelope on the lifted truck market, these guys love researching and learning about everything in the auto industry!
 — Nick and Alex Bulanda, Founders of Ultimate Rides