Lifted Diesel Trucks for Sale at Ultimate Rides
Lifted Diesel Trucks for Sale in
Excellent Condition
Is the prospect of shopping for your next vehicle stressing you out? It doesn't have to be that way. At Ultimate Rides, we work hard to provide our customers with the best vehicle shopping experience. Located an hour outside of Chicago, we ship our custom vehicles all over the United States and beyond, ensuring you have access to great quality rides wherever you're from.
That includes custom diesel trucks. Many of our vehicles include suspension lift upgrades, and we love getting diesel engines through our doors as well. The combination of the two leads to an incredible driving experience, especially in the hands of our talented team.
If you feel like you've been wasting your time shopping at local auto dealers only to be disappointed, you're in the right place. Our team will work with you to find your perfect vehicle, and we'll deliver it right to your home.
The
Diesel Difference
There are a number of reasons why some drivers choose lifted diesel trucks for sale over a standard fuel engine. While the models might cost more upfront, they're known for offering favorable fuel efficiency. In addition to meaning fewer trips to the gas station, that extra efficiency also means the diesel engine can out-perform most standard gas engines. With higher efficiency also comes less wear and tear on the engine. Diesel trucks are known to last quite a bit longer than your average pickup, especially if you take good care of it. Without the need for spark plugs or a distributor, you'll even have less maintenance to worry about.
Are you someone who is concerned about the environment? While some say diesel is worse for the environment, in truth it emits less carbon dioxide than your standard gas engine. Older diesel engines used to be known for other harmful byproducts like soot, but modern engines have done away with many of these issues. While diesel fuel is often slightly more expensive than regular gas these days, fewer trips to the pump means you'll still save in the long-run.
How Do
Diesel Engines

Work?

In basic terms, the way a diesel engine works is not too different from a typical gas engine. The engine still uses an internal combustion system to change fuel to energy, powering the motor and pushing the vehicle forward. While standard gas engines expose the fuel to air and spark plugs are used to ignite it, diesel engines work a little differently. They first compress the air, getting it hot, and then inject the fuel. The diesel fuel, when combined with the compressed hot air, ignites and removes the needs for spark plugs. Beyond that important change, the two systems function almost the same.
Customize a Truck in the

Lift Center
Perhaps the biggest thing that sets us apart from standard auto dealers is our focus on custom vehicles. That's all made possible through the presence of our specialty lift center. At Ultimate Rides, we absolutely love driving lifted vehicles, and we want to share that passion with you. Many of the vehicles for sale in our inventory feature lift kits provided by our expert team. It's all done right here in the Ultimate Rides lift center. In addition to customizing the vehicles in our inventory, our lift center is also open to you! Any time you buy one of our vehicles, you'll have the option of sending it back to our service center for additional work. We can help you out with just about any customization you can think of. Running boards, new stereo setups, engine performance chips, LED headlights, and so much more could all be yours.
Just let us know that you're interested in these adjustments and we'll get everything set up before we ship one of our lifted diesel trucks for sale out to you. You'll be able to decide if you'd like to pay for the cost of this work separately from your vehicle, or if you'd like to finance the whole sum together. This allows our custom services to be affordable for just about everyone!
Our Service Center is Open to the Public!
Additionally, if you live in the Chicago area, you can always bring your current vehicle to us for some work. Our ASE-certified team of technicians will be glad to take on your vehicle and make any changes that you'd like. Give us a call today if you wish to learn more about this process, or if you're ready to schedule a visit for your vehicle! We can help bring your vision of the perfect truck to life, so contact our office soon to move forward. As always, our team offer top-level work, and our prices are very fair.
Vehicle Delivery Easily Available for

All Customers
When shopping with Ultimate Rides, it won't matter where you live. We have the ability to ship our vehicles all around the world. In fact, more than half of all of our business is done with buyers outside of our immediate area. That's because we offer something that most local auto dealerships out there don't: high-quality custom rides.
This is even more relevant when looking at lifted diesel trucks for sale. As they only make up a small percentage of overall vehicle sales, a good diesel engine can sometimes be hard to find in the wild. With the shipping from Ultimate Rides, you'll always be able to find a reliable truck to order. If we don't have a diesel option currently in stock that catches your eye, we'll certainly be able to track one down for you. Contact us and let us know specifically what you're after. Our team will hunt it down and let you know as soon as we have it.
Our Inventory is Totally

Rust-Free
It's very important to us that our customers get the absolute best quality vehicles we can offer. That's why we don't bring in any cars, trucks or SUVs with rust damage. This isn't exactly easy, as rust is incredibly common here in the Chicago area. However, we send our buyers out to warmer and milder areas of the country, where rust isn't as commonly found on vehicles. Our team brings back the best options they find, and from there we inspect them in our lift center to make sure they meet our standards. This is where we customize many of our vehicles as well. After all that, we'll list the vehicles on our inventory so you can start shopping for them. If you have any questions about a specific vehicle, you are always welcome to call us.
Rust is pretty common in preowned vehicles. At most standard dealerships, you're probably going to find a number of options with some rust damage. While this doesn't always mean the vehicle is nearing its end, it usually isn't a great sign. Plus, who wants to buy a vehicle and have to deal with that, let alone how it affects the look of the ride. When you shop with Ultimate Rides, you won't have to worry about getting stuck with a rust bucket. That's just one of the many reasons to find your next vehicle right here.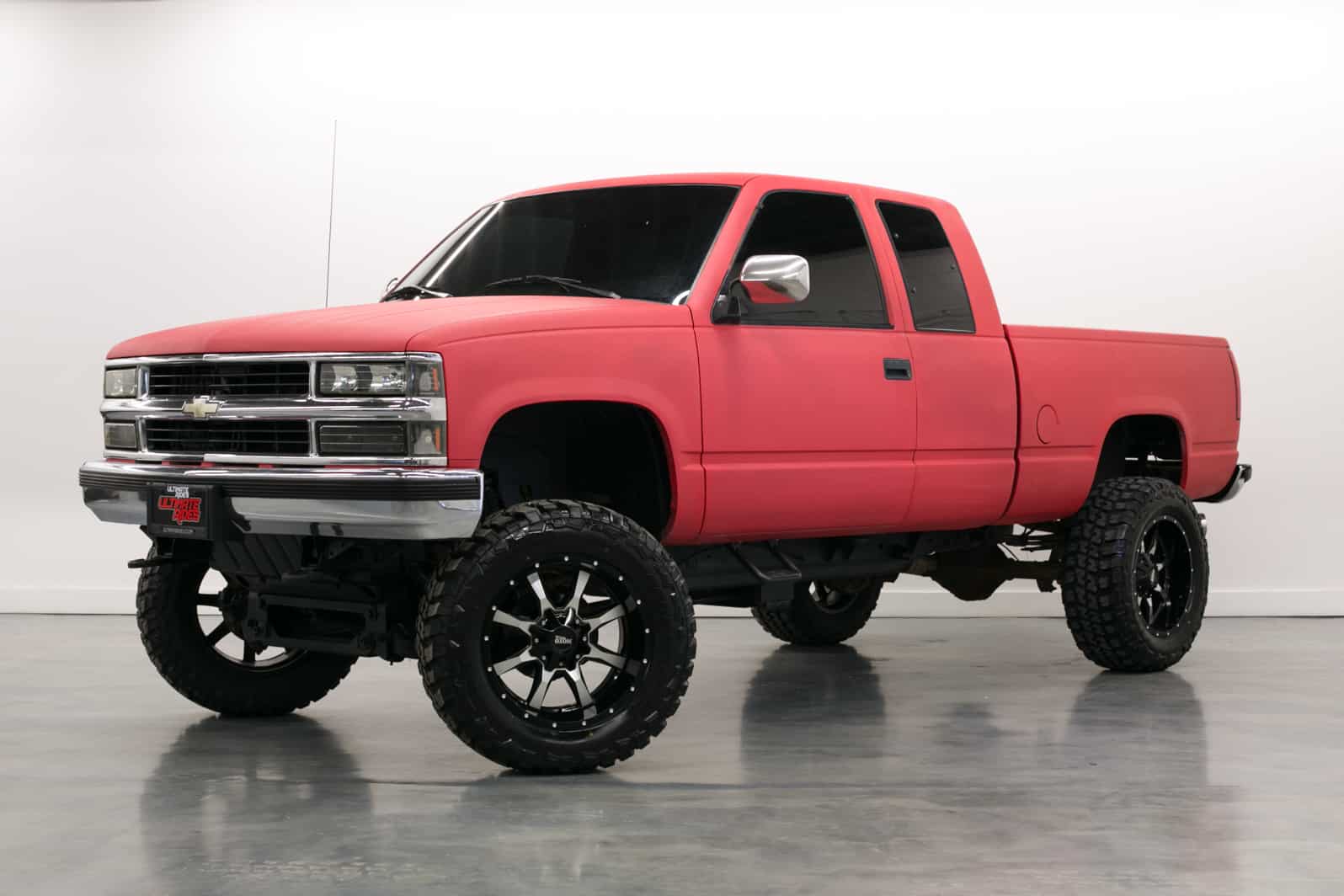 Best Engines in
Lifted Diesel Trucks for Sale
It probably goes without saying, but not all diesel engines are the same in terms of quality. Depending on what you plan to use the vehicle for, you may find that a different engine is better for you. Below are some of the most highly-rated diesel engines available for drivers today, both new and old.
Ford International/Navistar 7.3L Power Stroke V8 Turbo Diesel
One of the most legendary diesel engines of the modern era, these babies used to come in Ford model trucks from 1994 through 2003. They are still highly sought after by diesel enthusiasts today. This is due to being simple and long-lasting. While there are more recent engines that offer more raw power, you'll have a tough time finding an engine with the character available here.
Cummins 6.7L 24-Valve I6 Turbo Diesel
Many drivers prefer a modern engine, and it's tough to go wrong with Cummins. This engine can be found in certain Ram 3500 trucks from 2021 onward, and with the right setup could offer 420 horsepower or even more with some aftermarket adjustments. If that's not enough to sell you on this engine alone, with the right transmission you could reach up to 1,075 lb.-ft. of torque, perfect for towing heavy vehicles and other cargo.
Cummins 5.9L 12-Valve Turbo Diesel (First and Second Generation)
The right retro engine can offer performance unlike anything you'd find today. One of our favorites is the Cummins 5.9L. Whether you find a re-built model, or an original engine, you can count on it being a great engine to customize. Drivers who intend to tweak their performance can find fewer better options, as long as you're able to locate one in good shape.
---
Two Brothers With a Dream

,

Building The Best Ultimate Rides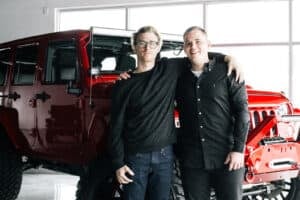 Ultimate Rides consists of two brothers who have been buying and selling custom vehicles for over ten years. Selling lifted trucks by day and writing these awesome reviews by night! They started their Ultimate Rides journey with a third brother Jake, who was a big part of building the business they have today. In 2016 Jake passed away and losing their brother was the hardest thing they ever had to deal with. Even though they had a tragic loss they plan to continue to set a new trend for the auto industry, keeping customers number one. Pushing the envelope on the lifted truck market, these guys love researching and learning about everything in the auto industry!
 — Nick and Alex Bulanda, Founders of Ultimate Rides