What to Know about Towing with a Lifted Truck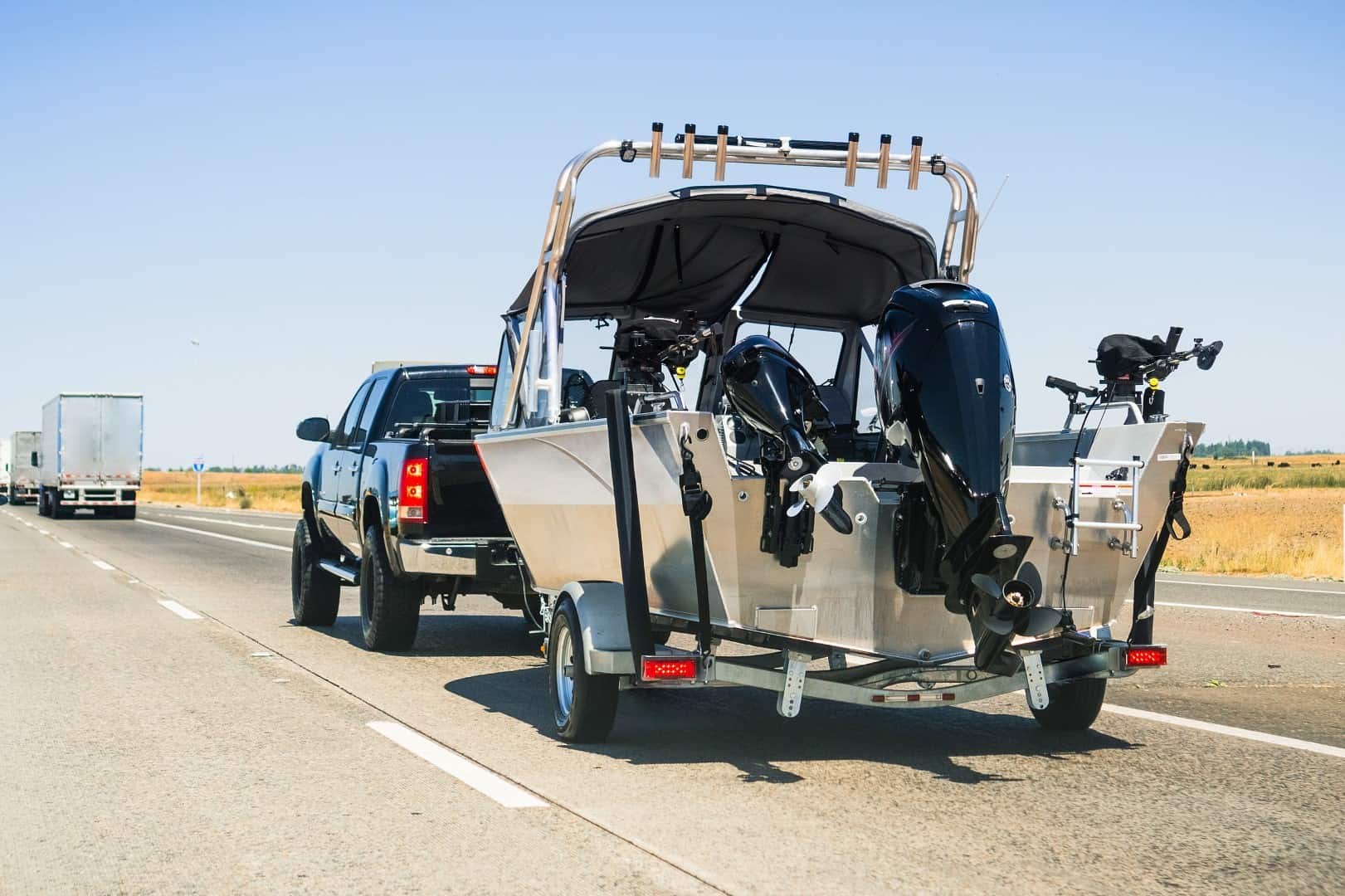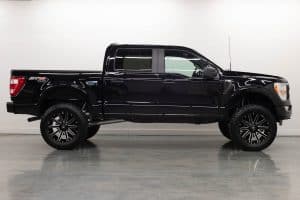 Towing with a Lifted Truck:

What You Should Know
A suspension lift is one of the most exciting upgrades you can install on a pickup truck. They'll offer a cool new look, but it's important to note the ways it changes your performance. Once your truck is lifted, there may be some changes in your ability to tow. Not all of those changes are negative. In fact, there are some benefits to towing with a lifted truck. On the flip side, though, there are also some things you need to caution yourself for.
Read through this short guide to learn some of the basics about towing with a suspension lift. At the end, we'll also tell you more about Ultimate Rides, just in case you're thinking about upgrading vehicles. Let us know if you have any questions and someone from our team will be happy to help!
Attaching a

Drop Hitch
While your truck will be higher up off the ground, whatever you plan on towing most likely will not. That means you may have to install a drop hitch onto your truck. This is a towing hitch that drops down to accommodate the difference in height between the truck and trailer. It's important to choose your drop hitch carefully. Some are stronger than others, so make sure to buy an option that suits what you plan on towing. It's also worth noting that not everything will require a drop hitch. Do your research and make some measurements to find out whether or not the trailer or object you're towing will need one or not. If you're not sure, bring your truck to suspension experts and they should be able to provide more useful details, or even hook you up with a quality towing setup.
The Types of Trailers Your Truck Can Tow

May Change
If you need to tow something particularly heavy, you may run into trouble with a lifted truck. That's because most drop hitches can only tow a certain amount of weight, and it's typically less than what you'd get from a standard towing setup. Because the drop hitch hangs down from the truck, it simply can't hold as much weight. That means you'll have to carefully pick and choose what you do and don't tow with your truck. For extremely heavy trailers and things of that nature, you may want to opt for a different vehicle to tow them.
However, there are some benefits you can find from quality suspension. You'll have more room between your truck and the ground, meaning you have far less of a chance of bottoming out. The key is ensuring your truck is equipped with everything you need to tow your specific trailer. Lifted vehicles can be outfitted to tow heavy equipment or trailers, so just make sure to do your homework before hitting the road in your current truck setup.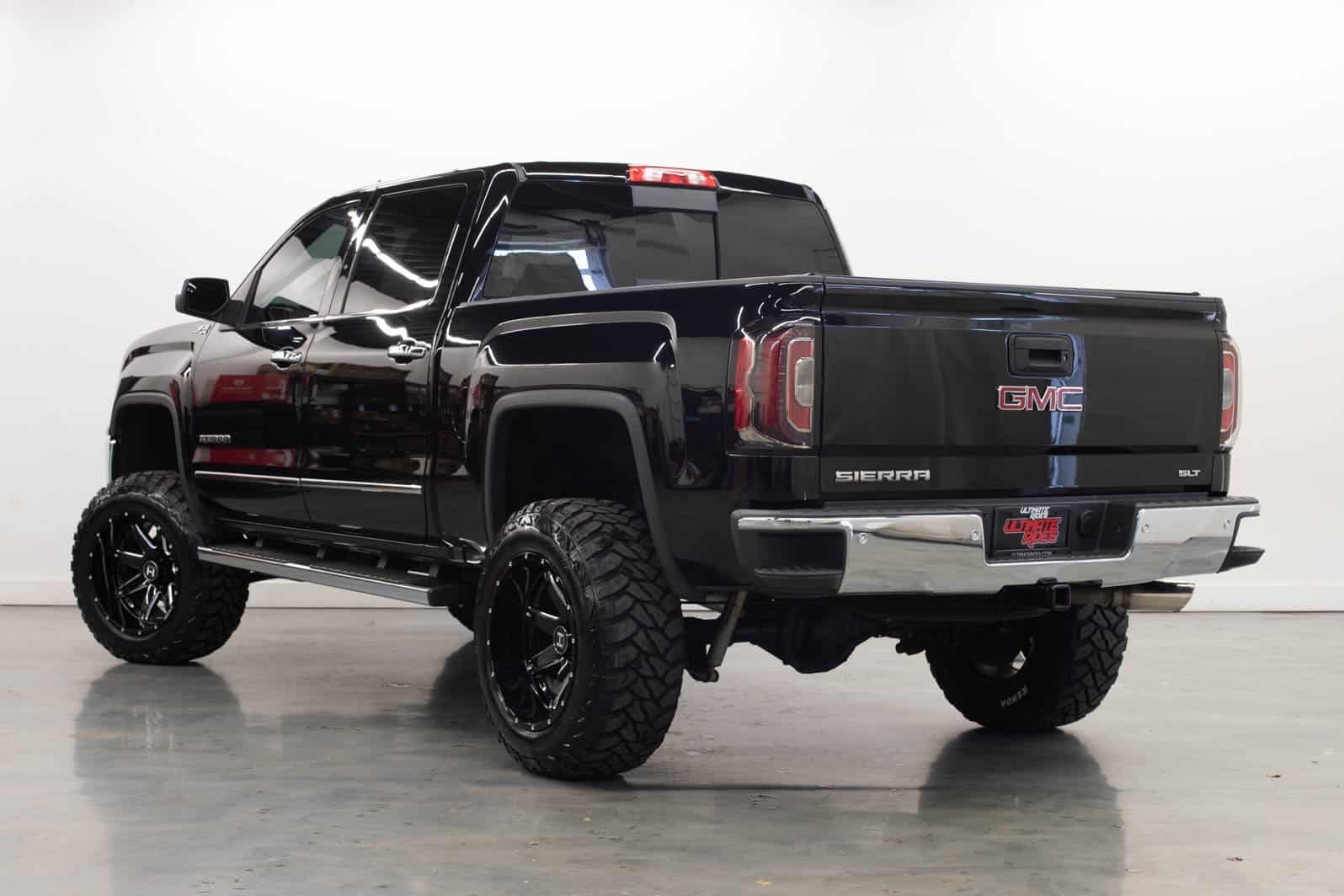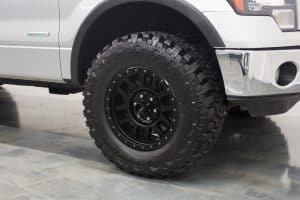 Watch Out for

Sway
Typically installing a suspension lift also means that you'll eventually install larger tires. While this is fine for most situations, it can cause your rear end or trailer to sway, especially when pulling something heavy. You're going to feel a difference in the way your vehicle handles while you're towing. It's still safe, but you'll need to learn those differences so you can compensate in the way you drive. Towing a trailer or similar object with a lifted truck is still possible, but you'll need to be sensitive to the changes in your steering and handling.
Driving a truck that can tow a trailer is incredibly useful, but it's important to be aware that extra precautions must be taken. Make sure you know how much your trailer weighs, and ensure that your truck is safely able to tow that amount of weight. If everything checks out, you'll still need to take an added level of care while out on the road. Avoid driving your truck at very high speeds, and always keep an eye on the trailer.
High-Quality Suspension is

Beneficial for Trailer Towing
If you don't get a great quality suspension job done when installing the suspension lift, you may run into trouble down the line. Low-quality suspension jobs are going to feel the weight of towing much more than a high-quality job would. Changing the suspension of your vehicle is going to completely alter the geometry. If everything isn't done exactly correctly, that could result in major changes to the way your truck handles. In general terms, better suspension means you'll have better towing capabilities.
If you alter your truck's suspension at home, and you're not a certified expert, there are many things that may go wrong. Lifted truck suspension can be very tricky, especially for newcomers. If you see towing in your truck's future, the best thing you can do is bring your vehicle to professionals for inspection or to make alterations to better suit your towing needs.
Attempting to tow with a body lift kit typically won't offer the best results. These kits raise up your truck's body only, using spacers or something similar, without actually altering the suspension of the truck. Trying to tow something on a truck equipped with a body lift kit could cause safety issues. We always recommend consulting with a professional who can offer more insight on your truck before towing anything.
Towing with Your Lifted Truck is Safe – Just

Know What You're Doing
We definitely don't want to talk you out of towing with a lifted truck. We just want all of our readers to stay as safe as possible no matter what truck they're driving. You can still tow in a truck with a suspension lift. It's just very important to know how it'll be different than standard towing. As long as you remain aware of all the differences that have to do with your lift, and don't do anything that your truck can't handle, you'll be in the clear to tow with a lifted truck. If you are unsure on any of these points, be sure to contact a professional before doing any towing with your truck. Our team here at Ultimate Rides will be able to set you straight.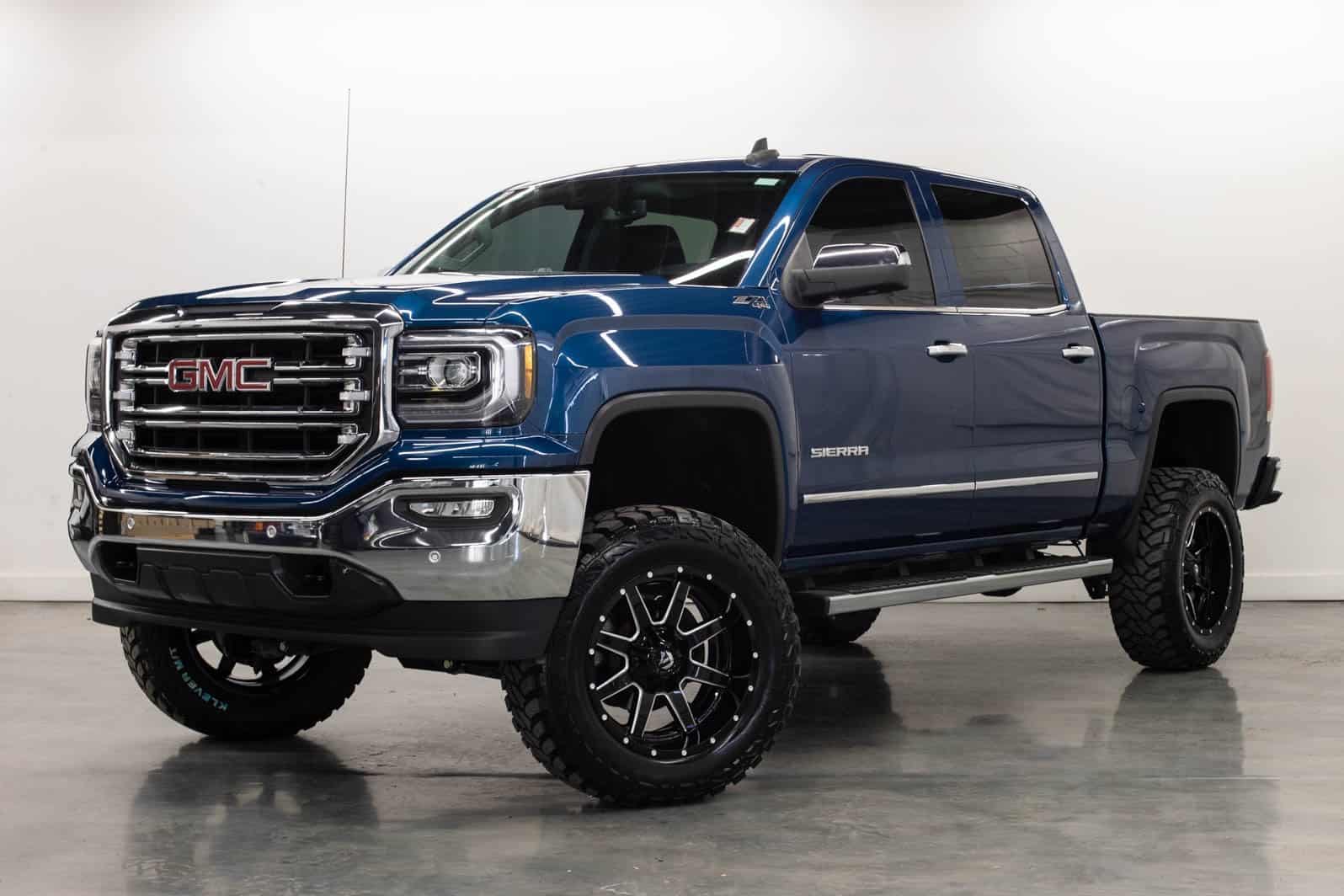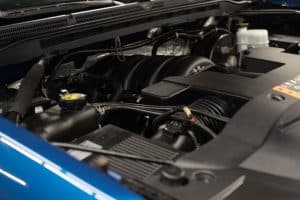 Ultimate Rides Offers

Lifted Trucks Today
Are you in need of a new or used lifted truck, or do you want a team to upgrade or lift your current vehicle? If so, then look no further than Ultimate Rides. We're an auto dealer based out of the Chicago area that offers vehicle delivery to drivers around the United States and beyond. Our team of ASE-certified technicians are some of the best when it comes to building custom trucks, especially those with a suspension lift. Learn a little bit more about us, and feel free to call our office when you're ready to start driving something new and exciting or wish to lift your current truck.
Building a Truck in the

Lift Center
The majority of the cars, trucks and SUVs in our inventory already feature some kind of customization from our team, such as a high-quality lift kit. In addition to that, every vehicle is available to send over to our lift center when you decide which upgrade you'd want. We'll be able to change or add on any accessories, modifications or adjustments you'd like. That includes suspension lifts, LED headlights, custom interiors, running boards, performance chips, bull bars, or whatever else you can think of. If you'd prefer, we can even install a specific lift kit. Just let us know which lift product you'd like and we can order it for you.
You can decide to pay for the costs of this work upfront, or you can include it in the total financing cost of your vehicle. This allows you to pay off the custom work over time, making it affordable for just about everyone. Additionally, you can hire us to upgrade your current vehicle. We're located an hour outside of Chicago, so as long as you can get it to us, go ahead and call us to schedule an appointment. We'll listen to you and go over everything you'd like done with the vehicle. From there, our team will get to work to bring your vision to life.
These days, finding a team of mechanics to lift or customize your truck you can trust is difficult. We understand that, but if you're willing to trust us we promise to do right by you. Our team works carefully and in good time, so you won't be without a vehicle for long. Let us know if you think Ultimate Rides can help you find or build the truck of your dreams. Be sure to tell us that you plan on using the vehicle to tow! We'll make sure your lift setup is suited to towing. When we've finished, you can get right into towing with a lifted truck.
Reliable Shipping and Quality

Customer Service
Ultimate Rides provides custom vehicles not just for the drivers in our area, but for the entire United States. We know that not everyone has a custom auto dealer in their area, and those that do can't always trust that their work is the best. At Ultimate Rides, we put an emphasis on the quality of our vehicles as well as providing exactly what our customers are looking for. That's what sets us apart from anyone else, and why drivers from all around choose us for their vehicles.
Trucks with a lift kit are more popular than ever. Though some drivers try to install their own lift at home, the results aren't always the best. That's why opting for professional lift installation is usually the better decision. Think about your truck's quality, and how you don't want to compromise that due to some avoidable mistakes. At Ultimate Rides, we have a ton of experience working on custom trucks, and you can count on us for reliable and mistake-free installation at a fair price. Additionally, we have quite a few trucks for sale with a lift pre-installed.
Give us a call and let us know you want a custom truck with shipping. We'll go over the options in our inventory with you, and we can even help you locate something specific that we don't have. Once you've made a final decision (or we get the vehicle in our hands), we'll go over financing with you. Our team will make sure your clear on the details, and you can once again decide if you'd like to pay for shipping costs now or include them in the financing deal. From the time the vehicle is ready, it should arrive to you within a week.
Contact Us Today to

Begin
As we said before, Ultimate Rides is located outside the great city of Chicago. If you're in our area and would like to stop in for a visit, you can find us at 38 W. Division St., Coal City, IL 60416. That's about an hour south of the city, but we assure you that we're well worth the drive. If you'd rather just get in touch with us over the phone, reach out to 815-634-3900 to begin.
---
Two Brothers With a Dream

,

Building The Best Ultimate Rides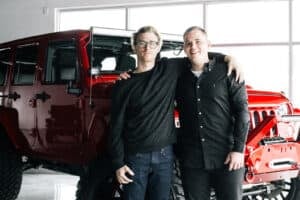 Ultimate Rides consists of two brothers who have been buying and selling custom vehicles for over ten years. Selling lifted trucks by day and writing these awesome reviews by night! They started their Ultimate Rides journey with a third brother Jake, who was a big part of building the business they have today. In 2016 Jake passed away and losing their brother was the hardest thing they ever had to deal with. Even though they had a tragic loss they plan to continue to set a new trend for the auto industry, keeping customers number one. Pushing the envelope on the lifted truck market, these guys love researching and learning about everything in the auto industry!
 — Nick and Alex Bulanda, Founders of Ultimate Rides