Ultimate Rides Appleton Wisconsin or Coal City Illinois
Ultimate Rides Coal City or Ultimate Rides

Appleton Wisconsin
Did you know that there are two different businesses called Ultimate Rides in the greater Chicago area? It's strange but true! We are the location you'll find about an hour south of the city in Coal City. We don't have any relation to Ultimate Rides Appleton Wisconsin. While we don't doubt that they offer great service to their customers, we're here to tell you why you should us for all your vehicle needs!
At Ultimate Rides in Coal City, we do more than just sell any old used vehicles. We offer a range of custom rust-free vehicles. These aren't your standard preowned trucks and SUVs. Ultimate Rides offers something a little different than what you may be used to. That's what we want to tell you all about! Stick around to find out what you've been missing.
Building the Best Vehicles in Our

Custom Lift Center
One of the major things that helps us stand out is our lift center. We offer all the same things a regular service center would. On top of that, though, we also build and customize vehicles. Take a look at the Ultimate Rides inventory and you'll see what we mean. Many of the vehicles available here have been worked on by our team, creating a truly special and unique vehicle. Every time you buy from us, you'll also have a chance to send the vehicle back here to our lift center. We can alter and modify the vehicle in any way you'd like, and you'll be able to finance the cost of service. It's always important to us to provide exactly the vehicle you want when you shop with Ultimate Rides. Remember, we are located in Coal City, south of Chicago, instead of Ultimate Rides Appleton Wisconsin.
Additionally, our lift center is also open to the public. If you would prefer to customize your current vehicle rather than buying a new one, we can help. Our prices are fair, and our team is the absolute best around. We work day in and day out building incredible custom vehicles, and we're happy to help you with your own. Get in touch with us today to learn more!
Customer Service with

Respect
Our customers are a really big deal to us at Ultimate Rides. Whether you're dealing with us over the phone or in-person, you'll get the best help possible from our team. We are kind, respectful, and won't try to push anything on you. Instead, our goal is to help you find exactly what you're looking for. From tracking down rare vehicles to simply offering easy and affordable delivery, we go the extra mile to ensure the satisfaction of our customers. We know it's easy to get confused between ourselves and the Ultimate Rides Appleton Wisconsin, so this guide is just another way we want to help!
Rust-Free Vehicles Available at

Ultimate Rides
None of this other stuff matters if our vehicles aren't up to snuff. That's why we have a high standard of quality that we stick to when bringing vehicles in to sell to you. Our buyers are sent out to warmer regions of the United States, like the Southwest, to bring back the best vehicles they can find. That's how we're able to offer rust-free rides! Customers deserve only the best when it comes to something as important (and costly) as their next vehicle. Once we get them in, we clean the vehicles up, usually customize them and list them here on our website. Take a look at our inventory, and when you find a ride you like, go ahead and get in touch with us!
Maintenance, Repair and Detailing

Offered Here Today
In addition to custom work, our shop also offers all your standard maintenance and repair services. On top of that, you'll even find vehicle detailing available here. Just like with their custom work, our team truly knows what they're doing here. We're ASE-certified, with years of experience. Visit us for the best service possible for your vehicle!
Ultimate Rides in Coal City

Has Your Back!
There are a number of things that make Ultimate Rides Coal City different than Ultimate Rides Appleton Wisconsin. If you're looking for your next vehicle, or want to upgrade your current ride, we can make it happen. Hopefully you've seen that Ultimate Rides isn't just any old auto dealership. We offer high-quality vehicles that can be hard to find anywhere else in the Midwest. If you want to check out some of our vehicles for yourself, go ahead and give us a call at 815-634-3900. You can find our office by visiting 38 W. Division St., Coal City, IL 60416. We hope to sit down and meet with you very soon!
---
Two Brothers With a Dream

,

Building The Best Ultimate Rides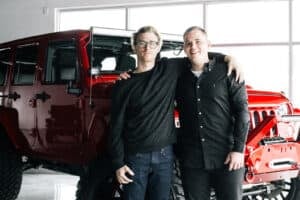 Ultimate Rides consists of two brothers who have been buying and selling custom vehicles for over ten years. Selling lifted trucks by day and writing these awesome reviews by night! They started their Ultimate Rides journey with a third brother Jake, who was a big part of building the business they have today. In 2016 Jake passed away and losing their brother was the hardest thing they ever had to deal with. Even though they had a tragic loss they plan to continue to set a new trend for the auto industry, keeping customers number one. Pushing the envelope on the lifted truck market, these guys love researching and learning about everything in the auto industry!
 — Nick and Alex Bulanda, Founders of Ultimate Rides