Best Wheel Lights for Trucks (Review & Buying Guide)
Finding the Right

Wheel Lights for Trucks
Any time you shop for accessories for a truck or any vehicle, you're going to be met with countless options. While it's possible to find some truly spectacular products, there are also a lot of duds out there. Even worse, it can sometimes be hard to even spot the difference. That is where we come in. Ultimate Rides is an auto dealership and custom service center that offers vehicles for people all over the country. Additionally, we provide product recommendations to our readers here on our website.
In this guide, you'll find a list featuring 10 of our favorite wheel lights for trucks. Some of them are ring lights that attach to your brake rotors, while others are strips or pods that you can attach anywhere. After you make it through our list, you'll find a buying guide where we offer more details on these products. You'll learn how to spot a good set of lights versus bad ones, as well as find out more about installation. Make sure to pay attention to our compatibility notes, as they'll be able to tell you if a given product fits on your ride.
Check this out and be sure to contact Ultimate Rides if you have any questions or want to hear more! We offer tons of custom vehicles for sale, and have our own service center on-site where we can install modifications for you.
---
1. SUNPIE LED Color Changing Wheel Lights (ASIN – B08R8MC93K)
Compatibility: 18-19″ Tires
One of our favorite lighting setups you can install on your truck is this option from SUNPIE. It fits on a wide range of vehicles, and while installation may not be easy, it can offer a truly stunning look for your truck. You'll be able to choose color, lighting modes, and even sync your lights up to music with either a phone app or the included remote control. You can also turn each light on and off individually, giving you a great degree of control over your setup. There's also plenty of wiring, ensuring you won't run out of it during the install. There's just no denying this is one of the best options for truck wheel lights out there.
SUNPIE Car Wheel Lights 15.5 inch Wheel Well Lights for Truck RGB Ring Kit Sync to Music Color Changing with Remote Switch Extension Wires for Car Truck with 18 or 19inch Tire
---
2. Forten Kingdom Double Side LED Ring Wheel Lights (ASIN – B08JYXHLYT)
Compatibility: 21-28″ Wheels with 14″ and Above Brakes
Next up, we have another set of lights for you to consider. In many respects, they are similar to the product we already shared. However, these ring lights are made for larger wheels, perfect for those who have already customized their trucks with a suspension lift or are planning to. As with the prior product, you can choose to control these lights using either the remote or an app, and both are simple. You'll have a huge range of colors at your fingertips, making this a great addition to any truck.
Forten Kingdom New Double Sides LEDs Wheel Ring Light 17inch Car Truck RGB Bluetooth Control
---
3. Safego Multi-Color LED Wheel Lights (ASIN – B08PKTZ5C9)
Compatibility: 17″ Wheels or Larger with 13″ or Smaller Brake Rotors
Here we have yet another choice for your vehicle, available for trucks with smaller wheels. While it is made by a different manufacturer, you will find plenty of similarities with other leading light rings on the market. You can still control it via remote or app, and can choose any color you can think of for your setup. Additionally, you'll be able to change that color at a moment's notice. The LEDs are powerful, and the kit comes with four meters of wiring, which should be plenty to get the whole setup installed. Count this is another great choice for any pickup that's a good fit.
Safego RGB Wheel Ring Lights 4Pcs 15.5inch 288LEDs Multiple Dream Color Rim Lights Tire Lights Controlled By Remote and Blue-Tooth Compatible with Most Cars, Trucks, SUV ATV (Double Side)
---
4. Hundalights 12.5″-17.5″ Adjustable Wheel Lights (ASIN – B088R4DWFD)
Compatibility: Brake Rotors Over 13.5″ Require Adapter
Next up, we have an adjustable set of lights that is once again a favorite of ours. With these rings, you'll be able to adjust them to whatever size you need, making it a great choice for those with custom wheels. These lighting strips also offer two rows of lighting, giving off an even more powerful glow. They feature all the same things you love about the other lighting rings, with the addition of a few new things to charm you. That makes these an excellent choice for anyone.
4PCS 15.5" Adjustable Wheel lights Flow Chasing Series Double Row Chasing Strobe Tire KIT LED Wheel Rim LIGHT UP for Truck Car Bluetooth Controlled
---
5. Hundalights Pure White LED 15.5″ Wheel Lights (ASIN – B08DQSPWHN)
Compatibility: 18-19″ Tires, Brake Rotors Over 13.5″ Require Adapter
Are you trying to go for a different kind of look than what we've offered so far? Check out these bright white lights from the same manufacturer as our last product. These rings are a fixed size, and offer an eye-catching design element to any truck. As always with lighting rigs like this, you are probably going to want to opt for professional installation. Once you get them on, though, you'll be all set with a cool new look. Take a look at this option and decide if it's right for your ride.
DOUBLE LOW~PURE WHITE~15.5″ 4PCS ~Illuminated LED Wheel~Switch Control LED Wheel Rings Lights for Truck IP68 Waterproof All Car SUV Offroad
---
6. LEDGlow 15.5″ Wheel Ring LED Accent Lighting (ASIN – B07K1K4KG7)
Compatibility: 18-19″ Tires
The next lighting ring we want to recommend is the last one of this style on our list. It's still a great choice for all kinds of drivers, offering installation that is just a touch easier. While you'll still want to go to a professional unless you're a mechanic yourself, this will make their job a little bit more simple. You'll still have access to a reliable lighting rig as well, offering strong wiring, plenty of color choice and more. This is definitely one of the better options out there, and that's why it's on our list.
LEDGlow 4pc 15.5″ Million Color LED Wheel Ring Accent Lighting Kit- Fits Wheels with 15″ Brakes – Heavy-Duty & Versatile Design – Waterproof Light Strip – Includes Control Box & Wireless Remote
---
7. Ustellar Multi-Color LED Lighting Pods 8-Pack (ASIN – B087JB9G67)
Compatibility: Universal
For much of the second half of our list, we'll be recommending some lighting strips and pods rather than rings that attach to your rotor. One of our favorite options in this category is this set from Ustellar. These pods are bright, very affordable, and will work on just about any vehicle. They come in a pack of eight, are waterproof, and can again be controlled with either the remote or an app you can download. While these are certainly a different style than the other ring lights we've shared, they can easily be installed at home with just a few hours and some common tools.
Ustellar RGB LED Rock Lights 8 Pod Remote Multicolor Undercarriage Neon Light Kit Waterproof AUTO Wheel Exterior Underglow Lighting for Golf Ford Chevy Jeep Under Car Truck RV RZR ATV UTV SUV Off Road
---
8. PSEQT Blue LED Strip Lighting 10-Pieces (ASIN – B08CB4YLLH)
Compatibility: Universal
Our next set of LED light strips come in a single color, letting you focus in on a specific look for your truck. You'll also be able to save some cash as well, because this 10-pack is available for under $25. With that price, you might expect a disappointing light output. However, you'd be wrong. These lighting strips do a great job of lighting up in the darkness, making them great for anyone on a budget.
PSEQT 10 Pcs LED Rock Strip Lights Car Underglow Wheel Fender Well Lighting Kits Waterproof for Golf Cart Jeep Wangler Offroad Truck Ford RV UTV ATV Snowmobile (Blue)
---
9. SUZCO 10-Pack Multi-Color LED Pods (ASIN – B08538S8F5)
Compatibility: Universal
Here we have another set of LED pods, this time in a pack of 10. You'll be able to screw these pods in at many different points of your truck, letting you decide where you want to be lit. It utilizes powerful LEDs, and as always, you'll have a great degree of control over your lighting setup. Plus, these pods have an anti-scratch finish that should ensure they don't do any damage to your vehicle. What's not to love here?
SUZCO 10-Pods RGB LED Rock Underglow Lights Kit, Dual-Zone Control + 160LEDs + 2-in-1 Line + Underbody & Wheel Well Neon Under Light 12V with APP/RF/IR for Offroad Trucks ATV UTV SUV Jeep
---
10. Nilight 4-Pack LED Rock Light Pods (ASIN – B01MG5UXV4)
Compatibility: Universal
Finally, we have a simple set of four LED pods for those who want to keep things pretty basic. Despite their simplicity and appealing price, these lights can certainly get the job done. You'll have access to four bright multi-colored LED pods, as well as everything you'll require for wiring. The LEDs are 500 Lumens, providing plenty of illumination for your vehicle. Additionally, installation should be fairly simple as long as you stick to the included instructions.
Nilight RGB LED Rock Lights Kit, 4 pods Underglow Multicolor Neon Light Pod with Bluetooth App Control Flashing Music Mode Wheel Well Light for Truck ATV UTV RZR SUV
---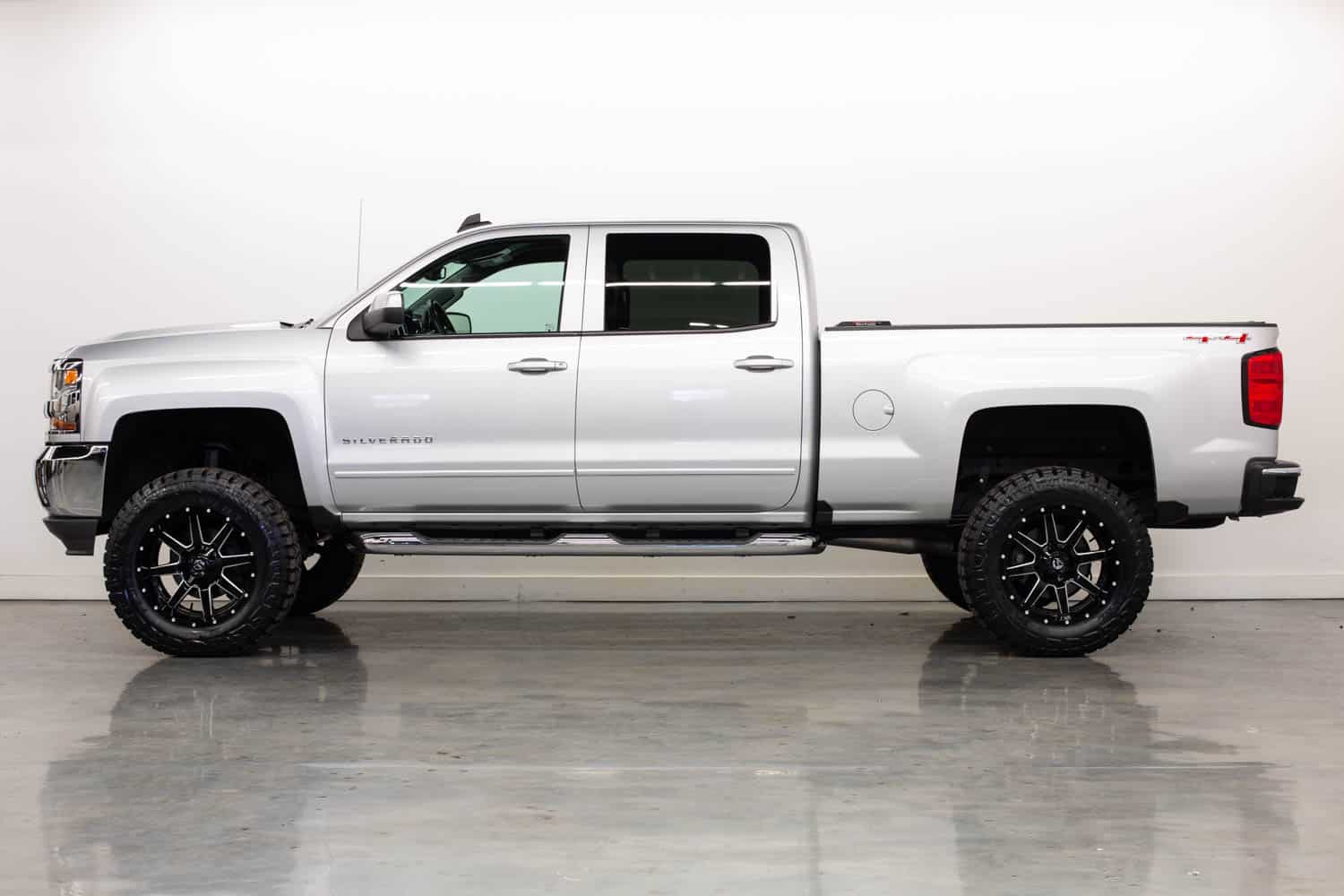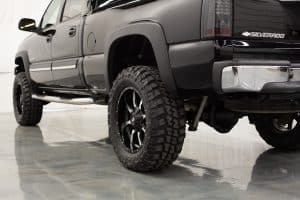 Wheel Lights for Trucks

Buying Guide
Now that you've had an opportunity to look at some of our favorite lighting options out there, it's time to start digging into the details. In this buying guide, we'll provide you with our opinion on what makes a good set of wheel lights for trucks, highlighting the most important aspects to pay attention to. Additionally, we'll get further into the differences between the two types of lights you saw on our list: ring lights and strip/pod lights.
Moving ahead, we can talk a bit about installation for these lighting setups. We've even included a tutorial video for you to check out down below, helping you get your lights installed without too much of a problem. Finally, we'll finish up by telling you a little more about Ultimate Rides and what we believe we have to offer to drivers like yourself. Let's begin!
Factors of Focus: Choosing the Best Set of

Lights for You
There are a few important factors that are important to pay attention to when shopping for LED truck lights. You'll want to watch for durability, strength of lighting, and ease of installation. These elements can really make or break a set of lights, and having them in mind will help you find the right product.
Durability
Perhaps the most important thing to look out for in wheel lights for trucks is durability. This applies to both wiring and general construction. Overall, you just want to ensure that the product you're buying works, and will continue to work for the foreseeable future. The best way to learn about this is to read reviews from verified buyers online. These blurbs will be able to give you their stories of first-hand experiences with the product, which is often the only reliable way to learn about what it offers apart from buying it and checking it out yourself. Also take a look for video reviews, which can be even better at showing off lights.
Strength of Lighting
It will probably differ from person-to-person on how strong you want your lighting to be. For most people, you want lights that are bright enough to make a difference, but won't cause a distraction on the road. Ideally, you'll be able to adjust the lighting to fit your needs. Some people may prefer single color lighting while others want to have options. Either way, as long as you do your research ahead of time, you should be able to know exactly what you're getting before you buy.
Ease of Installation
Lastly, you'll want to consider installation as you're shopping around. We'll have more details for you down below, but the difficulty and length of installation can vary greatly between products. For some options, you may just need to stick the lighting onto your vehicle. Other products require a more intensive installation process. Once again, take a look at customer reviews and you can usually find out more about installation. If you are having trouble, you can always visit a professional for assistance.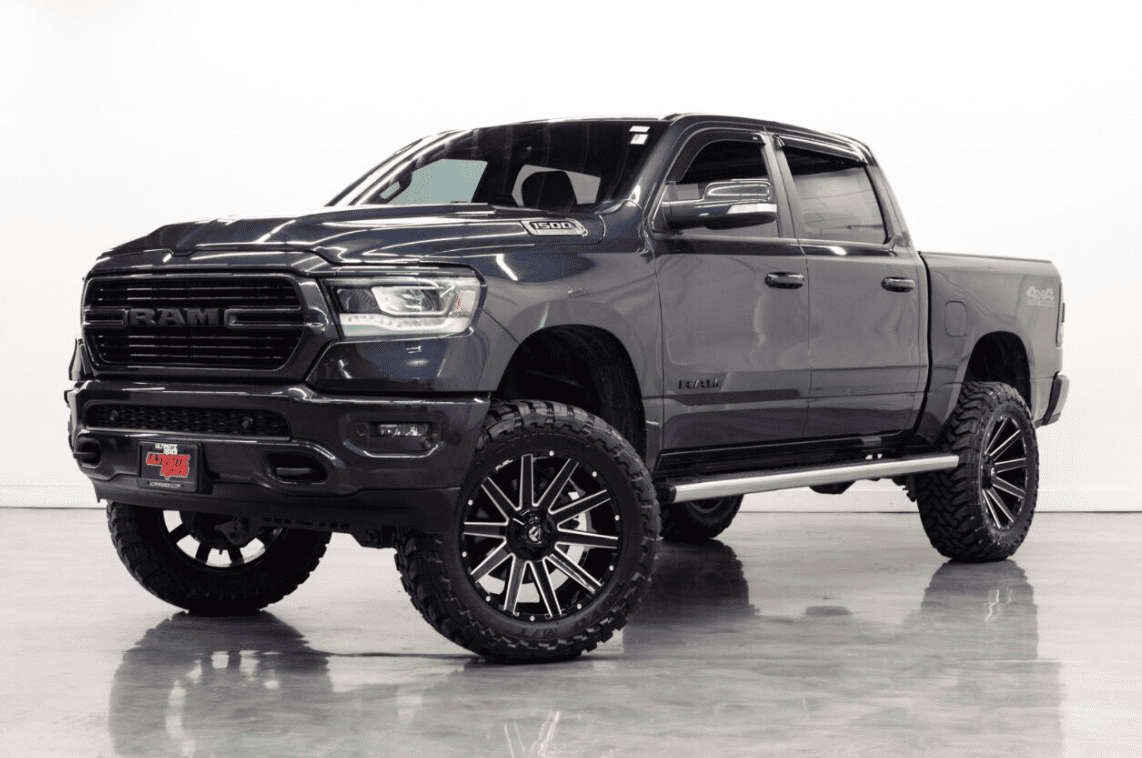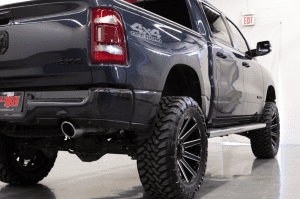 Ring Lights vs. Light Pods –

Similarities and Differences
On our list, you got to choose from an assortment of both ring lights and lighting pods or strips. In this section, we want to take some time to go into more detail when it comes to these two options. Thankfully, there's no need to choose between the two. They actually complement each other very well, and you can outfit your truck with both if you want a full LED lighting experience. For now, let's break down what they both have to offer.
Wheel Ring Lights
These are the lighting setups that will actually go inside your wheel and light it up. Most of the time, the products attach to your brake rotors. That's why brake rotor size can often have an effect on wheel lighting rigs. Installation can be much more of a chore, and may even be impossible to complete at home without the right equipment and experience. However, this style of lighting offers an effect you can't really get any other way. Plus, you can always opt for professional installation, allowing you to not have to worry about getting them on there yourself. Just make sure you pay close attention to sizes when you're buying, or have your professionals order the right product for you.
LED Lighting Pods/Strips
With these products, you won't actually be installing them into the infrastructure of your vehicle. Instead, they simply attach to the exterior, most often in the wheel well or underbody. They don't achieve quite the same style as wheel ring lights, but there are a few big benefits to choosing these. First of all, they are universal, so you won't have to worry about making sure they fit your truck before you buy. Additionally, installation is a piece of cake. You'll be able to get these lights on in just a few minutes. Keep in mind that you aren't forced to choose between the two, however!
Lighting Install

Tips and Information
Lighting strips and pods are some of the more simple installations to undergo at home. However, if you want to install ring wheel lights for trucks, the process is much more complicated. Unless you fully know what you're doing, it is recommended that you opt for professional installation. Take a look at the video below to get an idea of the installation process. Once you've watched the video, you should be able to tell whether or not this is a job you can accomplish in your garage or driveway. Like we said, chances are this is going to be too much for basic home mechanics. The chances of a mistake along the way are high, and you could cause major safety problems if you attempt this without knowing what you're doing.
Lighting strips and pods, however, and much more simple to install. While you won't get that same exciting style, you can still get a great look from them. Many of those items simply drill into place, and can be put in a variety of different positions on the vehicle. From there, you'll just have to figure out your preferred wiring setup, which is a whole different topic of conversation. If you're unsure if you can handle the wiring, don't hesitate to contact a professional.
---
---
Additional Ways to

Customize Your Truck
Lighting setups like this are just one of the countless ways for you to make your vehicle unique. Custom trucks are more popular than ever before, and that only seems to be increasing with each passing year. Now is a fantastic time to jump on the bandwagon. Whether you want to customize the truck you already own, or purchase your next vehicle and make it your own, Ultimate Rides can help you out.
We are located in the Chicago area, but we offer shipping to buyers from all over the world. People choose us because we have high standards of quality, reliable delivery, customer service that respects everyone, and a highly talented team of technicians at work in our lift center. Whenever anyone buys one of our vehicles, they have the option of customizing it before we hand it over.
Suspension lifts are one of our most popular options, and many of the vehicles we sell come pre-installed with a lift kit. Additionally, drivers can find running boards, custom stereos, new wheels and tires, performance chips and so much more available. Give us a call at Ultimate Rides to learn about everything you can find in our lift center.
Check Out Ultimate Rides

for More!
Do you have any questions for our team? Please feel free to contact us today at 815-634-3900. If you are in Illinois or the surrounding area, you can visit us in-person at 38 W. Division St., Coal City, IL 60416. That is only about one hour south of the great city of Chicago! Remember that we also have delivery available, making our vehicles an option for just about anyone. Reach out and we can tell you more today!
---
Two Brothers With a Dream

,

Building The Best Ultimate Rides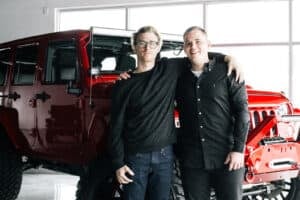 Ultimate Rides consists of two brothers who have been buying and selling custom vehicles for over ten years. Selling lifted trucks by day and writing these awesome reviews by night! They started their Ultimate Rides journey with a third brother Jake, who was a big part of building the business they have today. In 2016 Jake passed away and losing their brother was the hardest thing they ever had to deal with. Even though they had a tragic loss they plan to continue to set a new trend for the auto industry, keeping customers number one. Pushing the envelope on the lifted truck market, these guys love researching and learning about everything in the auto industry!
 — Nick and Alex Bulanda, Founders of Ultimate Rides