Ford Sync Not Working At All? Try These Steps!
How to Fix Ford Sync

Not Working at All
The Ford Sync system can be finnicky when it comes to Bluetooth connections. This is especially true in some of the models that are a few years old now. Are you having trouble with your Ford Sync not working at all? If so, you have come to the right place. In this guide, we'll attempt to offer troubleshooting tips so you can connect your phone to your vehicle with an issue. Try each one of these steps and we're confident that by the end, your system will be set up. Additionally, if everything works correctly, your phone will automatically connect to your vehicle when you're inside. Good luck with your troubleshooting, and we hope this guide helps!
Step 1. Reset the Connection
The first and easiest thing you should try to do to stop Ford Sync not working at all is simply resetting the connection. To do this, first go to your phone's settings and turn Bluetooth off and then back on. Following this, go to your Sync's settings and do the exact same thing. This should trigger the system to look for any available connections that have been previously set up. If all goes well, your phone and the vehicle will find each other and connect. You may be surprised at how often this can fix your Ford Sync not working at all. You'll be ready to play your favorite music on the road in no time! If this doesn't work, keep on going down the list to find a solution.
Step 2. Restart the Vehicle
If the first tip didn't work, give this next process a try. It's something you do every day, usually multiple times a day, so it shouldn't be too much of a problem. If you're having issues connecting to the Ford Sync system, turn off your vehicle's ignition and open up the doors so the computer shuts down. Wait for everything to fully power down and then wait an additional 30 seconds to ensure all background processes are finished. Then start the vehicle back up and attempt to connect once again. If you're having recurring issues connecting to the vehicle, this step may not help. However, it can solve the problem short-term, especially if it's just a one-time issue.
Step 3. Re-Pair the Vehicle and Phone
The next thing we recommend trying is going into both your phone's and the vehicle's Bluetooth settings and deleting the pairing between the two. On your phone, when you're in Bluetooth settings, you should see a list of previous pairings. If you have paired your device to the vehicle before, you should see something saying either Ford Sync or the vehicle's code on the settings list. Click on that, and then select Forget or something along those lines depending on your phone.
Then you'll have to do essentially the same thing but with your Ford Sync screen. Once you successfully delete the pairing from both devices, go through the same process you did to pair them the first time. On your Ford Sync, click on phone. If there is not one connected, it should go right into the pairing screen for you. Pair your phone with the vehicle computer and hopefully you've fixed your Ford Sync not working at all.
Step 4. Full Phone Reset
The next step is pretty simple but can help take care of these issues. If nothing else so far has worked, power down your phone all the way. If you're able to, remove the battery as well. Wait 30 seconds and then turn your phone back on. Try to connect your phone to the vehicle again and see if that was able to help. This may seem a little basic, but it has been known to solve these kinds of issues in the past, and we definitely recommend trying it out at the very least before moving on to something more drastic.
Step 5. Ford Sync Master Reset
As a last resort, there is one last thing we suggest you try. A master reset of the computer system will erase all of your settings and personal information. If that's alright with you, go ahead and follow these steps. First, make sure your vehicle is on and in park. Then go to your Settings and then the General tab. Within this list, you should find an entry that says Master Reset. Click on it and then confirm that it is what you want to do.
From there, the system will start to wipe itself. Wait for this process to finish. It can take a few minutes, so you may want to find something to occupy your time for a bit. When you come back, try to once again pair your phone with the vehicle. If none of this works, we recommend getting in touch with the Ford Sync customer service team for assistance.
Taking Full Advantage of the Ford Sync System
Now that you have (hopefully) prevented your Ford Sync not working at all, we have some additional tips to share with you. Use this information to use your vehicle's computer system to the max! You'll be able to manage your phone and music on the road without distracting yourself as well as customize your vehicle's settings and so much more.
Tip #1: Get to Know your Voice Commands
First off, we recommend learning about your Ford vehicle's voice control system. Not all models will be outfitted with this but a great many will. Take some time before hitting the road to find out what you can say. Use the voice button on your steering wheel to get the vehicle to start listening. Then you will have full reign over what it can do. Some examples of voice commands include "Vehicle Report" to find out up-to-date information on your ride, "Voice Instructions" for a rundown of what the voice command system can do, and "Main Menu" to take you back to the system's home page. Learn the voice commands and you'll have full control over your phone without distracting yourself from the road.
Tip #2: Explore the Ford Sync Website and Make a Profile
If you go out of your way to check out the Ford Sync website, you can create a profile that caters your vehicle to your own preferences. Want sports updates for your favorite teams while you're on the go? You can make it happen. You'll be able to update your vehicle's settings as well as control aspects of your driving experience that many people never even learn about. Really, we recommend going to check out Ford's website. Make a profile and see what you can take advantage of to improve your drives.
Tip #3: Read the User's Manual!
This last tip may seem a little boring, but you'd be surprised at how much useful information you can learn from your vehicle's manual. Not only will it tell you in detail how to fully use your Ford Sync system, but it will tell you tips for safe operation and so much more. If you have any question about your vehicle, there's a very strong chance you can find the answer in your manual. Take advantage of it!
Choose Ultimate Rides for Your Next Vehicle
Whether you need a team who can upgrade your current Ford vehicle, or you feel ready to start looking at your next option, Ultimate Rides is the dealership for you. We have a custom service center on-site staffed with a team of expert ASE-certified technicians. They help set our inventory apart from whatever else is out there, and we can set your current vehicle up as well. We'll even deliver a vehicle to your home no matter where you're from. Give us a call at 815-634-3900 for more details today!
---
Two Brothers With a Dream

,

Building The Best Ultimate Rides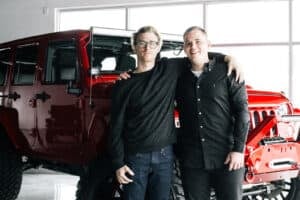 Ultimate Rides consists of two brothers who have been buying and selling custom vehicles for over ten years. Selling lifted trucks by day and writing these awesome reviews by night! They started their Ultimate Rides journey with a third brother Jake, who was a big part of building the business they have today. In 2016 Jake passed away and losing their brother was the hardest thing they ever had to deal with. Even though they had a tragic loss they plan to continue to set a new trend for the auto industry, keeping customers number one. Pushing the envelope on the lifted truck market, these guys love researching and learning about everything in the auto industry!
 — Nick and Alex Bulanda, Founders of Ultimate Rides