Looking for the Right Place to Jack Up Trucks? Check Out Ultimate Rides
Ultimate Rides:
Your One-Stop Shop to Jack Up Trucks
There is a long and storied movement of lifted truck drivers across the United States, and that number continues to grow with every year that goes by. As greater and greater numbers of these trucks are seen on the road, more drivers start to wonder why they haven't made the switch to a lift kit. We're here to help, as we specialize in lifted and customized trucks here at Ultimate Rides. If you've got questions, we've got the answers for you, and if you need a place to jack up trucks, we're the experts to come to.
We've been in business for more than 10 years, and in that time we've learned a lot. It's always been one of our main goals to stand out from the rest of the automotive sales industry, and we do that by providing excellent quality vehicles with great customer service and fair prices. Our inventory is brought in from warmer regions of the country to make sure we can find vehicles that are 100% rust free. This helps ensure the vehicles lifespan is as long as possible, and you won't have to deal with the maintenance headaches caused by rust. We carry vehicles as recent as this year and as far back as 20 years ago or more, all still in excellent running condition. At Ultimate Rides, we jack up trucks just about every day and our inventory is full of decked out vehicles just waiting for you.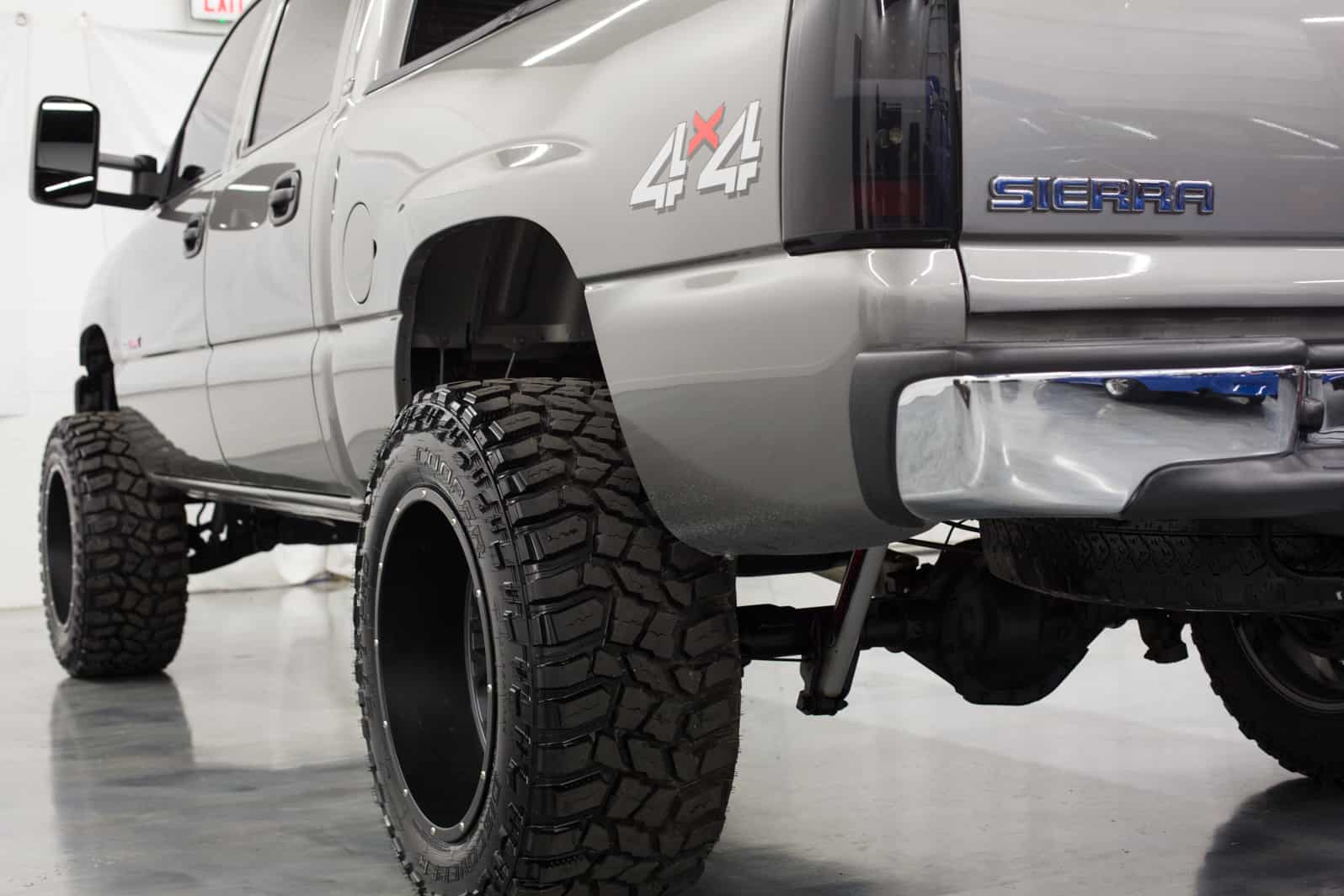 At Ultimate Rides, Jack Up Trucks
Your Way
Whether you already own a truck that you'd like us to work on or you plan on purchasing one of our jacked up trucks for sale, we have the ability to make your dream truck come to life. Back in 2017, we finished work on our brand new lift center, a fully loaded service center that allows us to build and modify all kinds of vehicles with state of the art tools and technology. Any time you buy a vehicle from us, you'll have the opportunity to have it sent over to our lift center before you pick it up. Let us know you're interested in our services and we can start talking specifics, like whether or not you want a full suspension lift kit or something less flashy. One of the best parts about buying from us is that you can have your vehicle sent over to our lift center and we'll even factor the cost into your financing deal, allowing you to pay off the custom work along with your vehicle.
Our team is highly trained and experienced in working with heavy-duty modified trucks, but the same cannot be said for all mechanics. Dealing with customized and lifted trucks comes with certain problems that can crop up for those not specially trained, and these problems can wind up costing quite a bit of time and money. At Ultimate Rides, we jack up trucks all the time and are very experienced in working with these vehicles, so you won't have to worry about whether or not your truck is in good hands. Many of the vehicles in our inventory have already been lifted and customized by us, and all you have to do is take a look to get a sample of our work.
Spread the Word:
A New Era of Customer Service
One of the shortcomings found in the automotive resale industry is a terrible reputation when it comes to customer service. Since the very beginning, we've been working hard to change this perception. At Ultimate Rides, we do more than jack up trucks and sell them. We follow the golden rule: treat people the way you'd like to be treated. With that in mind, our customers are greeted at the door with a friendly and kind atmosphere, and spared the pushy sales pitch and overbearing sellers you'd likely find at other dealerships. Instead, we believe it's our duty to match you up with the vehicle you're looking for. We've got jacked up trucks Chevy, Ford and a whole lot more, so feel free to take a brief look at our inventory to get some ideas before you head in. We even offer our customers the service of finding a specific vehicle for them! If you're looking for a rare truck, you can let us know and with a deposit we will have our buyers stay on the hunt for it, letting you know as soon as we're able to locate one.
Another of the many benefits you'll get from shopping with us at Ultimate Rides is our ease of access no matter where you live. Though we're based near the city of Chicago, we do most of our business with buyers from outside of our area. With us, it's easy to pick out the vehicle you like through our website and then get in touch with us over the phone to complete the process. Whether you plan on coming to pick your vehicle up in person or want us to have it transported to you, the entire process is simple and secure. We can even include the cost of transportation in your truck's financing deal. At Ultimate Rides, it's no secret we love to jack up trucks, but we also want to make it as easy as possible for you to have access to them.
Does it sound like it might be time for you to upgrade to some jacked up trucks Chevy, Ford or otherwise? If so, we've got some excellent vehicles just waiting to be driven away by one of our customers. Ultimate Rides is open seven days a week, so come in or give us a call at your next convenience. You can find our office at 38 W. Division St. Coal City, IL 60416, or reach us by phone at 815-634-3900. We can't wait to sit down and find the perfect vehicle for you!