A Guide To Lift Kit Installation Cost
Facts On A Lift Kit Installation Cost
The Lift Kit Installation Cost that comes with lifting up your truck is more important than you may think. However, anyone that looks for deals knows just what we are talking about. Due to the fact that most customers want to walk the line on price and quality, we aim to provide great products at a reasonable price. Hence, we want customers to get a great deal on a lift and install without breaking the bank.
Our Lift Kit Installation Cost is going to directly reflect the lift kit market and our high-quality products. We will discuss the brand names we have to offer later and you are going to want to read about that. We can provide customers with some awesome lift kits that boost the style of a truck! Read all about our Lift Kit Installation Cost below. After that, take a moment to contact our automotive center for more information!
Different Types Of Lit Kit Installation Cost Options
We have a few different kinds of lift kits to offer customers. As a result, our Lift Kit Installation Cost will range and vary depending on what you decide to buy for your truck. We are able to offer customers both suspension lift kits and leveling lift kits as well. These lift kits seem similar in nature but serve two different purposes. They also boast a different Lift Kit Installation Cost as well!
Simply put, leveling kits are used to balance out any unequal suspension on a truck. Most trucks come with the nose down, to help with MPG, a leveling kit will raise that front end back up and give that good leveled look. However, a suspension lift kit is solely used to put bigger tires onto a truck and help with the ground clearance. Most people use a suspension lift to help put tires on their vehicle 35″ or larger. So make sure that you think over what you want for your lift kit installation process.
Each vehicle is different in terms of pricing. Depending on the tire size and look you are going for, It can range anywhere from $300 to $3000 here at Ultimate Rides for a great lift kit and lift kit installation. You can get a 6" suspension lift for anywhere between $1500 and $2000. Some people call and ask "how much does a lift kit cost" and to be honest, it can range depending on your truck, wrangler or SUV.  Take time to contact us for more information on our Lift Kit Installation Cost, the brand names we carry and tires we offer.
Silverado Lift Kit Install Price
If you've got a Chevy Silverado that you'd like to get lifted and customized, we can absolutely help make your vision come to life. Depending on the size tires and rims you want installed on the vehicle, the price of getting a Chevy Silverado lifted can vary greatly. The best way to find out exactly how much it will cost is to give us a call and let us know exactly what you're looking to do.
We have a ton of experience working on Silverado models over the years, and they are truly one of our favorite trucks to customize. If you're feeling a little bit down on your current truck, you might be surprised at how simple it can be to make it feel as good as new. Get in touch with us today to find out all the ways we can make you fall in love with your truck all over again.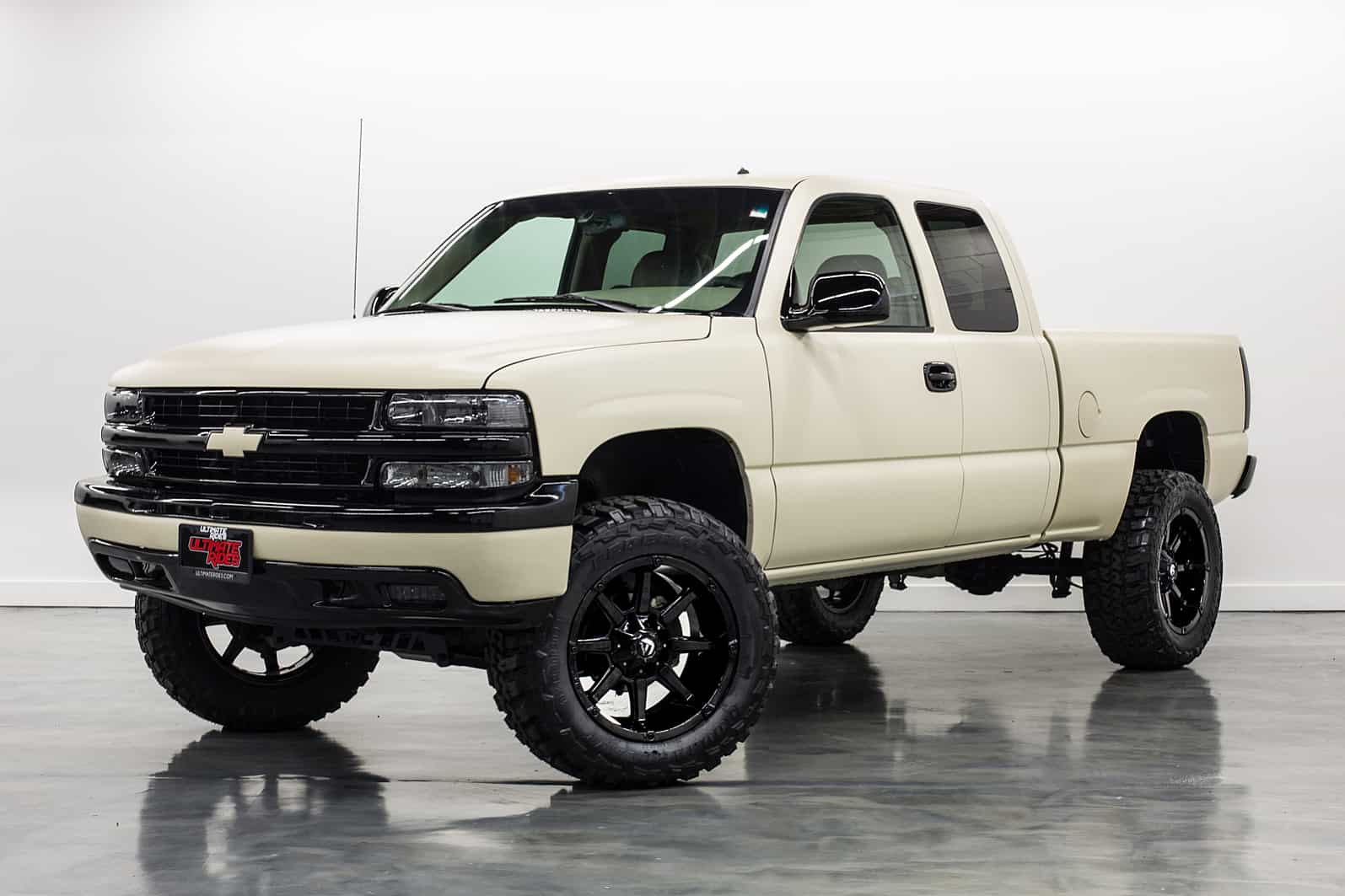 We Do Things the Ultimate Rides Way
We know it can sometimes be hard finding an awesome lifted truck in great shape. This is in part due to the fact that they're not incredibly common in the first place, but also because they're often snatched up almost right away from standard used auto dealerships. At Ultimate Rides, we specialize in lifted vehicles, so you won't have any trouble finding them here.
If you already own a truck that you aren't quite ready to give up, but you're also eager to get yourself into a lifted vehicle, the best choice would be to have us lift your ride for you! Along with installing a lift kit, there are many other services and modifications we can make on your vehicle, ensuring that you get to drive a fresh ride without having to buy an entirely new vehicle.
In addition to our services when it comes to lifted vehicles, we also offer all kinds of other services. Whether you want to add a custom light bar to your vehicle, a shiny new grille or something else entirely, there's a good chance we can help. Reach out to our friendly staff over the phone today and we can begin discussing options and cost for everything you're looking for. While other dealerships and service centers may try to push unnecessary items and services on you, but you won't have to put up with that from us.
We continue working towards growing by treating our customers with respect and understanding instead of attempting to make an easy buck off everyone who walks through our doors. We believe our customers see and feel the difference, and that's why they keep coming back and we continue to grow.
From Ford to Chevy, We Work on Them All
It doesn't matter what kind of truck you own; at Ultimate Rides, we can lift them all! Whether you've got a Ford F150 that is in desperate need of a facelift or a Chevy Tahoe that's just missing a certain something to make it the truck of your dreams, we're here to make sure you're satisfied with your vehicle.
As we've mentioned, the cost can vary pretty greatly depending on your vehicle and the extent of work you'd like done. For example, with a Ford F150 you can expect to pay somewhere between a few hundred to a few thousand dollars. We know that's quite a bit of variance, but it all depends on how much work you'd like done. You can expect a similar price for vehicles like the Chevy Tahoe. Overall, the best way to figure out how much your lift kit and installation is going to cost is by contacting us.
One of the benefits you get from choosing Ultimate Rides for your vehicle customization needs is that we can do just about everything. We honestly and truly believe we do it best. Many other mechanics out there are likely not used to working on lifted vehicles. It happens all too often that costly mistakes are made. Our expert staff is highly trained and ready to avoid the kind of mistakes we've seen happen in the past to other vehicles. If you're looking for a lifted truck specialist in the Midwest, whether it's to get your truck lifted or to have your lifted truck worked on, we are the place to go.
High-Quality Lift Kit Installation Cost Options Near Chicago
Here at Ultimate Rides, our Lift Kit Installation Cost is definitely worth the call. We have the best brand name lift kits available here at our automotive center. The major brands we have to offer to include Rough Country®, BDS®, Fabtech®, and so much more. As a result, we guarantee that you will definitely get your money's worth and then some with going with us. We carry tires from all the big names like Toyo®, Nitto®, Federal® and much more!
Do you live in the Chicago area and are currently looking to upgrade to a lifted truck? If so, you'll have a big decision to make. Either choose a new truck or lift your current one. At Ultimate Rides, we can help you with either of these options. We have an ASE certified staff of technicians and the excellent brand name products we use to enhance your vehicle. There's a good chance you won't even recognize it when we're through with it, if that's what you're looking for. For more than 10 years, Ultimate Rides has been building, selling, buying and customizing trucks that the people seem to love. Because of all that, our plan is to keep on doing what we're doing in order to satisfy our customers.
Additional Modifications Offered by Ultimate Rides
If you want to completely revolutionize the look of your vehicle, you don't have to stop at a lift kit. There is plenty more work we can add on to the vehicle. At Ultimate Rides, we have all the major accessories you may want to add. That includes things like light bars, custom tires and more. Give us a call today and ask about what services we have to offer! Our team will be more than happy to tell you all about it.
Our service technicians have been doing this work for quite a long time. That means they are highly experienced, especially dealing with lifted vehicles. When you bring your ride into us, you can expect to get it back in a timely matter. With that, you'll get your vehicle back without mistakes or errors that could end up costing you more down the line.
Ultimate Rides Maintenance and Repair Services
The good news does not stop there. We also offer a full range of maintenance and repair services for your vehicle. It doesn't matter if all you need is a simple oil change, or you need your entire engine rebuilt. We can handle it all right here in our service center. We all know how many issues can pop up in a vehicle after a few years of use. No matter how severe your issue is, we're quite confident that we can take care of the problem. Additionally, if you're looking to avoid costly repairs in the future, the best option is to make sure your truck is taken care of. With our routine maintenance services, you'll be able to do everything you need to in order to keep your truck in good running shape.
Do you have any further questions about our maintenance and repair offers? If so, we encourage you once again to reach out to us over the phone. We'll be able to offer you more specific information based on your individual situation. As you probably already know, cost for maintenance and repair can vary greatly from vehicle to vehicle. By speaking to a member of our team and sharing some details on what's going on, we'll be able to provide you with much more information than we're able to here.
Parting Words On Lift Kit Installation Cost
The first thing you can expect when you take your truck to Ultimate Rides is a higher level of quality compared to most other service centers out there. We specialize in lifted vehicles, and we're your premium choice in the Midwest when it comes to them. Over the years, we've earned a long list of five star reviews from our loyal customers. Truly, that makes us believe we're doing something right. We can't even begin to count the number of customers who've come to us because of positive word of mouth from friends or family members. Why not give us a try?
Here at Ultimate Rides, our team is absolutely prepared to help you learn more about our Lift Kit Installation Cost. Our team has been installing lift kits for years now.  So our experienced staff can help you get through this process with plenty of ease. We lift over 200 vehicles each year, we build our own lifted vehicles and we build them for customers. Most common lift kit, is a a 6 inch suspension lift, with 35 inch tires. Something like that will run you $1500 – 2500 depending on vehicle.
You will enjoy the best lift kit products available on the market for a reasonable price when coming to us. All you have to do is visit our page for more information on the lift kit installation process! You can even visit us at 38 W. Division Street, Coal City, IL, 60416 or call us up at 815-634-3900. Our Service center is built just for lifting vehicles!
---
Two Brothers With a Dream

,

Building The Best Ultimate Rides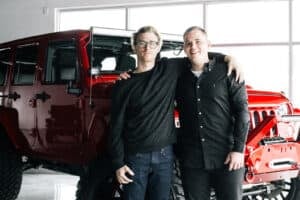 Ultimate Rides consists of two brothers who have been buying and selling custom vehicles for over ten years. Selling lifted trucks by day and writing these awesome reviews by night! They started their Ultimate Rides journey with a third brother Jake, who was a big part of building the business they have today. In 2016 Jake passed away and losing their brother was the hardest thing they ever had to deal with. Even though they had a tragic loss they plan to continue to set a new trend for the auto industry, keeping customers number one. Pushing the envelope on the lifted truck market, these guys love researching and learning about everything in the auto industry!
 — Nick and Alex Bulanda, Founders of Ultimate Rides