How to Achieve The Cali Lean
Cali Lean – What Is It?
It's a suspension adjustment that's been causing controversy between truck lovers all across the country. Is it really worth all that trouble? At Ultimate Rides, we think the best part of customizing your truck is being able to make it look however you want, and nobody should be judged for that. The Cali Lean is a stylish new trend, and though not everyone is on board, there's no doubt that it is popular. But what exactly is it?
Well, it's not too complicated actually. It's simply a truck with the front end raised while the rear stays the same, or may even be lowered a touch. While it can be done to an extreme (and will certainly look ridiculous), we think the Cali Lean looks best when it's subtle and doesn't distract from everything else about your truck. In this guide, we'll be doing a deep dive on this suspension configuration, which is also known as the Carolina Squat. Let's get started!
History of the Cali Lean
The origins of this squat come from, as you might have guessed, the great state of California. Rumor has it that baja racing drivers used to raise their front end and drop the rear to enhance their vehicle's performance in the rough hilly terrain. However, these vehicles really started becoming popular just a few years back. A lot of southern California drivers started driving PreRunner and baja style trucks, which this squat naturally works with. This is because these trucks are built to take on bumps at high-speeds with their mid or long travel suspension. Other trucks don't share that trait, so the performance benefits of the Cali Lean are lost on them.
Baja racers lower their rear suspension for a few reasons. First, it helps keep the center of gravity on the truck lower. This is very useful when taking bumps at high speeds. Additionally, it helps ensure that the rear tires hit the ground first when coming off a jump. If the front tires were to hit, the vehicle would likely nosedive and could end up crashing or flipping over. While these days this adjustment is made for style purposes, it's pretty awesome to know it's performance-oriented history.
Finding the Right Lift Kit
If you plan on installing the Cali Lean on your truck, it's very important to figure out the best lift kit to use. This will primarily depend on the vehicle you own, but will also be effected by how much of a lift you want in front. You may be okay picking up a small leveling lift kit if you just want a slight raise in the front. However, you could also go bigger and get something more extravagant. Whichever you prefer, just make sure you pay close attention to the compatibility of the product before you buy.
Lift kits are made specific to certain vehicles. When you're shopping for one, whether it's a leveling kit or full suspension lift kit, you'll need to make sure it matches up with your vehicle's make, model, model year, trim level and perhaps even more details. If not, there's a good chance you won't be able to install it correctly, at least without some serious (and unnecessary) modifications. While shopping, it can sometimes be hard to determine exactly what vehicle a given lift kit works for. Some companies do a great job labeling, while others… not so much. However, customer reviews can be very helpful in this regard. You may also be able to find more information about the product on another website, even if you don't plan on purchasing the product from that website.
Cali Lean Installation Basics
Once you have your preferred lift kit picked out, it's time to get to installation! For those who are regular at-home mechanics, this job shouldn't be too difficult for you (depending on the lift kit you chose). However, if you've never worked on truck suspension before, you may want to consider getting help from professionals. We'll provide you with more info on how Ultimate Rides can help down below. For now, we want to share some of the basic installation info to help out those who plan on doing this themselves.
First, as we mentioned briefly before, there are a few ways you can approach this. To achieve a Cali Lean, you can install a front lift kit (or just the front half of a full one), and remove the trucks rear blocks if you'd like to lower the rear. If you need to lower it even further, you could potentially remove one of the extra spring leafs on your vehicle if you have any. However, we do not recommend doing this. It will lower the overall weight capacity of your truck, and that can cause major safety issues. We've included a video below that will show you how to safely remove the rear blocks on a Tacoma truck.
Ultimate Rides Offers Cali Lean Installation
Are you feeling overwhelmed by the concept of performing this installation alone? You definitely are not alone. Ultimate Rides is here to help. We're located just about one hour south of Chicago, but we have customers bring their vehicles to us from all around the country. We specialize in lifted trucks and SUVs, and we have an expert team of ASE-certified technicians at work in our service center. Take a look at a few of the trucks in our inventory and you'll get a good idea of the kind of work our team is capable of. If you want to ensure you have a smooth and safe installation on your truck, get in touch with us today!
At Ultimate Rides, we've always been owned and operated by family. We let that family business mentality drive all of our decisions. That is why you'll find some of the friendliest customer service team members around with us. Either give us a call or stop by and talk with us. Either way, we'll be able to answer any of your questions and get your vehicle set up for the Cali Lean!
What You Need to Know About Safety
When thinking about installing a Cali Lean on your truck, there are a few safety elements worth your consideration. The first once again has to do with installation. If not properly installed, you could run into some truly serious safety issues down the line. If you are unsure about your installation process, take it into your trusted mechanic and let them take a look at it. It is definitely not worth taking any unnecessary chances on. Along with that, we also want to warn people not to raise their front end too high. If they do, they'll find that they won't have great visibility over the roads. Additionally, you'll want to adjust the leveling of your headlights to ensure they're hitting the road and not just blasting up into the sky.
What's the Appeal of the Cali Lean?
If you've done any digging on this topic around the internet, you've likely already seen the amount of hate that it gets. However, this primarily comes from folks who don't exactly know what they're talking about. They are free to have their own taste, but as long as you don't take it to a ridiculous degree, the Cali Lean can be truly stylish. While you won't find any particular performance enhancements, all of us care about the way our trucks look. Too many trucks out on the road lack that aggressive stance, and this is one that appeals to many drivers.
This style works best when it is done with a subtle touch. However, we accommodate all options here at Ultimate Rides. If you want us to raise your front end way up in the air, we can make it happen. Simply let us know how you want your truck to be adjusted and we will make your vision a reality. At the end of the day, only one person owns your truck, and it's you. Only you can decide which look is best. If the Cali Lean is your style, rock it as hard as you want!
In Conclusion
With this guide, we tried to give you a rundown on all the basics of the Cali Lean. We hope that it was useful for you! Whether you're a hardcore fan or you just came here to learn what the deal was, we hope it served you well. It's not always easy to find accurate information on this topic, so we thought this could help some folks out there who wanted to find out more. While there is plenty more to learn, this should get you started down the right track! If you would like to get in touch with Ultimate Rides to find out about installation or for any other reason, give us a call at 815-634-3900. You are also able to find us at 38 W. Division St., Coal City, IL 60416.
Frequently Asked Questions
Q: Is it true you need to get a steering alignment after installing a lift kit?
A: Indeed it is! Ask your mechanic or service center if they perform steering alignments automatically or if you have to ask. Either way, you should make sure that your vehicle gets one, even if you install at home. Altering the suspension of a vehicle can cause your steering to shift. If you'd like to avoid any potential accidents down the line, we highly recommend an alignment.
Q: What kind of budget should I put together when installing one of these setups?
A: That depends on a number of factors, from your particular vehicle to the kind of lift you want installed up front. In general terms, you should expect to spend somewhere between $200 and $2,000 or more for this kind of work. This of course depends on if you are installing the kit at home as well. If you buy a basic lift kit and install it yourself at home, $200 sounds about right. As you move up in quality of the lift kit, that price will increase. If you decide to take it to a mechanic, you'll also have to figure in the cost of installation. Once you are able to determine exactly what you want, then you'll be able to get a better idea as to what budget is required.
Q: What is the difference between a leveling kit and a standard lift kit?
A: While a standard lift kit will raise up both the front and rear suspension of a vehicle, a leveling kit is intended to only increase one side in an attempt to level it with the other. However, leveling kits are also useful for our purposes, as it's a relatively cheap and easy way to get a small boost to your front end. If you only want a bit of a subtle lift to your front end, a leveling lift kit could be exactly what you need.
---
Two Brothers With a Dream

,

Building The Best Ultimate Rides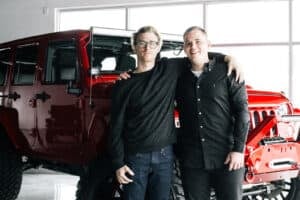 Ultimate Rides consists of two brothers who have been buying and selling custom vehicles for over ten years. Selling lifted trucks by day and writing these awesome reviews by night! They started their Ultimate Rides journey with a third brother Jake, who was a big part of building the business they have today. In 2016 Jake passed away and losing their brother was the hardest thing they ever had to deal with. Even though they had a tragic loss they plan to continue to set a new trend for the auto industry, keeping customers number one. Pushing the envelope on the lifted truck market, these guys love researching and learning about everything in the auto industry!
 — Nick and Alex Bulanda, Founders of Ultimate Rides