Uconnect Phone Not Available Troubleshooting & Tips
Uconnect Phone Not Available –
How to Fix It
Whether you've had your vehicle for a week or for years, it's never a good time to start seeing an error on your display screen. 'Uconnect Phone Not Available' is one of the most common messages drivers will find problems with when using the Uconnect system. We know how frustrating it can be to find yourself in this situation, and the last thing most people want to do is spend an hour on the phone with customer support.
With all of that in mind, we've put together this short troubleshooting guide. Hopefully it can help you solve the problem, allowing your phone to work as intended with the vehicle. Give these steps a try, and then keep on reading for some more useful information about Ultimate Rides and how we can assist in the future.
Step 1. Try A Different Phone
The first thing we recommend is trying to pair a different phone with the Uconnect system. This will obviously only work if you have another person with you or nearby. Have them attempt to pair their phone with the vehicle. Once it pairs, see if you can do all the things you'd normally do with your phone, such as play music, make a call, and use the GPS. If all of that works, it seems like it may be an issue with your phone. If it's giving you the Uconnect Phone Not Available error, it's clear that the problem is with the vehicle's system and not your phone. While this won't fix the problem, it will help you start to understand what's causing the issue, allowing you to fix the problem.
Step 2. Delete Bluetooth Profile and Re-Pair
Next up, we would recommend deleting the profile from both your phone and the vehicle, and attempt to re-pair the device. This could help whether the problem lies with your phone or the Uconnect system itself. Go into your Bluetooth settings on both the vehicle computer and in your phone. Get rid of the existing connection profile, and attempt to pair from scratch. In many cases, this will completely fix your problem, allowing you to move forward. However, if the issue keeps recurring, there may be an underlying problem you'll want to handle.
Step 3. Reset Bluetooth System Software (Soft Reset)
If nothing so far has worked, there is a way you can reset the Bluetooth system through your vehicle's software. Navigate to the settings menu, and look for options regarding your Bluetooth. Here you may see a setting that allows you to reset the Bluetooth. If you don't see this, you should instead try placing your finger in the upper right corner of the touchscreen for a solid 10 seconds. These are two of the most common ways to reset the Uconnect system, but there may be another way depending on your version. Find out what version of the Uconnect system your vehicle is working with, and then search for how to do a soft reset on that specific system.
Step 4. Reset Bluetooth Hardware (Hard Reset)
Did the soft reset not work? Your last resort before contacting support is a hard reset. This will erase all the information from your vehicle's media computer, essentially re-wiping the memory. You'll have to input any old settings and other changes you've made to the device. If that's okay with you, the most common way to do a hard reset is to hold both temperature up and down buttons at the same time. This should bring you to the engineering menu, where you'll have an option to do a hard reset. Once again, the way to access this menu may differ depending on your Uconnect model.
Step 5. Contact Uconnect Support
If all else fails, it's time to get in touch with Uconnect support. They'll be able to offer more specific advice, though you may have to wait on hold for awhile to speak with someone. Hopefully, though, after spending this time on the phone, you'll be able to solve the problem.
Uconnect Phone Not Available –
What Causes the Issue?
Unfortunately, there may be a wide variety of things that cause this error to crop up. We've done our research, and it seems like there's rarely a common element between user stories. It appears that sometimes having electrical work done on the vehicle can trigger the issue, but for many drivers it seems to pop up out of nowhere. Because of that, it can be hard to find an immediate solution.
We hope that the steps listed above helped you figure out the problem. If none of that helped, and your vehicle is still under warranty, we recommend taking it back to the dealer for support. If that's not an option for you, a standard auto technician center should be able to assist. While it's obviously not ideal, there's a very good chance they'll be able to figure out a solution to the problem.
Avoid Uconnect Phone Not Available Problem – Upgrade to a
Custom System
If this keeps happening to you, and you'd like to avoid it altogether, the answer is simple. It's time for you to upgrade to a different system other than Uconnect. Ultimate Rides can help you do just that. Let us know that you'd like to get a different media system installed in your vehicle. We'll be happy to go over different options with you over the phone.
When you're ready to have the install completed, you'll just need to bring your vehicle over to us. We're located in Coal City, about an hour south of Chicago. That makes us within driving range of a large part of America. We've even had drivers bring their vehicle to us from long distances because our work has a reputation for greatness! Come find out for yourself with Ultimate Rides! Stick around if you'd like to learn more about what we can offer, including shipping across the nation.
Lifted Trucks, Custom Interiors and More at
Ultimate Rides
We do more than simply install upgrades on your vehicle here at Ultimate Rides. We're a custom auto dealer that provides reliable vehicles to folks from around the country. Take a look at our inventory and you should see what we mean. We do all our work in-house, and we specialize in bringing in high-quality rust-free vehicles. When you buy from Ultimate Rides, you can know that you're getting the best vehicle possible.
On top of that, you'll always have an opportunity to customize your next vehicle however you'd like. When you make a purchase, you can choose to send the ride to our lift center. There we'll be able to install whatever upgrades you like, from running boards and custom tires to a whole new interior. If you're tired of driving the same old thing year after year, it could be time for a refresh. Let us help you build your dream truck, and you can even finance the whole thing, shipping and customization included!
Shipping Ready for Drivers Across the
United States
No matter where you live, you'll be able to order a vehicle from Ultimate Rides and we'll deliver it outside your home. The cost of that shipping can even be financed, allowing you to pay it off month-by-month alongside your new vehicle. The process of ordering a vehicle through Ultimate Rides is easy. Just give us a call. You'll be able to speak with a member of our team, who will provide more photos and details of any one of the vehicles you see here. We'll even track down a specific model for you if it's something we don't have in stock.
Once you have chosen what vehicle you'd like to buy, you can still decide if you want to customize it before we send it out. From the time the vehicle is ready, it should be one week or less before your new ride arrives. For more information on this process, give Ultimate Rides a call, or you can even stop by and see us in our office!
We're located at 38 W. Division St., Coal City, IL 60416. When you'd like to speak with a member of the team, you can call us at 815-634-3900.
---
Two Brothers With a Dream

,

Building The Best Ultimate Rides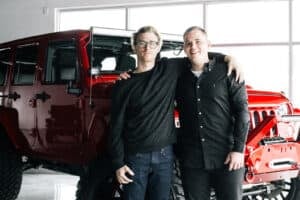 Ultimate Rides consists of two brothers who have been buying and selling custom vehicles for over ten years. Selling lifted trucks by day and writing these awesome reviews by night! They started their Ultimate Rides journey with a third brother Jake, who was a big part of building the business they have today. In 2016 Jake passed away and losing their brother was the hardest thing they ever had to deal with. Even though they had a tragic loss they plan to continue to set a new trend for the auto industry, keeping customers number one. Pushing the envelope on the lifted truck market, these guys love researching and learning about everything in the auto industry!
 — Nick and Alex Bulanda, Founders of Ultimate Rides